Sialia currucoides
Status: Common regular spring and fall migrant west and west-central, rare east-central, rare casual east. Fairly common regular breeder west. Uncommon regular winter visitor west and central, rare casual east.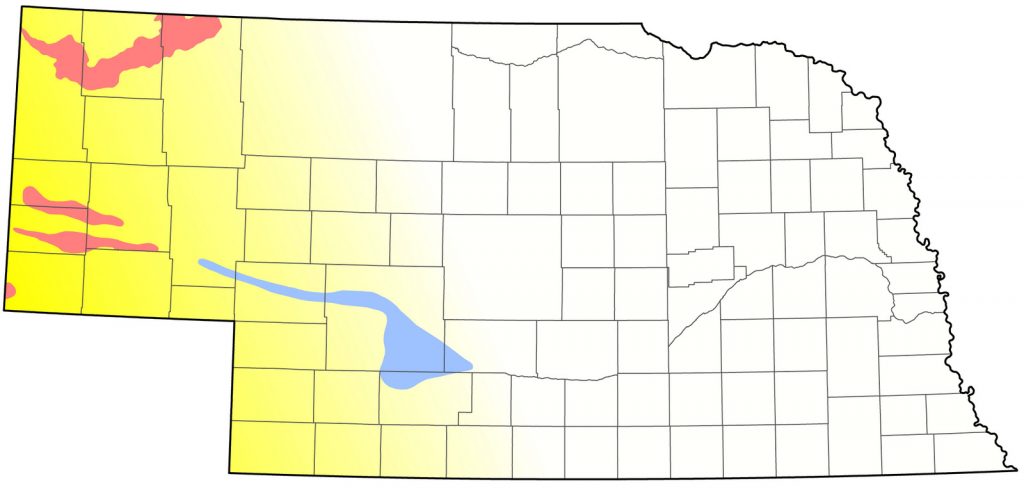 Documentation: UNSM ZM6695, 24 May 1900 Monroe Canyon, Sioux Co.
Taxonomy: No subspecies are recognized (Gill et al 2022).
See The Eastern x Mountain Bluebird (hybrid) species account for discussion on hybridization with Eastern Bluebird.
Spring: Mar 3, 4, 5 <<<>>> summer (Panhandle); winter <<<>>> Mar 24, 26, 27 (east of Panhandle)
Earlier dates in the Panhandle and central are 14 Feb 2015 Gering, Scotts Bluff Co, 14 Feb 2015 Wildcat Hills, Scotts Bluff Co, 24 Feb 2015 (8) Custer Co, 1 Mar Custer Co, and 1 Mar 2020 Scotts Bluff Co.
Later dates east of the Panhandle are 1 Apr 2023 (10) Lincoln Co, 5 Apr 2011 Lincoln Co, 5 Apr 2023 Lincoln Co, 6 Apr 2014 Dawson Co, 16 Apr 2018 Lincoln Co, 9 May 2022 Fort Niobrara NWR, Cherry Co, 12 May 1985 Cherry Co, 17 May 2014 Lincoln Co, and 20 May 2009 Lincoln Co.
Migrants arrive on the breeding range in early Mar and are territorial soon after; a pair was at a James Ranch, Sioux Co, nest box by 10 Mar 1995, and eight pairs were at nest boxes in the Wildcat Hills of Banner and Scotts Bluff Cos by 22 Mar 2003. Spring migration records extend eastward into the central.
There are a few reports in and near the Panhandle away from the breeding range in May of presumed tardy migrants: a pair was at Bushnell Cemetery, Kimball Co 1 May 2004, one in Keith Co 15 May 2015, two at Ash Hollow SHP, Garden Co 15 May 2023, and singles at Lewellen, Garden Co 19 May 2011, and 1 Jun 2013 and 24 May 2014 at Agate Fossil Beds NM, Sioux Co.
High counts: 100+ south of Gering, Scotts Bluff Co 22 Mar 2002, 100 there 10-12 Apr 1997, and 65 at Crescent Lake NWR, Garden Co on 16 Mar 1994.
Summer: Regular breeding occurs in open pine woodlands associated with areas of high relief in the Panhandle. Eastern limits on the Pine Ridge are in Sheridan Co, where there are reports 4 Jun 1986 and 20 Mar-12 Jun 1992. In the Wildcat Hills there are reports east to extreme southeast Banner Co on 17 Jun 2000 and 13 Jun 2009, and on the Bighorn Escarpment in southwest Morrill Co 18 Jun 2010. Mollhoff (2016) showed an increase of reports in the second BBA in Banner and Kimball Cos, including confirmed breeding in western Kimball Co. There were reports from Kimball Co 7 and 15 Aug 1996 and 17 Aug (year not given) that suggest breeding occurred in the 1990s.
There are occasional breeding season reports of birds out of the expected breeding range. A remarkable extralimital report was of a pair feeding young 17 May 1992 at a picnic shelter at Red Willow Reservoir, Frontier Co (Ruth Green; Mollhoff 2001). The only other breeding season reports away from the breeding range are 28 Jun 1969 McPherson Co, 4 Jul 1988 Keith Co, and 10 Jul 2015 at Walgren Lake, Sheridan Co 10 Jul 2015.
An unusual summer aggregation of 100 in southern Scotts Bluff Co 30 Jul 2011 was ascribed to large numbers of grasshoppers in the area.
Breeding phenology:
Nest-building: 10-22 Mar
Eggs: 9 May-10 Jul (Mollhoff 2022)
Nestlings: 31 May-21 Jun
Fledglings: 23 Jun- 17 Jul
Fall: summer <<<>>> Oct 25, 26, 26 (Panhandle)
Later Panhandle dates are 31 Oct 2022 (4) Scotts Bluff Co, 4 Nov 2017 Sheridan Co, 8 Nov 2022 Sioux Co, 12 Nov 2017 Banner Co, 19 Nov 2019 Kimball Co, 24 Nov 2017 Garden Co, and 29 Nov 2021 Scotts Bluff Co.
Flocking may occur on the breeding range by early Sep; 25 were in West Ash Canyon, Dawes Co 4 Sep 2016. Migrants begin to appear away from the breeding range by late Aug and most have departed the breeding range by Oct. A group of 21 was at Exit 1 on I-80, Kimball Co 15 Aug 2020.
High counts: 133 in southwest Kimball Co 13 Oct 1998, 31 in the western Panhandle 16 Oct 1999, and 22 in Dawes Co 8 Oct 1995.
Winter: Oct 20, 21, 21 <<<>>> Mar 22, 25, 27 (winter range)
Earlier dates in the winter range are 19 Aug 2020 Keith Co, 11 Sep 2008 (5) Lincoln Co, and 16 Oct 2006 Lincoln Co.
Later dates in the winter range are 5 Apr 2011 Lincoln Co, 6 Apr 2014 Dawson Co, 16 Apr 2018 Lincoln Co, 15 May 2015 Keith Co, 17 Mar 2014 Lincoln Co, and 20 May 2009 Lincoln Co.
This is perhaps the only species whose summer and winter ranges are in separate Nebraska locations with no overlap, possibly performing an "altitudinal migration" between summer and winter ranges. There are, however, no banding data to show that the same birds might be involved. The summer range is completely abandoned in winter (Rosche 1982).
Wintering birds are most commonly found along the Platte River Valley, east to southwest Dawson Co, although large numbers were wintering in Merrick Co near Hordville 1978-79 (Morris 1979). The extensive juniper area in southeast Lincoln Co and adjacent parts of Dawson, Frontier and Hayes Cos appears to hold most wintering Mountain Bluebirds. This habitat appears to be somewhat unusual for this species in winter, which prefers "relatively open areas with some available perches, such as trees and bushes" (Johnson and Dawson 2020) but is likely utilized because of an abundant food supply of juniper berries. The North Platte CBC has recorded an average of 133 birds each year since 1987-88, with a high of 400 in 1988-89; 400 were in cedar canyons in southeast Lincoln Co 2 Jan 2000.
There are about 19 reports for the east 6 Oct-17 Apr, including a specimen, HMM 28435, a male taken in Adams Co 26 Mar 1955. A good easterly tally was the 40 on the Beaver Valley CBC, Boone Co 28 Dec 2020. Early dates in the east central and east are 23 Oct 2016 Merrick Co, 24-25 Oct 2020 Lancaster Co, and 28 Oct 2020 Hall Co.
Apparently, this species does not normally winter in the Niobrara River Valley, although three were at Niobrara SP, Knox Co 5 Jan 2002, 4-5 were found along the Niobrara River Valley in Boyd Co 18 Feb 2016, and one was near Sparks, Keya Paha Co 19 Feb 2023. It was listed as a "possible winter resident" at NNF Bessey (Bray 1994); the only specific reports are of five there 21 Nov 2022, on 16 Mar 1997, and one on 3 Mar 2009. A large group of 25 was at Calamus Reservoir, Loup Co 31 Dec 2022. During winter 2015-2016 there were reports as far east as Dixon Co, where one was on the Ponca SP CBC 14 Dec and there was a "large flock" at NNF Bessey, Thomas Co 30 Jan 2016.
Images
Abbreviations
BBA: Breeding Bird Atlas
CBC: Christmas Bird Count
HMM: Hastings Municipal Museum
NNF: Nebraska National Forest
NM: National Monument
NWR: National Wildlife Refuge
SHP: State Historical Park
SP: State Park
UNSM: University of Nebraska State Museum
Literature Cited
Bray, T.E. 1994. Habitat utilization by birds in a man-made forest in the Nebraska Sandhills. Master's thesis, University of Nebraska-Omaha, Omaha, Nebraska, USA.
Gill, F., D. Donsker, and P. Rasmussen (Eds). 2022. IOC World Bird List (v 12.2). Doi 10.14344/IOC.ML.12.2.  http://www.worldbirdnames.org/.
Johnson, L.S. and R.D. Dawson. 2020. Mountain Bluebird (Sialia currucoides), version 1.0. In Birds of the World (P. G. Rodewald, Editor). Cornell Lab of Ornithology, Ithaca, NY, USA. https://doi.org/10.2173/bow.moublu.01.
Mollhoff, W.J. 2001. The Nebraska Breeding Bird Atlas 1984-1989. Nebraska Ornithologists' Union Occasional Papers No. 7. Nebraska Game and Parks Commission, Lincoln, Nebraska, USA.
Mollhoff, W.J. 2016. The Second Nebraska Breeding Bird Atlas. Bull. Univ. Nebraska State Museum Vol 29. University of Nebraska State Museum, Lincoln, Nebraska, USA.
Mollhoff, W.J. 2022. Nest records of Nebraska birds. Nebraska Ornithologists' Union Occasional Paper Number 9.
Morris, L. 1979. Mountain Bluebirds (and others) near Hordsville. NBR 47: 18.
Rosche, R.C. 1982. Birds of northwestern Nebraska and southwestern South Dakota, an annotated checklist. Cottonwood Press, Crawford, Nebraska, USA.
Recommended Citation
Silcock, W.R., and J.G. Jorgensen. 2023. Mountain Bluebird (Sialia currucoides). In Birds of Nebraska — Online. www.BirdsofNebraska.org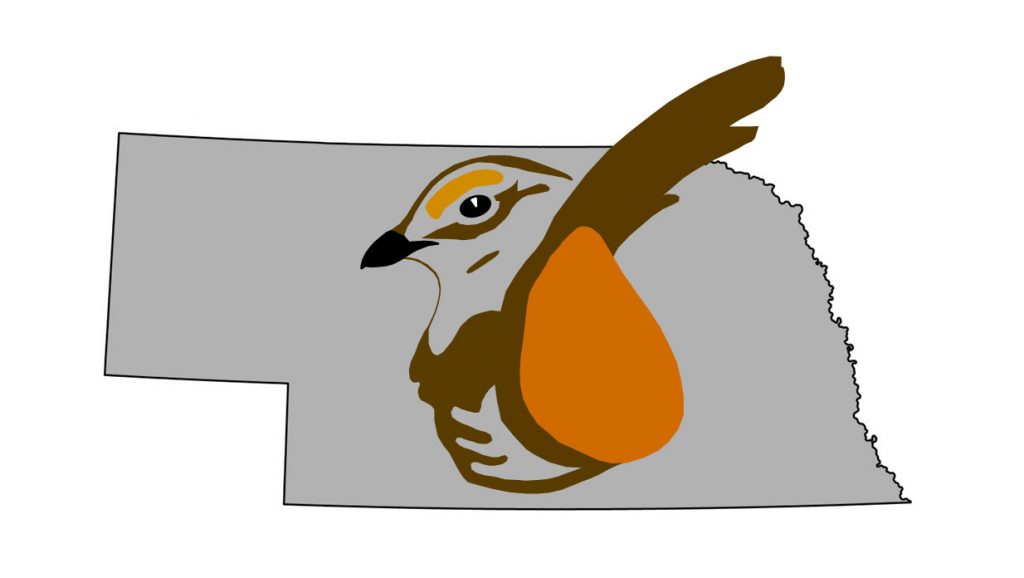 Birds of Nebraska – Online
Updated 28 Nov 2023