Melanerpes formicivorus
Status: Rare casual summer visitor.
Documentation: Photograph: 19 May 1996 Chambers, Holt Co (Brogie 1997).
Taxonomy: Seven subspecies are recognized (Gill and Donsker 2017), five from Mexico through South America, and two in North America north of Mexico: bairdi of Oregon south to northern Baja California and formicivorus of southwestern US to southeast Mexico. It is unknown to which of these subspecies the Nebraska records are assignable, or even whether one of the five additional southern subspecies may be involved. The distribution of records on and near the Great Plains suggests a southwest US provenance, however.
Summer: There are three records:
19-22 May 1996, at a feeder stocked with oranges at Chambers, Holt Co (Brogie 1997)
15-16 Jun 2013 Hayes Co (Brogie 2014)
7 Oct 2012, at a feeder in Blair, Washington Co (Brogie 2014).
Comments: This essentially non-migratory species occurs in Arizona, New Mexico, and along the West Coast. There are 17 records for Colorado, none of those on the eastern Colorado plains, although seven are in the Front Ranges (CBRC 2018), and two from western Wyoming (Faulkner 2010). There are no records from Kansas (Thompson et al 2011) or South Dakota (Tallman et al 2002), but one from Iowa, in Sep (IOU). Thus, the three Nebraska records and one from Iowa suggest a few Acorn Woodpeckers might move northeastward out of the mountains and onto the plains during summer. According to Koenig et al (2020), this species is "A good colonizer, regularly found outside its normal range sometimes far from breeding habitat, although usually within 200 km of known populations", and "Widespread mast-crop failure can lead to permanent disappearance of a large proportion of the population and may lead to a "flight year" in which birds are found in habitats that are normally unsuitable, including deserts and open grasslands (Phillips et al 1964, Koenig et al 2020).
Images
Abbreviations
CBRC: Colorado Bird Records Committee
IOU: Iowa Ornithologists' Union
Literature Cited
Brogie, M.A. 1997. 1996 (Eighth) Report of the NOU Records Committee. NBR 65: 115-126.
Colorado Rare Bird Records Committee [CBRC]. 2018. Acorn Woodpecker records, accessed 24 May 2018.
Faulkner, D.W. 2010. Birds of Wyoming. Roberts and Company, Greenwood Village, Colorado, USA.
Gill, F., and D. Donsker (Eds). 2017. IOC World Bird List (v 7.3), accessed 30 January 2018.
Iowa Ornithologists' Union [IOU]. 2018. Acorn Woodpecker records. Iowa Records Committee reports of Iowa rare bird records, accessed 30 April 2018.
Koenig, W.D., E.L. Walters, P.B. Stacey, M.T. Stanback, and R.L. Mumme. 2020. Acorn Woodpecker (Melanerpes formicivorus), version 1.0. In Birds of the World (P. G. Rodewald and B. K. Keeney, Editors). Cornell Lab of Ornithology, Ithaca, NY, USA. https://doi.org/10.2173/bow.acowoo.01.
Phillips, A.C., J.T. Marshall, Jr., and G.B. Monson. 1964. The Birds of Arizona. University of Arizona Press, Tucson, Arizona, USA.
Tallman, D.A., Swanson, D.L., and J.S. Palmer. 2002. Birds of South Dakota. Midstates/Quality Quick Print, Aberdeen, South Dakota, USA.
Thompson, M.C., C.A. Ely, B. Gress, C. Otte, S.T. Patti, D. Seibel, and E.A. Young. 2011. Birds of Kansas. University Press of Kansas, Lawrence, Kansas, USA.
Recommended Citation
Silcock, W.R., and J.G. Jorgensen. 2020. Acorn Woodpecker (Melanerpes formicivorus). In Birds of Nebraska — Online. www.BirdsofNebraska.org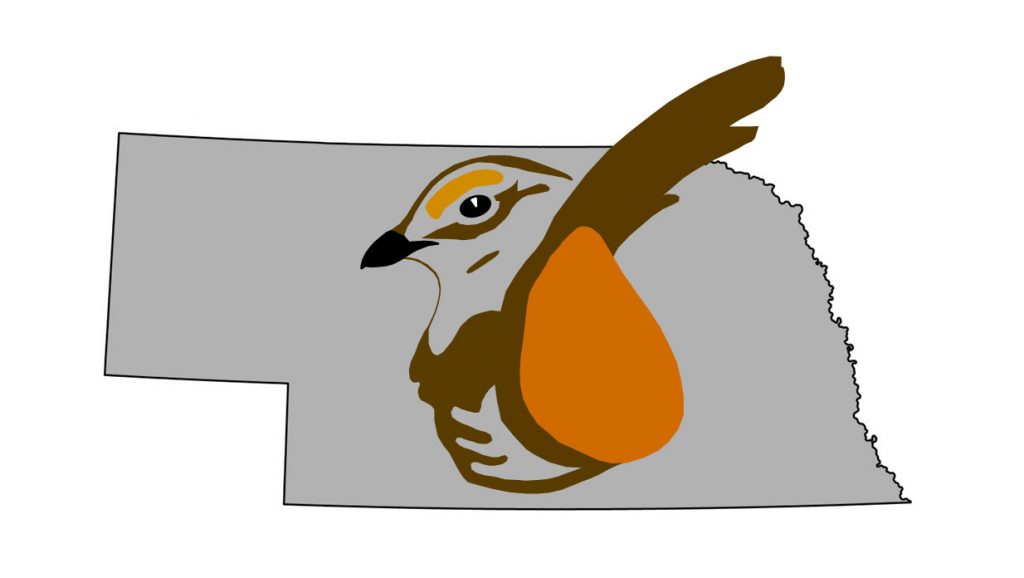 Birds of Nebraska – Online
Updated 28 Mar 2020