Empidonax alnorum
Status: Fairly common regular spring migrant east, uncommon central, rare west. Uncommon regular fall migrant east and central.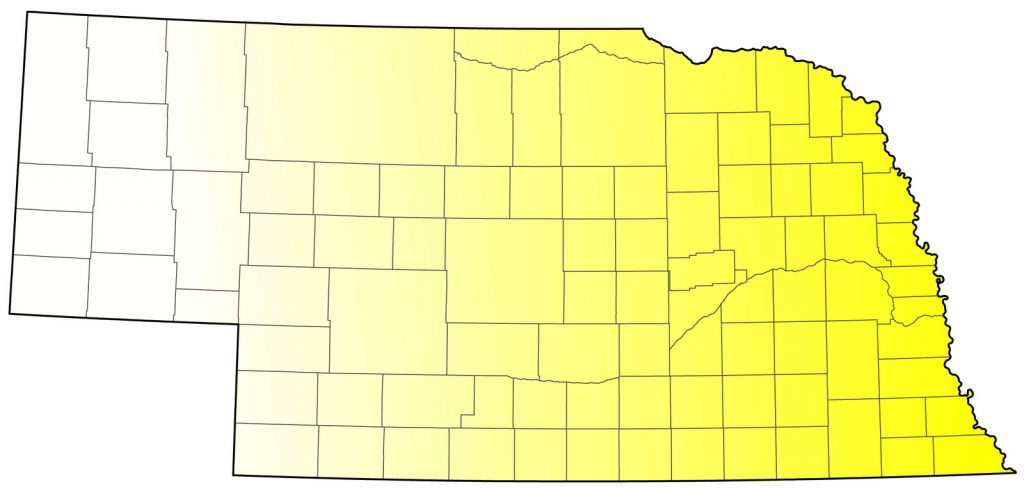 Documentation: Specimen: PSM 17452, 4 Jun 1992 Lancaster Co.
Taxonomy: No subspecies are recognized (Pyle 1997).
Alder Flycatcher E. alnorum, and Willow Flycatcher E. traillii, were considered conspecific as "Traill's" Flycatcher E. traillii, until 1973 (Eisenmann 1973), when a long period of considerable confusion over taxonomy and distribution of the two taxa ended. To avoid confusion, we have used data only post-1973.
As this species does not breed in Nebraska, breeding records cited as "Traill's" Flycatcher by Ducey (1988) can be assumed to pertain to Willow Flycatcher.
Spring: May 10, 10, 11 <<<>>> Jun 5, 5, 5
Earlier dates are 7 May 2016 Sarpy Co, and 8 May 2009 Cherry Co.
Later dates are 7 Jun 2012 Otoe Co, and 9 Jun 2009 Madison Co.
The earliest and latest Nebraska specimens are 12 May 1993, UNSM ZM20498 Lancaster Co, and 4 Jun 1992, cited above.
Most reports are from the east and north, but Alder Flycatcher occurs regularly west at least to Keith Co and into the Panhandle. Brown et al (1996) considered Alder Flycatcher a common migrant in the Keith Co area 22 May-2 Jun; an amazing 62 were banded there in four years during spring and fall. Until 2021, there was only one Panhandle record: one well-described in Kimball Co 1 Jun 2019 (eBird.org), but in 2021 there were nine birds reported at six locations, most photographed or recorded (eBird.org): 21 May Ash Hollow SHP, Garden Co, 22 May two Lake Minatare, Scotts Bluff Co, 25 May Oliver Reservoir, Kimball Co, 28 May three west of Bushnell, Kimball Co, 29 May Agate, Sioux Co, and 30 May Wright's Gap Road, Scotts Bluff Co. Similarly, in 2022 there were several reports: singles were in Scotts Bluff Co 16 May and 1 Jun, in Kimball Co 23 and 26 May and 1 Jun, in Dawes Co 24 May, and Sioux Co 25 May.
Large numbers of Alder and Willow Flycatchers probably pass through unidentified to species and are reported as "Traill's". Estimates of 30 and 60 Traill's were reported 11 and 12 May 2016 in Lancaster and Burt Cos.
High counts: 19 at Cunningham Lake, Douglas Co 22 May 2022, 14 in Lincoln, Lancaster Co 25 May 2008, 6 in Douglas Co 26 May 2003, 6 in Platte Co 26 May 2012, and 6 at Wilderness Park, Lancaster Co 21 May 2020.
Fall:  Although banding data suggest migrants are probably uncommon rather than less than annual, there are only these 17 documented fall records:
Earlier dates are 21 Jul (Brown et al 1996), 8 Aug 2020 Dixon Co, 9 Aug 2020 Dundy Co, 13 Aug 2018 Pawnee Co, 14 Aug 2022 Jefferson Co, 16 Aug 2020 Richardson Co, 19 Aug 2017 Lancaster Co, 19 Aug 2019 Custer Co, 19 Aug 2019 Richardson Co, and 20 Aug 2017 Lancaster Co.
Later dates are 25 Aug 2022 Sioux Co, 29 Aug 2021 two Sarpy Co, 30 Aug 2020 Sarpy Co, 31 Aug 2019 Lancaster Co, 2 Sep 2021 Dawes Co, 10 Sep 2013 Dixon Co, and 28 Sep 2012 Douglas Co.
The species is generally silent and overlooked in fall although banding data from Cedar Point Biological Station in Keith Co indicate that Alder Flycatcher is a common migrant there in the period 21 Jul through at least 17 Aug; banding operations ceased on the latter date (Brown et al 1996).
In fall 2012 there were seven reports (of nine birds) in the period 5-28 Sep, the latter a vocalizing bird in Omaha.

Comments: Scharf et al (2019) provided details on one banded in Keith Co 28 May 1993 and recovered at Fairbanks, Alaska, 7 Aug 1993 (Brown et al 1996), and another banded in Phelps Co 5 Jun 2001 and recovered at Tok, Alaska 2 Aug 2001. Since both were recovered during the breeding season north of the summer range of Willow Flycatcher, both are almost certainly Alder Flycatchers (Scharf et al 2019). One collected in Keith Co 27 May 1993 is UNSM ZM20522.
Alder Flycatcher can only be safely separated in the field from Willow Flycatcher by vocalizations, and so Nebraska data, especially for fall, are limited to the few birds that vocalize at that time of year. Kansas specimens of Alder Flycatcher were in the periods 13-29 May and 29 Jul-12 Sep (Thompson et al 2011); undocumented reports outside of these ranges are questionable.
Images
Abbreviations
PSM: Puget Sound Museum (Slater Museum of Natural History)
UNSM: University of Nebraska State Museum
Literature Cited
Brown, C.R., M.B. Brown, P.A. Johnsgard, J. Kren, and W.C. Scharf. 1996. Birds of the Cedar Point Biological Station area, Keith and Garden Counties, Nebraska: Seasonal occurrence and breeding data. Transactions of the Nebraska Academy of Sciences 23: 91-108.
Ducey, J.E. 1988. Nebraska birds, breeding status and distribution. Simmons-Boardman Books, Omaha, Nebraska, USA.
Eisenmann, E. 1973. Thirty-second Supplement to the American Ornithologists' Union Checklist of North American Birds. Auk 90: 411-419.
Pyle, P. 1997. Identification Guide to North American Birds. Part I, Columbidae to Ploceidae. Slate Creek Press, Bolinas, California, USA.
Scharf, W.C., A-M. Benson, and K.W. Larson. 2019. North American Bird Bander 44: 168-170.
Thompson, M.C., C.A. Ely, B. Gress, C. Otte, S.T. Patti, D. Seibel, and E.A. Young. 2011. Birds of Kansas. University Press of Kansas, Lawrence, Kansas, USA.
Recommended Citation
Silcock, W.R., and J.G. Jorgensen. 2022. Alder Flycatcher (Empidonax alnorum). In Birds of Nebraska — Online. www.BirdsofNebraska.org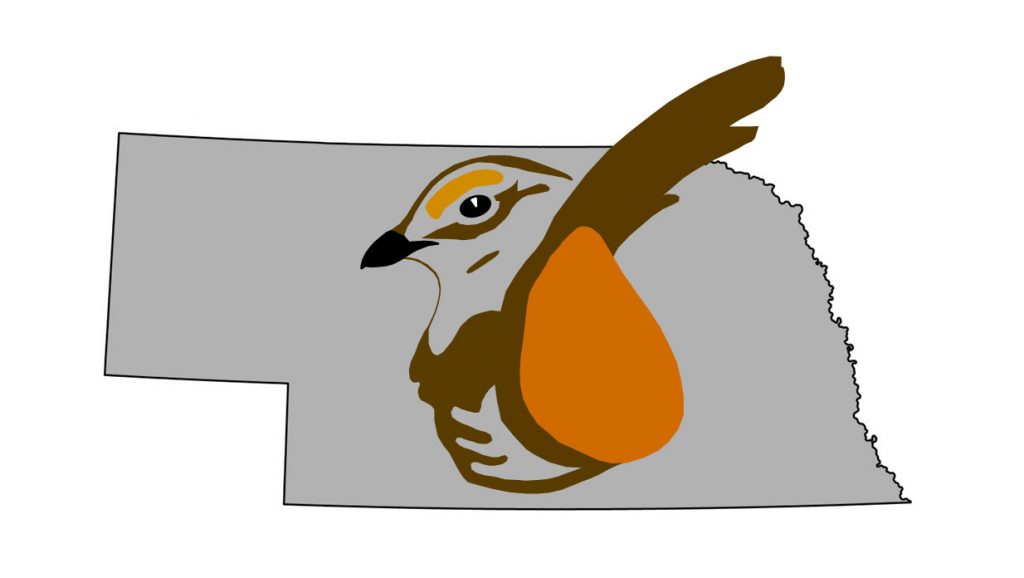 Birds of Nebraska – Online
Updated 23 Dec 2022