Botaurus lentiginosus
Status: Uncommon regular spring and fall migrant statewide. Uncommon regular breeder north, west, and Rainwater Basin, rare casual elsewhere.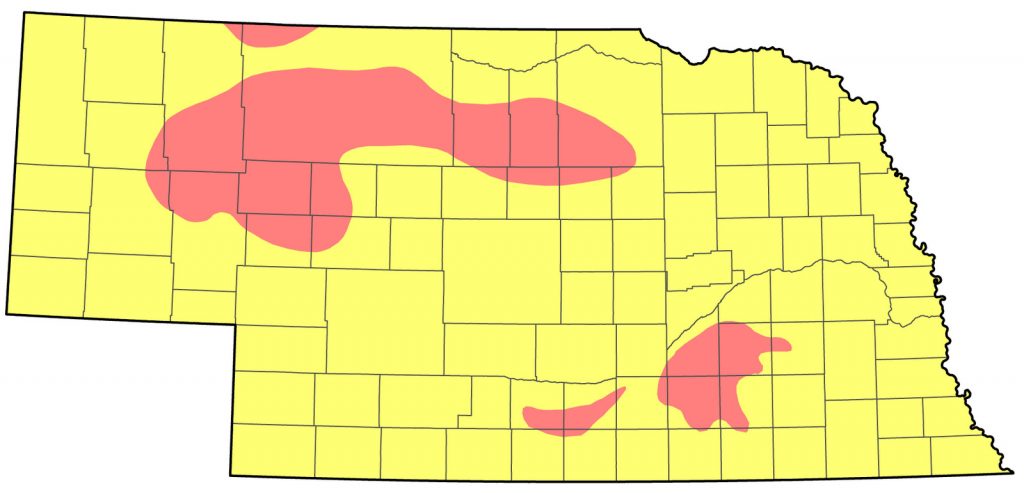 Documentation: Specimen: UNSM ZM12409, 19 Sep 1911 Lincoln, Lancaster Co.
Taxonomy: No subspecies are recognized.
Spring: Apr 4, 5, 5 <<<>>> May 15, 15, 15
Earlier dates are 29 Mar 2020 Hamilton Co, 1 Apr 2020 Sarpy Co, and 2 Apr 2016 Garden Co.
Late dates above are from areas where breeding is not expected.
Most migrants pass through in Apr and early May. Dates from late May in suitable habitat may be of breeding birds.
High counts: 12 in Otoe Co 26 Apr 2012, 11 at Crescent Lake NWR, Garden Co 13 May 1997, and 11 in the eastern Rainwater Basin 11-13 May 2001 (Jorgensen 2012).
Summer: Although American Bitterns may be found nesting in any appropriate habitat throughout the state, Ducey (1988) showed nesting reports since 1960 only in Sheridan, Garden and Cherry Cos, where the core breeding population occurs due to the large permanent marshes there. Breeding reports elsewhere in the state are few, possibly because of the dynamic and unpredictable conditions and limited extent of permanent marshes; Jorgensen et al (2022) found that increasing water depth favored the presence of American Bittern in both Sandhills and Rainwater Basin marshes. A playback study by Jorgensen et al (2022) achieved more total detections of American Bittern overall in the Sandhills and Rainwater Basin than the other "secretive marsh birds" surveyed.
Regular breeding in the Sandhills probably occurs east to Holt Co (Blake and Ducey 1991); adults with two young were in Holt Co 10 Jul 2016. Breeding probably occurs regularly or nearly so in the Rainwater Basin, although the species is local in this region and breeding may occur with any regularity only at larger wetlands. Since 2004 there are only four records of nesting, albeit in two consecutive summers. A nest with six eggs was found at Harvard WPA, Clay Co 28 May 2007 (Mollhoff 2008), and two nests were found there 7 June 2008 (Jorgensen 2012). Another nest was discovered at Sandpiper WMA, Fillmore Co 22 May 2017, but was found depredated on 30 May (Dinan et al 2018). Dinan et al (2018) estimated that up to 14,777 (95% C.I.; 11,072, 14,723) and 805 (95% C.I.; 647, 1001) American Bitterns summered and presumably breed in the Sandhills and Rainwater Basin, respectively.
Elsewhere, there are numerous reports in the period late May-early Aug without evidence of breeding.
Breeding Phenology:
Eggs: 12 May- 28 Jun (Mollhoff 2022)
Fledged Young: 10 Jul
High counts: 21 flushed during airboat survey at Yellowthroat WMA, Brown Co 28 Jul 2022, 19 flushed during airboat survey at Crescent Lake NWR 8 Jun 1997, and 16 at Watts Lake, Valentine NWR, Cherry Co 27 Jul 2022.
Fall: Aug 23, 23, 24<<<>>> Oct 27, 27, 27
Early dates above are from areas where breeding was not expected.
Later dates are 31 Oct 2022 Clay Co, 1 Nov 2018 Seward Co, 1 Nov 2022 York Co, 4 Nov 2017 Saunders Co, 5 Nov 2006 Washington Co, and 16 Nov 2003 Knox Co.
This species fairly cold-tolerant; an American Bittern was caught in a mink trap along a spring-fed section of Beaver Creek in Boone Co on one occasion in Jan (Wayne Mollhoff, pers. comm., Cortelyou 1977). A report Jan 1962 Boone Co was not accepted by NOURC (Brogie 2003).
High counts: 5 in Seward Co 25 Aug 2009
Images
Abbreviations
CBC: Christmas Bird Count
NOURC: Nebraska Ornithologists' Union Records Committee
NWR: National Wildlife Refuge
WMA: Wildlife Management Area (State)
WPA: Waterfowl Production Area (Federal)
Literature Cited
Blake, L., and J. E. Ducey. 1991. Birds of the eastern Sandhills in Holt County, Nebraska. NBR 59: 103-132.
Brogie, M.A. 2003. 2002 (14th) Report of the NOU Records Committee. NBR 71: 136-142.
Cortelyou, R.G. 1977. 1977 (Fifty-second) Spring Migration and Occurrence Report. NBR 45: 34-50.
Dinan, L.R., M. Bomberger Brown and J.G. Jorgensen. 2018. 2016-2017 Secretive marshbird abundance, distribution and habitat use in Nebraska. Joint report of the Nongame Bird Program of the Nebraska Game and Parks Commission and Tern and Plover Conservation Partnership. Lincoln, Nebraska, USA.
Ducey, J.E. 1988. Nebraska birds, breeding status and distribution. Simmons-Boardman Books, Omaha, Nebraska, USA.
Jorgensen, J.G. 2012. Birds of the Rainwater Basin, Nebraska. Nebraska Game and Parks Commission, Lincoln, Nebraska, USA.
Jorgensen, J.G., S.J. Brenner, and L.R. Greenwalt. 2022. A Tale of Two Complexes: Secretive Marsh Bird Abundance Differs in the Sandhills and Rainwater Basin, Nebraska. Wetlands 42: 41 https://doi.org/10.1007/s13157-022-01551-9.
Mollhoff, W.J. 2008. The 2007 Nebraska nest report. NBR 76: 155-165.
Mollhoff, W.J. 2022. Nest records of Nebraska birds. Nebraska Ornithologists' Union Occasional Paper Number 9.
Recommended Citation
Silcock, W.R., and J.G. Jorgensen. 2022. American Bittern (Botaurus lentiginosus ). In Birds of Nebraska — Online. www.BirdsofNebraska.org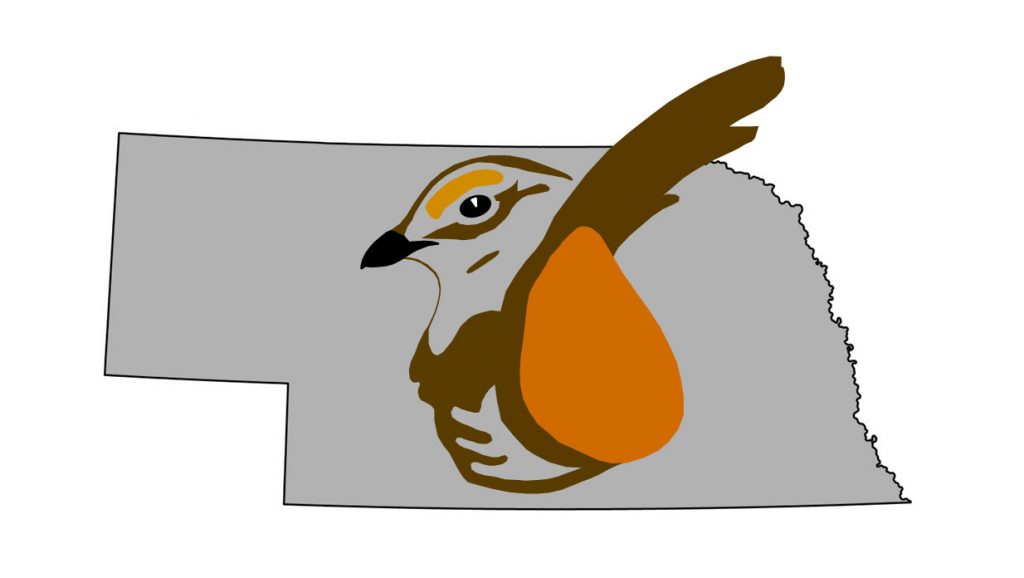 Birds of Nebraska – Online
Updated 20 Dec 2022