Corvus brachyrhynchos brachyrhynchos, C. b. hesperis
Status: Common regular resident statewide. Abundant regular spring and fall migrant statewide. Abundant regular winter visitor statewide.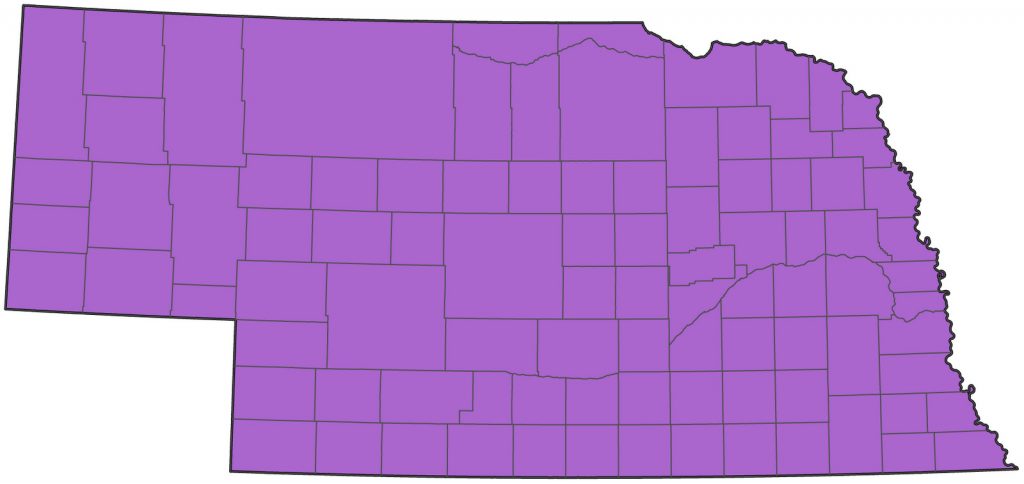 Documentation: Specimen: UNSM ZM7635, 18 May 1907 Cass Co.
Taxonomy: Four subspecies have been traditionally recognized (Gill et al 2022): hesperis from northern British Columbia to southern Saskatchewan south to southern California and east to southern Nevada and east-central Kansas, hargravei in the Rocky Mountains from southern Idaho to central Arizona and eastern New Mexico, brachyrhynchos from northwest Canada to Newfoundland south to south Texas and New Jersey, and pascuus of central and south Florida.
Chesser et al (2020) lumped former Northwestern Crow (C. caurinus) with American Crow as C. b. caurinus) adding a fifth subspecies.
According to Phillips (1986), the western subspecies hesperis breeds in most of Nebraska west of the eastern woodlands and eastern brachyrhynchos breeds in the wooded east, presumably the Missouri River Valley. The Rocky Mountain subspecies hargravei may breed in the northwest (John Hubbard, personal communication).
Resident: Many crows breeding in Nebraska are probably resident; banding data cited by Verbeek and Caffrey (2020) suggested that half of crows banded in winter between 38 and 42 degrees latitude (Nebraska lies between 40 and 43 degrees) in the eastern USA were resident, but even in southern and central Illinois, many breeders migrate.
Spring: Crows of the Great Plains exhibit marked migratory tendencies (Bent 1946); birds from the northern parts of the breeding range leave in winter, generally southward. Migration is marked by movements of flocks; peak migration in Nebraska is during Mar, although the 1274 at Brady, Lincoln Co 13 Feb 2010 were probably early migrants.
Banding studies of birds wintering in Oklahoma showed that most of these birds summered in the prairie provinces of Canada; birds banded in Alberta, Saskatchewan, and Manitoba migrated southeastward through eastern Montana, North Dakota, and western Wisconsin as far as Oklahoma and eastern Texas (Verbeek and Caffrey 2020).
High counts: 2490 in northeast Nebraska (2000+ in one flock near Redbird WMA, Holt Co) 23 Mar 2003, 2000 near Spencer, Boyd Co 17 Mar 2020, and 1000 near Maxwell, Lincoln Co 23 Mar 2019.
Summer: BBS data (see Cortelyou 1978) and eBird species maps (American Crow, accessed Nov 2023) indicate that summering birds are most numerous in the east, with fewer birds distributed rather evenly over the rest of the state. Tout (1902) believed that the western limit of its range was Otoe Co, and around 1900 it was rare west of the 98th meridian but was spreading westward (Bruner et al 1904), and by 1938 it had spread to the Sandhills, probably due to tree planting by settlers (Viehmeyer 1938). An early southern Panhandle specimen was taken in Kimball Co 8 Jun 1919 (UNSM 7639), and Swenk noted (1906) that the species was increasing in Sioux Co and that the flock at Glen "had increased to 28" by Aug 1905. It was still rare to uncommon in the 1980s on the northeastern Colorado plains (Andrews and Righter 1992), and in Nebraska it is scarcest in the southern Panhandle and southwest. A flock of 53 was in Dundy Co 21 Jul 2000.
Breeding Phenology:
Copulation: 7 Mar
Nest Building: 20 Feb-23 Mar
Eggs: 25 Mar- 27 May (late Apr and May nests likely second attempts; Mollhoff 2022)
Nestlings: 16 Apr-27 Jun
Fledglings: 27 May-11 Jul
 Cary (1900) indicated that two broods are raised in Antelope Co, 1-15 Apr and 30 May-15 Jun.
Fall: Family groups begin to group together in late Jul; 47 were in Wayne Co 18 Jul 2023, 42 were in Lancaster Co 28 Jul 2012, and 40 at Fort Robinson SP, Dawes Co 26 Jul 2020. Peak migration is during Oct. Large flocks such as the 400 near Chadron SP, Dawes Co 22 Oct 2000 are uncommon on the Pine Ridge (Silcock and Rosche 1994).
High counts: 3000 in the Rainwater Basin 28 Oct 1996, 2000 flying over in a string in Lincoln Co 7 Oct 1934 (Tout 1947), and 2000 at one playa wetland in Hayes Co 27 Oct 2005.
Panhandle: 400 near Chadron SP 22 Oct 2000, 100 in southeast Garden Co 26 Nov 2016, and 86 at Chadron, Dawes Co 8 Oct 1994.
Winter: This species is most common in winter, when resident populations are presumably augmented by birds from further north. During late fall and winter large flocks form and often roost in cities and towns throughout the state. In the earlier part of the 20th Century these large concentrations, often numbering in the tens or even hundreds of thousands, were considered a nuisance in more isolated towns on the Great Plains, leading to the winter practice of "crow shoots," often conducted at night at the roost site. Ron Griess (personal communication) provided interesting information on roosts that he visited as a boy with his Dad; there was a large roost in the 1930s west of Superior, Nuckolls Co, a very large roost was in trees along the Middle Loup River near Loup City, Loup Co for a few years, where around 1959-1960 guano would accumulate up to a foot deep, and in Phelps Co in the late 1960s-early 1970s a tame Great Horned Owl was used as a decoy for the 100,000-150,000 birds using a two-mile long shelterbelt west of Axtell. Roosts were present near Kearney, Buffalo Co in 1988-89 and 1989-90, when 5000 birds were counted on CBCs each year, and over 100,000 have roosted there during the winters of the mid-1990s. A roost at Holdrege, Phelps Co for about 25 years prior to 1996 held more than 100,000 birds. "Thousands" were present in mid-Feb 2008 in the Callaway-Merna area of Custer Co, and 5000 were estimated on the Calamus-Loup CBC 29 Dec 2013.
CBC data show fairly even distribution statewide in late Dec, but occasional roosts in the south, especially the central Platte River Valley, boost numbers there. High CBC counts were 9602 at Calamus Reservoir, Loup Co in 27 Dec 2003, 9568 there 1 Jan 2005, 5223 there 31 Dec 2012, 3000 at Kearney in 1986-87, and 2767 at Grand Island, Hall Co in 1990-91. Analysis of data for the Seward-Branched Oak Lake CBC, Lancaster Co, showed a decline in numbers 1993-2020 similar to that seen in Black-capped Chickadee, possibly related to West Nile Virus (Gubanyi 2020).
High counts: (non-CBC) 4500 at Jeffrey Res, Lincoln Co 19 Jan 2015, 4200 near and southeast of North Platte, Lincoln Co 27 Feb 2021, and 3000 in Jefferson Co 3 Jan 2004.
Images
Abbreviations
BBS: Breeding Bird Survey
CBC: Christmas Bird Count
SP: State Park
UNSM: University of Nebraska State Museum
WMA: Wildlife Management Area (State)
Acknowledgement
Photograph (top) of an American Crow at Papillion, Sarpy Co 21 Sep 2017 by Phil Swanson.
Literature Cited
Andrews, R., and R. Righter. 1992. Colorado birds. Denver Museum of Natural History, Denver, Colorado, USA.
Bent, A.C. 1946. Life histories of North American Jays, Crows and Titmice. Bulletin of the United States National Museum 191. Two Parts. Dover Publications Reprint 1964, New York, New York, USA.
Bruner, L., R.H. Wolcott, and M.H. Swenk. 1904. A preliminary review of the birds of Nebraska, with synopses. Klopp and Bartlett, Omaha, Nebraska, USA.
Cary, M. 1900. Some bird notes From the Upper Elkhorn. Proceedings of Nebraska Ornithologists' Union 1: 21-29.
Chesser, R.T., S.M. Billerman, K.J. Burns, C. Cicero, J.L. Dunn, A.W. Kratter, I.J. Lovette, N.A. Mason, P.C. Rasmussen, J.V. Remsen, Jr., D.F. Stotz, and K. Winkler. 2020. Sixty-first Supplement to the American Ornithological Society's Check-list of North American Birds. The Auk: Volume 137: 1–24. DOI: 10.1093/auk/ukaa030.
Cortelyou, R.G. 1978. The first eleven years of Breeding Bird Surveys in Nebraska. NBR 46: 38-62.
Gill, F., D. Donsker, and P. Rasmussen (Eds). 2022. IOC World Bird List (v 12.2). Doi 10.14344/IOC.ML.12.2.  http://www.worldbirdnames.org/.
Gubanyi, J. 2020. History of the Seward-Branched Oak Lake Christmas Bird Count, 1993-2020. NBR 87: 162-172.
Mollhoff, W.J. 2022. Nest records of Nebraska birds. Nebraska Ornithologists' Union Occasional Paper Number 9.
Phillips, A.R. 1986. The known birds of North and Middle America. Part 1. Published by the author, Denver, Colorado, USA.
Silcock, W.R., and R.C. Rosche. 1994. Fall Field Report, August-November 1994. NBR 62: 126-149.
Swenk, M.H. 1906. Some Nebraska bird notes. Auk 23: 108-109.
Tout, W. 1902. Ten years without a gun. Proceedings of Nebraska Ornithologists' Union 3: 42-45.
Tout, W. 1947. Lincoln County birds. Published by the author, North Platte, Nebraska, USA.
Verbeek, N.A. and C. Caffrey. 2020. American Crow (Corvus brachyrhynchos), version 1.0. In Birds of the World (A. F. Poole and F. B. Gill, Editors). Cornell Lab of Ornithology, Ithaca, NY, USA. https://doi.org/10.2173/bow.amecro.01.
Viehmeyer, G. 1938. Is the prairie chicken passing? NBR 6: 25-29.
Recommended Citation
Silcock, W.R., and J.G. Jorgensen. 2023. American Crow (Corvus brachyrhynchos). In Birds of Nebraska — Online. www.BirdsofNebraska.org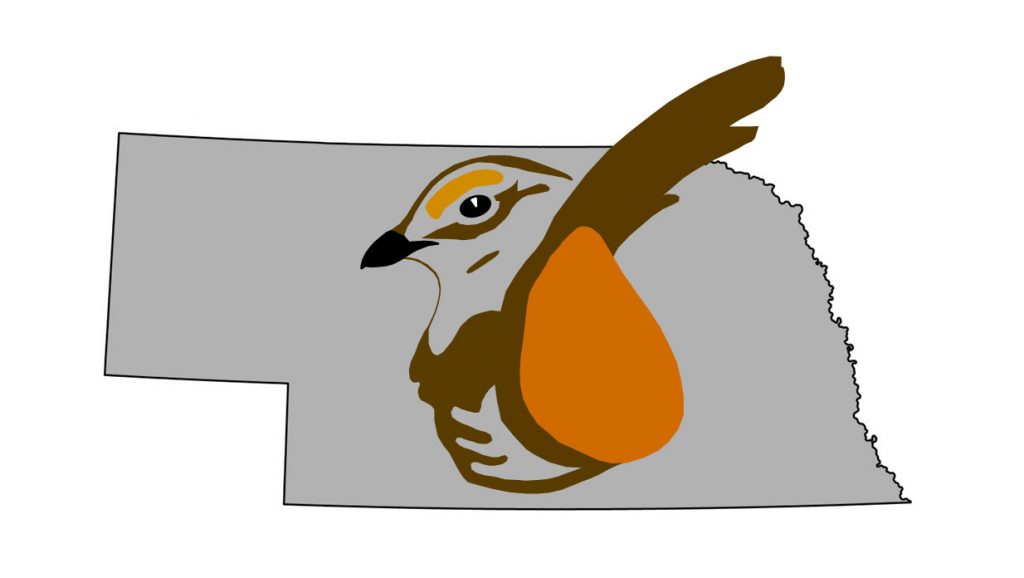 Birds of Nebraska – Online
Updated 18 Sep 2023