Cinclus mexicanus unicolor
Status: Rare casual fall visitor statewide. Accidental in spring west-central and west.
Documentation: Specimen: HMM 693 (pair), Jun 1903 Wauneta, Chase Co.
Taxonomy: Four or five subspecies are generally recognized, one, unicolor, breeding throughout the North American range north of Mexico (Pyle 1997).
According to Kingery and Willson (2020), "Some geographically isolated populations, such as one in the Black Hills of South Dakota and in Wyoming, are genetically differentiated".
Spring: The two reports are undocumented but possibly correct. One was seen "sporting among the rocks" on the White River in Sioux Co in May 1891 by Bruner (Bruner et al 1904). Another report from the Niobrara River was one 8-10 miles east of Valentine in Cherry Co 1 May 1977 which "exhibited the bobbing motion that is characteristic of the species" (Maddux 1977). The observer was familiar with dippers in Colorado.
Fall: There are two documented records.
10 Oct 1967 Adams Co (Turner 1968, Williams 1968)
Dec 1969 Holt Co (Erwin 1970).
The Adams Co record was by Harold Turner, long-time observer and reporter from Holstein, who flushed the bird while walking along a creek. His description of the circumstances and the bird is accurate and convincing. The Holt Co record was by William J. Ervin of the Department of Biology, University of Nebraska at Omaha and was of a bird flushed along a "small, cold-water, spring-fed stream which flows into the Niobrara River approximately seven miles downstream from the Highway 281 bridge".
There are three additional reports, none documented, but all possibly correct. An unusual sighting was of one on a wood pile in downtown Stanton, Stanton Co late Sep or early Oct 1982 (Jundt 1984). The observer stated that the bird sat on the pile for 10 minutes at about 6-8 feet distance and that he "had seen these birds on mountain streams and could hardly believe [his] eyes." One was seen on the Timber Reserve at Fort Robinson, in Sioux Co, 3 Oct 1960 (Suetsugu 1961), but no description was given. One was seen on Otter Creek, Keith Co, apparently in Jan, but no other data were provided (NGPC files).
Dippers are generally sedentary, but "very rarely" may move downstream to lower altitudes as their summer habitat freezes (Faulkner 2010). There are two records in northeastern Colorado: 31 Dec 1983 at Julesburg Reservoir on the South Platte River, and 1 Nov 1988 in Morgan Co (Andrews and Righter 1992), which, taken together with the Nebraska reports, suggest that these birds follow Nebraska rivers eastward during severe fall weather conditions. The nearest breeding populations to Nebraska are in the northern Black Hills of South Dakota (Tallman et al 2002) and in the Laramie Mountains of Wyoming (Faulkner 2010).
Comments: The most recent sighting mentioned in this account was in northeast Colorado in 1988, and the most recent for Nebraska was in 1982. Given warmer winters in recent years, it seems unlikely that dippers would be forced far enough downstream to reach Nebraska.
The pair collected along Frenchman Creek, near Wauneta in Chase Co, 2 Jun 1903 by James P. Allen (cited above) was acquired by Brooking "after verifying the record" (Brooking, Notes), mounted as a display, and is currently in storage at the Hastings Municipal Museum (Bray et al 1986). We have doubts about this record, as with certain other specimens in the Brookings Collection; it is difficult to believe that these specimens were collected in Nebraska, although this particular record is supported by other plausible Nebraska records discussed above.
Images
Abbreviations
HMM: Hastings Municipal Museum
NGPC: Nebraska Game and Parks Commission
Acknowledgement
Photograph (top) by Joel G. Jorgensen of an American Dipper specimen, collected Jun 1903 at Wauneta, Chase Co. The specimen is housed and maintained at the Hastings Municipal Museum and was legally salvaged or collected. We thank Teresa Kreutzer-Hodson for facilitating the photographing of this specimen for the Birds of Nebraska – Online.
Literature Cited
Andrews, R., and R. Righter. 1992. Colorado birds. Denver Museum of Natural History, Denver, Colorado, USA.
Bray, T.E., B.K. Padelford, and W.R. Silcock. 1986. The birds of Nebraska: A critically evaluated list. Bray, Published by the authors, Bellevue, Nebraska, USA.
Brooking, A.M. Notes. Bird specimen records. Manuscript in NOU Archives, University of Nebraska State Museum, Lincoln, Nebraska, USA.
Bruner, L., R.H. Wolcott, and M.H. Swenk. 1904. A preliminary review of the birds of Nebraska, with synopses. Klopp and Bartlett, Omaha, Nebraska, USA.
Erwin, W.J. 1970. Dipper observation in Holt County. NBR 38: 17-18.
Faulkner, D.W. 2010. Birds of Wyoming. Roberts and Company, Greenwood Village, Colorado, USA.
Jundt, B.P. 1984. Dipper. NBR 52: 42.
Kingery, H.E. and M.F. Willson. 2020. American Dipper (Cinclus mexicanus), version 1.0. In Birds of the World (P. G. Rodewald, Editor). Cornell Lab of Ornithology, Ithaca, NY, USA. https://doi.org/10.2173/bow.amedip.01.
Maddux, E.H. 1977. Dipper. NBR 45: 52.
Pyle, P. 1997. Identification Guide to North American Birds. Part I, Columbidae to Ploceidae. Slate Creek Press, Bolinas, California, USA.
Suetsugu, H.Y. 1961. Excerpts from letters. NBR 29: 23.
Tallman, D.A., Swanson, D.L., and J.S. Palmer. 2002. Birds of South Dakota. Midstates/Quality Quick Print, Aberdeen, South Dakota, USA.
Turner, H. 1968. Dipper. NBR 36: 14-15.
Williams, F. 1968. Southern Great Plains Region. Audubon Field Notes 22: 57-60.
Recommended Citation
Silcock, W.R., and J.G. Jorgensen. 2021. American Dipper (Cinclus mexicanus). In Birds of Nebraska — Online. www.BirdsofNebraska.org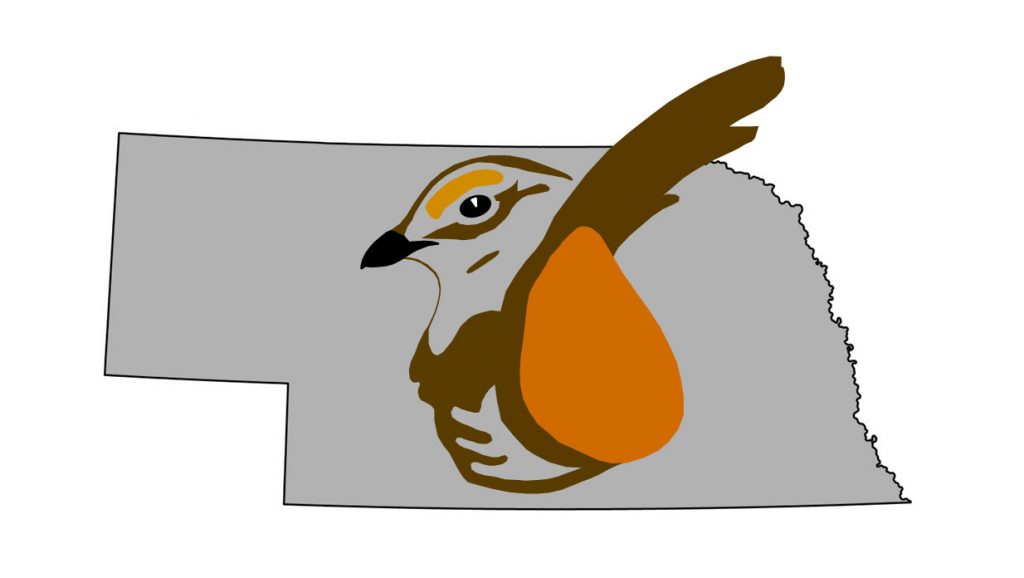 Birds of Nebraska – Online
Updated 4 Oct 2021