Spinus tristis
Status: Common regular spring and fall migrant and breeder statewide. Abundant regular winter visitor statewide.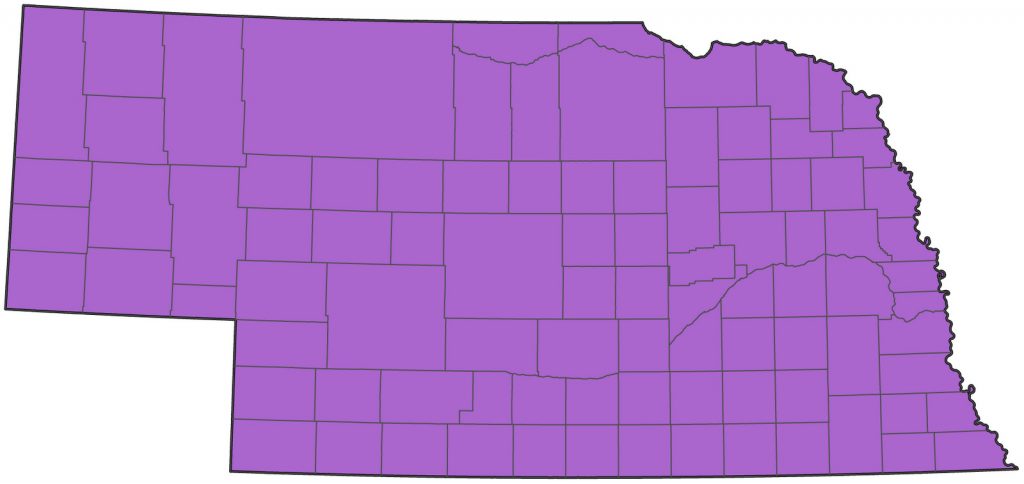 Documentation: Specimen: tristis, UNSM ZM16086, Lancaster Co 2 Aug 1889; pallidus, UNSM ZM7180, Springview Bridge, Keya Paha Co 16 Jun 1902.
Taxonomy: Four subspecies are recognized (Pyle 1997, McGraw and Middleton 2020, Gill and Donsker 2017, Clements et al 2016): tristis, breeding in eastern USA and Canada, west to Great Plains; resident from Great Lakes and New England south to northeast Texas east to western South Carolina and coastal North Carolina; winters south to northwest Mexico, Gulf Coast, and throughout Florida, pallidus, breeding in the Rocky Mountains, Intermountain West, and western Great Plains north to central Alberta and western Manitoba (Godfrey 1986) and south to at least northern Utah and northern Colorado; winters from Great Basin south to northern Sonora and western Texas, salicamans, resident on the Pacific Coast (west of Cascade-Sierra Nevada axis) from southern Oregon to southern California, breeding south to San Diego, and jewetti, breeding from southwest British Columbia south to southwest Oregon.
Two subspecies occur in Nebraska. Rapp et al (1958) considered tristis "the common form throughout the state" and that pallidus was "limited to northern Sioux Co". Bruner et al (1904) cited specimens of pallidus collected in Sioux Co 16 May 1901 and at Springview, Keya Paha Co 16 Jun 1902 (cited above) and concluded that pallidus was "the prevailing form" in northern and western Nebraska. Faulkner (2010) believed that tristis met pallidus in Wyoming, but that "their ranges and contact zones need further study". Based on these distributions, American Goldfinches in some portion of western and northern Nebraska may be mostly intergrades. There is no recent information available.
Spring: It is difficult to determine arrival and departure dates, as some birds are always present. A "noticeable spring movement" occurs in Kansas in April and early May (Thompson et al 2011). Migration peaks mid-Apr to early Jun (McGraw and Middleton 2020) and because this species is a late nester, winter flocks often persist into Jun (Brown et al 1996).
Birds banded during winter in Bellevue, Sarpy Co have been recovered twice in Kearney Co, one on 2 May 2001 (Ruth Green, personal communication), indicative of at least some westward movement in spring in the Platte River Valley.
High counts: 300 near Gibbon, Buffalo Co 10 Mar 2004, 250 at Lake McConaughy, Keith Co 11 May 2022, 214 at Spring Creek Prairie, Lancaster Co 29 Apr 2018, 200 in Hastings, Adams Co 27 Apr 2011, and "hundreds" at Ponca SP, Dixon Co 8 Mar 2014.
Summer: American Goldfinches are distributed relatively uniformly across Nebraska in early summer (Sauer et al 2017). Rosche (1982) considered it a "fairly common" summer resident in the northwest. BBS trend analysis shows an annual increase statewide of 0.95% (95% C.I.; -0.05, 1.94) 1966-2013 (Sauer et al 2017).
American Goldfinch is a late nester, waiting until thistledown is available as a nesting material, thus avoiding Brown-headed Cowbird parasitism (Brown et al 1996). Most nesting takes place in the period Jun-Sep (McGraw and Middleton 2020), and so winter flocks do not break up until well into Jun.
Breeding phenology:
Nest building: 8 Jun-27 Jul
Copulation: 1-23 Jul
Eggs: 23 May- 10 Sep (probably double-brooded; Mollhoff 2022)
Nestlings: 25 Aug-14 Sep
Fledglings: 2 Sep-14 Oct
Fall: As in spring, goldfinches are always present, making determination of significant movements difficult. In Kansas (Thompson et al 2011), post-breeding flocks become apparent by Sep, and numbers increase during Oct-Nov as migrants arrive. Migratory activity peaks late Oct to mid-Dec (McGraw and Middleton 2020). Rosche (1982) noted that in the northwest American Goldfinch is most common in fall.
High counts: 265 in Dawes Co 9 Sep 2014, 210 at Bay Hills Golf Course, Cass Co 10 Sep 2018, and 200 near Clearwater, Antelope Co 9 Nov 2021.
Winter: Winter distribution is fairly even statewide, although CBC data indicate extremely high numbers of goldfinches in southwest Nebraska and northeast Colorado (>101 birds per party-hour). Whether these are wintering birds from further north supplementing local residents is unknown. While there are variations in numbers from year to year, CBC data do not show the marked swings characteristic of other "winter finch" species. CBC data since 1948 show steadily increasing birds per party-hour, from a range of 1-4 through the early 1990s, then a steeper increase from 2.5 to 5 in the 1990s to 3.5-7.0 since. Highest total count of birds was 3387 in 2011-2012, no doubt assisted by the 899 on the Lake McConaughy CBC 31 Dec 2011.
Wintering site fidelity is low, as indicated amazingly by Charles Ely for Kansas: "I've banded over 35,000 in my yard over the last 20 years and STILL have not had a single bird recaptured".
High counts: 342 at Phillips, Hamilton Co 17 Feb 2019, 320 in Sheridan Co 28 Dec 2014, 300 at Ponca SP 13 Feb 2016, and 300 at Branched Oak Lake, Lancaster Co 24 Jan 2016.
Images
Abbreviations
BBS: Breeding Bird Survey
CBC: Christmas Bird Count
SP: State Park
UNSM: University of Nebraska State Museum
Literature Cited
Brown, C.R., M.B. Brown, P.A. Johnsgard, J. Kren, and W.C. Scharf. 1996. Birds of the Cedar Point Biological Station area, Keith and Garden Counties, Nebraska: Seasonal occurrence and breeding data. Transactions of the Nebraska Academy of Sciences 23: 91-108.
Bruner, L., R.H. Wolcott, and M.H. Swenk. 1904. A preliminary review of the birds of Nebraska, with synopses. Klopp and Bartlett, Omaha, Nebraska, USA.
Clements, J. F., T. S. Schulenberg, M. J. Iliff, D. Roberson, T. A. Fredericks, B. L. Sullivan, and C. L. Wood. 2016. The eBird/Clements checklist of birds of the world: v2016, accessed 30 January 2018.
Faulkner, D.W. 2010. Birds of Wyoming. Roberts and Company, Greenwood Village, Colorado, USA.
Godfrey, W.E. 1986. The birds of Canada. Revised Edition. National Museums of Canada, Ottawa, Ontario, Canada.
McGraw, K.J. and A.L. Middleton. 2020. American Goldfinch (Spinus tristis), version 1.0. In Birds of the World (P. G. Rodewald, Editor). Cornell Lab of Ornithology, Ithaca, NY, USA. https://doi.org/10.2173/bow.amegfi.01.
Mollhoff, W.J. 2022. Nest records of Nebraska birds. Nebraska Ornithologists' Union Occasional Paper Number 9.
Pyle, P. 1997. Identification Guide to North American Birds. Part I, Columbidae to Ploceidae. Slate Creek Press, Bolinas, California, USA.
Rapp, W.F. Jr., J.L.C. Rapp, H.E. Baumgarten, and R.A. Moser. 1958. Revised checklist of Nebraska birds. Occasional Papers 5, Nebraska Ornithologists' Union, Crete, Nebraska, USA.
Rosche, R.C. 1982. Birds of northwestern Nebraska and southwestern South Dakota, an annotated checklist. Cottonwood Press, Crawford, Nebraska, USA.
Sauer, J.R., D.K. Niven, J.E. Hines, D.J. Ziolkowski, Jr, K.L. Pardieck, J.E. Fallon, and W.A. Link. 2017. The North American Breeding Bird Survey, Results and Analysis 1966 – 2015 (Nebraska). Version 2.07. USGS Patuxent Wildlife Research Center, Laurel, Maryland, USA.
Thompson, M.C., C.A. Ely, B. Gress, C. Otte, S.T. Patti, D. Seibel, and E.A. Young. 2011. Birds of Kansas. University Press of Kansas, Lawrence, Kansas, USA.
Recommended Citation
Silcock, W.R., and J.G. Jorgensen. 2022. American Goldfinch (Spinus tristis). In Birds of Nebraska — Online. www.BirdsofNebraska.org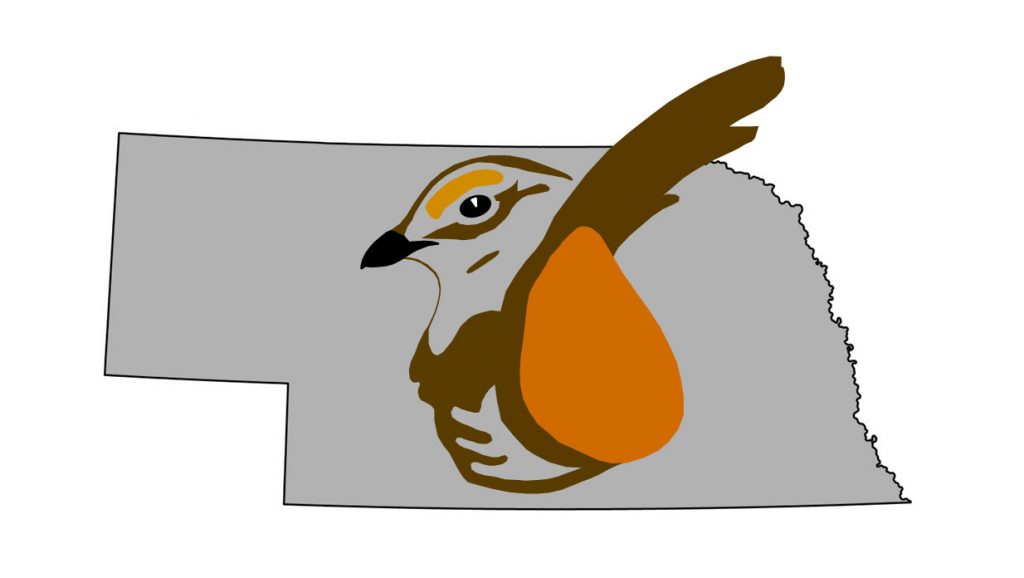 Birds of Nebraska – Online
Updated 28 Jun 2022