Setophaga ruticilla
Status:  Common regular spring and fall migrant east and central, uncommon west. Common regular breeder north, northwest, and east.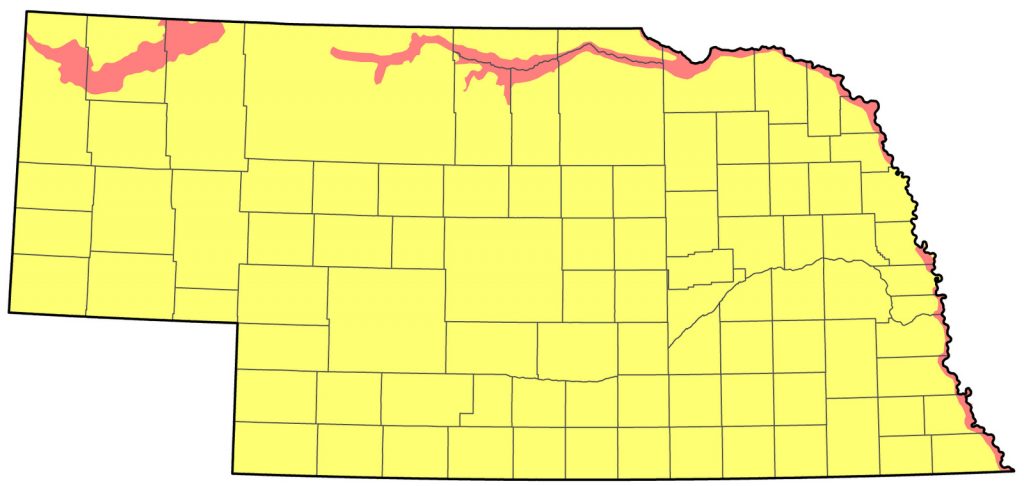 Documentation:  Specimen: UNSM 6917, 18 Jun 1902 Springview Bridge, Keya Paha Co.
Taxonomy:  No subspecies are recognized (Pyle 1997).
Spring:  Apr 24,25,25 <<<>>> Jun 8,9,9
Migration takes place in late Apr and May. There are earlier dates 17 Apr 1938 Webster Co, 17 Apr 1982 Lincoln Co, 22 Apr 1974 Douglas-Sarpy Cos, and 22 Apr 1984 Adams Co.  Brown et al (2012) cited a last spring migration date 15 Jun. There are additional later reports away from breeding areas 12 Jun 1982 McPherson Co, 12 Jun 2020 two females Table Rock WMA, Pawnee Co, 13 Jun 2003 Morrill Co, and 15 Jun 2017 at Kiowa WMA, Scotts Bluff Co.
High counts: 100 at Fontenelle Forest, Sarpy Co 15 May 2016, 80 there 22 May 2019, 70 there 21 May 2020, 60 there 21 May 2017, 51 there 12 May 2018, and 46 at Sowbelly Canyon, Sioux Co 28 May 2001.
Summer: The current breeding range of this species is restricted to discontinuous forested areas along the extreme east and north edges of the state. Although this range has not changed much in extent since Short (1961) described it, American Redstart was at one time more common. Around 1900, it was considered an "abundant breeder and summer resident over the state" (Bruner et al 1904), and as recently as 1958, Rapp et al (1958) listed it as a "common migrant and summer resident throughout the state."  By 1980 (Johnsgard 1980), the range was restricted to the Missouri and Niobrara River Valleys and the Pine Ridge, with a few scattered summer records elsewhere.  Between the first and second BBAs (Mollhoff 2001, 2016), the range changed little in extent, but the number of overall reports increased, especially in the eastern Niobrara River Valley west to central Cherry Co.
Both BBAs showed several Pine Ridge reports, including two in Sheridan Co (Mollhoff 2001, 2016). Rosche (1982) thought it a fairly common summer resident in Sioux and Dawes Cos; nests were found in Sowbelly Canyon 16 Jun 1986 (Huser 1986) and West Ash Canyon, Dawes Co, 12 Jun 1999 (Mollhoff 2001).  There are a few suggestive reports from Scotts Bluff Co, where a pair was found 9 Jul 1999 and at least one remained near Scottsbluff until early Jul 2000. Another returned to its "summering spot" in Scotts Bluff Co in 2005, a pair was in a northwest Scottsbluff yard 31 May into Jun 2008, one was at Lake Minatare 12 Jun 2014, and a "young" bird was there 7 Aug 2012.
Brogie and Mossman (1983) found several singing males in the Niobrara Valley Preserve in 1982, suggesting that it was a probable nester there, and it was reported from Valentine NWR, Cherry Co 16 Jul 1994. In 2008, "numerous pairs" were found Jun-Jul in Holt, Keya Paha, Brown, and Cherry Cos (Silcock 2008). There are reports close to the breeding range at O'Neill, Holt Co 15 Jun 2011, in Madison Co 1 Jul 2012, and at Grove Lake, Antelope Co 26 Jun 2018. The westernmost report in the Niobrara River Valley is of two birds at Anderson Bridge WMA, Cherry Co 19 Jun 2014.
This species does not breed in the Platte River Valley. The only breeding season reports there are 30 Jun 1971 Lincoln Co, 27 Jun 2011 Platte Co, 5 Jul 2012 Platte River SP, Cass Co, and "summer" 1994 in Buffalo Co.
Prior to the 1970s there were reports in the southeast west to Adams, Gage, Clay, Saline, and Lancaster Cos, but since then the only report in that area is of one singing 21 Jul 2015 in Jefferson Co.
There is no evidence for breeding in the Loup drainage since Ford (1959) found it to be a common breeding bird in Thomas Co and Short (1961) found it common at NNF Bessey; Bray (1994) found no evidence of breeding there in 1993.
Breeding phenology:
Nest building: 25 May-16 Jun
Eggs: 31 May-29 Jun
Nestlings: 11 Jun
Fledglings 27 Jul
High counts:  57 at Fontenelle Forest, Sarpy Co 7 Jun 2019, 34 at Indian Cave SP, Richardson Co 12 Jul 2020, 24 at Fontenelle Forest 6 Jun 2020, and 20-30 at Ashford Scout Camp, Thurston Co 11 Jun 2006.
Fall:  Aug 9, 10, 10 <<<>>> Sep 30, Oct 1, 2
Early dates above are away from breeding areas. Migrants occur from mid-Aug through late Sep, although individuals may leave breeding grounds in Jul (Sherry et al 2020). There are several early fall reports: one was banded in the Lake Ogallala area, Keith Co 11 Jul 1992 (Brown et al 1996), four were at Memphis Lake SRA, Saunders Co 11 Jul 2013, one in Merrick Co 12 Jul 2019, one was in Red Willow Co 15 Jul 2010,  one in Lancaster Co 15 Jul 2019, one in Buffalo Co 16 Jul 2020, one at Rock Creek SRA, Dundy Co 18 Jul 2020, singles at both Clear Creek WMA, Keith Co and Bridgeport SRA, Morrill Co 29 Jul 2010,  3 Aug 2019 Colfax Co, and 5 Aug 1982 McPherson Co.
There are only six reports in all for Oct; including the two listed above as Fall late dates, these are 1 Oct 2000 near Harvard WPA, Clay Co, 2 Oct 1977 Boone Co, 4 Oct 2015 at Mercer Woods, Omaha, 5 Oct 2010 female Lincoln Co, 13 Oct 1999 Arbor Day Farm, Otoe Co., and one photographed 29 Oct 2018 North Platte, Lincoln Co.
High counts:  13 at Walnut Grove Park, Omaha, Douglas Co 10 Sep 2018, 13 at Rock Creek SRA, Dundy Co 29 Aug 2020, 12+ at Krimlofski Tract, Neale Woods, Washington Co 13 Sep 1998, and 12 in Sowbelly Canyon, Sioux Co 24 Aug 2019.
Abbreviations
BBA: Breeding Bird Atlas
NNF: Nebraska National Forest
NWR: National Wildlife Refuge
SP: State Park
SRA: State Recreation Area
UNSM: University of Nebraska State Museum
WMA: Wildlife Management Area (State)
Acknowledgement
Photograph (top) of a American Redstart at Fontenelle Forest, Sarpy Co 12 May 2018 by Phil Swanson.
Literature Cited
Bray, T.E., B.K. Padelford, and W.R. Silcock. 1986. The birds of Nebraska: A critically evaluated list. Published by the authors, Bellevue, Nebraska, USA.
Brogie, M.A., and M.J. Mossman. 1983. Spring and summer birds of the Niobrara Valley Preserve, Nebraska: An annotated checklist. NBR 51: 44-51.
Brown, C.R., M.B. Brown, P.A. Johnsgard, J. Kren, and W.C. Scharf. 1996. Birds of the Cedar Point Biological Station area, Keith and Garden Counties, Nebraska: Seasonal occurrence and breeding data. Transactions of the Nebraska Academy of Sciences 23: 91-108.
Brown, M.B., S.J. Dinsmore, and C.R. Brown. 2012. Birds of Southwestern Nebraska. Conservation and Survey Division, Institute of Agriculture and Natural Resources, University of Nebraska—Lincoln, Lincoln, Nebraska, USA.
Bruner, L., R.H. Wolcott, and M.H. Swenk. 1904. A preliminary review of the birds of Nebraska, with synopses. Klopp and Bartlett, Omaha, Nebraska, USA.
Ford, N.L. 1959. Notes on summer birds of western Nebraska. NBR 27: 6-12.
Huser, B.F. 1986. June notes for western Nebraska. NBR 54: 82-83.
Johnsgard, P. A. 1980. A preliminary list of the birds of Nebraska and adjacent Great Plains states. Published by the author, University of Nebraska, Lincoln, USA.
Mollhoff, W.J. 2001. The Nebraska Breeding Bird Atlas 1984-1989. Nebraska Ornithologists' Union Occasional Papers No. 7. Nebraska Game and Parks Commission, Lincoln, Nebraska, USA.
Mollhoff, W.J. 2016. The Second Nebraska Breeding Bird Atlas. Bull. Univ. Nebraska State Museum Vol 29. University of Nebraska State Museum, Lincoln, Nebraska, USA.
Pyle, P. 1997. Identification Guide to North American Birds. Part I, Columbidae to Ploceidae. Slate Creek Press, Bolinas, California, USA.
Rapp, W.F. Jr., J.L.C. Rapp, H.E. Baumgarten, and R.A. Moser. 1958. Revised checklist of Nebraska birds. Occasional Papers 5, Nebraska Ornithologists' Union, Crete, Nebraska, USA.
Rosche, R.C. 1982. Birds of northwestern Nebraska and southwestern South Dakota, an annotated checklist. Cottonwood Press, Crawford, Nebraska, USA.
Sherry, T.W., R.T. Holmes, P. Pyle, and M.A. Patten. 2020. American Redstart (Setophaga ruticilla), version 1.0. In Birds of the World (P. G. Rodewald, Editor). Cornell Lab of Ornithology, Ithaca, NY, USA. https://doi.org/10.2173/bow.amered.01.
Short, L.L., Jr. 1961. Notes on bird distribution in the central Plains. NBR 29: 2-22.
Silcock, W.R. 2008. Summer Field Report, June-July 2008. NBR 76: 94-111.
Recommended Citation
Silcock, W.R., and J.G. Jorgensen.  2021.  American Redstart (Setophaga ruticilla). In Birds of Nebraska — Online. www.BirdsofNebraska.org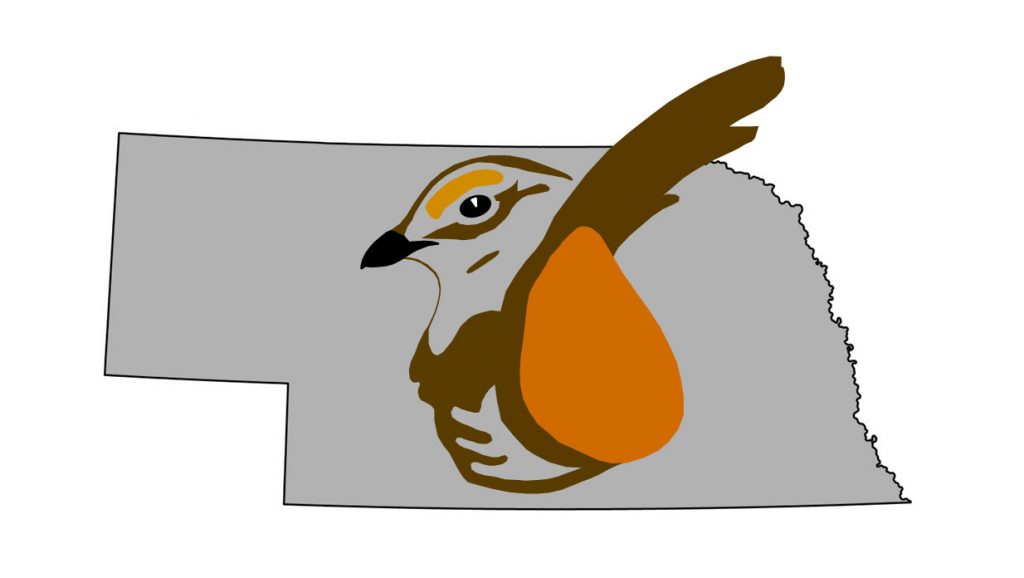 Birds of Nebraska – Online
Updated 17 Jan 2021