Turdus migratorius
Status: Abundant regular spring and fall migrant statewide. Common regular breeder statewide. Common but erratic regular winter visitor statewide.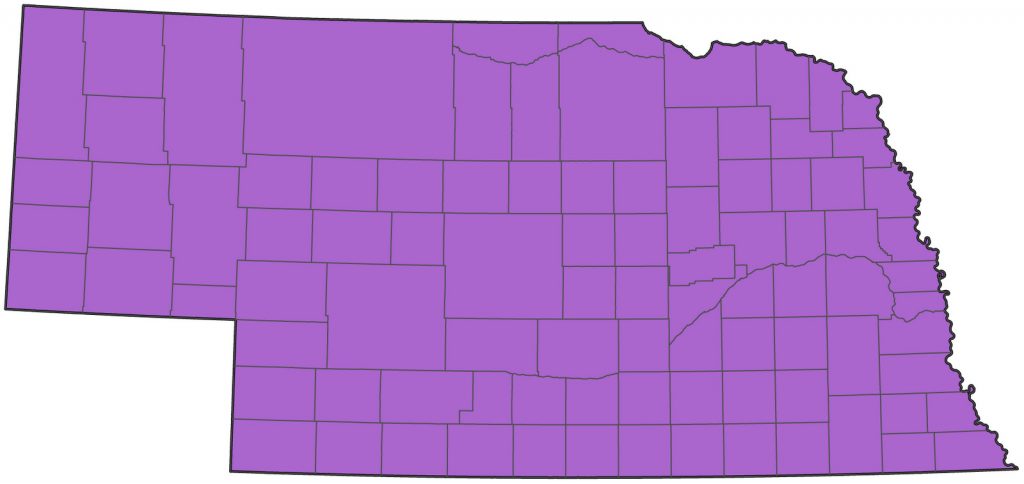 Documentation: Specimen: migratorius, UNSM ZM6653, 18 May 1914 Lancaster Co.
Taxonomy: Seven subspecies are generally recognized, five of these occurring north of Mexico (Pyle 1997, Vanderhoff et al 2020): nigrideus of eastern Canada, migratorius of Alaska (except southeast), Canada (except east and west) and central and northeast USA, achrusterus of the southeastern USA, caurinus of southeast Alaska and coastal western Canada, and propinquis of interior southwest Canada and interior western USA to central Mexico.
Two of these subspecies have occurred in Nebraska. The eastern race migratorius breeds west to Gordon, Sheridan Co, North Platte, Lincoln Co, and McCook, Red Willow Co, while propinquis, the Rocky Mountain race, breeds east to Sioux Co and Scottsbluff (AOU 1957). There is no information on individuals from the area in between where intergradation would seem likely, although Bruner et al (1904) stated that "most western Nebraska birds were intermediate, with an occasional propinqua." A specimen, UNSM ZM 6652, taken in Sioux Co May 1900, was identified as migratorius, but "approaching propinqua". Tout (1947) listed propinquis as an irregular winter visitor to Lincoln Co, identified by the lack of white spots at the tips of the outer tail feathers.
Spring: The presence of overwintering flocks makes it difficult to discern arrival dates, although there is a noticeable increase in numbers in late Feb and early Mar, and at about the same time territorial singles are seen in yards. Johnsgard (1980) noted that there is a concentration of early spring dates in the period 2 Feb-4 Mar; peak numbers were noted in Saunders Co 12 Mar-2 Apr 1994. "Thousands" were in southeast Lincoln Co by 29 Mar 2006. A rather late aggregation was the 350 at Plattsmouth Cemetery, Cass Co 6 Apr 2007. Good counts persisting into late Jun may be of late migrants; 83 were in Custer Co 11 Jun, and 65 were in Lancaster Co 21 Jun 2017.
According to Vanderhoff et al (2020), "the term "routes" does not really apply to robin migrations and there does not appear to be strong connectivity between overwintering and breeding grounds.
High counts: 1200 in Saunders Co 27 Feb 2000, 852 in Hall Co 10 May 2003, and 796 in Lancaster Co 7 Mar 2014.
Summer: This species breeds statewide. BBS data indicate that breeding birds are most abundant in the east, with diminishing numbers westward (Sauer et al 2017), presumably as woodland and human habitation decrease. According to Bent (1948), the eastern subspecies migratorius spread westward as people established towns and parks. The tall- and mixed-grass prairie was not a favored habitat, a fact reflected by BBS data; robins moved in during the early 1900s (Walcott 1974). Close as settlers planted trees and introduced earthworms, an important food source, into prairie soils in Kansas and elsewhere in the Great Plains (Vanderhoff et al 2020). BBS trend analysis shows an annual increase of 1.34% (95% C.I.; 0.82, 1.87) statewide 1966-2013.
Breeding phenology:
Nest building: 24 Mar-7 Jul
Copulation: 24 Feb-6 May
Eggs: 12 Apr-8 Jul (Mollhoff 2022)
Nestlings: 27 Apr-18 Jul
Fledglings: 27 Apr-15 Aug
High counts: 78 at Bay Hills Golf Course, Cass Co 14 Jun 2021, 75 at Sutherland Reservoir, Lincoln Co 15 Jun 2021, and 67 in a Sarpy Co yard 30 Jun 2022.
Fall: Robins form flocks as early as Jul after breeding; one such flock of 87 was in southeast Cuming Co 15 Jul 2005, 185 were in Madison Co 25 Jul 2020, 68 were at a Cass Co golf course 27 Jul 2017, and 56 were at Victoria Springs SRA, Custer Co 19 Jul 2003; 701 were at a roost in Lancaster Co 17 Aug 2003. Many flocks linger into winter, gradually departing as the supply of fruits is depleted. More than half of fall departure dates examined by Johnsgard (1980) fell in the period Oct 20-Dec 14; huge flocks occur during this period (see High Counts).
High counts: 150,000 in Knox Co 20 Oct 2010, 7000 at Merritt Reservoir, Cherry Co 30 Nov 2002, 2500 at Cunningham Lake, Douglas Co 22 Oct 2019, "thousands" at each of three locations in Lincoln Co 31 Oct-10 Nov 2004, "thousands" at Fontenelle Forest, Sarpy Co 6 Oct 1999, "thousands" at Gavin's Point Dam, Cedar Co 24 Nov 2003, and "thousands for days" near Walton, Lancaster Co through 11 Oct 2005.
Winter: CBC data demonstrate the erratic early winter occurrence of this species. Between 1966 and 1988 statewide, all annual totals per party-hour were <5, except for 14 in 1980, but from 1989 to 2015, party-hour totals were all >5, with the low eight and high 47. The highest individual count totals are 13,136 at Calamus-Loup 27 Dec 2003, 10,712 at Lake McConaughy 29 Dec 2007, and 9500 at Calamus-Loup in 1987-88.
Mid-winter estimates are surprisingly high also. Some 20,000 flew over Brown Co 11 Jan 1988; 4800 were estimated in six minutes and the flight lasted for a half hour (NGPC, unpublished data). As many as 10,000 were in the cedar canyons of southeast Lincoln Co 8 Jan 2016, "countless thousands" were at North Bend, Dodge Co 5 Feb 1999, "thousands" were at both Lake McConaughy, Keith Co 15-18 Jan 2003 and between Center and Niobrara, Knox Co 12 Jan 2014, and 3750 were estimated at Valentine, Cherry Co 2 Feb 2022.
Images
Abbreviations
BBS: Breeding Bird Survey
CBC: Christmas Bird Count
NGPC: Nebraska Game and Parks Commission
SRA: State Recreation Area
UNSM: University of Nebraska State Museum
Literature Cited
American Ornithologists' Union [AOU]. 1957. The AOU Check-list of North American birds, 5th ed. Port City Press, Baltimore, Maryland, USA.
Bent, A.C. 1948. Life histories of North American Nuthatches, Wrens, Thrashers, and their allies. Bulletin of the United States National Museum 195. Dover Publications Reprint 1964, New York, New York, USA.
Bruner, L., R.H. Wolcott, and M.H. Swenk. 1904. A preliminary review of the birds of Nebraska, with synopses. Klopp and Bartlett, Omaha, Nebraska, USA.
Johnsgard, P. A. 1980. A preliminary list of the birds of Nebraska and adjacent Great Plains states. Published by the author, University of Nebraska, Lincoln, USA.
Mollhoff, W.J. 2022. Nest records of Nebraska birds. Nebraska Ornithologists' Union Occasional Paper Number 9.
Pyle, P. 1997. Identification Guide to North American Birds. Part I, Columbidae to Ploceidae. Slate Creek Press, Bolinas, California, USA.
Sauer, J.R., D.K. Niven, J.E. Hines, D.J. Ziolkowski, Jr, K.L. Pardieck, J.E. Fallon, and W.A. Link. 2017. The North American Breeding Bird Survey, Results and Analysis 1966 – 2015 (Nebraska). Version 2.07. USGS Patuxent Wildlife Research Center, Laurel, Maryland, USA.
Tout, W. 1947. Lincoln County birds. Published by the author, North Platte, Nebraska, USA.
Vanderhoff, N., P. Pyle, M.A. Patten, R. Sallabanks, and F.C. James. 2020. American Robin (Turdus migratorius), version 1.0. In Birds of the World (P. G. Rodewald, Editor). Cornell Lab of Ornithology, Ithaca, NY, USA. https://doi.org/10.2173/bow.amerob.01.
Walcott, C.F. 1974. Changes in bird life of Cambridge, Massachusetts from 1860 to 1964. Auk 91: 151-160.
Recommended Citation
Silcock, W.R., and J.G. Jorgensen. 2022. American Robin (Turdus migratorius). In Birds of Nebraska — Online. www.BirdsofNebraska.org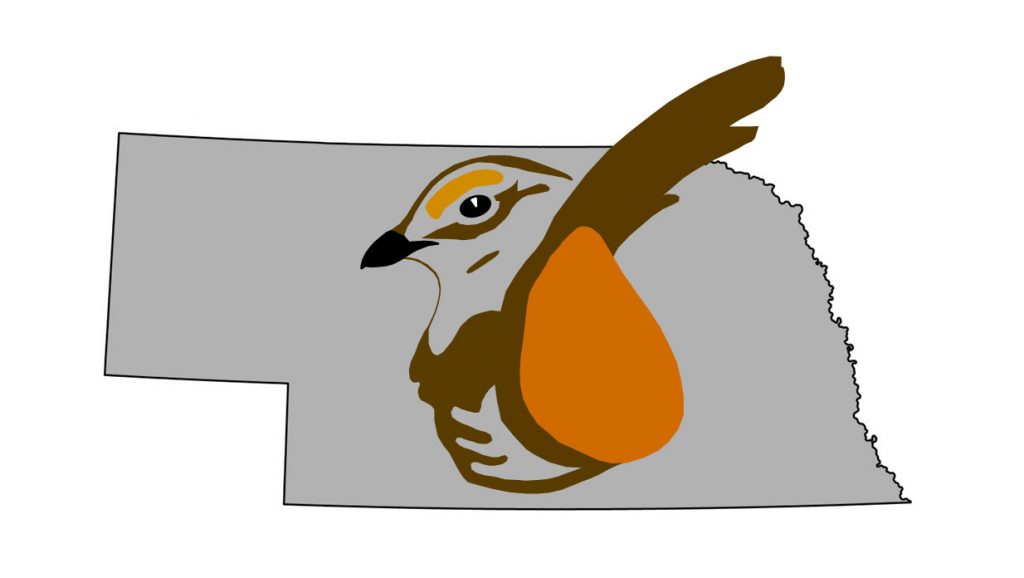 Birds of Nebraska – Online
Updated 12 Sep 2022