Picoides dorsalis dorsalis
Status: Rare casual summer visitor west.
Documentation: Specimen: UNSM ZM6345, 16 Jun 1916 Scotts Bluff Co (Swenk 1918).
Taxonomy: There have been several recent changes in assignment of woodpeckers to genera. The only remaining species in the genus Picoides are Eurasian and American Three-toed Woodpeckers and Black-backed Woodpecker (Gill and Donsker 2017).
Nearctic three-toed woodpeckers have been split from those of the Palearctic based on genetic and vocal differences (Banks et al 2003). American Three-toed Woodpecker occurs in North America north of Mexico, with three subspecies recognized (AOU 1957): fasciatus of Alaska, western Canada and the northwestern USA, dorsalis of the Rocky Mountains from Montana south to Arizona and New Mexico, and bacatus of central and eastern Canada, south to northern Minnesota, and the northeastern US.
The Nebraska specimen cited above belongs to the Rocky Mountain subspecies dorsalis (Swenk 1918), which occurs in Wyoming and the Black Hills of South Dakota (Faulkner 2010, Tallman et al 2002).
Summer: There are three documented records. The first record below probably represents a single pair present 4 Jun 2014 through 15 Jul 2015 (see below).
4 Jun 2014, adult male in burned ponderosa pine woodland in East Ash Canyon, Dawes Co, found by Bird Conservancy of the Rockies surveyors; likely the same male was nearby 13 and 22 Sep (photo). 18-25 Oct 2014, adult female about 2/10 mile east of the above sightings attending a fresh nest cavity (Mark Brogie video; Mollhoff 2022). 8 Jun and 15 Jul 2015, present in same area as Jun-Sep 2014 sightings (http://rmbo.org/v3/avian/ExploretheData.aspx). 3-15 Jul 2015, a probable pair was found a half mile southwest of the initial sightings (Brogie 2016)
16 Jun 1916, the specimen cited above, a male collected seven miles west of Scottsbluff, Scotts Bluff Co and confirmed as this species by H.C. Oberholser (Swenk 1918)
18 Jul 1994, a female which was associated with a second undescribed bird in burned ponderosa pine woodland in Smiley Canyon, Sioux Co (Gubanyi 1996, Silcock and Rosche 1994).
The sites of the 2014-2015 records were in the area of an extensive fire that occurred in Aug 2012; usually this species occupies a newly burned area for six or even 10 years (Leonard 2001), but none could be found despite careful searching 5 Apr and 24 May 2016 in East Ash Canyon, Dawes Co. It appears the bark beetle outbreak that attracted these birds Jun 2014 had died down and the birds may have moved on after only two years of residency (see Comments). There were no reports during the intervening 2014-2015 winter, although it seems likely the birds were still present.
A female was reported by Bird Conservancy of the Rockies surveyor Dave Sandahl 30 May 2019 along Milo Road, southwest of Joder, Sioux Co, but the report was not accepted by NOURC due to "lack of detail" (eBird. org; Brogie 2020).
Comments: Murphy and Lehnhausen (1998) suggested that American Three-toed Woodpeckers specialize on bark beetles (Scolytidae) rather than the wood-boring beetles (Cerambycidae) favored by Black-backed Woodpeckers. Local increases in American Three-toed Woodpecker numbers were noted in areas of Scolytidae outbreaks in Alaska, where individuals selected uncharred portions of lightly to moderately burned spruces, sites where Scolytidae beetle larvae were most abundant (Werner and Post 1985; Tremblay et al 2020).
There is a single Kansas record, also in summer; one was in Morton Co 3-13 Jul 2005 (Thompson et al 2011).
Images
Abbreviations
UNSM: University of Nebraska State Museum
Literature Cited
American Ornithologists' Union [AOU]. 1957. The AOU Check-list of North American birds, 5th ed. Port City Press, Baltimore, Maryland, USA.
Banks, R.C., C. Cicero, J.L. Dunn, A.W. Kratter, P.C. Rasmussen, J.V. Remsen, Jr., J.A. Rising, and D.F. Stotz. 2003. Forty-fourth supplement to the American Ornithologists' Union check-list of North American birds. Auk 120: 923-931.
Brogie, M.A. 2016. 2015 (27th) Report of the NOU Records Committee. NBR 84: 138-150.
Faulkner, D.W. 2010. Birds of Wyoming. Roberts and Company, Greenwood Village, Colorado, USA.
Gill, F., and D. Donsker (Eds). 2017. IOC World Bird List (v 7.3), accessed 30 January 2018.
Gubanyi, J.G. 1996. 1994 (Sixth) Report of the NOU Records Committee. NBR 64: 38-42.
Mollhoff, W.J. 2022. Nest records of Nebraska birds. Nebraska Ornithologists' Union Occasional Paper Number 9.
Murphy, E.C., and W.A. Lehnhausen. 1998. Density and foraging ecology of woodpeckers following a stand-replacement fire. Journal of Wildlife Management 62: 1359-1372.
Silcock, W.R., and R.C. Rosche. 1994. Summer Field Report, June-July 1994. NBR 62: 102-116.
Swenk, M.H. 1918. Revisory notes on the birds of Nebraska. Wilson Bulletin 30: 112-117.
Tallman, D.A., Swanson, D.L., and J.S. Palmer. 2002. Birds of South Dakota. Midstates/Quality Quick Print, Aberdeen, South Dakota, USA.
Thompson, M.C., C.A. Ely, B. Gress, C. Otte, S.T. Patti, D. Seibel, and E.A. Young. 2011. Birds of Kansas. University Press of Kansas, Lawrence, Kansas, USA.
Tremblay, J.A., D.L. Leonard Jr., and L. Imbeau. 2020. American Three-toed Woodpecker (Picoides dorsalis), version 1.0. In Birds of the World (P. G. Rodewald, Editor). Cornell Lab of Ornithology, Ithaca, NY, USA. https://doi.org/10.2173/bow.attwoo1.01.
Werner, R.A., and K.E. Post. 1985. Effects of wood-boring insects and bark beetles on survival and growth of burned white spruce. In Early results of the Rosie Creek Fire Research Project 1984. University of Alaska/Fairbanks Agricultural and Forestry Experiment Station Miscellaneous Publications, 852, Fairbanks, Alaska, USA.
Recommended Citation
Silcock, W.R., and J.G. Jorgensen. 2022. American Three-toed Woodpecker (Picoides dorsalis). In Birds of Nebraska — Online. www.BirdsofNebraska.org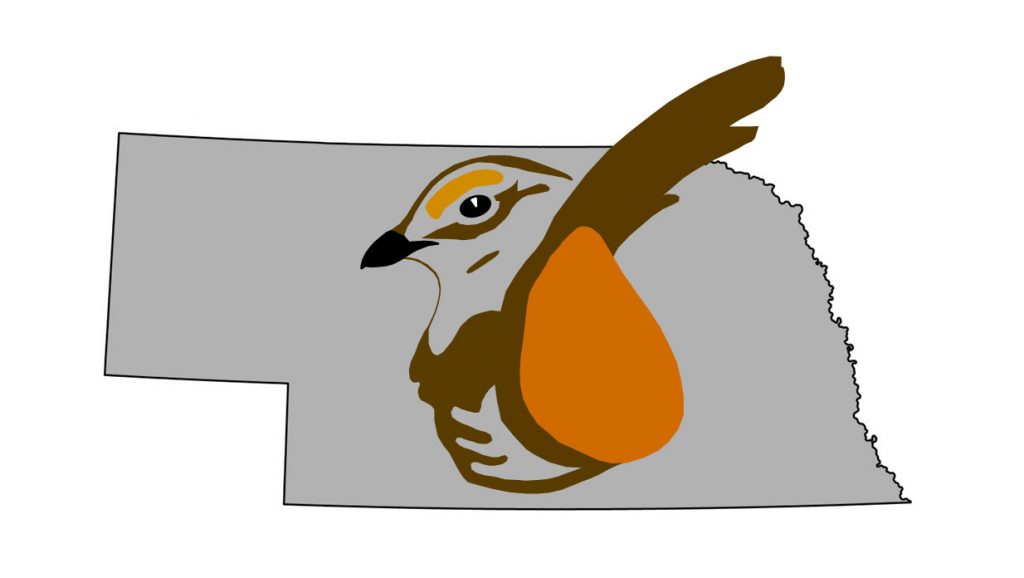 Birds of Nebraska – Online
Updated 10 Mar 2022