Pelecanus erythrorhynchus
Status: Abundant regular spring and fall migrant statewide. Rare casual breeder Cherry Co. Uncommon, locally common, regular summer visitor central and west, uncommon elsewhere. Locally rare regular winter visitor south, rare casual elsewhere.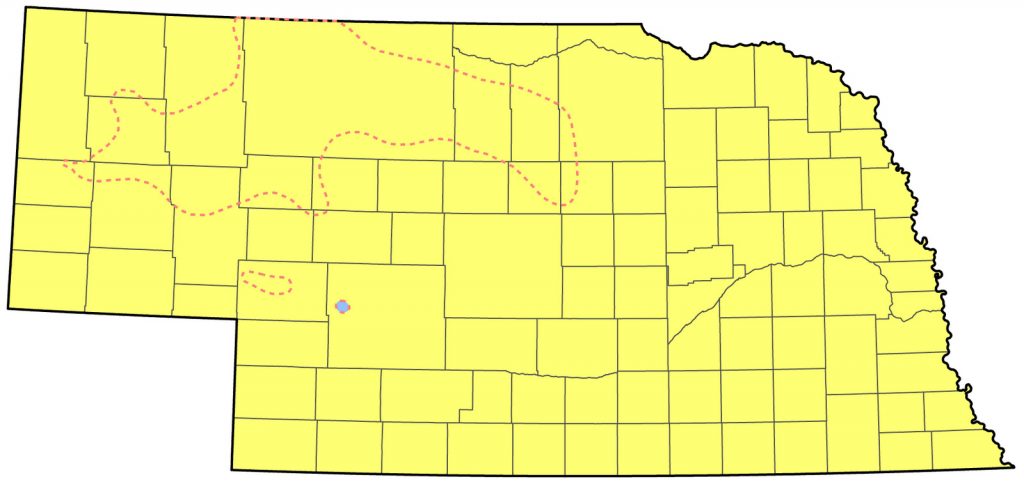 Documentation: Specimen: UNSM ZM12393, 31 May 1959 Lincoln, Lancaster Co.
Taxonomy: No subspecies are recognized.
Changes Since 2000: Larger numbers are arriving earlier in spring and overwintering numbers continue to increase at Sutherland Reservoir in Lincoln Co, at Harlan Co Reservoir, Harlan Co, and Lake Ogallala, Keith Co.
Spring: Feb 9, 10, 11 <<<>>> summer
Reports of early arrivals in good numbers at Harlan Co Reservoir and Calamus Reservoir, Loup Co suggest occasional early northward movement. "Scores" were at Harlan Co Reservoir 12 Feb 2013 and as many as 300 were there by 16 Feb, and, in 2020, arrival in numbers was also early, with 30 there 10 Feb increasing to 150 by 14 Feb. In 2020, 30 arrived early at Calamus Reservoir 10 Feb and 50 were there 18 Feb.
Typically, flocks arrive in late Mar, reaching peak numbers in late Apr. Early for the location was a flock of 126 at Lake McConaughy, Keith Co 5 Mar 2005, and a late flock of 136 was there 9 Jun 2007. Although most migratory movement is completed by mid-May, small groups or occasionally individuals may remain anywhere in the state throughout summer months.
High counts: 3000 at Calamus Reservoir, Loup Co 6 Apr 2019, 2700 at Lake McConaughy 16 May 2003, 2390 there 28 Apr 2001, and "low thousands" at Harlan Co Reservoir 27 Mar 2013. Estimates of 1000 and 4000 were made by different observers at Calamus Reservoir, Loup Co 25 Mar 2017.
Summer: Breeding colonies of White Pelicans are scattered throughout the northern Great Plains as well as in Wyoming and Colorado, but none are permanently established in Nebraska. A large colony exists just north of the state line at Lacreek NWR, Bennett Co, South Dakota.
The first large colony nesting involved the discovery by John Sidle of some 1200 nests on an ephemeral island in Wolf Lake, Garden Co in 2021; photographs were taken 6 Aug when many young were present (John Sidle, pers. comm.). Also in 2021, a colony of 75-100 nests was found mid-Jun at Island Lake, Crescent Lake NWR, Garden Co; young were hatching 7 Jul (Marlin French, pers. comm.). These two colonies appear to be related to the complete abandonment in 2021 of the large Lacreek NWR, South Dakota nesting colony, possibly due to predator pressure there resulting from lowered lake levels during winter in an effort to avoid botulism (Todd Schmidt, pers. comm.; James Ducey). In 2022 however the Garden Co colonies were abandoned (John Sidle, pers.comm.), apparently due to rehabilitation of the Lacreek NWR nesting island, which hosted 642 nests as of 9 Jun (Todd Schmidt, pers. comm.).
There are three additional instances of nesting, although chicks were hatched only in the 2019 event (below). Mollhoff (2005) presented information from biologist Leonard McDaniel regarding egg-dumping by pelicans in Double-crested Cormorant nests at Valentine NWR, Cherry Co, 25 May 1988 (2 eggs), 2 Jun 1991 (4), and 17 May 1993 (4), and the establishment of a breeding colony of 10 platform nests 24 May 1995; the nests were abandoned 29 May (Mollhoff 2022). On 18 Jul 2019, 37 adults and 17 chicks about 12 days old were associated with ground-nesting Double-crested Cormorants on an island at Marsh Lakes, Valentine NWR (Richard Ernst photo, Jennifer Chiu, Melvin Nenneman; Mollhoff 2022); this event was at the same location as the 1995 event (fide Wayne Mollhoff).
Summer occurrences in the south and east are uncommon, with fewest sightings during the second half of Jun and through Jul; true migration is not evident in the south and east until early Aug.
High counts: 420 at Lake McConaughy 23 Jun 2002, 360 at Crescent Lake NWR, Garden Co 9 Jun 2021, 350-400 in Platte Co 19 Jun 2004, and 310 at Lake McConaughy 9 Jul 2001.
Fall: summer <<<>>> Dec 29, 29, 30 (away from known wintering sites)
Later dates away from known wintering sites are 1 Jan 2020 (2) Nemaha Co, 2 Jan 2018 (3) Lancaster Co, 4 Jan 2012 Buffalo Co, 4-5 Jan 2019 Douglas Co, and 3-8 Jan 2023 Salt Creek, Lancaster Co. The apparent last survivor of a group of three at Gavin's Point Dam, Cedar Co 2 Jan 2022 lasted until 10 Feb.
Migratory movement is first seen in late Jul, although in 2015 a flock of 200 was over Spring Creek Prairie, Lancaster Co 23 Jun, and 56 at were at Branched Oak Lake, Lancaster Co two days later. Numbers generally peak in Sep, but small groups may remain into winter at certain locations.
High counts: 3000 in eastern Washington Co 19 Sep 2011, 3000 in Dakota Co 8 Sep 2012, and 3000 at Calamus Reservoir 2 Oct 2016.
Winter: In recent years small numbers have lingered into winter; there were no Dec reports until 1977 and no Jan reports until 1991. Some lingering birds are injured, but most are not. Sutherland Reservoir has a coal-fired power plant cooling pond that remains open throughout winter; single birds were present there 15 Feb 1992 and 19 Dec 1992, and overwintering began in 1993-94 and has continued each year since. The first high tally there was the 33 on 1 Jan 2010; up to 24 wintered 2014-2015, 29 in 2017-2018, and 33 in 2020-2021. Numbers usually dwindle during Feb, although in recent years early spring arrivals have added to the number of wintering pelicans.
Overwintering was unknown away from Sutherland Reservoir until 1999-2000, when 3-4 wintered at Harlan Co Reservoir. Wintering probably occurs there occasionally; three were present 26 Jan 2002, three were there 24 Jan 2012, one was there 2 Feb 1997, and five on 1 Feb and 17 on 8 Feb in 2022. Mid-Feb reports, including the latter 8 Feb date at Harlan Co Reservoir may be of early migrants given its southerly location. Recently, wintering has occurred at Lake Ogallala, where four were present 2003-2004, with eight on 25 Jan, and 1-5 have been present in subsequent winters. An older mid-winter sighting there was 12 Jan 1991.
Comments: Conflicts between fishermen and American White Pelicans and Double-crested Cormorants have been an issue in recent years as these species have increased in numbers. This issue was explored by Dinan and Jorgensen (2014), who provided baseline count data for fall 2012 on these species in the Sandhills and concluded it was unlikely either species was negatively impacting sport fishing resources in Nebraska.
Federal banding returns indicate that bands taken from birds found dead in Nebraska were placed on juveniles that were produced in breeding colonies from virtually every Great Plains state and Canadian province, including Colorado, Wyoming, Ontario and Alberta, suggesting that American White Pelicans wander widely during their lives. However, of 101 band returns, 44 were banded in North Dakota. A dead bird found on the Calamus-Loup CBC 31 Dec 2012 had been banded as a flightless juvenile at Medina, North Dakota 8 Jul 1999; co-incidentally, a 20-year-old bird found dead in Seward Co 18 Apr 2019 was banded as a chick at Medina, North Dakota 8 Jul 1999.
Images
Abbreviations
CBC: Christmas Bird Count
NWR: National Wildlife Refuge
UNSM: University of Nebraska State Museum
Literature Cited
Dinan, L.R., and J.G. Jorgensen. 2014. Double-crested Cormorant and American White Pelican abundance at Sandhills lakes during fall migration. NBR 82: 73-80.
Mollhoff, W.J. 2005. The 2003-2004 Nebraska nest report. NBR 73: 15-19.
Mollhoff, W.J. 2022. Nest records of Nebraska birds. Nebraska Ornithologists' Union Occasional Paper Number 9.
Recommended Citation
Silcock, W.R., and J.G. Jorgensen. 2023. American White Pelican (Pelecanus erythrorhynchus). In Birds of Nebraska — Online. www.BirdsofNebraska.org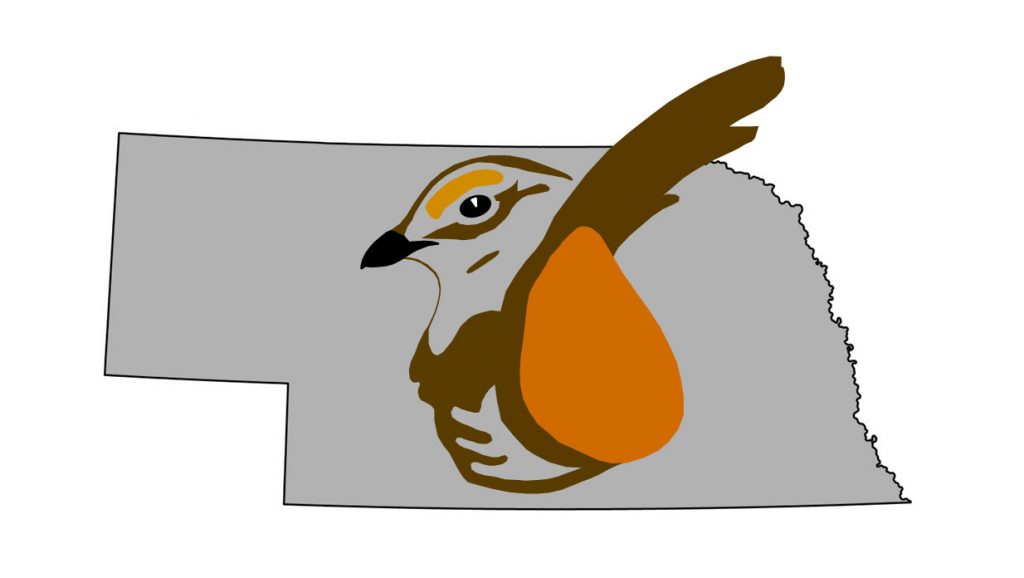 Birds of Nebraska – Online
Updated 8 Mar 2023