Scolopax minor
Status: Uncommon regular spring and fall migrant east and central, rare casual west. Uncommon regular breeder east, rare central.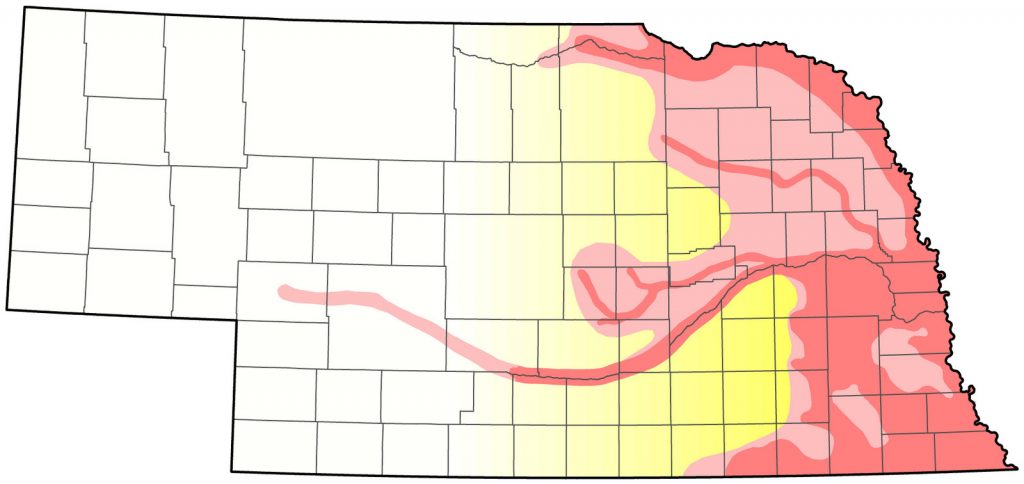 Documentation: Specimen: UNSM ZM6132, 19 Apr 1900 Lincoln, Lancaster Co.
Taxonomy: No subspecies are recognized.
Spring: Feb 29, Mar 1, 2 <<<>>> summer
Earlier dates are 21 Feb 2017 Douglas Co, and 27 Feb 2012 Lancaster Co.
Woodcocks arrive and begin displaying by early to mid-Mar; central Nebraska records cited here may be of potential breeders.
Reports in the west and central are few; the only Panhandle report is 22 Mar 2003 Bridgeport, Morrill Co, and there are two reports without date in Lincoln Co (Tout 1936), as well as reports of single birds 23 Mar 2007 at Goose Lake, near Chambers, Cherry Co, 27 Mar 2007 Lincoln Co, one heard near Bassett, Rock Co 2 Apr 2005, early May 2003 Page, Holt Co (David Trowbridge, pers. comm.), and 16 May 1936 Lincoln Co. Central Platte River Valley reports are 12 Mar 1975 Clay Co (Cortelyou 1975), one photographed 12 Mar 2011 at Hastings, Adams Co, 13 Mar 2007 near Dannebrog, Howard Co, 22 Mar 2011 near Gibbon, Buffalo Co, and 26 Mar 1988 Polk Co.
High counts: 15 at Branched Oak Lake, Lancaster Co 25 Mar 1997, 8 at Boyer Chute NWR, Washington Co 15 Mar 2011, and 7 at Walnut Creek RA, Sarpy Co 16 Mar 2022.
Summer: Historically, woodcocks were restricted to the Missouri River and lower Elkhorn River Valleys (Bruner et al 1904; Lingle 1981), but during the 20th century the species has expanded its range westward as habitat has become suitable, primarily along the Platte River Valley. Woodcocks have been found displaying just south of Kearney since about 1994 (Silcock and Rosche 1994), although evidence of nesting is lacking. As of 2003, westernmost birds are reported from Elm Creek, Buffalo Co, although one was seen near Sarben in southeast Keith Co 18 Jun 2002, and another was heard near Paxton, Keith Co 31 Mar 2009, the westernmost to date in the Platte River Valley. It was reported from Howard-Hall Cos 27 Jun 1988 and 27 Jun 1987 and from Crane Meadows Visitors Center, Hall Co 5 May 2005.
In the Niobrara River Valley system, it was reported from Knox Co 18 May 1997, 31 May 1988, 8 Jun 1991, 20 Jun 1980, 7 Jul 2008, and 20 Jun 2021; most records in Knox Co have been from Bohemia Prairie WMA. One-two displaying birds were located along Ave 531 in Knox Co 30 Apr-1 May 2018. A displaying male was recorded along the Niobrara River in Brown Co 1 May 1998 (NGPC files), one was heard and seen at Valentine, Cherry Co 16 May 2015, one was flushed at Fort Niobrara NWR, Cherry Co 22 Jun 2006, and one was "peenting" at close range there 10 Jul 2021.
In the Elkhorn River drainage, one was seen near Page, Holt Co in early May 2003, several birds were at Grove Lake WMA, Antelope Co 31 Mar 2004, and singles were in northern Antelope Co 3 and 13 Apr 2005 and 8 and 20 Apr 2010. Further south, one was displaying at Willow Creek Reservoir, Pierce Co 14 Jun 2005, at least one was seen during the breeding season at Yellowbanks WMA, Madison Co, and one was flushed at Dead Timber WMA, Dodge Co 27 Jul 2012.
In the Loup Drainage, one was near the base of the dam at Calamus Reservoir in Garfield Co Jun 2000, but there were no further records until 2018, when three displaying birds were in Loup Co at Gracie Creek 5 Apr, and in 2019, singles were Nunda Shoal 5 Apr and Hannaman Bayou 19 Apr, and 2-4 were at Gracie Creek 24-27 Mar. Four were displaying near the southwest edge of the reservoir in Garfield Co 20 Apr 2019. In 2020, breeding was confirmed when an adult and two fledglings were found below the Calamus Reservoir dam in Loup Co 6 May (Taylor Dixon, pers. comm.); there were reports of up to five at Gracie Creek 24-28 Mar. In 2021, reports continued at Gracie Creek with peenting heard 31 Mar and 5 Apr, and in 2022 1-2 were present 24 Mar-2 Apr.
It has been reported during the breeding season near Dannebrog, Howard Co.
The species is difficult to detect, the likely reason for the relatively few reports. The true extent of the breeding range is not well known and may extend further west in the Platte, Niobrara, Loup, and Elkhorn River valleys.

Breeding Phenology:
Eggs: 20 Mar- 7 Apr (Mollhoff 2022)
Nestlings: 11 May
Fall: summer <<<>>> Nov 12, 14, 18
Later dates are 26 Nov 2020 Nuckolls Co, and 8 Dec 1994 Otoe Co (below).
The few reports are scattered throughout the period. A presumed migrant by location was in a Lincoln, Lancaster Co yard 24 Jul 2005. There is a later report 8 Dec 1994 Otoe Co, which consisted of a woodcock emerging from a Wood Duck nest box near a warm water spring during a spell of sub-zero weather (Bergman and Bergman 1995). An indication of ongoing migration was the downing during a winter storm of several woodcocks into back yards 24-26 Oct 2020 when at least eight such birds were reported; this phenomenon as it occurred in Kansas was discussed in detail by Janzen et al (2021, in press).
Westerly reports are limited to a report of three birds 23 Oct 1928 in Lincoln Co (Tout 1947), one shot by a hunter in the Chase/Perkins Cos area 31 Oct 2020, one at Crescent Lake NWR headquarters, Garden Co 6 Nov 1999 (Jorgensen 2001), one photographed at Gordon, Sheridan Co 14 Nov 2012, and one at Ash Hollow SHP, Garden Co 27 Dec 2021 (Manning, eBird.org), the latter three the only Panhandle records. Andrews and Righter (1992) list five records for the northeast Colorado plains in the period 5 Jul-30 Nov.
Janzen et al (2020, in press) noted that there is a high concentration of breeding records around Lakes Manitoba and Winnipeg in Manitoba, as well as northeast Minnesota and northwest Wisconsin at the western end of Lake Superior. The fall migration of this species suggests that the eastern and western populations tend to follow distinctly separate migration routes (https://ebird.org/science/status-and-trends/amewoo/abundance-map-weekly).
Images
Abbreviations
NGPC: Nebraska Game and Parks Commission
NWR: National Wildlife Refuge
UNSM: University of Nebraska State Museum
WMA: Wildlife Management Area (State)
Literature Cited
Andrews, R., and R. Righter. 1992. Colorado birds. Denver Museum of Natural History, Denver, Colorado, USA.
Bergmann, D.L., and J.M. Bergmann. 1995. American Woodcock use of a nest box. Prairie Naturalist 27: 172-173.
Bruner, L., R.H. Wolcott, and M.H. Swenk. 1904. A preliminary review of the birds of Nebraska, with synopses. Klopp and Bartlett, Omaha, Nebraska, USA.
Cortelyou, R.G. 1975. 1975 (Fiftieth) Spring Migration and Occurrence Report. NBR 43: 46-66.
Lingle, G.R. 1981. Status of the American Woodcock in Nebraska with notes on a breeding record. Prairie Naturalist 13:47-51.
Mollhoff, W.J. 2022. Nest records of Nebraska birds. Nebraska Ornithologists' Union Occasional Paper Number 9.
Silcock, W.R., and R.C. Rosche. 1994. Spring Field Report, March-May 1994. NBR 62: 66-88.
Tout, W. 1947. Lincoln County birds. Published by the author, North Platte, Nebraska, USA.
Recommended Citation
Silcock, W.R., and J.G. Jorgensen. 2022. American Woodcock (Scolopax minor). In Birds of Nebraska — Online. www.BirdsofNebraska.org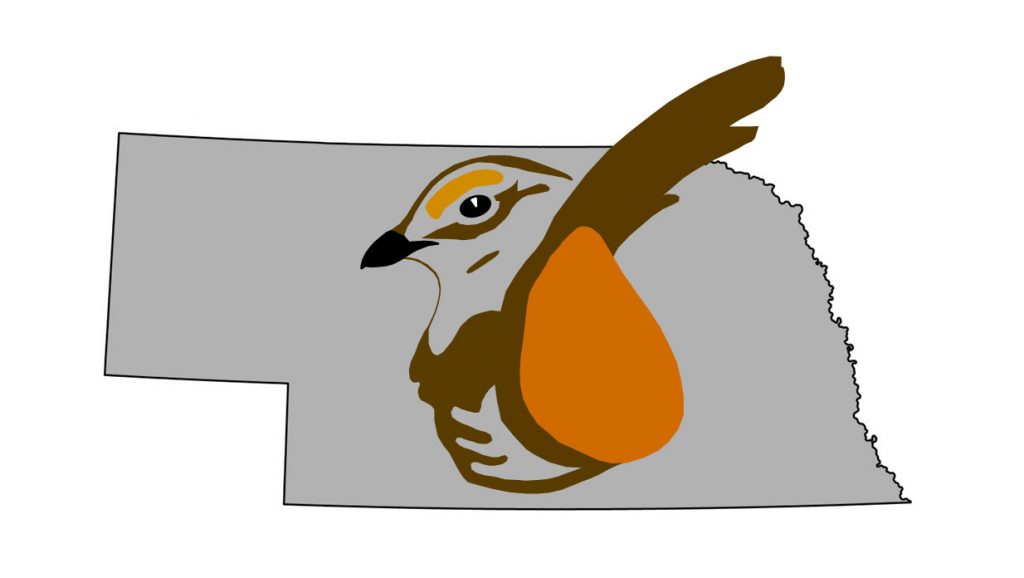 Birds of Nebraska – Online
Updated 19 Aug 2022