Synthliboramphus antiquus
Status:  Accidental in fall.
Documentation:  Specimen: UNSM ZM14801, 27 Oct 1929 Burt Co (Swenk 1933a).
Record:  The only record is a mounted specimen collected 27 Oct 1929 along the Missouri River eight kilometers (five miles) east of Tekamah in Burt Co by Max Salsman; it is an immature bird (Swenk 1933).
Comments:  As of May 2016, there have been 11 records of Ancient Murrelet from states neighboring Nebraska (South Dakota, Wyoming, Colorado, Iowa), all during Oct-Dec.  Long-billed Murrelet (Brachyramphus perdix) has occurred in Colorado Aug and Nov, Iowa in Dec, and Wyoming Jul, Aug, and Nov.
Feldstein (fide Mlodinow: COBIRDS 3 November 2012) found that the majority of mid-fall to mid-winter records for Long-billed and Ancient Murrelets have been associated with storms that occurred within two to three days of each record off the east coast of Asia between Japan and the Kamchatka Peninsula and then moved inland from the Gulf of Alaska.
Abbreviations
UNSM: University of Nebraska State Museum
Acknowledgement
Photograph (top) by Joel G. Jorgensen of an Ancient Murrelet specimen (UNSM ZM14801) collected in Burt Co 27 Oct 1929.   The specimen is housed and maintained at the University of Nebraska State Museum and was legally salvaged or collected.  We thank Thomas Labedz for facilitating the photographing of this specimen for the Birds of Nebraska – Online.
Literature Cited
Swenk, M.H. 1933. The Ancient Murrelet wanders to Nebraska. NBR 1: 14-15.
Recommended Citation:
Silcock, W.R., and J.G. Jorgensen. 2021. Ancient Murrelet (Synthliboramphus antiquus). In Birds of Nebraska — Online. www.BirdsofNebraska.org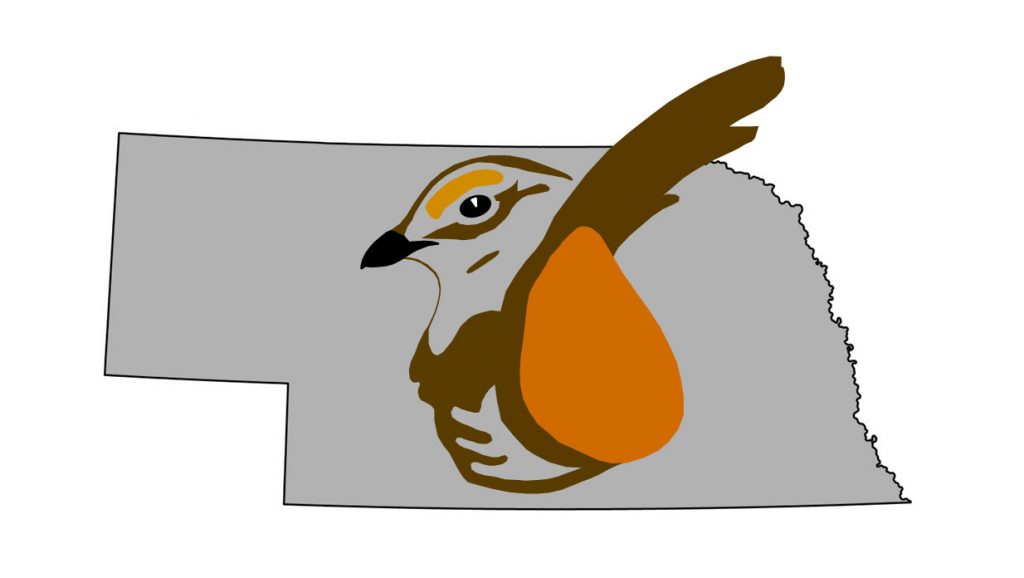 Birds of Nebraska – Online
Updated 14 Mar 2021