Calypte anna
Status: Rare casual spring, summer, and fall visitor statewide.
Documentation: Photograph: 19 Nov 2016 Omaha, Douglas Co (Brogie 2017).
Taxonomy: No subspecies are recognized.
Records: There are eight records:
28 May 2020 adult female Dawes Co (Whittecar, photos)
21 Jun 2019 immature male Scotts Bluff Co (Smith, photos; Brogie 2020)
13 Jul-17 Aug 2020 immature male molting to adult, joined briefly 8 Aug by ad. male, Scotts Bluff Co (Smith, photos; eBird.org)
8 Aug 2020 adult male at same feeder as above, Scotts Bluff Co
17-28 Oct 2022 adult male at Smith feeders, Scotts Bluff Co
30 Oct-8 Nov adult male 2022 Croft feeders, Scotts Bluff Co
19 Nov- 9 Dec 2016 sub-adult female Omaha, Nebraska feeder (Brogie 2017).
3- 9 Oct 2018 adult male photographed by Terese Hill in Fremont (in Saunders Co) (Brogie 2019).
This first record was of one that appeared at the Robert Manning feeder in Omaha 19 Nov 2016, when it was videotaped. Photographs and the video were examined by Sheri Williamson, who noted that ageing females at this time of year is tricky due to ongoing molt; however, she thought it to be a "subadult female". The second was a brightly-colored male that was first seen 3 Oct 2018 at the Hill residence feeder across the Platte River from Fremont in extreme northern Saunders Co. It was seen by several observers through 9 Oct. The third was an immature male with red flecking in its crown and a bright red developing gorget photographed at the Smith feeders in Scotts Bluff Co 21 Jun 2019. Fourth was an adult female in Dawes Co 28 May 2020 identified by Sam Manning from Juanita Whittecar photos and fifth a young male at the Smith feeders in Scotts Bluff Co that stayed 35 days and was joined 8 Aug by an adult male.
Comments: This species is generally resident along and near the California coast, but there are numerous records east of the Rocky Mountains scattered eastward to the Atlantic Coast (Williamson 2001, eBird.org, accessed November 2017). Adult males, such as the 2018 record above, are uncommon east of the west coast breeding range; of 29 records east of the Rockies and south to Kansas and Missouri, five were adult males, 15 were females or immature males, and 9 were unspecified (eBird.org, accessed 9 Oct 2018).
There are seven records for South Dakota, five in the narrow window 12-26 Nov, one 28 Aug-30 Sep (Tallman et al 2002), and one 30 Jul 2013 (eBird.org). In Kansas there are 12+ records in the period Aug through Jan (Thompson et al 2011). However, there are only two Iowa records, 31 Oct-25 Nov 2010 and 16 Nov 2015, both from Polk Co (Iowa Ornithologists' Union 2017).
Images
Literature Cited
Brogie, M.A. 2017. 2016 (28th) Report of the NOU Records Committee. NBR 85: 128-142.
Brogie, M.A. 2019. 2018 (30th) Report of the NOU Records Committee. NBR 87: 96-109.
Brogie, M.A. 2020. 2019 (31st) Report of the NOU Records Committee. NBR 88: 124-134.
Iowa Ornithologists' Union. 2017. Anna's Hummingbird records. Iowa Records Committee reports of Iowa rare bird records, accessed 21 February 2018.
Pyle, P. 1997. Identification Guide to North American Birds. Part I, Columbidae to Ploceidae. Slate Creek Press, Bolinas, California, USA.
Tallman, D.A., Swanson, D.L., and J.S. Palmer. 2002. Birds of South Dakota. Midstates/Quality Quick Print, Aberdeen, South Dakota, USA.
Thompson, M.C., C.A. Ely, B. Gress, C. Otte, S.T. Patti, D. Seibel, and E.A. Young. 2011. Birds of Kansas. University Press of Kansas, Lawrence, Kansas, USA.
Williamson, S.L. 2001. Hummingbirds of North America. Houghton Mifflin Company, Boston, Massachussetts, USA.
Recommended Citation
Silcock, W.R., and J.G. Jorgensen. 2022. Anna's Hummingbird (Calypte anna). In Birds of Nebraska — Online. www.BirdsofNebraska.org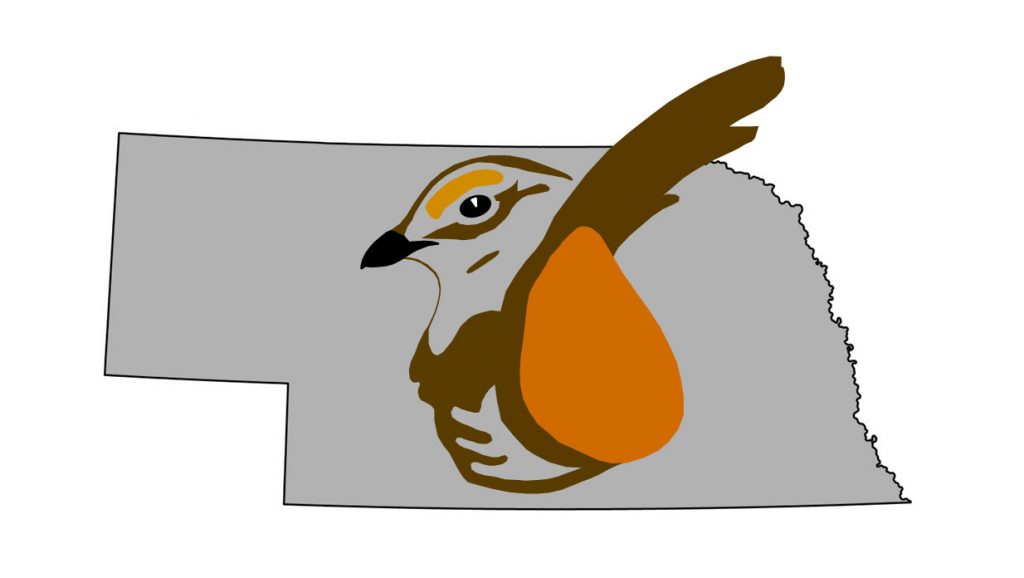 Birds of Nebraska – Online
Updated 16 Dec 2022