Calidris bairdii
Status: Common regular spring and fall migrant statewide.  Rare casual summer visitor statewide.
Documentation: Specimen: UNSM ZM6163, 28 Mar 1902 Lancaster Co.
Taxonomy: No subspecies are recognized.
Spring: Mar 9, 10, 10 <<<>>> Jun 2, 3, 3
An earlier date is 6 Mar 2016 Lancaster Co.
Late dates above are sightings of more than two birds, presumably migrants. Later dates of 1-2 birds are discussed under Summer.
Arrival is in mid- to late Mar; Baird's Sandpiper consistently arrives in numbers earlier than other "peep" species. It is common through Apr, peaking in late Apr, after which numbers decline. Most have departed by late May.
High counts: 6400 at Harvard WPA, Clay Co 30 Apr 2005, 1700 in the eastern Rainwater Basin 24 Apr 2009, and 1300 there 7 May 2011.
Summer:  There are 22 documented reports in all 4 Jun-10 Jul statewide, likely one-year-old non-breeders that did not complete migration. Of these, eight reports are of single birds during 4-9 Jun, and five are of 1-2 birds 7-10 Jul. Reports between 9 Jun and 7 Jul are 11 Jun 2016 Lancaster Co, 14 Jun 2003 Clay Co (Jorgensen 2012), 16 Jun 2022 Crescent Lake NWR, Garden Co, 20 Jun 2017 Dodge Co, 21 Jun 2022 Kimball Co, 23 Jun 2017 Saunders Co, 29 Jun 2014 Seward Co, 4 Jul 1996 Dawes Co (Grzybowski 1996), and 4 Jul (year not given) Keith Co area (Brown and Brown 2001).
Fall: Jul 11, 11, 12 <<<>>> Nov 6, 7, 7
An earlier date was of three birds 3 Jul 2022 in Box Butte Co.
Early dates above are of sightings of more than two birds, presumably migrants. Earlier dates are discussed under Summer.
Adults arrive about the second week of Jul, peaking in numbers in late Jul, and juveniles follow in mid-late Aug, although a juvenile was in Sarpy-Saunders Cos 22 Jul 2011. The species becomes increasingly less common during Sep-Oct, but individuals have lingered into Nov on several occasions.
Later dates are 11 Nov 2022 North Platte WTP, Lincoln Co, 14 Nov 2012 Dodge Co, 14 Nov 2022 Lake Maloney, Lincoln Co, 16 Nov 2018 Washington Co, 17 Nov 1988 Lancaster Co, 20 Nov 1980 Scotts Bluff Co, two on 20 Nov 2004 at Pawnee Lake, Lancaster Co, 21 Nov 1982 Douglas-Sarpy Cos, and 26 Nov 2000 juvenile Lake McConaughy.
There are five records in Dec. An extremely late bird was below Lake Ogallala, Keith Co on the North Platte River 23 Dec 1994 (Dinsmore 1996; Gubanyi 1996; Brogie 1998), and other Dec records are 25 Nov-1 Dec 2006 Lancaster Co, 5 Dec 1998 Sutherland Reservoir, Lincoln Co, 16 Dec 2018 Norfolk, Madison Co CBC, and 19 Dec 1998 Lake McConaughy.
It is often found in smaller numbers in fall in the central and east than in spring; large numbers appear to migrate through the western Great Plains in fall. Adults predominate westward, while easterly birds in Nebraska after late Jul are essentially all juveniles (Moskoff and Montgomerie 2020). Lake McConaughy has hosted very large numbers (see High Counts) relative to eastern sites; 5642 were there 30 Jul 2000, while in the eastern Rainwater Basin regular weekly coverage in the same year found only one, on 16 Jul. On the eastern plains of Colorado, the species is considered a common to abundant migrant in fall, but only an uncommon to fairly common migrant in spring (Andrews and Righter 1992).
High counts: 5642 at Lake McConaughy 30 Jul 2000, 4000-5000 there 27-28 Jul 1991 (Rosche 1994), and 4109 there 22 Aug 2000.
Images
Abbreviations
UNSM: University of Nebraska State Museum
WPA: Waterfowl Production Area (Federal)
Literature Cited
Andrews, R., and R. Righter. 1992. Colorado birds. Denver Museum of Natural History, Denver, Colorado, USA.
Brogie, M.A. 1998. 1997 (Ninth) Report of the NOU Records Committee. NBR 66: 147-159.
Brown, C.R., and M.B. Brown. 2001. Birds of the Cedar Point Biological Station. Occasional Papers of the Cedar Point Biological Station, No. 1.
Dinsmore, S.J. 1996. A late Baird's Sandpiper in Keith County. NBR 64: 79-80.
Grzybowski, J.A. 1996. Southern Great Plains Region. Field Notes 50: 965-968.
Gubanyi, J.G. 1996. 1994 (Sixth) Report of the NOU Records Committee. NBR 64: 38-42.
Moskoff, W. and R. Montgomerie. 2020. Baird's Sandpiper (Calidris bairdii), version 1.0. In Birds of the World (A. F. Poole and F. B. Gill, Editors). Cornell Lab of Ornithology, Ithaca, NY, USA. https://doi.org/10.2173/bow.baisan.01.
Rosche, R.C. 1994. Birds of the Lake McConaughy area and the North Platte River valley, Nebraska. Published by the author, Chadron, Nebraska, USA.
Recommended Citation
Silcock, W.R., and J.G. Jorgensen. 2022. Baird's Sandpiper (Calidris bairdii). In Birds of Nebraska — Online. www.BirdsofNebraska.org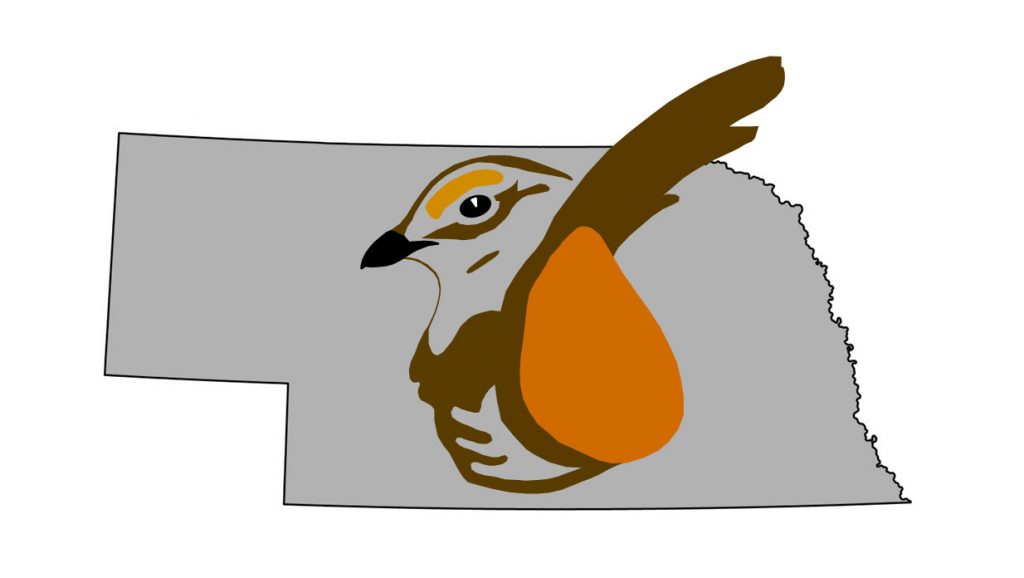 Birds of Nebraska – Online
Updated 17 Dec 2022