Patagioenas fasciata
Status: Rare casual spring and fall visitor.
Documentation: Photograph: 15 May 2000 Gering, Scotts Bluff Co (Jorgensen 2002).
Taxonomy: New world pigeons previously included in Columba have been allocated to the genus Patagioenas (Banks et al 2003).
There are six subspecies recognized (Clements et al 2016), four from Mexico to Argentina, and two north of Mexico: fasciata, breeding near the Pacific Coast from British Columbia south to southern California, wintering within the breeding range from Washington south, and monilis, breeding in Utah, Colorado, Arizona, and New Mexico, wintering in Mexico.
Although monilis might be expected to occur in Nebraska, birds from the Pacific Northwest might also occur, based on the migration patterns of other species that breed there and migrate through Nebraska (Cassin's Vireo, Townsend's Warbler) (see Comments).
Spring: There are two records.
15-17 May 2000, one at a Gering, Scotts Bluff Co feeder (cited above)
18-23 May 2018, Doniphan, Hall Co (Diane Wiese photograph; Brogie 2019).
Fall: There are two records.
15 Oct 1996, one seen at Morrill, Scotts Bluff Co (Brogie 1997)
15 Nov 2007-22 Mar 2008, one photographed at a Ceresco, Saunders Co feeder (Brogie 2009).
One reported in Sioux Co 6 Dec 2020 "lacked in detail" for NOURC acceptance (Brogie 2021).
Comments: This species breeds north and east in the central Rocky Mountains to Colorado. There are numerous records east of the Rocky Mountains as far as the Atlantic Coast (eBird.org, accessed Oct 2021). It may occur on the Great Plains at any time of year; there are about 15 records, most May-Aug, east of the Rockies in Colorado, Wyoming, North Dakota, South Dakota, Minnesota, Iowa, Missouri, and Kansas (eBird.org, accessed Oct 2021).
Images
Literature Cited
Banks, R.C., C. Cicero, J.L. Dunn, A.W. Kratter, P.C. Rasmussen, J.V. Remsen, Jr., J.A. Rising, and D.F. Stotz. 2003. Forty-fourth supplement to the American Ornithologists' Union check-list of North American birds. Auk 120: 923-931.
Brogie, M.A. 2019. 2018 (30th) Report of the NOU Records Committee. NBR 87: 96-109.
Brogie, M.A. 2021. 2020 (32nd) Report of the NOU Records Committee. NBR 89: 139-145.
Clements, J. F., T. S. Schulenberg, M. J. Iliff, D. Roberson, T. A. Fredericks, B. L. Sullivan, and C. L. Wood. 2016. The eBird/Clements checklist of birds of the world: v2016, accessed 30 January 2018.
Jorgensen, J.G. 2002. 2002 (sic; =2000). (12th) Report of the NOU Records Committee. NBR 70: 84-90.
Robbins, M.B., and D.A. Easterla. 1992. Birds of Missouri, their distribution and abundance. University of Missouri Press, Columbia, Missouri, USA.
Recommended Citation
Silcock, W.R., and J.G. Jorgensen. 2022. Band-tailed Pigeon (Patagioenas fasciata). In Birds of Nebraska — Online. www.BirdsofNebraska.org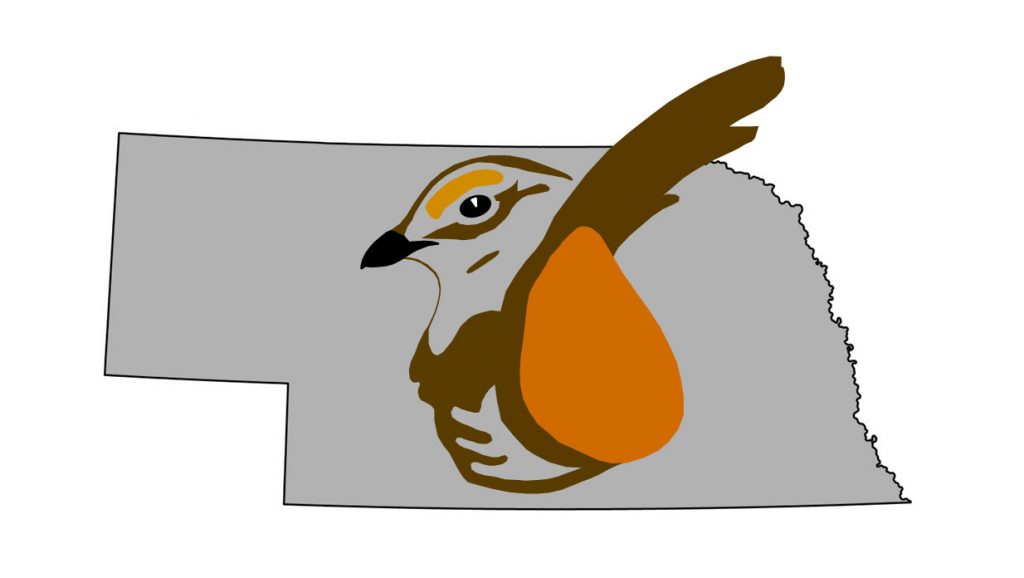 Birds of Nebraska – Online
Updated 22 Apr 2022