Riparia riparia riparia
Status: Common regular spring and fall migrant statewide. Common regular breeder east and central, uncommon west.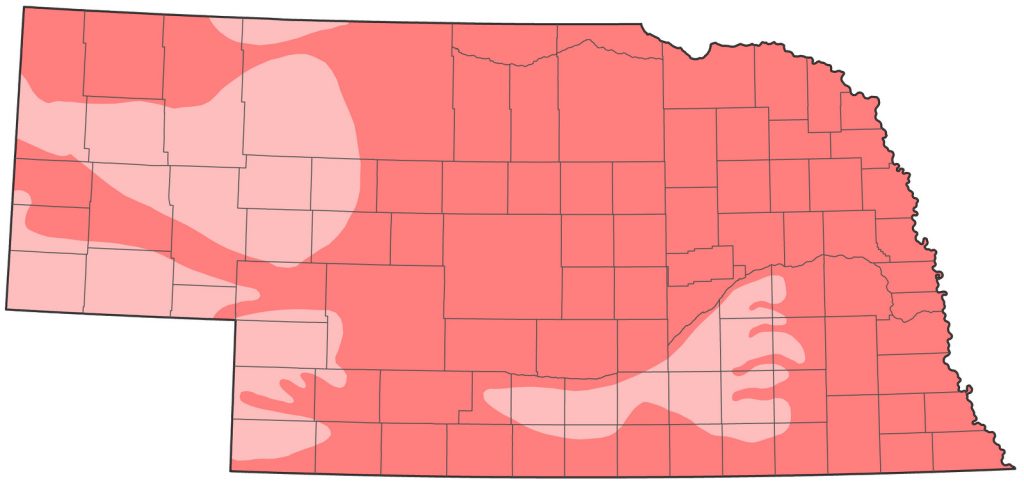 Documentation: Specimen: UNSM ZM10606, 10 May 1913 Lincoln, Lancaster Co.
Taxonomy: Five subspecies are recognized, only one of which occurs in the Western Hemisphere, riparia of North America, Europe, to central Asia (Gill and Donsker 2017).
This species is known as Sand Martin in Eurasia.
Spring: Apr 9, 9, 9 <<<>>> summer
An earlier date is 5 Apr 2014 Lancaster Co.
Migrants are most common in the east, but large numbers may appear anywhere. Peak migration occurs in mid-May to early Jun.
High counts: 1200 at Lake McConaughy, Keith Co 7 Jun 2003, 320 in Lancaster Co 12 May 2002, 280 at Lake Minatare, Scotts Bluff Co 22 May 2021, 200 at Sutherland Reservoir, Lincoln Co 26 May 2019, and 195 in Hall Co 10 May 2003.
Summer: Nebraska is at the southern edge of the Great Plains breeding range. Bank Swallow, while it breeds statewide, is somewhat unpredictable and variable in its occurrence; this is probably due to the often temporary nature of its preferred breeding sites, vertical banks comprised of soft substrate in which individuals excavate burrows (Garrison and Turner 2020). Colonies tend to move from year to year as breeding sites are disturbed by water levels.
BBS trend analysis for 1966-2013 shows an annual statewide decline of – 0.16 (95% C.I.; -5.84, 5.24), indicating Nebraska's numbers are relatively stable. Mollhoff (2016) noted a small increase in the number of reports between the first and second BBAs but noted the increase may have been due to increased survey effort.
Colonies may be large, as indicated by counts of about 1000 nests in cliffs at Lake McConaughy (Brown et al 1996), and about 1000 birds nesting in banks around Medicine Creek Reservoir, Frontier Co 27 May 2001. Breeding colonies are fewer in the Panhandle, probably due to a scarcity of soft substrates for nest sites; Mollhoff (2004) noted, however, that nesting occurs there in "vertical hard-packed sand blowout walls in gently rolling upland short grass prairie pasture miles from any surface water".
Breeding Phenology:
Eggs: 18 May-23 Jun (Mollhoff 2022)
Nestlings: 20 Jun- 10 Jul
Fledglings: 21 Jul
Fall: summer <<<>>> Sep 27, 29, 30
A later date is 6 Oct 2020 Fort Niobrara NWR, Cherry Co.
Peak migration probably occurs in late Jul to early Aug, based on High Counts (below); flocks appear on utility wires mid-Jul. Migrants depart by early Oct.
High counts: 10,000 at Funk WPA, Phelps Co 30 Jul 2000, 9800 on S. 70th Road, Otoe Co 23 Jul 2018, 1820 at Crescent Lake NWR, Garden Co 15 Aug 1995, 1600 at Lakes North and Babcock, Platte Co 15 Aug 2022, and 1000 in northern Dixon Co 11 Aug 2015.
Images
Abbreviations
BBA: Breeding Bird Atlas
BBS: Breeding Bird Survey
NWR: National Wildlife Refuge
UNSM: University of Nebraska State Museum
WPA: Waterfowl Production Area (Federal)
Literature Cited
Brown, C.R., M.B. Brown, P.A. Johnsgard, J. Kren, and W.C. Scharf. 1996. Birds of the Cedar Point Biological Station area, Keith and Garden Counties, Nebraska: Seasonal occurrence and breeding data. Transactions of the Nebraska Academy of Sciences 23: 91-108.
Garrison, B.A. and A. Turner. 2020. Bank Swallow (Riparia riparia), version 1.0. In Birds of the World (S. M. Billerman, Editor). Cornell Lab of Ornithology, Ithaca, NY, USA. https://doi.org/10.2173/bow.banswa.01.
Gill, F., and D. Donsker (Eds). 2017. IOC World Bird List (v 7.3), accessed 30 January 2018.
Mollhoff, W.J. 2004. The 2002 Nebraska Nesting Report. NBR 72: 153-158.
Mollhoff, W.J. 2016. The Second Nebraska Breeding Bird Atlas. Bull. Univ. Nebraska State Museum Vol 29. Univ. Nebraska State Museum, Lincoln, Nebraska, USA.
Mollhoff, W.J. 2022. Nest records of Nebraska birds. Nebraska Ornithologists' Union Occasional Paper Number 9.
Recommended Citation
Silcock, W.R., and J.G. Jorgensen. 2022. Bank Swallow (Riparia riparia). In Birds of Nebraska — Online. www.BirdsofNebraska.org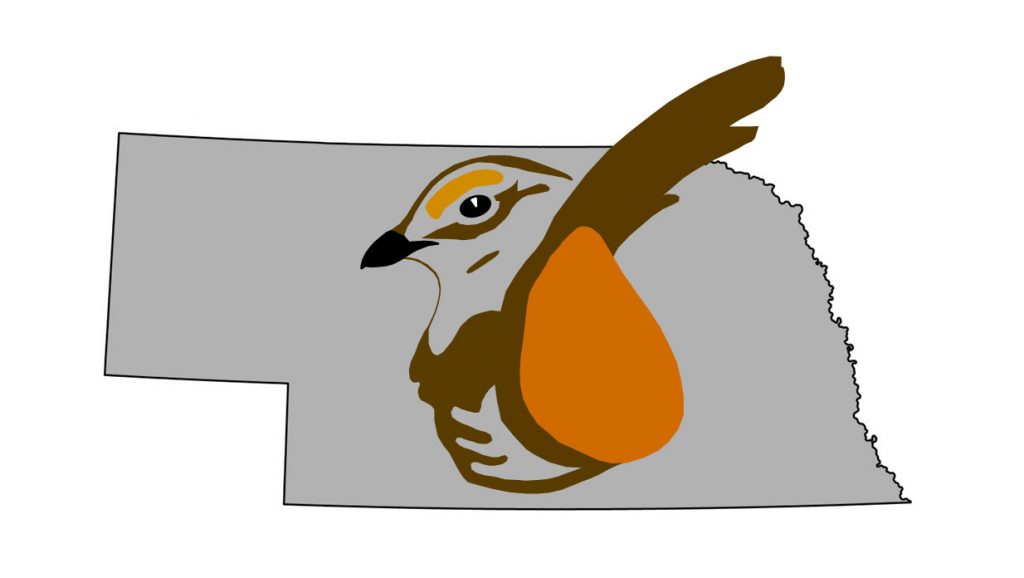 Birds of Nebraska – Online
Updated 25 Dec 2022