Setophaga castanea
Status: Rare regular spring migrant east, rare casual central and west. Uncommon regular fall migrant east, rare casual central and west.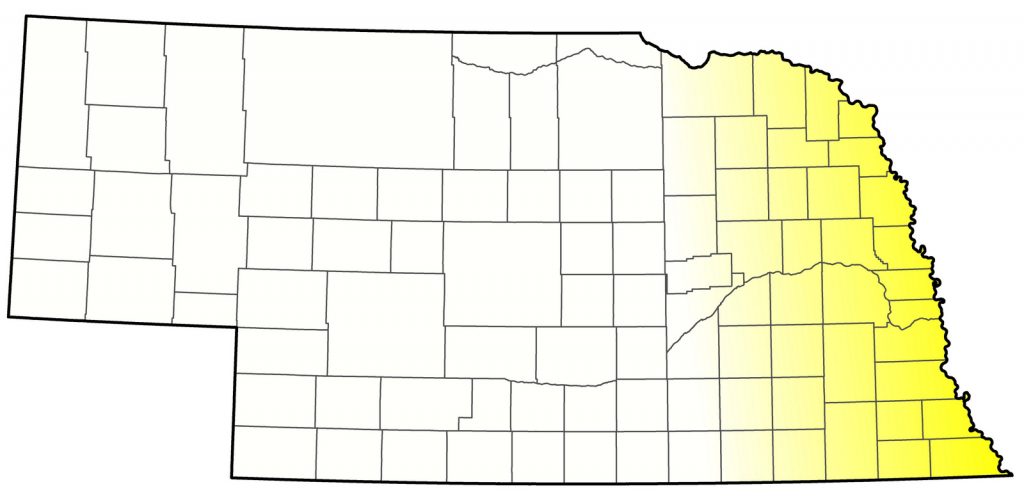 Documentation: Specimen: UNSM ZM10831, 14 May 1913 Lincoln, Lancaster Co.
Taxonomy: No subspecies are recognized (Pyle 1997).
Spring: May 8, 9, 10 <<<>>> May 24, 25, 25
Earlier dates are 5 May 2012 Dixon Co, and 6 May 2001 Wayne Co.
Later dates are 28 May 1968 Gage Co, and 31 May 2010 Dodge Co.
Migration occurs in May, although there are two undocumented later reports of interest (see Comments).
Bay-breasted Warbler is somewhat cyclical in its spring occurrence, probably reflective of cycles in numbers of spruce budworms (Robbins 2018). In the decade 1982-91 it was reported only in 1982 and 1991, but since then it has been reported each year since 1993.
There are 11 westerly reports 9-25 May, only three documented: 24 May 1997 Wheeler Co, 26 May 1978 Garden Co (Rosche 1994), and 25 May 2020 Sheridan Co. The others are 9 May 1953 Thomas Co, 15 May 1978 Garden Co, 15 May 2005 Calamus Reservoir, Loup Co, 16 May 2004 Lake Ogallala, Keith Co, 17 May 2020 Greeley Co, 18 May 2004 Brown Co, 20 May 2006 Valentine NWR, Cherry Co, and 20 May 1956 Logan Co.
High counts: 4 at Fontenelle Forest, Sarpy Co 14 May 2016, 3 there 17 May 2014, and 3 there 12 May 2018.
A total of 19 were reported 11-16 May 2018 and 20 from 10-25 May 2020; all reports both years were from the east. A new high was the 31 in 2023, probably assisted by Birding Bowl competitive activities.
Fall: Aug 28, 29, 30 <<<>>> Sep 22, 22, 22
An earlier date is 9 Aug 1997 Garden Co.
Later dates are 26 Sep 2015 Douglas Co, 1 Oct 2015 Van Dorn Park, Lancaster Co, 3 Oct 2022 Merrick Co, 5 Oct 2015 Wilderness Park, Lancaster Co, 6 Oct 1985 Thomas Co, 6 Oct 2022 Sarpy Co, 7 Oct 2022 Lancaster Co, and 8 Oct 2022 Douglas Co.
Migration is during Sep.
In fall, Bay-breasted Warbler is regular in the east, in contrast to its rarity in spring. This pattern has been noted also in Missouri (Robbins 2018) and Iowa (Kent and Dinsmore 1996). In Iowa, Dinsmore et al (1984) noted that it occurs in fall in 10-fold greater numbers than in spring based on banding data, and Kent and Dinsmore (1996) noted it was "much more common in fall".
Since 1964, all fall reports except these few are from the east: 6 Sep 2018 Scotts Bluff Co (eBird.org), 8 Sep 1997 Garden Co (Brogie 1998), 9 Sep 2022 Valentine, Cherry Co, 15 Sep 2001 an immature female at Lake McConaughy, Keith Co, 20 Sep 1978 Boone Co, 22 Sep 2012 Dundy Co, and 9-10 Oct 1979 Howard-Hall Cos.
High counts: 6 in Washington Co 11 Sep 1995, 5 at Ponca SP, Dixon Co 4 Sep 2022, and 4 at Walnut Grove Park, Douglas Co 10 Sep 2022.
Fall 2022 had an amazing showing of 58+ individuals 28 Aug-8 Oct. A total of 14 were recorded in Sarpy Co 14 Aug-9 Sep 1991 (Grzybowski 1992).
Comments: There are two westerly reports, 19 Jun 1974 Perkins Co and 26 Jun 1957 Scotts Bluff Co, that, although undocumented, are of interest in that they support the possibility of extralimital nesting such as has occurred in Colorado (Andrews and Righter 1992) and Manitoba (Sealy 1979), apparently in response to abundant food supplies of tent caterpillars or spruce budworms.
Images
Abbreviations
NWR: National Wildlife Refuge
UNSM: University of Nebraska State Museum
Literature Cited
Andrews, R., and R. Righter. 1992. Colorado birds. Denver Museum of Natural History, Denver, Colorado, USA.
Brogie, M.A. 1998. 1997 (Ninth) Report of the NOU Records Committee. NBR 66: 147-159.
Dinsmore, J.J., T.H. Kent, D. Koenig, P.C. Petersen, and D.M. Roosa. 1984. Iowa birds. Iowa State University, Ames, Iowa, USA.
Grzybowski, J.A. 1992. Southern Great Plains Region. American Birds 46: 113-117.
Kent, T.H., and J.J. Dinsmore. 1996. Birds in Iowa. Publshed by the authors, Iowa City and Ames, Iowa, USA.
Pyle, P. 1997. Identification Guide to North American Birds. Part I, Columbidae to Ploceidae. Slate Creek Press, Bolinas, California, USA.
Robbins, M.B. 2018. The Status and Distribution of Birds in Missouri. University of Kansas Biodiversity Institute, Lawrence, Kansas, USA.
Rosche, R.C. 1994. Birds of the Lake McConaughy area and the North Platte River valley, Nebraska. Published by the author, Chadron, Nebraska, USA.
Sealy, S.G. 1979. Extralimital nesting of Bay-breasted Warblers: response to Forest Tent Caterpillars? Auk 96: 600-603.
Recommended Citation
Silcock, W.R., and J.G. Jorgensen. 2023. Bay-breasted Warbler (Setophaga castanea). In Birds of Nebraska — Online. www.BirdsofNebraska.org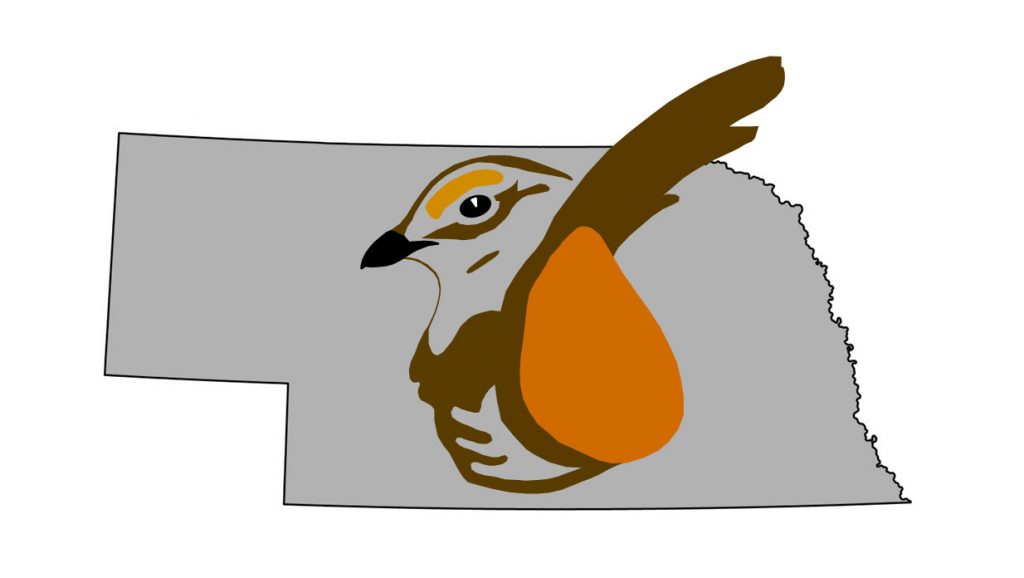 Birds of Nebraska – Online
Updated 28 Jun 2023