Megaceryle alcyon
Status: Fairly common regular breeder and spring and fall migrant statewide. Uncommon winter visitor Platte River Valley south, rare elsewhere.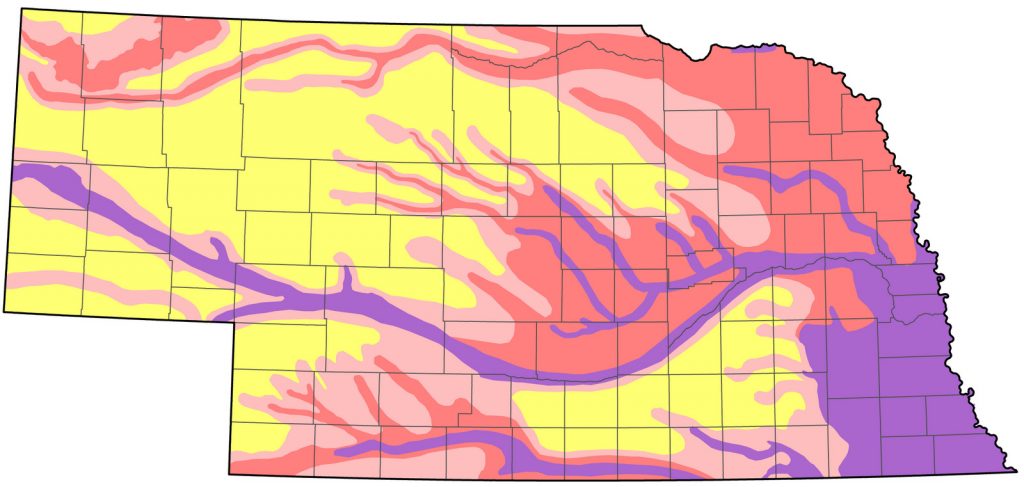 Documentation: Specimen: UNSM ZM6277, 23 Jun 1916 Mitchell, Scotts Bluff Co.
Taxonomy: No subspecies are currently recognized (Pyle 1997).
Belted Kingfisher was previously included in genus Ceryle, but recent genetic studies (Moyle 2006, Kelly et al 2020) re-assigned it to Megaceryle along with Ringed Kingfisher (M. torquata) of the southwestern US to South America and two other species in Africa and India.
Spring: Early and late migration dates are poorly defined because of the presence of wintering birds and early and protracted northward movement of migrants. Peak migration probably occurs in late Apr but freezing and thawing of water bodies influences the species' distribution in early spring. The first arrivals at James Ranch, Sioux Co in 1995 were not noted until 27 Apr.
High Counts: 7 in Keith Co 12 Apr, 7 at Branched Oak Lake, Lancaster Co 27 Apr 2017, and 7 at Plum Creek Reservoir, Dawson Co 20 Apr 2022.
Summer: Breeding occurs statewide but highest densities occur along watercourses. The species' breeding distribution is limited by the availability of foraging sites (streams, lakes, rivers with small fish) and "earthen banks where nesting burrows can be excavated" (Kelly et al 2020), features not present in several landscapes lacking developed drainages. In the Rainwater Basin, Jorgensen (2012) considered it a migrant and summer visitor, noting it was fairly common along watercourses. Mollhoff (2016) showed it was mostly absent from the southern Panhandle, western Sandhills and the southwest (Perkins Co and adjacent areas). BBS trend analysis shows the species has declined annually by -0.77% (95% C.I.; -3.12, 1.24), indicating stable to slightly declining abundance during the period 1966-2015 (Sauer et al 2017). Most nesting is in May and Jun (Johnsgard 1979).
Breeding Phenology:
Courtship: 23 Apr
Eggs: 10 Apr- 4 Jul (Mollhoff 2022)
Nestlings: 1 Jun
Fledglings: 24 Jun-30 Jul
High Counts: 8 near Acadia, Sherman Co 25 Jun 2021.
Fall: Departure is dependent on weather conditions, especially freezing of small bodies of water. Most migrants probably pass through in Sep-early Oct; Rosche (1994) noted a peak fall count of six on 23 Sep 1989.
Many, mostly females and young birds from more northerly parts of the range, move southward in winter (Kelly et al 2020), although individuals remain wherever open water can be found.
High counts: 6 in the Panhandle 23 Sep 1989 (Rosche 1994), 6 in Lancaster Co 4 Sep 2011, 5 in Buffalo Co 13 Sep 2003, 5 at Branched Oak Lake 19 Aug 2016, 5 at Rock Creek Hatchery, Dundy Co 6 Oct 2018, and 5 at Branched Oak Lake, Lancaster Co 14 Oct 2019.
Winter: Overwintering is associated with areas of open water, although it is unknown if any Nebraska breeders remain in winter.
Numbers are greatest along the North Platte and Platte River Valleys and in the southeast, areas where open water exists during most winters, although sometimes as far north as the northeast and Niobrara River Valley, but lowest in the western Sandhills. CBC data indicate rather even distribution statewide, and numbers reported probably reflect the distribution of open water at that time. Highest CBC counts are 16 at Lincoln 17 Dec 2011, 12 at North Platte 30 Dec 2016, 11 at Grand Island 1995-96, and 11 at Omaha 1988-89.
There are about 33 records for the north during Jan-Feb, apparently birds attempting to overwinter. Unusual was a mid-winter aggregation of four at Columbus Powerhouse Park, Platte Co 26 Jan 2018.
Images
Abbreviations
BBA: Breeding Bird Atlas
BBS: Breeding Bird Survey
CBC: Christmas Bird Count
UNSM: University of Nebraska State Museum
Literature Cited
Johnsgard, P.A. 1979. Birds of the Great Plains: breeding species and their distribution. University of Nebraska Press, Lincoln, Nebraska, USA.
Jorgensen, J.G. 2012. Birds of the Rainwater Basin, Nebraska. Nebraska Game and Parks Commission, Lincoln, Nebraska, USA.
Kelly, J.F., E.S. Bridge, and M.J. Hamas. 2020. Belted Kingfisher (Megaceryle alcyon), version 1.0. In Birds of the World (A. F. Poole, Editor). Cornell Lab of Ornithology, Ithaca, NY, USA. https://doi.org/10.2173/bow.belkin1.01.
Mollhoff, W.J. 2016. The Second Nebraska Breeding Bird Atlas. Bull. Univ. Nebraska State Museum Vol 29. University of Nebraska State Museum, Lincoln, Nebraska, USA.
Mollhoff, W.J. 2022. Nest records of Nebraska birds. Nebraska Ornithologists' Union Occasional Paper Number 9.
Moyle, R.G. 2006. A molecular phylogeny of kingfishers (Alcedinidae) with insights into early biogeographic history. Auk 123: 487–499.
Rosche, R.C. 1994. Birds of the Lake McConaughy area and the North Platte River valley, Nebraska. Published by the author, Chadron, Nebraska, USA.
Sauer, J.R., D.K. Niven, J.E. Hines, D.J. Ziolkowski, Jr, K.L. Pardieck, J.E. Fallon, and W.A. Link. 2017. The North American Breeding Bird Survey, Results and Analysis 1966 – 2015 (Nebraska). Version 2.07. USGS Patuxent Wildlife Research Center, Laurel, Maryland, USA.
Recommended Citation
Silcock, W.R., and J.G. Jorgensen. 2023. Belted Kingfisher (Megaceryle alcyon). In Birds of Nebraska — Online. www.BirdsofNebraska.org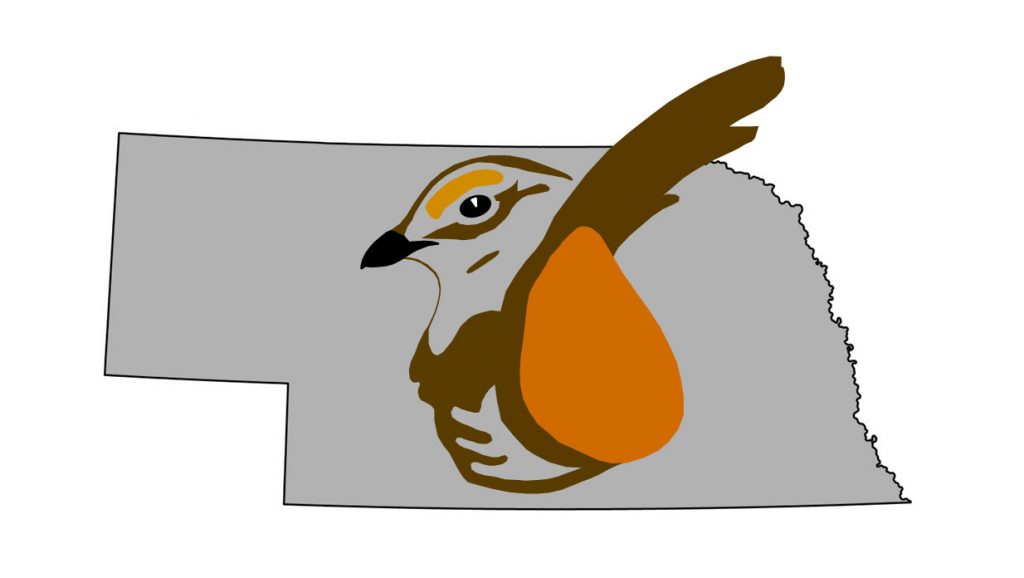 Birds of Nebraska – Online
Updated 9 Mar 2023