Thryomanes bewickii
Status: Extirpated breeder southeast. Rare casual spring, summer, and fall visitor statewide.
Documentation: Photograph: 3 Apr 1993 Wild Rose Ranch, Hall Co (B.J. Rose fide Padelford and Padelford 1993).
Taxonomy: Kennedy and White (2020) revised the ranges of the 15 subspecies (two are extinct), including these four that might occur or have occurred in Nebraska: pulichi, largely resident across most of Kansas, Oklahoma, and, presumably, north-central Texas, perhaps extending east into western Missouri, bewickii, breeding from northeast Kansas and southern Iowa east through southern Ontario and central Ohio to central Pennsylvania and south to northern Arkansas east through northern Alabama to central South Carolina, cryptus, largely resident east of the Rocky Mountains from eastern Colorado through Oklahoma panhandle and much of west, central, and southern Texas to northern Nuevo León, and eremophilus, largely resident from eastern California, southern Nevada, southern Utah, southwest Wyoming, and Colorado south to northern Sonora, Chihuahua, Durango, and central Zacatecas.
Although the ranges of subspecies described above do not specifically include Nebraska, occasional occurrences of Bewick's Wren might be expected in the southwest (cryptus), south (pulichi), and southeast (bewickii).
AOU (1957) included southeast Nebraska in the breeding range of bewickii, presumably based on a single report by Aughey of adults feeding young in Otoe Co 12 Jun 1875 (Bruner et al 1904). As stated by Sharpe (1993), we have doubts about many of Aughey's reports. It is interesting that the decline of subspecies bewickii in the eastern United States beginning in the 1920s, continuing through the 1970s, with the result that "most of eastern population was gone by 1980" (Kennedy and White 2020), coincides with the disappearance of summering Bewick's Wrens in Nebraska.
A specimen purportedly collected 21 Apr 1915 near Oshkosh, Garden Co by C.A. Black was examined by H.C. Oberholser (Swenk 1918, 1933), and determined to be of the southwestern United States race eremophilus. The specimen cannot now be located (Bray et al 1986). Possibly based on this specimen, Swenk (1933) suggested that eremophilus (presumably present day cryptus or pulichi) occurred in western Nebraska as a summer resident. We believe that it is unlikely that this specimen was collected in Nebraska; there is but a single documented record for Colorado, in Larimer Co 14 Apr 2006 (CBRC).
Spring: Mar 22,25,26 <<<>>> May 20,20,21 (Ludlow 1935)
All dates in the literature are included above, although some are undocumented.
Bewick's Wren is generally sedentary, although birds at the northern edge of the breeding range are migratory. About half of the Nebraska reports are from the 1950s and 1960s; there are only about 23 reports since 1969. Most of these are in spring, but there are two winter reports, and a few others divided between summer and fall.
Since 1980, Bewick's Wren has occurred statewide primarily as a spring visitor, with most reports in the period 3 Apr-20 May, several from rather far north in the state: 3-5 Apr 1993 Hall Co (Grzybowski 1993), 11 Apr 2010 Wilsonville, Furnas Co, 13 Apr 2009 Lancaster Co (Brogie 2009b), 15 Apr 1995 Clay Co, 19 Apr 1993 Lancaster Co, 1 May 1988 Knox Co, 2 May 2008 Bellevue (Brogie 2009a), 3 May 1982 Brown Co, 4 May 1982 Cherry Co, 5 May 1984 Polk Co, about 15 May through at least 5 Jul 1999 Ashfall Fossil Beds SP, Antelope Co (Jorgensen 2003), 17 May 1970 Lancaster Co (Cortelyou 1970), 18-19 May 1985 Sarpy Co, and 20 May 1986 Douglas Co.
There are earlier dates 15 Mar 1961 Nemaha Co and 22 Mar 2011 Gage Co, and later dates 24 May 1938 Lincoln Co, 27 May 1956 Dawes Co (the only Panhandle report for Spring, albeit undocumented), and 28 May 1966 Adams Co.
Summer: There is no indication that Bewick's Wren ever bred regularly in Nebraska although it breeds regularly in Kansas north to within about 80 miles of the Gage Co, Nebraska, area (Busby and Zimmerman 2001).
Where it is common in Missouri and Arkansas, Bewick's Wren occurs around abandoned farm buildings, junk piles, and brushy edges of woods (Robbins and Easterla 1992, James and Neal 1986). These authors believe that cleanup of such sites in recent years has contributed to the decline in Bewick's Wren populations in the eastern United States, but it seems more likely that the decline is due to competition with the more aggressive House Wren (Kennedy and White 2020).
Nesting reports for Nebraska are not well-documented. Nevertheless, there are seven, all in the southeast, but none since 1969. Mollhoff (2022) accepted three nesting records.  The first was Aughey's 12 Jun 1875 report of adults feeding young in Otoe Co, discussed above and by Swenk (1933) and considered doubtful by us. A 1952 nest in Peru, Nemaha Co had four nearly fledged young 1 Jun (Gates and Gates 1953), and a female nested (sterile eggs) in the garage on the Einemann farm near West Point, Cuming Co 7 Jun 1969 (Larry Einemann, personal communication).
Additional reports suggestive of breeding activity follow. At least one of an unsuccessful pair in Hastings, Adams Co in spring 1931 (Swenk 1933; Rapp et al 1958; Jorgensen 2012) had wintered in the area (see Fall). A pair summered 16 May-23 Aug 1944 in Hastings, although nesting was not confirmed (Jones 1944). A nest in Brownville, Nemaha Co in 1959 was successful, the birds staying until the first week of Jul (Wensien 1960). The most recent breeding reports are from Gage Co, some time prior to 1970 (Fiala 1970), but no details were given.
Aside from these reports of breeding and possible breeding, there are a few additional documented summer reports: Jun 2001 Smith Lake WMA, Sheridan Co, 10-15 Jul 2012 Snell Canyon, Lincoln Co (a pale, possibly southwestern individual; Brogie 2013), 13 and 21 Aug 2013 North Platte, Lincoln Co (Brogie 2014), and 20 Aug 2000 Lange WPA, Clay Co (Silcock 2000). There are about 10 older undocumented reports from the south 10 Jun-13 Aug in the years 1952 to 1974. A report of two birds fighting in Saline Co 12 Aug 2012 was not accepted by NOURC (Brogie 2014).
Fall: There are few reports, all but one in Sep and Oct, and generally in the east except for two from Lincoln Co. The most recent reports are from Otoe Co in 1994 and Harlan Co in 1998. Thompson et al (2011) stated that Kansas reports suggest "considerable dispersal during late summer".
Nebraska fall reports are 5 Sep 1974 Lancaster Co, 6 Sep 1968 Lancaster Co, 14 Sep 1976 Lincoln Co, 18 Sep 1960 Cass Co, 23 Sep 1976 Lincoln Co, 29 Sep 1964 Cass Co, 1 Oct 1994 Otoe Co (Falk 2002), 3 Oct 1971 Lancaster Co, 3 Oct 1972 Lancaster Co, 15 Oct 1916 Lancaster Co, 18 Oct 1998 Harlan Co Reservoir, Harlan Co, and 23 Oct 1965 Douglas-Sarpy Cos. A late date was of one was well-described in an Omaha yard 21 Dec 1986 Douglas Co (Cortelyou 1980).
Comments: There are four reports which suggest attempted wintering, none of which appear to be conclusive. These are: one in Scotts Bluff Co 27 Jan 2009 (Brogie 2011), one photographed 15 Dec 2012 in the same Scottsbluff yard as the bird photographed there 27 Jan 2009 (CM) but considered by NOURC to be a Carolina Wren (Brogie 2013), one which appeared in Kearney, Buffalo Co 30 Dec 1930 and subsequently wintered (Swenk 1933), and one which appeared in North Platte 21 Jan 1933 and remained until 30 Mar (Tout 1947). A request for opinions by experts on the ID Frontiers website (https://listserv.ksu.edu/birdwg01.html; accessed Feb 2017) on the 2009 and 2012 Scottsbluff reports resulted in mixed opinions for each species (Bewick's and Carolina Wren) on each of the reports.
Images
Abbreviations
CBRC: Colorado Bird Records Committee
NOURC: Nebraska Ornithologists' Union Records Committee
WPA: Waterfowl Production Area (Federal)
Literature Cited
American Ornithologists' Union [AOU]. 1957. The AOU Check-list of North American birds, 5th ed. Port City Press, Baltimore, Maryland, USA.
Bray, T.E., B.K. Padelford, and W.R. Silcock. 1986. The birds of Nebraska: A critically evaluated list. Published by the authors, Bellevue, Nebraska, USA.
Brogie, M.A. 2009a. 2008 (20th) Report of the NOU Records Committee. NBR 77: 80-90.
Brogie, M.A. 2009b. 2009 (21st) Report of the NOU Records Committee. NBR 77: 160-168.
Brogie, M.A. 2011. 2010 (22nd) Report of the NOU Records Committee. NBR 79: 99-111.
Brogie, M.A. 2013. 2012 (24th) Report of the NOU Records Committee. NBR: 81: 120-130.
Brogie, M.A. 2014. 2013 (25th) Report of the NOU Records Committee. NBR 82: 131-146.
Brogie, M.A. 2015. 2014 (26th) Report of the NOU Records Committee. NBR 83: 125-138.
Bruner, L., R.H. Wolcott, and M.H. Swenk. 1904. A preliminary review of the birds of Nebraska, with synopses. Klopp and Bartlett, Omaha, Nebraska, USA.
Busby, W.H., and J.L. Zimmerman. 2001. Kansas Breeding Bird Atlas. University Press of Kansas, Lawrence, Kansas, USA.
Cortelyou, R.G. 1970. 1970 (Forty-fifth) Spring Migration and Occurrence Report. NBR 38: 74-87.
Cortelyou, R.G. 1980. 1980 (Fifty-fifth) Spring Occurrence Report. NBR 48: 70-87.
Falk, L. 2002. Birds in Otoe County. Published by the author, Nebraska City, Nebraska, USA.
Fiala, K.L. 1970. The birds of Gage County, Nebraska. NBR 38: 43-72.
Gates, D., and L. Gates. 1953. Nesting notes from Peru. NBR 21: 23.
Grzybowski, J.A. 1993. Southern Great Plains Region. American Birds 47: 426-429.
James, D.A., and J.C. Neal. 1986. Arkansas birds: Their distribution and abundance. University of Arkansas Press, Fayetteville, Arkansas, USA.
Jones, A.H. 1944. Possible nesting of Bewick's Wren (subsp.) and other notes of interest from Adams County. NBR 12: 43.
Jorgensen, J.G. 2003. 2001 (13th) Report of the NOU Records Committee. NBR 71: 97-102.
Jorgensen, J.G. 2012. Birds of the Rainwater Basin, Nebraska. Nebraska Game and Parks Commission, Lincoln, Nebraska, USA.
Kennedy, E.D. and D.W. White. 2020. Bewick's Wren (Thryomanes bewickii), version 1.0. In Birds of the World (A. F. Poole, Editor). Cornell Lab of Ornithology, Ithaca, NY, USA. https://doi.org/10.2173/bow.bewwre.01.
Ludlow, C.S. 1935. A quarter-century of bird migration records at Red Cloud, Nebraska. NBR 3: 3-25.
Mollhoff, W.J. 2022. Nest records of Nebraska birds. Nebraska Ornithologists' Union Occasional Paper Number 9.
Padelford, L., and B. Padelford. 1993. Bewick's Wren. NBR 61: 137.
Rapp, W.F. Jr., J.L.C. Rapp, H.E. Baumgarten, and R.A. Moser. 1958. Revised checklist of Nebraska birds. Occasional Papers 5, Nebraska Ornithologists' Union, Crete, Nebraska, USA.
Robbins, M.B., and D.A. Easterla. 1992. Birds of Missouri, their distribution and abundance. University of Missouri Press, Columbia, Missouri, USA.
Sharpe, R.S. 1993. Samuel Aughey's list of Nebraska birds (1878): a critical evaluation. NBR 61: 3-10.
Silcock, W.R. 2000. Fall Field Report, August-September 2000. NBR 68: 142-176.
Swenk, M.H. 1918. Revisory notes on the birds of Nebraska. Wilson Bulletin 30: 112-117.
Swenk, M.H. 1933. Minutes of the thirty-fourth annual meeting of the Nebraska Ornithologists' Union. NBR 1: 90-103.
Thompson, M.C., C.A. Ely, B. Gress, C. Otte, S.T. Patti, D. Seibel, and E.A. Young. 2011. Birds of Kansas. University Press of Kansas, Lawrence, Kansas, USA.
Tout, W. 1947. Lincoln County birds. Published by the author, North Platte, Nebraska, USA.
Wensien, R. 1960. Excerpts from Letters. NBR 28: 13-16.
Recommended Citation
Silcock, W.R., and J.G. Jorgensen. 2022. Bewick's Wren (Thryomanes bewickii). In Birds of Nebraska — Online. www.BirdsofNebraska.org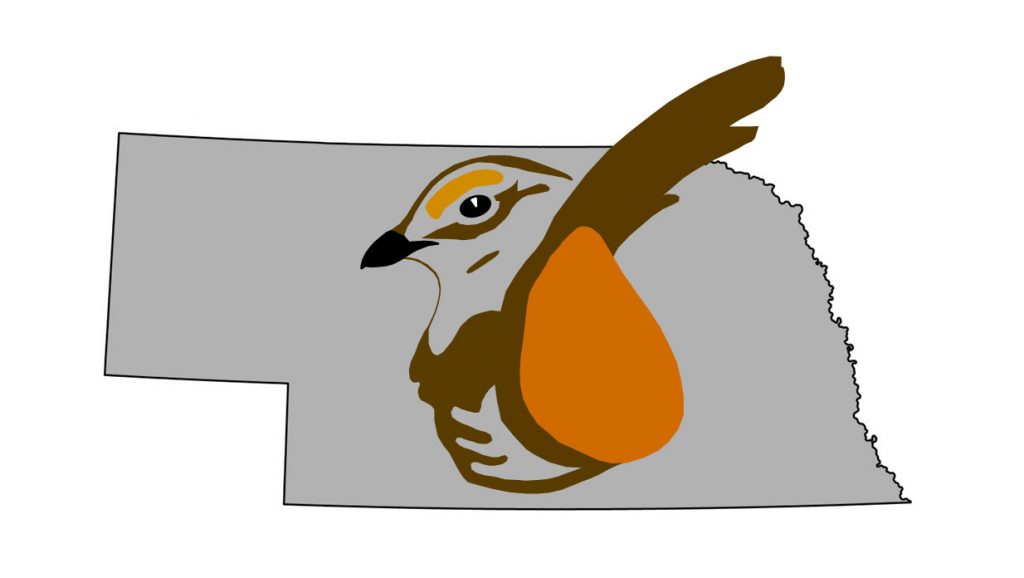 Birds of Nebraska – Online
Updated 12 Mar 2022