Mniotilta varia
Status:  Fairly common regular spring and fall migrant statewide. Uncommon regular breeder north and northwest.
Documentation:  Specimen: UNSM ZM6797, 6 May 1901 Child's Point, Sarpy Co.
Taxonomy:  No subspecies are currently recognized (Pyle 1997).
Spring:  Mar 24 (Rosche 1994),26,30 <<<>>> Jun 10,11,11; Apr 26,28,28 <<<>>> summer (west)
Migration begins in Apr, somewhat earlier in the east, and ends by late May. Peak numbers occur mid-May. There are several early Jun reports away from known breeding areas. Arrival is somewhat later in the Panhandle, although there is an earlier date 17 Apr 2006 at Sidney, Cheyenne Co.
Migrants occur statewide, although numbers are lower westward; Rosche (1982) considered this species uncommon in the northwest.
High counts:  110 in Sarpy Co 11 May 1996, including 58 at Fontenelle Forest, 16 in Lancaster Co 10 May 1996, 16 at Walnut Grove Park, Omaha, Douglas Co 9 May 2009, and 13 at Fontenelle Forest 14 May 2016.
Summer: Short (1961) summarized the breeding status of Black-and-white Warbler as "Probably most common … along the relatively well-wooded Niobrara River, in the Missouri Valley area and in parts of northwestern Nebraska."  Since then Black-and-white Warbler has probably ceased breeding in the Missouri River Valley, but still breeds fairly commonly in the eastern Niobrara River Valley and on the Pine Ridge.
Largest numbers occur in the eastern Niobrara River Valley, where Brogie and Mossman (1983) found "numerous singing males and territorial birds" during the summer of 1982 in the Niobrara Valley Preserve, where it apparently has bred regularly for many years (Bruner et al 1904). It occurs west to Cherry Co, where there are summer records 2 Jun 2014 Valentine NWR, 14 Jun 2016 Road 16F Niobrara River river crossing, 9-16 Jun 1985, 16 Jun 1977, mid-Jun 2006, and 12 Jun 2004, at NNF McKelvie.  Mollhoff (2001) showed a "probable" breeding record along the Niobrara River in the Valentine area, and the second BBA (Mollhoff 2016) showed a marked increase in reports from the same area, west approximately to the Road 16F river crossing in central Cherry Co. Singles were at Long Pine WMA, Rock Co 15 Jun 2017 and just to the north at a church camp 7 Jun 2007.
The second BBA (Mollhoff 2016) showed an increase in reports on the Pine Ridge compared with the first atlas (Mollhoff 2001); there were none east of Dawes Co, however. Rosche (1982) described this species as an "uncommon summer visitant" which "presumably breeds" on the Pine Ridge in Sioux and Dawes Cos; since then there have been summer reports for Sheridan Co 19-29 Jun 1985 and 4 Jun 1986. A pair of adults feeding just-fledged young was seen at Coffee Park, Sowbelly Canyon, Sioux Co 12 Jun 1979, and two different females were carrying food in Monroe Canyon, Sioux Co 14 Jun 2003. An adult male was feeding a begging fledgling in West Ash Canyon, Dawes Co, 28 Jun 2006 (Mollhoff 2006).
Elsewhere, the only confirmed breeding occurred in Thomas Co, where Ford (1959) stated that on "several occasions we observed adults feeding fledglings" in 1957 along the Middle Loup River.  Short (1961) found it common there in 1955 also, and there is a set of eggs collected 4 Jun at UNSM from Thomas Co. The only recent summer (Jun-Jul) report from this area was of one 30 Jun 2019; two there 3 Jun 2017 may have been migrants.
Evidence for current breeding in the Missouri River Valley is lacking; there are no records of nesting since 1900 (Ducey 1988, Bruner et al 1904), although Rapp et al (1958) described it as a "local and uncommon summer resident", without specific records. There are, however, these summer reports without evidence of breeding: 11 Jun 2017, 5 Jul 1982 (Williams 1982), and 7 Jul 2011. Mollhoff (2016) mapped a "Probable" report in southwestern Sarpy Co, and "Observed" and "Possible" reports in extreme northeast Sarpy Co, during 2006-2011.
In the northeast, recent reports suggest possible breeding at Ponca SP, Dixon Co; singles were found 9-10 Jun 2017, 19-20 Jun 2019, and 1-2 during 11-18 Jun 2020.  Singles there 5 Jun 2019 and 23 Jul 2014 and two on 5 Jun 2019 may have been breeders or migrants. One was at nearby Mulberry Bend, Dixon Co 17 Jun 2020. Singles have been  reported along the Missouri River in Cedar Co 10 Jun 2013 and 14 Jul 2018, and at Wiseman WMA 11 Jun 2018.
Additional breeding season reports are 13 Jun 2015 Buffalo Co, 15 Jun Keith Co (Brown et al 1996), 17 Jun 2006 Indian Cave SP, Nemaha and Richardson Cos, 17 Jun 2015 Douglas Co, 20 Jun 2016 Johnson Co, 20 Jun-1 Jul 1988 and 1 Jul 1965 Adams Co, 2 Jul 1987 and 3 Jul 1981 Lincoln Co.
Breeding phenology:
Fledglings: 12-28 Jun
Fall:  Aug 8, 8, 10 <<<>>> Oct 15, 17, 20
Arrival is in late Aug and departure is completed by mid-Oct. Adults may leave breeding areas as early as late Jun, as in Ontario (Kricher 2020) and by mid-late Jul in Alberta (Kricher 2020), and so we consider these to be early fall migrants: 17 Jul 2016 Lancaster Co, two singing at Fontenelle Forest 21 Jul 1995, 22 Jul 2017 Bellevue, Sarpy Co, 23 Jul 1969 Douglas-Sarpy Cos, 23 Jul 2017 Ponca SP, Dixon Co, 26 Jul 2020 Platte River SP, Cass Co, 31 Jul 2020 Lincoln, Lancaster Co, 4 Aug 2016 Indian Cave SP, and 5 Aug 2017 Webster Co .
There are later reports 29 Oct 1983 Douglas-Sarpy Cos, 28 Oct-2 Nov 2001 Scottsbluff, Scotts Bluff Co, 10 Nov 1972 Douglas Co (Williams 1973), and an extremely late report of one possibly attempting to over-winter 25 Jan 1981 Sarpy Co (Williams 1981).
High counts:  14 at Krimlofski Tract, Neale Woods, Washington Co 13 Sep 1998, 11 at Bellevue, Sarpy Co 26 Aug 2006, and 10 at Ponca SP, Dixon Co 3 Sep 1996.
Abbreviations
BBA: Breeding Bird Atlas
NNF: Nebraska National Forest
NWR: National Wildlife Refuge
SP: State Park
UNSM: University of Nebraska State Museum
Acknowledgement
Photograph (top) of a Black-and-white Warbler at Papillion, Sarpy Co 12 May 2018 by Phil Swanson.
Literature Cited
Brogie, M.A., and M.J. Mossman. 1983. Spring and summer birds of the Niobrara Valley Preserve, Nebraska: An annotated checklist. NBR 51: 44-51.
Brown, C.R., M.B. Brown, P.A. Johnsgard, J. Kren, and W.C. Scharf. 1996. Birds of the Cedar Point Biological Station area, Keith and Garden Counties, Nebraska: Seasonal occurrence and breeding data. Transactions of the Nebraska Academy of Sciences 23: 91-108.
Bruner, L., R.H. Wolcott, and M.H. Swenk. 1904. A preliminary review of the birds of Nebraska, with synopses. Klopp and Bartlett, Omaha, Nebraska, USA.
Ducey, J.E. 1988. Nebraska birds, breeding status and distribution. Simmons-Boardman Books, Omaha, Nebraska, USA.
Ford, N.L. 1959. Notes on summer birds of western Nebraska. NBR 27: 6-12.
Kricher, J.C. 2020. Black-and-white Warbler (Mniotilta varia), version 1.0. In Birds of the World (A. F. Poole, Editor). Cornell Lab of Ornithology, Ithaca, NY, USA. https://doi.org/10.2173/bow.bawwar.01.
Mollhoff, W.J. 2001. The Nebraska Breeding Bird Atlas 1984-1989. Nebraska Ornithologists' Union Occasional Papers No. 7. Nebraska Game and Parks Commission, Lincoln, Nebraska, USA.
Mollhoff, W.J. 2006. The 2006 Nebraska nest report. NBR 74: 142-147.
Mollhoff, W.J. 2016. The Second Nebraska Breeding Bird Atlas. Bull. Univ. Nebraska State Museum Vol 29. University of Nebraska State Museum, Lincoln, Nebraska, USA.
Pyle, P. 1997. Identification Guide to North American Birds. Part I, Columbidae to Ploceidae. Slate Creek Press, Bolinas, California, USA.
Rapp, W.F. Jr., J.L.C. Rapp, H.E. Baumgarten, and R.A. Moser. 1958. Revised checklist of Nebraska birds. Occasional Papers 5, Nebraska Ornithologists' Union, Crete, Nebraska, USA.
Robbins, M.B., and D.A. Easterla. 1992. Birds of Missouri, their distribution and abundance. University of Missouri Press, Columbia, Missouri, USA.
Rosche, R.C. 1982. Birds of northwestern Nebraska and southwestern South Dakota, an annotated checklist. Cottonwood Press, Crawford, Nebraska, USA.
Short, L.L., Jr. 1961. Notes on bird distribution in the central Plains. NBR 29: 2-22.
Williams, F. 1973. Southern Great Plains Region. American Birds 27: 78-82.
Williams, F. 1981. Southern Great Plains Region. American Birds 35: 313-315.
Williams, F. 1982. Southern Great Plains Region. American Birds 36: 992-995.
Recommended Citation
Silcock, W.R., and J.G. Jorgensen.  2020.  Black-and-white Warbler (Mniotilta varia). In Birds of Nebraska — Online. www.BirdsofNebraska.org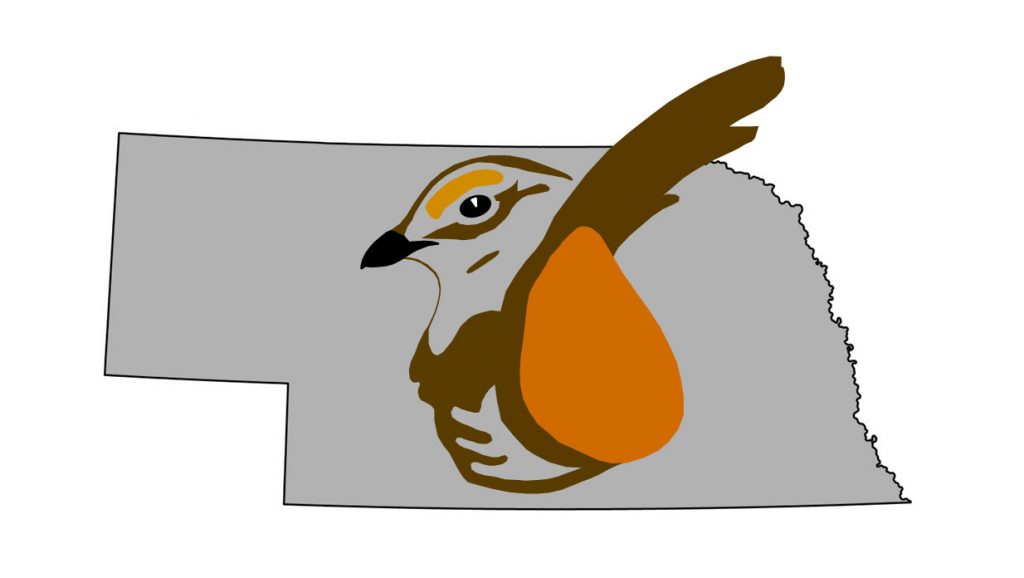 Birds of Nebraska – Online
Updated 1 Sep 2020