Picoides arcticus
Status:  No accepted records.
Taxonomy:  Nearctic three-toed woodpeckers (Picoides dorsalis, American Three-toed Woodpecker, and P. arcticus, Black-backed Woodpecker) are split from the Palearctic species (P. tridactylus, Eurasian Three-toed Woodpecker) based on genetic and vocal differences (Banks et al 2003).
No subspecies are currently recognized (Gill et al 2022).
Comments: Despite several Nebraska reports, none are acceptably documented; none of the collected specimens cited below are known to be extant. There is only one report since 1970, a bird at Smith Lake WMA, Sheridan Co 25 Jun 2011, but the brevity of the sighting raised doubt in the minds of some NOURC members as to whether the bird could have been conclusively identified (Brogie 2012).  All other Nebraska reports are from the southeast: one was collected at Omaha, Douglas Co 15 Dec 1895 by I.S. Trostler (Bruner et al 1904); another was collected there by F.J. Frazee, without date (Bruner et al 1904); one was collected at Dakota City, Dakota Co by Wallace Bruner, without date (Bruner et al 1904); one was seen in Fontenelle Forest, Sarpy Co 6 Mar 1927 by a Dr. Mitchell, without details (Swenk 1927); one described as a female was seen on the unlikely date of 30 Aug 1970 in Custer Co (Kieborz 1971); and one was reported from York, York Co 5 Nov 1971 without details (Jorgensen 2012).
If the Nebraska reports are correct, their source is most likely Minnesota, where it occurs during rare invasion years mostly in the period Dec-Feb and in May (Bohlen 1989; Kent and Dinsmore 1996). There are only about seven Great Plains records, five beginning Nov-Dec, the others Sep, Apr, and May (eBird.org, accessed 31 Oct 2023).
It is surprising that this species has not been recorded from burns on the Pine Ridge, as it is opportunistic and mobile in search of such habitat, at least in the South Dakota Black Hills. Tallman et al (2002) noted that burns are occupied in the first year after the burn but are rarely occupied for more than 10 years. Murphy and Lehnhausen (1998) suggested that Black-backed Woodpeckers specialize on wood-boring beetles (Cerambycidae) rather than the bark beetles (Scolytidae) favored by American Three-toed Woodpeckers. Perhaps Nebraska burns have not produced sufficient wood-boring beetles to retain Black-backed Woodpeckers.
The isolated and possibly genetically differentiated Black Hills population was petitioned for listing under the Endangered Species Act in 2013 and the population's status is currently under review by the U.S. Fish and Wildlife Service (Tremblay et al 2020).
Abbreviations
NOURC: Nebraska Ornithologists' Union Records Committee
WMA: Wildlife Management Area (State)
Literature Cited
Banks, R.C., C. Cicero, J.L. Dunn, A.W. Kratter, P.C. Rasmussen, J.V. Remsen, Jr., J.A. Rising, and D.F. Stotz. 2003. Forty-fourth supplement to the American Ornithologists' Union check-list of North American birds. Auk 120: 923-931.
Bohlen, H.D. 1989. The birds of Illinois. Indiana University Press, Bloomington, Indiana, USA.
Brogie, M.A. 2012. 2011 (23rd) Report of the NOU Records Committee. NBR 80: 112-122.
Bruner, L., R.H. Wolcott, and M.H. Swenk. 1904. A preliminary review of the birds of Nebraska, with synopses. Klopp and Bartlett, Omaha, Nebraska, USA.
Gill, F., D. Donsker, and P. Rasmussen (Eds). 2022. IOC World Bird List (v 12.2). Doi 10.14344/IOC.ML.12.2.  http://www.worldbirdnames.org/.
Jorgensen, J.G. 2012.  Birds of the Rainwater Basin, Nebraska.  Nebraska Game and Parks Commission, Lincoln, Nebraska, USA.
Kent, T.H., and J.J. Dinsmore. 1996. Birds in Iowa. Publshed by the authors, Iowa City and Ames, Iowa, USA.
Kieborz, E.M. 1971. Black-backed Three-toed Woodpecker. NBR 39: 39.
Murphy, E.C., and W.A. Lehnhausen. 1998. Density and foraging ecology of woodpeckers following a stand-replacement fire. Journal of Wildlife Management 62: 1359-1372.
Swenk, M.H. 1927. Letters of information 21: 3.
Tallman, D.A., Swanson, D.L., and J.S. Palmer. 2002. Birds of South Dakota. Midstates/Quality Quick Print, Aberdeen, South Dakota, USA.
Tremblay, J.A., R.D. Dixon, V.A. Saab, P. Pyle, and M.A. Patten. 2020. Black-backed Woodpecker (Picoides arcticus), version 1.0. In Birds of the World (P. G. Rodewald, Editor). Cornell Lab of Ornithology, Ithaca, NY, USA. https://doi.org/10.2173/bow.bkbwoo.01.
Recommended Citation
Silcock, W.R., and J.G. Jorgensen. 2023. Black-backed Woodpecker (Picoides arcticus). In Birds of Nebraska — Online. www.BirdsofNebraska.org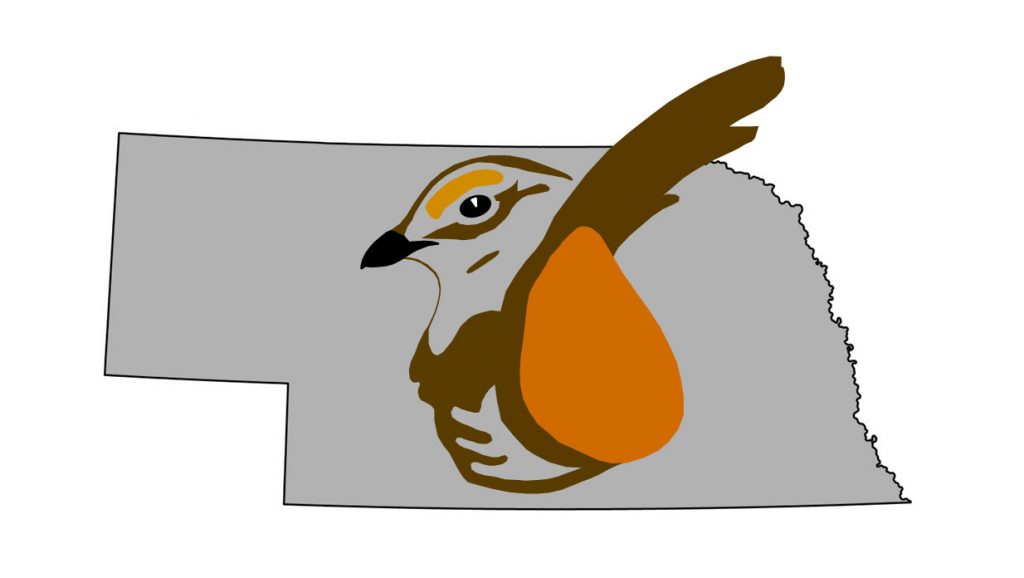 Birds of Nebraska – Online
Updated 31 Oct 2023