Dendrocygna autumnalis FULGENS
Status: Rare regular summer visitor Platte and North Platte river valleys southward. Rare casual breeder southeast.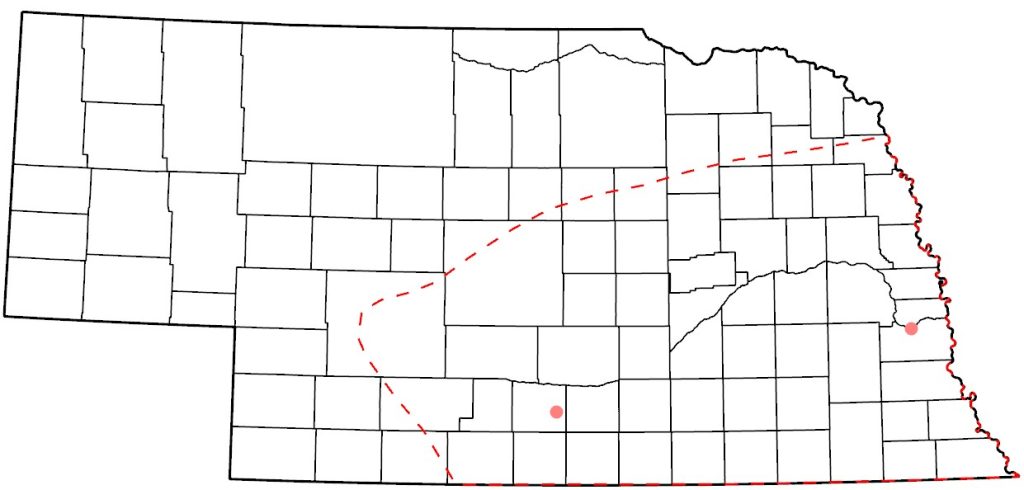 Documentation: Specimen: UNSM ZM16079, 29 Oct 1989 Hansen WPA, Clay Co (Labedz 1990; Grenon 1990).
Taxonomy: Two subspecies are recognized, one of which occurs in North America, D. a. fulgens (Gill et al 2022).
Changes since 2000: Of the 50+ records, only three occurred prior to 2000, clearly an increase in occurrence for this southern species that is now regular in occurrence in summer.
Summer: There are about 60 records, ranging from 13 Apr-30 Dec. There are only two Apr records, 13 Apr 2020 Garfield Co and 15 Apr 2017 Saunders Co, and one for May, 12 May 2019. In fall, latest is early Dec-30 Dec 2008 at Pier Park, Grand Island, Hall Co; there is one other Dec record, 1-9 Dec 2010 Douglas Co.
There are two reports of breeding with tangible evidence. A pair with ducklings incapable of flight were at Funk WPA, Phelps Co on the rather late date 28 Sep 2019 (Krechmer, eBird.org); two adults and nine juveniles were photographed there 15 Oct (Brogie et al, eBird.org). A female laid a clutch of 11 eggs in a Wood Duck box around 15 Aug 2020 on the Levi Krause property east of Louisville, Cass Co; the hen departed the nest with three of the young 14 Sep (fide Mike Remund). A third credible report of breeding was of a brood seen and well described by Matthew Walker about three miles east of Rising City, Butler Co 1 Sep 2020 (fide T. J. Walker).
Reports are statewide south of the North Platte and Platte River Valleys, but most records are from the south-central and southeast. The westernmost record involved a group of eight photographed on 1-3 Jun 2017 at Bridgeport, Morrill Co, and 1-2 on 1-9 Jun 2012 in Lincoln Co, and the northernmost records a group of eight at Atkinson, Holt Co 21 Oct 2017, three there 19-23 Jun 2018 (Brogie 2019), and five in Knox and Cedar Cos 16 Nov 2019.
The provenance of a flock of 19, consisting of two adults and 17 immatures, near Holdrege, Phelps Co 24 Oct 2009 is not known; there were reports the same year of 5-7 free-flying adults on top of duck pens at two different waterfowl breeders in Hall Co. A group of 16 was photographed on a rooftop about 15 miles south of Holdrege 6 May 2015, not far from the 2009 sighting of 19 birds.
Images
Abbreviations
UNSM: University of Nebraska State Museum
WMA: Waterfowl Management Area (State)
WPA: Waterfowl Production Area (Federal)
Literature Cited
Brogie, M.A. 2011. 2010 (22nd) Report of the NOU Records Committee. NBR 79: 99-111.
Brogie, M.A. 2019. 2018 (30th) Report of the NOU Records Committee. NBR 87: 96-109.
Gill, F., D. Donsker, and P. Rasmussen (Eds). 2022. IOC World Bird List (v 12.2). Doi 10.14344/IOC.ML.12.2.  http://www.worldbirdnames.org/
Grenon, A.G. 1990. 1990 Third report of the NOU Records Committee. NBR 58: 90-97.
Labedz, T.E. 1990. A Black-Bellied Whistling-Duck specimen from Nebraska: a first state record. NBR 58: 49-52.
Recommended Citation
Silcock, W.R., and J.G. Jorgensen. 2023. Black-bellied Whistling-Duck (Dendrocygna autumnalis). In Birds of Nebraska — Online. www.BirdsofNebraska.org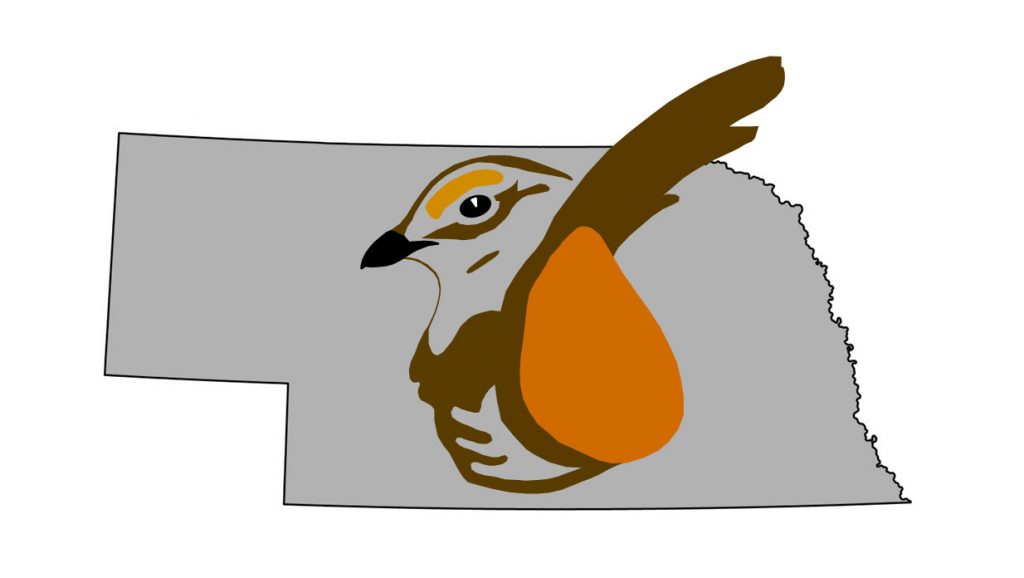 Birds of Nebraska – Online
Updated 30 Mar 2023, map updated 21 Jun 2022