Archilochus alexandri
Status: Rare casual statewide summer visitor.
Documentation:  Photograph: 7-8 May 2012 Scottsbluff, Scotts Bluff Co (DeLara and Smith 2013).
Taxonomy:  No subspecies are recognized.
Hybridization with Ruby-throated Hummingbird was studied in Oklahoma, where ranges of the two species overlap (Judd et al 2011). The following is an excerpt: "During the course of this study, 30 adult male Ruby-throated hummingbirds, 77 adult male Black-chinned hummingbirds, and 11 male hybrids were banded.  A total of 118 adult male hummingbirds were banded, with 9.3% of them being apparent hybrids. Banding 11 apparent male hybrids from 2006 to 2009 suggests that hybridization between the two Archilochus species in Oklahoma is widespread. …. Black-chinned Hummingbirds appear to be expanding their range farther north, causing more frequent overlap with Ruby-throated Hummingbirds."
A possible Nebraska hybrid is discussed in Comments.
Summer:  There are seven documented records.
7-8 May 2012 photographed Scottsbluff, Scotts Bluff Co photo (DeLara and Smith 2013, Brogie 2013)
29 Jun 2014, male photographed at a Lake McConaughy, Keith Co feeder 29 Jun 2014 (Brogie 2015)
8 Jul 2017 and about a month prior, photographed Blair, Washington Co (Brogie 2018)
15 Aug 2017 female Mitchell, Scotts Bluff Co (Brogie, in press)
25 Aug-21 Sep 2018 immature photographed at Croft feeders, Scotts Bluff Co (Brogie, in press)
13-16 Sep 2013 immature photographed Shelton, Buffalo Co (Brogie 2014)
18 Sep-2 Oct 2018 at Smith feeders, Scotts Bluff Co (Brogie, in press).
Prior to the first record cited above, a female Archilochus hummingbird was observed at Kimball, Kimball Co 4 Aug 1996 (Grzybowski 1997) but not identified to species. Two birds in a well-known hummingbird yard in Scotts Bluff Co 12 Aug 2016 were thought to be this species, but were not photographed.  A report of one at a Lake McConaughy feeder 28 Jul 2013 was not accepted by NOURC due to insufficient detail shown in the photograph submitted. A report including video of one in a Douglas Co yard 21 Aug 2015 (see Comments) was not accepted by NOURC based on an expert opinion that the evidence did not allow conclusive identification (Brogie 2016).
Comments:  A videotape of what was thought to be a possible hybrid with Ruby-throated Hummingbird, taken in Omaha, Douglas Co 21-23 Aug 2015, was sent to experts Steven Mlodinow and Sheri Williamson (Justin Rink, pers, comm.). Both agreed that the bird was at least a "probable" Black-chinned Hummingbird; Williamson noted: "I see … a probable female Black-chinned.  Apparent lack of a tail notch is a further point of evidence in favor of Black-chinned …; she doesn't pump her tail when hovering between feeding bouts, but that's not an infallible Black-chinned characteristic."  The report was judged "Not Accepted" by NOURC based on uncertainty of the identification (Brogie 2016).
An idea of the current (Fall 2015) abundance of Black-chinned Hummingbird in western Kansas comes from a veteran observer, Tom Shane: "… we finally had a nice wave of Archilochus hummingbirds arriving on 8 Sept 2015. …  I am guessing we had a ratio of 70 BCHUs to 30 RTHUs. We still had 2 Black-chins and one probable Ruby-throat today 3 Oct 2015. Black-chins nested this year 30 miles west of the Kansas – Colorado line in Lamar, CO. We have not had an adult male BCHU here in Garden City in a number of years."
Abbreviations
NOURC: Nebraska Ornithologists' Union Records Committee
Acknowledgements
Photograph (top) of a Black-chinned Hummingbird at Scottsbluff, Scotts Bluff Co 7 May 2012 by Marie Smith.
Literature Cited
Brogie, M.A. 2013. 2012 (24th) Report of the NOU Records Committee. NBR: 81: 120-130.
Brogie, M.A. 2014. 2013 (25th) Report of the NOU Records Committee. NBR 82: 131-146.
Brogie, M.A. 2015. 2014 (26th) Report of the NOU Records Committee. NBR 83: 125-138.
Brogie, M.A. 2016. 2015 (27th) Report of the NOU Records Committee. NBR 84: 138-150.
Brogie, M.A.  2018.  2017 (29th) Report of the NOU Records Committee.  NBR, in press.
DeLara, K., and M. Smith. 2013. First documented Nebraska record of Black-chinned Hummingbird (Archilochus alexandri). NBR 81: 30-32.
Grzybowski, J.A. 1997. Southern Great Plains Region. Field Notes 51: 78-82.
Judd, E.R., C.J. Butler, and N. Batchelder. 2011. Hybridization between Black-chinned (Archilochus  alexandri) and Ruby-throated (A. colubris) hummingbirds in Oklahoma. Bulletin of the Oklahoma Ornithological Society 44: 1–7.
Recommended Citation
Silcock, W.R., and J.G. Jorgensen.  2018.  Black-chinned Hummingbird (Archilochus alexandri), Version 1.0. In Birds of Nebraska — Online. www.BirdsofNebraska.org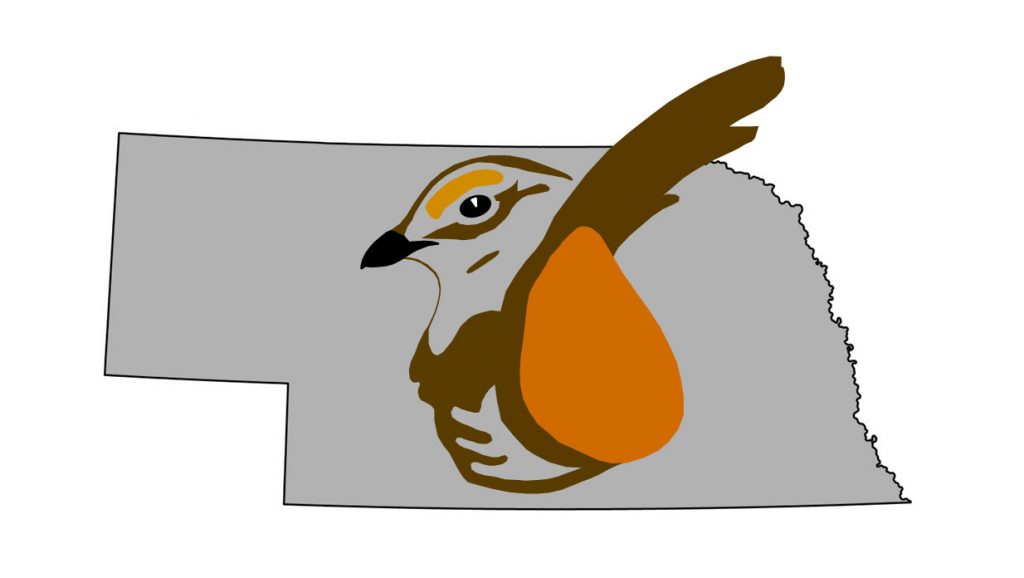 Birds of Nebraska – Online