Laterallus jamaicensis
Status: Rare casual spring and summer visitor statewide. Federally listed as Threatened.
Documentation: Recording: 25 May 1986 Knox Co (Brogie and Brogie 1987, Brogie 1999).
Taxonomy: Five subspecies are recognized, three in South America, and two in North America: coterniculus of California and Baja, Mexico, and jamaicensis of the eastern United States and Central America.
Nebraska birds are presumed jamaicensis.
Spring: There are ten reports, but only one has been accepted by NOURC:
25 May 1986 recorded in Knox Co (Brogie and Brogie 1987b; Brogie 1999).
Additional undocumented reports are 22 Apr 1980, a single bird flushed and briefly seen near Lincoln, Lancaster Co (Ducey 1980, not accepted by NOURC, Brogie 1999), 10 May 1987 near Holstein (Turner 1987), 11 May 2015 Pioneers Park, Lancaster Co (not accepted by NOURC, Brogie 2016), 13 May 1979 Funk WPA, Phelps Co (Brown 1979), 29 May 1981 Crescent Lake NWR, Garden Co, and 31 May 1995 Crescent Lake NWR (NBR 63:74). There are also two old undated reports from West Point and at the Omaha Market (Bruner et al 1904). Spring arrival may be earlier than the above records suggest; one was at Quivira NWR, Kansas, 16 Mar 2007. Eddleman et al (1994) stated migration is mid-Mar-early May, suggesting that the late May reports above could involve nesting (see Summer).
Summer: There is one documented record:
15 Jun 2016, one recorded calling at Harvard WPA, Clay Co (Jorgensen et al 2021, 2022).
The record cited above was the only documented record obtained during a nine-year series of secretive marsh bird surveys conducted statewide; no other Black Rails were detected during these surveys (Jorgensen et al 2021, Dinan et al 2018).
Mollhoff (2022) discussed the veracity of a reported nest with hatching chicks in Brown Co Jul 1899. The nest was discovered by a reputable collector, W. C. Smith of Long Pine, who did not collect the adult(s) since the eggs were hatching. In the absence of a specimen, Swenk did not include this species in his 1915-1920 updates of the state list.
There are 13 additional summer reports, nine of which are from Crescent Lake NWR 1978-1995 between dates 18 May-6 Sep; several of these sightings were in 1995, when birds identified as this species were in short sedges and grass at the outer margins of Goose Lake during a period when the water table was unusually high (Larry Malone, pers. comm., Cortelyou 1981, Silcock 1995). Only one of these reports was submitted to NOURC; insufficient detail did not allow acceptance (Brogie 1997). Searches at Goose Lake in 1997 and 2001 were unsuccessful in locating the species.
Additional reports are of one "calling incessantly" 24 Jun 2006 at the west end of Calf Creek Valley in Valentine NWR, Cherry Co, a calling bird in extensive sedge wetland at Facus Springs, Morrill Co 9 Jul 2001 (not accepted by NOURC, Jorgensen 2003), a "small black bird" suspected to be this species flushed by a mower in Dodge Co 30 Jun 2011 (not accepted by NOURC, Brogie 2013), and one flushed at Fontenelle Forest, Sarpy Co 27 Aug 2006 (Silcock 2006).
Comments: There are a few reports for Fall, none with tangible documentary evidence: two birds in Richardson Co in 1873 (Bruner et al 1904), 20 Sep 1979 at Cunningham Lake, Douglas Co (Cortelyou 1979), one flushed at Spring Creek Prairie, Lancaster Co 26 Sep 2008 (not accepted by NOURC, Brogie 2009), and "kick-ee-kerr" calls heard 1-8 times on each of 3 days 27 Sep, 3 Oct, and 11 Oct 2015 at Peru Bottoms WMA, Nemaha Co, by multiple observers (not accepted by NOURC, Brogie 2016).
According to Eddleman et al (2020), fall migration takes place early Sep to early Nov, with most records mid-Sep to mid-Oct. These dates fit the pattern of observations for Nebraska. Fall departure of interior summering birds is thought to be during October; there are Kansas dates 17 and 29 Oct (Thompson et al 2011), and an Iowa date 8 Oct (Kent and Dinsmore 1996).
The status of the Black Rail in Nebraska is enigmatic, primarily because the species is difficult to detect, there are few reports of the species and most lack extant documentation (Jorgensen et al 2021). All of the state's reports involve either calling birds or brief observations of flushed birds. Prior to the recording obtained in 2016 (Jorgensen et al 2021), there was only one accepted record for this species, a recording that the observers themselves noted is of poor quality (Brogie and Brogie 1987b).
It has been suspected that Black Rails occur more frequently than the few reports indicate; Rapp et al (1958) stated, without citing supporting data, that Black Rail "probably breeds in suitable habitat, as Nebraska is well within its breeding range." Southeast Nebraska is included in the probable summer range by most authors, even though data supporting this conclusion is minimal. Most intriguing are the several reports at Crescent Lake NWR noted above. Also notable are recent credible reports from Facus Springs, Harvard WPA, and Peru Bottoms WMA. The observer for the latter reports suspected that Black Rails could possibly have been present there during the summer and may have bred.
Because Black Rail breeding habitat is ephemeral, and often located where livestock grazing or wetland modification occurs, breeding sites probably change from year to year and are difficult to predict. Most nests are found in Jun in the eastern United States (Eddleman et al 2020). Thus, observers attempting to find this species should be cognizant of habitat conditions at sites where the species could possibly occur.
Abbreviations
NOURC: Nebraska Ornithologists' Union Records Committee
NWR: National Wildlife Refuge
WMA: Wildlife Management Area (State)
WPA: Waterfowl Production Area (Federal)
Acknowledgement
Spectrogram (top) of a Black Rail call at Harvard WPA originally published in McGregor et al. 2016 and used here with permission.
Literature Cited
Brogie, M.A. 1997. 1996 (Eighth) Report of the NOU Records Committee. NBR 65: 115-126.
Brogie, M.A. 1999. 1998 (Tenth) Report of the NOU Records Committee. NBR 67: 141-152.
Brogie, M.A. 2013. 2012 (24th) Report of the NOU Records Committee. NBR: 81: 120-130.
Brogie, M.A., and E.M. Brogie. 1987. Black Rail in Knox County, Nebraska. NBR 55: 40-41.
Brown, G.W. 1979. Marsh birds. NBR 47: 67.
Bruner, L., R.H. Wolcott, and M.H. Swenk. 1904. A preliminary review of the birds of Nebraska, with synopses. Klopp and Bartlett, Omaha, Nebraska, USA.
Cortelyou, R.G. 1979. A possible Black Rail. NBR 47: 67.
Cortelyou, R.G. 1981. 1980 (Twenty-third) Fall Occurrence Report. NBR 49: 14-30.
Dinan, L.R., M. Bomberger Brown and J.G. Jorgensen. 2018. 2016-2017 Secretive marshbird abundance, distribution and habitat use in Nebraska. Joint report of the Nongame Bird Program of the Nebraska Game and Parks Commission and Tern and Plover Conservation Partnership. Lincoln, NE.
Ducey, J.E. 1980. Black Rail in Lancaster County. NBR 48: 88.
Eddleman, W.R., R.E. Flores, and M. Legare. 2020. Black Rail (Laterallus jamaicensis), version 1.0. In Birds of the World (A. F. Poole and F. B. Gill, Editors). Cornell Lab of Ornithology, Ithaca, NY, USA. https://doi.org/10.2173/bow.blkrai.01.
Jorgensen, J.G. 2003. 2001 (13th) Report of the NOU Records Committee. NBR 71: 97-102.
Jorgensen, J.G., L. Greenwalt, N.E. Drilling, C. Strand, and S.J. Brenner. 2021. Diminishing returns: results of Black Rail surveys in Nebraska. NBR 89: 128- 135.
Jorgensen, J.G., S.J. Brenner, and L.R. Greenwalt. 2022. A Tale of Two Complexes: Secretive Marsh Bird Abundance Differs in the Sandhills and Rainwater Basin, Nebraska. Wetlands 42: 41 https://doi.org/10.1007/s13157-022-01551-9.
Kent, T.H., and J.J. Dinsmore. 1996. Birds in Iowa. Publshed by the authors, Iowa City and Ames, Iowa, USA.
McGregor, C., E. Bruster, M.B. Brown, L.R. Dinan, and J.G. Jorgensen. 2016. A documented occurrence of Black Rail (Laterallus jamaicensis) in Nebraska. NBR 84: 132-137.
Mollhoff, W.J. 2022. Nest records of Nebraska birds. Nebraska Ornithologists' Union Occasional Paper Number 9.
Rapp, W.F. Jr., J.L.C. Rapp, H.E. Baumgarten, and R.A. Moser. 1958. Revised checklist of Nebraska birds. Occasional Papers 5, Nebraska Ornithologists' Union, Crete, Nebraska, USA.
Silcock, W.R. 1995. Summer Field Report, June-July 1995. NBR 63: 70-82.
Silcock, W.R. 2006. Fall Field Report, August-November 2006. NBR 74: 110-128.
Thompson, M.C., C.A. Ely, B. Gress, C. Otte, S.T. Patti, D. Seibel, and E.A. Young. 2011. Birds of Kansas. University Press of Kansas, Lawrence, Kansas, USA.
Turner, H. 1987. Minden notes. NBR 55: 43.
Recommended Citation
Silcock, W.R., and J.G. Jorgensen. 2022. Black Rail (Laterallus jamaicensis). In Birds of Nebraska — Online. www.BirdsofNebraska.org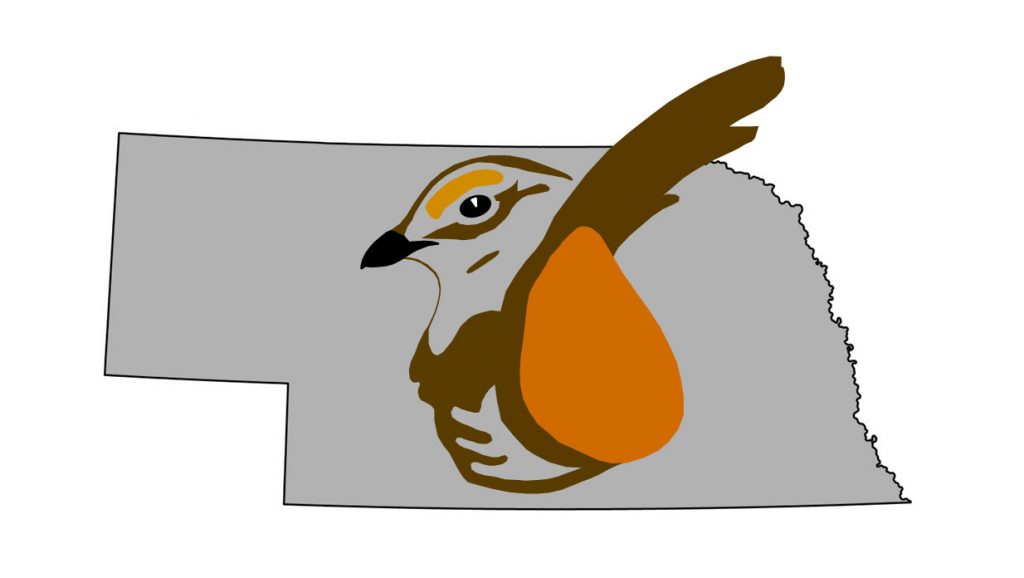 Birds of Nebraska – Online
Updated 20 May 2022