Setophaga caerulescens
Status:  Rare casual spring and fall migrant statewide.
Documentation:  Specimen: UNSM ZM6834, 19 Sep 1919 Monroe Canyon, Sioux Co (Mickel and Dawson 1920).
Taxonomy:  No subspecies are recognized (Pyle 1997).
Spring:  Apr 23,30, May 3 <<<>>> May 27,28,29
This species is recorded far more often in fall than spring; about two-thirds of the reports are in fall, but even then it is less-than-annual in occurrence.  Of 40 banded in Iowa, all were banded in fall but one (Dinsmore et al 1984), and Kansas data are similar (Thompson et al 2011).
There are only about 34 reports for spring; these are in the period 23 Apr-29 May.
The only reports from the Panhandle are 7-9 May 1981 Sioux Co (Rosche 1982), 15 May 1998 at Crescent Lake NWR, Garden Co (Brogie 1999), 15 May 2011 Sioux Co, and 27 May 2004 Gering Cemetery, Scotts Bluff Co.
Fall:  Aug 31, Sep 1,4 <<<>>> Oct 13,15,20
There is an earlier report of one in Sioux Co 22 Aug 2010 and a later report of a male in an Omaha, Douglas Co yard 30 Oct 2004. This species has occurred in eight of the past 12 years (2008-2019), with three reported in 2009 and 2010.
There are 16 reports from the Panhandle, including the specimen cited above, and a second specimen 8 Oct 1920 Sioux Co (UNSM ZM6833).
Abbreviations
NWR: National Wildlife Refuge
UNSM: University of Nebraska State Museum
Acknowledgement
Photograph (top) of a Black-throated Blue Warbler at Omaha, Douglas Co mid-May circa 2015 by Richard Pouchert.
Literature Cited
Brogie, M.A. 1999. 1998 (Tenth) Report of the NOU Records Committee. NBR 67: 141-152.
Dinsmore, J.J., T.H. Kent, D. Koenig, P.C. Petersen, and D.M. Roosa. 1984. Iowa birds. Iowa State University, Ames, Iowa, USA.
Mickel, C.E., and R.W. Dawson. 1920. Some interesting records of Nebraska birds for the year 1919.  Wilson Bulletin 32: 73-79.
Pyle, P. 1997. Identification Guide to North American Birds. Part I, Columbidae to Ploceidae. Slate Creek Press, Bolinas, California, USA.
Rosche, R.C. 1982. Birds of northwestern Nebraska and southwestern South Dakota, an annotated checklist. Cottonwood Press, Crawford, Nebraska, USA.
Thompson, M.C., C.A. Ely, B. Gress, C. Otte, S.T. Patti, D. Seibel, and E.A. Young. 2011. Birds of Kansas.  University Press of Kansas, Lawrence, Kansas, USA.
Recommended Citation
Silcock, W.R., and J.G. Jorgensen.  2020.  Black-throated Blue Warbler (Setophaga caerulescens). In Birds of Nebraska — Online. www.BirdsofNebraska.org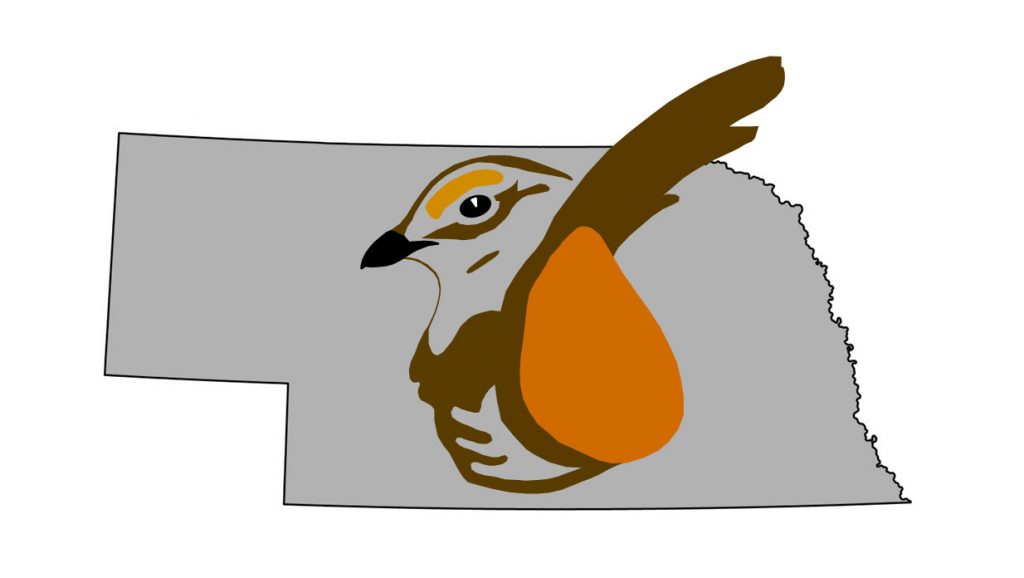 Birds of Nebraska – Online
Update 2 Apr 2020