Amphispiza bilineata bilineata
Status: Rare casual summer visitor. Rare casual winter visitor east.
Documentation: Photograph: 17 Dec 1973 Omaha, Douglas Co (Meier 1974; Williams 1974).
Taxonomy: There are nine subspecies recognized, six in Mexico, and three in the US (Gill et al 2022): deserticola, breeding and wintering from California to southwest Wyoming and southwest New Mexico, opuntia, breeding and wintering from southeast Colorado and western Oklahoma to southeast New Mexico and southwest Texas, and bilineata, resident in central-southern Texas. Johnson et al (2020) add a seventh Mexican subspecies.
One that frequented a feeder in Omaha in winter 1997-98 was attributed to the southern Great Plains subspecies bilineata based on the extensive white spots on the outer rectrices (Green 1997; Rising 1995)., although opuntia would seem likely also on geographic grounds.
Summer: Presumably the Nebraska sightings are of overshooting spring migrants; such birds occur regularly in their summer range northwestward follow the Colorado Front Range closely as far north as the southern Wyoming mountains. The northwestward distribution results in only a single Apr-Aug record on the northeast Colorado plains east of El Paso Co and north of the Arkansas River 26 Aug 2023 (eBird.org, accessed Dec 2023) and only three spring reports in southeastern Wyoming 27 Apr-19 May (Faulkner 2010). Hunn (1978) suggested that drought conditions in spring within the normal breeding range triggered vagrancy in this species.
There are four records:
26 May 1984 near Keystone in Keith Co (Rosche and Johnsgard 1984)
26 Jun 1972 Toadstool Park, Sioux Co (Rosche 1972)
26 Aug 2014 at Lincoln Co feeder (Brogie 2015).
Winter: Dispersal is wider in winter than in summer, but with only about 30 records in all Sep-Mar east of the Great Plains, but as far as Maine (eBird.org, accessed Dec 2023).
There are five records, all documented:
4 Dec 1973-6 Feb 1974 Omaha (cited above)
5 Dec 2015-10 Jan 2016 Creighton, Knox Co (Brogie 2016, 2017)
early Dec 1997-12 Apr 1998 Bellevue, Sarpy Co (Green 1997; Brogie 1998)
2 Jan-early Mar 1993 Dixon Co (Gubanyi 1996; Cortelyou 1993a, 1993b; Grzybowski 1993).
31 Mar-9 Apr 1993 Lancaster Co (Gubanyi 1996).
The 1993 Lancaster Co bird may have wintered in the vicinity as had the other wintering birds in the east. This would be a very early spring date for vagrants of this species; there is a similar Kansas record 10 Mar, also easterly, in Sedgwick Co (Tallman et al 2002).
There are two winter records for Missouri, both in the northwest, 15-20 Jan 1993 at Skidmore and one near Savannah 3 Dec 2009-16 Jan 2010 (Robbins 2018), a single South Dakota record, at Vermillion the last two weeks of Dec 1971 (Tallman et al 2002), and one for Iowa, at Waterloo 16 Mar-9 Apr 1993 (Kent and Dinsmore 1996).
Images
Literature Cited
Andrews, R., and R. Righter. 1992. Colorado birds. Denver Museum of Natural History, Denver, Colorado, USA.
Brogie, M.A. 1998. 1997 (Ninth) Report of the NOU Records Committee. NBR 66: 147-159.
Brogie, M.A. 2015. 2014 (26th) Report of the NOU Records Committee. NBR 83: 125-138.
Brogie, M.A. 2016. 2015 (27th) Report of the NOU Records Committee. NBR 84: 138-150.
Brogie, M.A. 2017. 2016 (28th) Report of the NOU Records Committee. NBR 85: 128-142.
Cortelyou, R.G. 1993a. Notes on Bird Sightings in Nebraska. Black-throated Sparrow. NBR 61:90.
Cortelyou, R.G. 1993b. The Spring 1993 Occurrence Report. NBR 61: 94-136.
Faulkner, D.W. 2010. Birds of Wyoming. Roberts and Company, Greenwood Village, Colorado, USA.
Gill, F., D. Donsker, and P. Rasmussen (Eds). 2022. IOC World Bird List (v 12.2). Doi 10.14344/IOC.ML.12.2.  http://www.worldbirdnames.org/.
Green, R.C. 1997. Black-throated Sparrow banded in Omaha, Nebraska. NBR 65: 179.
Gubanyi, J.G. 1996. 1992, 1993 (Fifth) Report of the NOU Records Committee. NBR 64: 30-35.
Grzybowski, J.A. 1993. Southern Great Plains Region. American Birds 47: 272-273.
Hunn, E.S. 1978. Black-Throated Sparrow vagrants in the Pacific Northwest. Western Birds 9: 85-89.
Johnson, M.J., C. van Riper, and K.M. Pearson. 2020. Black-throated Sparrow (Amphispiza bilineata), version 1.0. In Birds of the World (A. F. Poole and F. B. Gill, Editors). Cornell Lab of Ornithology, Ithaca, NY, USA. https://doi.org/10.2173/bow.bktspa.01.
Kent, T.H., and J.J. Dinsmore. 1996. Birds in Iowa. Publshed by the authors, Iowa City and Ames, Iowa, USA.
Meier, M. 1974. Another Black-Throated Sparrow in Nebraska. NBR 42: 18-19.
Rising, J.D. 1995. A guide to the identification and natural history of the sparrows of the United States and Canada. Academic Press, San Diego, California, USA.
Robbins, M.B. 2018. The Status and Distribution of Birds in Missouri. University of Kansas Biodiversity Institute, Lawrence, Kansas, USA.
Rosche, R.C. 1972. Notes on the distribution of some summer birds in Nebraska. NBR 40: 70-72.
Rosche, R.C., and P.A. Johnsgard. 1984. Birds of Lake McConaughy and the North Platte River Valley, Oshkosh to Keystone. NBR 52: 26-35.
Tallman, D.A., Swanson, D.L., and J.S. Palmer. 2002. Birds of South Dakota. Midstates/Quality Quick Print, Aberdeen, South Dakota, USA.
Williams, F. 1974. Southern Great Plains Region. American Birds 28: 656-660.
Recommended Citation
Silcock, W.R., and J.G. Jorgensen. 2023. Black-throated Sparrow (Plectrophenax nivalis). In Birds of Nebraska — Online. www.BirdsofNebraska.org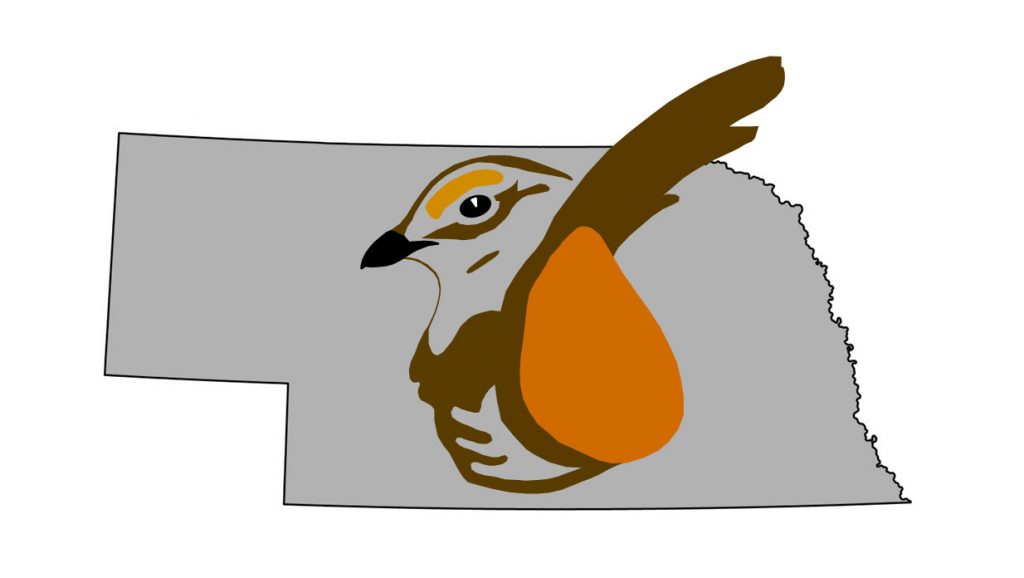 Birds of Nebraska – Online
Updated 4 Dec 2023