Setophaga striata
Status:  Fairly common regular spring migrant east and central, uncommon west. Rare casual fall migrant statewide.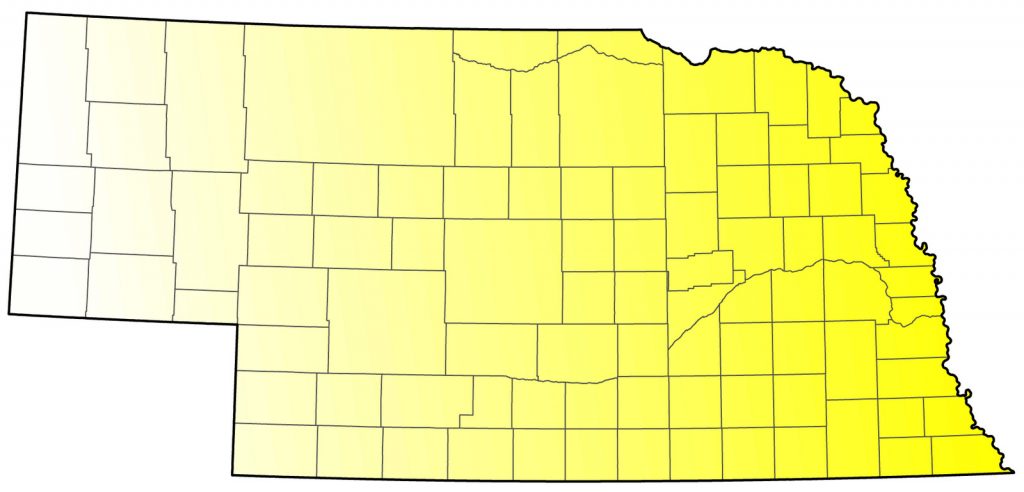 Documentation:  Specimen: UNSM ZM6873, 15 May 1901 Beatrice, Gage Co.
Taxonomy:  No subspecies are recognized (Pyle 1997).
Spring:  Apr 18,19,19 <<<>>> Jun 7,7,8
Migrants occur from late Apr through early Jun. Some earlier undocumented reports may have resulted from confusion with Black-and-white Warbler, normally a much earlier migrant than Blackpoll Warbler. Later reports are 10 Jun 1998 Kingsley Dam, Keith Co, 11 Jun 1971 Lancaster Co, 19 Jun 1981 Garden Co, 20 Jun 1988 Chase Co, and 21 Jun 1998 Wehrspann Lake, Sarpy Co.
In contrast to Bay-breasted Warbler, which is rare in spring but uncommon in fall, Blackpoll Warbler is fairly common in spring and only casual in fall. Identification of fall Blackpoll Warblers should be made very carefully, as most migrate eastward to the Atlantic coast and then as much as 3000 km across water to the Caribbean and South America (DeLuca et al 2020). Indeed, banding data from Iowa (Dinsmore et al 1984) show that 84% of banded Blackpoll Warblers occurred in spring, which is remarkably similar to Nebraska sight reports, where 88% of the reports are for spring.
High counts:  95 at Wilderness Park, Lancaster Co 11 May 2018, 37 in the Panhandle 15-16 May 2006, 31 at Geneva, Fillmore Co 17 May 1999, and 28 in Sarpy Co 13 May 1995.
A total of about 450 were reported in 2018.
Fall:  Aug 21, 27, 28 <<<>>> Oct 26, 26, 29
Fall departure is rather late for a wood-warbler. Although there are about 60 fall reports, many, if not most, are probably misidentifications; this species is less-than-annual in occurrence in fall, with only nine documented reports prior to 2020 (see below), includng two for the Panhandle: 2 Sep 2019 Schramm Park SRA, Sarpy Co, 11 Sep 2013 Omaha, Douglas Co, 14 Sep 2016 Wilderness Park, Lancaster Co, 18 Sep 2018 banded and photographed Chadron SP, Dawes Co, 19 Sep 2016 Lake Ogallala, Keith Co, 20 Sep 2012 Wilderness Park, Lancaster Co, 25 Sep 1993 Lincoln, Lancaster Co, and 13 Oct 1979 Garden Co (Williams 1980).
In fall 2020 there were a remarkable seven reports, all but one photographed and the other well-described. Most remarkable was one at Gotte Park, Kimball Co 6 Sep. Elsewhere, one was at Mercer Woods, Douglas Co 9-10 Sep and possibly the same bird there 12 Sep, singles were at Holmes Lake, Lancaster Co 11 Sep and at Wilderness Park, Lancaster Co the same day, in Saunders Co 12 Sep, and in Sarpy Co 19 Sep.
Abbreviations
NWR: National Wildlife Refuge
UNSM: University of Nebraska State Museum
Literature Cited
DeLuca, W., R. Holberton, P.D. Hunt, and B.C. Eliason. 2020. Blackpoll Warbler (Setophaga striata), version 1.0. In Birds of the World (A. F. Poole, Editor). Cornell Lab of Ornithology, Ithaca, NY, USA. https://doi.org/10.2173/bow.bkpwar.01.
DeSante, D. F. 1973. An analysis of the fall occurrences and nocturnal orientations of vagrant wood warblers (Parulidae) in California. Ph.D. Dissertation, Stanford University, Stanford, California, USA.
Dinsmore, J.J., T.H. Kent, D. Koenig, P.C. Petersen, and D.M. Roosa. 1984. Iowa birds. Iowa State University, Ames, Iowa, USA.
Pyle, P. 1997. Identification Guide to North American Birds. Part I, Columbidae to Ploceidae. Slate Creek Press, Bolinas, California, USA.
Williams, F. 1980. Southern Great Plains Region. American Birds 34: 176-179.
Recommended Citation
Silcock, W.R., and J.G. Jorgensen.  2021.  Blackpoll Warbler (Setophaga striata). In Birds of Nebraska — Online. www.BirdsofNebraska.org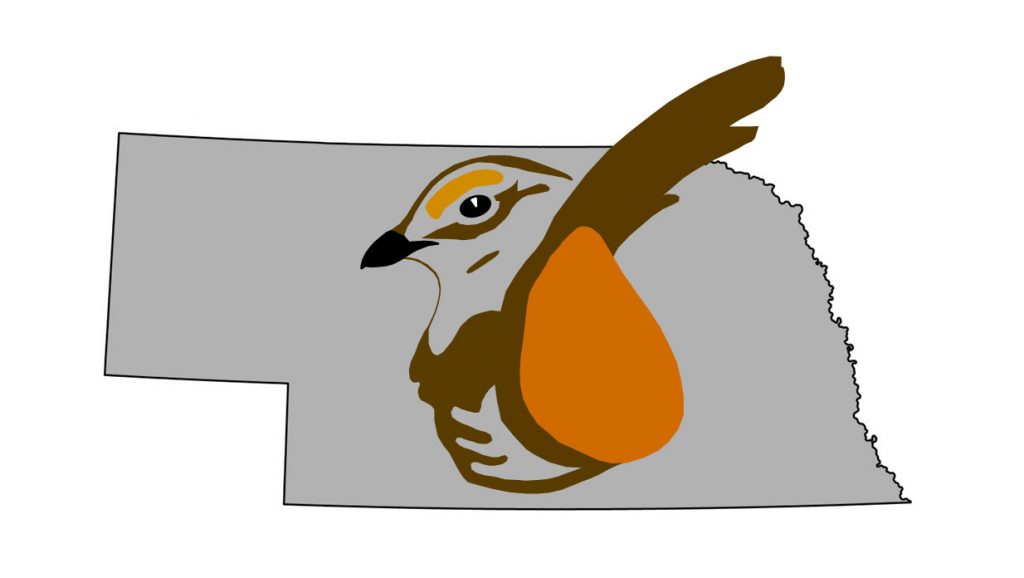 Birds of Nebraska – Online
Updated 17 Jan 2021