Passerina caerulea interfusa
Status: Fairly common regular spring and fall migrant and breeder statewide.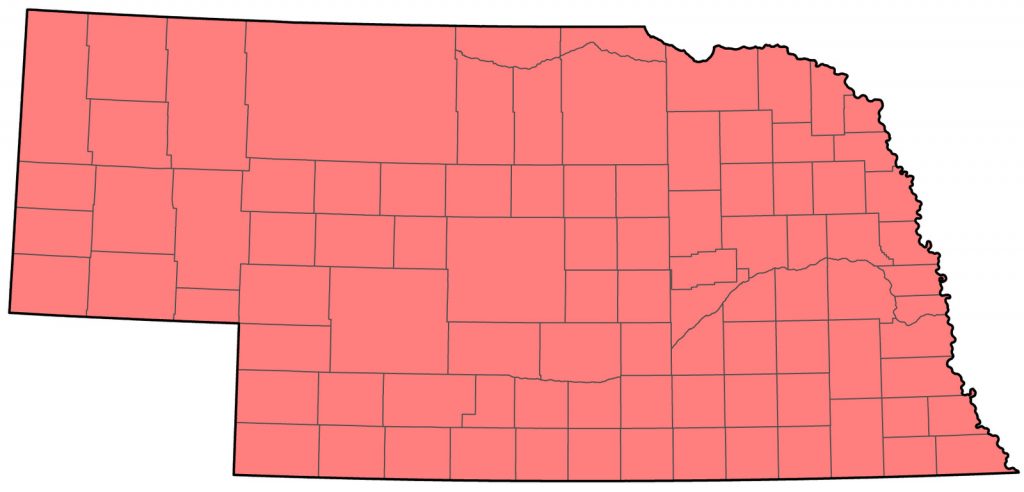 Documentation: Specimen: UNSM ZM7091, 8 Aug 1900 Beatrice, Gage Co
Taxonomy: Six subspecies are recognized, three in Mexico and Central America, and these in the US (Pyle 1997): salicaria, breeding from central California to Nevada and south to southern California and southwest Arizona, interfusa, breeding from Nevada and east-central California east to central South Dakota and western Texas, and caerulea, breeding from southeast South Dakota to south Texas and east to New Jersey and Florida.
Two subspecies have been reported to occur in Nebraska, but available information regarding occurrence of caerulea is conflicting. AOU (1957) stated that interfusa occurred east to east-central Nebraska and did not list the eastern race caerulea as breeding in the state. Dinsmore et al (1984) thought that the Blue Grosbeaks breeding in western Iowa were also interfusa, which coincides with the opinion of Bruner et al (1904) and Oberholser (DuMont 1934) that western lazula (= interfusa) bred statewide. However, eastern caerulea was listed as occurring in "the eastern part of the state" by Rapp et al (1958), in southeast Nebraska by Lowther and Ingold (2020), and in eastern Kansas by Johnston (1965), and has been stated to breed "north sparingly to … Nebraska" (Dwight and Griscom 1927). However, Pyle (1997) noted that birds breeding at the western edge of the range of caerulea have been separated as mesophila, but that mesophila is not a valid taxon, being an intergrade population of interfusa and caerulea. Thus, it appears that Blue Grosbeaks in eastern Nebraska are most likely to be intergrades, except perhaps in the extreme southeast; there is no evidence, however, that pure caerulea occurs.
Spring: May 3, 4, 5 <<<>>> summer
Earlier dates are 29 Apr 2002 Dixon Co, and 29 Apr 2022 Lancaster Co.
Migrants arrive in early May.
High counts: 15 at Rock Creek SRA, Dundy Co 14 May 2022, 11 in Scotts Bluff Co 22 May 2005, 11 in northcentral Cherry Co 31 May 2015, 11 At Rock Creek SRA 17 May 2023, and 10 at Niobrara Valley Preserve, Brown Co 28 May 2019.
Summer: BBS and BBA data (Sauer et al 2017, Mollhoff 2016) indicate relatively even distribution statewide; it is probably least numerous in the southeast and parts of the western Sandhills. Johnsgard (1980) indicated that breeding is "highly local" in eastern counties. Jorgensen (2012) considered it more numerous in the northern parts of the eastern Rainwater Basin and "much less common or absent" to the south. However, Mollhoff (2016) showed an increased number of blocks where the species was detected in this region, and other areas of Nebraska, between the first and second BBA projects. BBS trend analysis show Blue Grosbeak has increased statewide 1.82% (95% C.I.; 0.40, 3.30) annually 1966-2015 (Sauer et al 2017).
Breeding phenology:
Nest building: 28 May-4 Jun
Eggs: 5 Jun-1 Aug (Mollhoff 2022)
Nestlings: 8 Jul-28 Aug
Fledglings: 28 Jun-22 Sep
An adult was feeding a minnow to its young at Oliver Reservoir, Kimball Co 30 Aug (Bill F. Huser, personal communication).
High counts: 16 at Buffalo Creek WMA, Scotts Bluff Co 29 Jul 2023.
Fall: summer <<<>>> Oct 5, 6, 6
Later dates are all of females/immatures: 14 Oct 2009 Franklin Co, 14 Oct 2017 Lancaster Co, and 16 Oct 2018 Thurston Co.
Extremely late records are of a female/juvenile in Lincoln Co 22 Oct 2022 (Mlodinow, eBird.org) and a hatch year female trapped 11 Dec 1987 in Cedar Co and re-trapped 18 and 25 Dec.
Departure is completed by late Sep.
High counts: 21 at Rock Creek SRA, Dundy Co 18 Jul 2020, 19 there 9 Aug 2020, 18 there 31 Aug 2017, and 16 there 29 Aug 2020.
Images
Abbreviations
BBA: Breeding Bird Atlas
BBS: Breeding Bird Survey
SRA: State Recreation Area
UNSM: University of Nebraska State Museum
Literature Cited
American Ornithologists' Union [AOU]. 1957. The AOU Check-list of North American birds, 5th ed. Port City Press, Baltimore, Maryland, USA.
Bruner, L., R.H. Wolcott, and M.H. Swenk. 1904. A preliminary review of the birds of Nebraska, with synopses. Klopp and Bartlett, Omaha, Nebraska, USA.
Dinsmore, J.J., T.H. Kent, D. Koenig, P.C. Petersen, and D.M. Roosa. 1984. Iowa birds. Iowa State University, Ames, Iowa, USA.
DuMont, P.A. 1934. A revised list of the birds of Iowa. University of Iowa Studies. Studies in Natural History 15 (5).
Dwight, J., and L. Griscom. 1927. A revision of the geographical races of the Blue Grosbeak (Guiraca caerulea). American Museum Novitates No. 257.
Johnsgard, P. A. 1980. A preliminary list of the birds of Nebraska and adjacent Great Plains states. Published by the author, University of Nebraska, Lincoln, USA.
Johnston, R.F. 1965. A directory to the birds of Kansas. Miscellaneous Publication No. 41. University of Kansas Museum of Natural History, Lawrence, Kansas, USA.
Jorgensen, J.G. 2012. Birds of the Rainwater Basin, Nebraska. Nebraska Game and Parks Commission, Lincoln, Nebraska, USA.
Lowther, P.E. and J.L. Ingold. 2020. Blue Grosbeak (Passerina caerulea), version 1.0. In Birds of the World (A. F. Poole, Editor). Cornell Lab of Ornithology, Ithaca, NY, USA. https://doi.org/10.2173/bow.blugrb1.01.
Mollhoff, W.J. 2016. The Second Nebraska Breeding Bird Atlas. Bull. Univ. Nebraska State Museum Vol 29. University of Nebraska State Museum, Lincoln, Nebraska, USA.
Mollhoff, W.J. 2022. Nest records of Nebraska birds. Nebraska Ornithologists' Union Occasional Paper Number 9.
Pyle, P. 1997. Identification Guide to North American Birds. Part I, Columbidae to Ploceidae. Slate Creek Press, Bolinas, California, USA.
Rapp, W.F. Jr., J.L.C. Rapp, H.E. Baumgarten, and R.A. Moser. 1958. Revised checklist of Nebraska birds. Occasional Papers 5, Nebraska Ornithologists' Union, Crete, Nebraska, USA.
Sauer, J.R., D.K. Niven, J.E. Hines, D.J. Ziolkowski, Jr, K.L. Pardieck, J.E. Fallon, and W.A. Link. 2017. The North American Breeding Bird Survey, Results and Analysis 1966 – 2015 (Nebraska). Version 2.07. USGS Patuxent Wildlife Research Center, Laurel, Maryland, USA.
Recommended Citation
Silcock, W.R., and J.G. Jorgensen. 2023. Blue Grosbeak (Passerina caerulea). In Birds of Nebraska — Online. www.BirdsofNebraska.org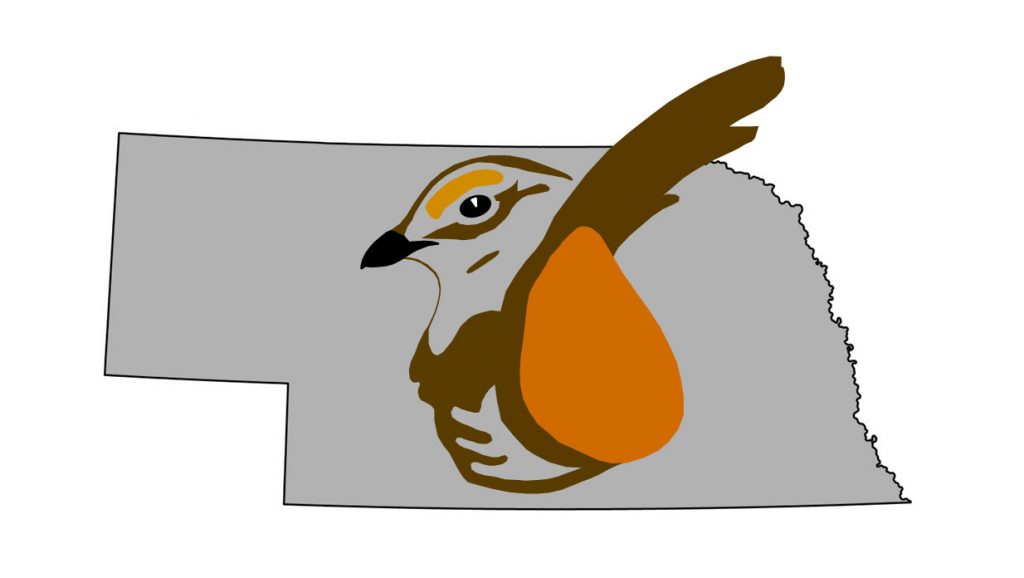 Birds of Nebraska – Online
Updated 26 Sep 2023