Vireo solitarius solitarius
Status:  Uncommon regular spring migrant east, rare east-central, rare casual west-central, accidental west. Uncommon regular fall migrant east, rare casual central and west.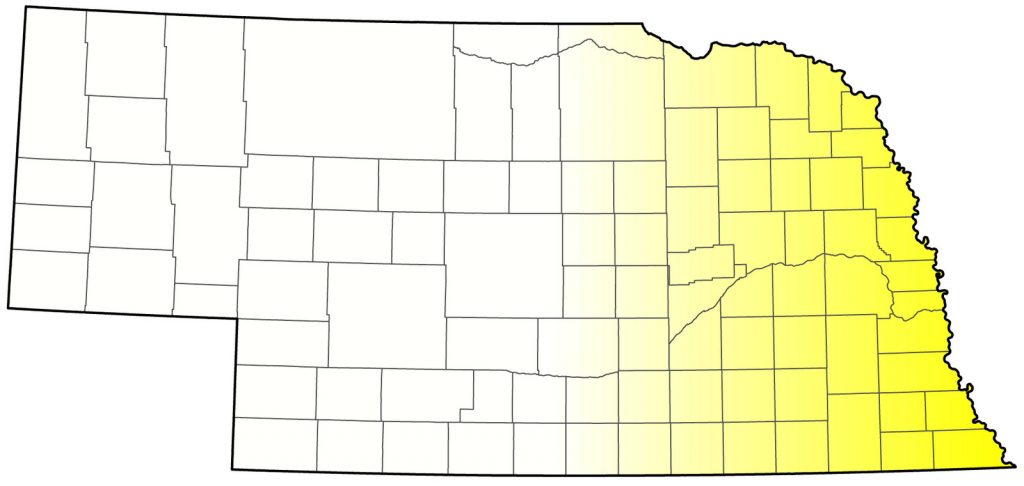 Documentation:  Specimen: UNSM ZM6767, 13 May 1917 Lancaster Co.
Taxonomy:  Two subspecies are currently recognized (Pyle 1997): solitarius from Canada through the north-central and northeastern USA, and alticola, of the southern Appalachian Mountains. Nebraska birds are solitarius.
The former "Solitary" Vireo was recently split into three species by Banks et al (1997), based on studies by Murray et al (1994) and Johnson (1995). All occur in Nebraska: Plumbeous Vireo (V. plumbeus), Cassin's Vireo (V. cassinii), and this species.
Spring:  Apr 21,22,23 <<<>>> Jun 6,10,12
The above dates include reports of "Solitary" Vireo from the east, where Plumbeous and Cassin's Vireos are not expected to occur.
The only records of Blue-headed Vireo away from the east are a specimen taken at Kearney, Buffalo Co 10 May 1914 and #2708 in the Brooking Collection (Brooking, Notes),  1-2 on each of four days 3-18 May 2020 at Cottonmill Park, Buffalo Co, one at Pioneer Park, Buffalo Co 12 May 2020, and singles in Harlan Co 5 May 2003, 22 May 2004, and 11 May 2007. The single Panhandle record was of one photographed in Sowbelly Canyon, Sioux Co 13 May 2017. It occurs with some regularity, although rarely, west to about Grand Island, Hall Co (Lingle 1994). A westerly report of "Solitary" Vireo which was not specified as Plumbeous Vireo, and thus may be a Blue-headed or Cassin's Vireo, was 18 May 1986 Keith Co (Rosche 1994; Brown and Brown 2001).
High counts: 23 in Sarpy Co 11 May 1996 and 18 in Sarpy Co 13 May 1995.
Fall:  Aug 23, 25, 27 <<<>>> Oct 22, 23, 23
Migrants pass through the east between late Aug and mid-Oct, although there are earlier reports 20 Aug 1983 Douglas-Sarpy Cos and 21-22 Aug 2001 Dixon Co. Blue-headed Vireos may linger rather late in fall: 28 Oct 1997 Douglas-Sarpy Cos, 29 Oct 2008 Sarpy Co, 1 Nov 1987 Lancaster Co, a banded Hatch Year bird 2 Nov 2000 Bellevue, Sarpy Co, 3 Nov 1972 Lancaster Co, and 7 Nov 1983 Lancaster Co.
Occurrence in fall is more widespread than in spring. There are nine Panhandle records: one was at Wind Springs Ranch, Sioux Co 29 Aug 2009, 30 Aug 2003 Oliver Reservoir, Kimball Co, 6 Sep 2003 Carter Canyon, Scotts Bluff Co, one banded at Chadron SP, Dawes Co 9 Sep 2009, a Hatch Year bird was banded at Wildcat Hills NC, Scotts Bluff Co 16 Sep 2011, one was at Crescent Lake NWR, Garden Co 16 Sep 2006, one was at Wind Springs Ranch 20 Sep 2000 (Jorgensen 2002), one was photographed at Gering, Scotts Bluff Co 27 Sep 1998 (Brogie 1999), and 30 Oct 1977 Garden Co. Most of the few documented records on the eastern Colorado plains are in Oct (Andrews and Righter 1992).
Apparently the only documented records in central Nebraska, where it might be expected to occur regularly in the east-central, are singles in Buffalo Co 1 Sep 2014, one-two in Buffalo Co 8-9 Sep 2018, Hall Co 16 Sep 2001, 18 Sep 2018, and 25 Sep 1999, Phelps Co 16 Sep 2014, at Lake Ogallala, Keith Co 19 Sep 2001, 25 Sep 2004 Grant Co, 1 Oct 2016 Holt Co, and at Kingsley Dam, Keith Co 12 Oct 1990 (Rosche 1994). In 2019 there were there were four reports in Buffalo Co: singles at Cottonmill Park 26 Aug, north of Kearney 4 Sep, south of Kearney 6 Sep, and at Cottonmill Park 23 Sep.
High counts:  6 at Wehrspann Lake, Sarpy Co 20 Sep 1999, 5 at Fontanelle Forest, Sarpy Co 27 Sep 2008, 4 in Washington and Sarpy Cos 16 Sep 2001, 4 in Sarpy Co 16 Sep 2016, and 4 in Seward Co 9 Sep 2018.
Abbreviations
NC: Nature Center
SP: State Park
UNSM: University of Nebraska State Museum
Acknowledgement
Photograph (top) of a Blue-headed Vireo at Papillion, Sarpy Co 18 Sep 2012 by Phil Swanson.
Literature Cited
Andrews, R., and R. Righter. 1992. Colorado birds.  Denver Museum of Natural History, Denver, Colorado, USA.
Banks, R.C., J.W. Fitzpatrick, T.R. Howell, N.K. Johnson, B.L. Monroe Jr., H. Ouellet, J.V. Remsen Jr., and R.W. Storer. 1997. Forty-first supplement to the American Ornithologists' Union Check-list of North American birds. Auk 114: 542-552.
Brogie, M.A. 1999. 1998 (Tenth) Report of the NOU Records Committee. NBR 67: 141-152.
Brooking, A.M. Notes. Bird specimen records. Manuscript in NOU Archives, University of Nebraska State Museum, Lincoln, Nebraska, USA.
Brown, C.R., and M.B. Brown. 2001. Birds of the Cedar Point Biological Station. Occasional Papers of the Cedar Point Biological Station, No. 1.
Johnson, N.K. 1995. Speciation in Vireos. I. Macrogeographic patterns of allozymic variation in the Vireo solitarius complex in the contiguous United States. Condor 97: 903-919.
Jorgensen, J.G. 2002. 2002 (sic; =2000). (12th) Report of the NOU Records Committee. NBR 70: 84-90.
Lingle, G.R. 1994. Birding Crane River: Nebraska's Platte. Harrier Publishing, Grand Island, Nebraska, USA.
Murray, B.W., W.B. McGillivray, J.C. Barlow, R.N. Beech, and C. Strobeck. 1994. The use of cytochrome b sequence variation in estimation of phylogeny in the Vireonidae. Condor 96:1037-1054.
Pyle, P. 1997. Identification Guide to North American Birds. Part I, Columbidae to Ploceidae. Slate Creek Press, Bolinas, California, USA.
Rosche, R.C. 1994. Birds of the Lake McConaughy area and the North Platte River valley, Nebraska.  Published by the author, Chadron, Nebraska, USA.
Recommended Citation
Silcock, W.R., and J.G. Jorgensen. 2020.  Blue-headed Vireo (Vireo solitarius). In Birds of Nebraska — Online. www.BirdsofNebraska.org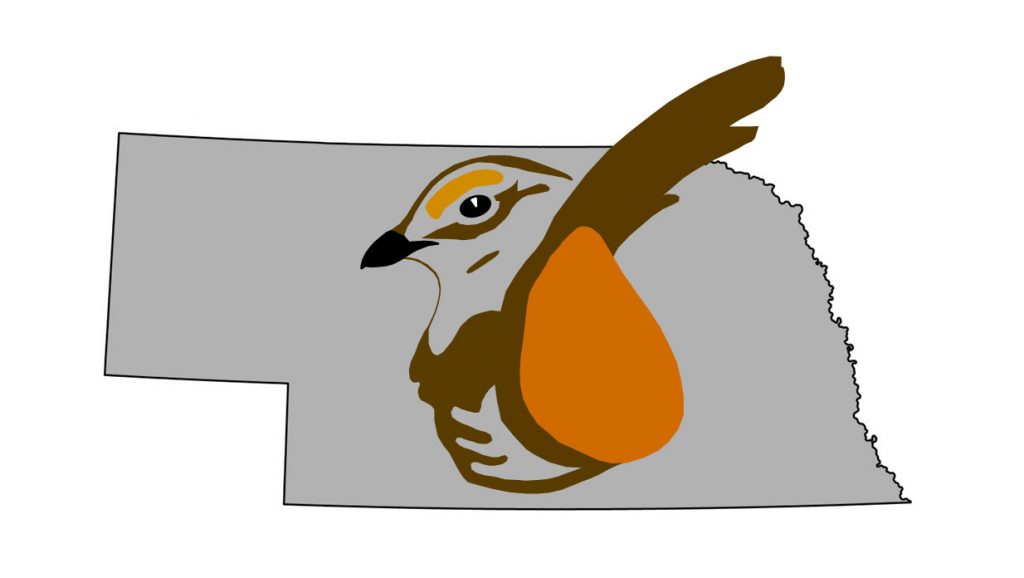 Birds of Nebraska – Online
Updated 23 June 2020