Cyanocitta cristata bromia, C. c. cyanotephra
Status: Common regular resident and spring and fall migrant east and central, fairly common west.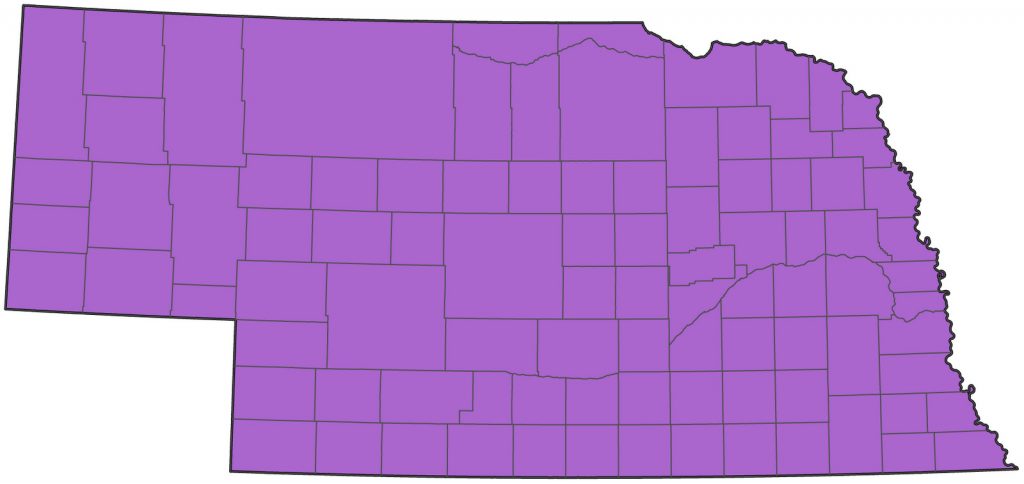 Documentation: Specimen: UNSM ZM12259, 30 Dec 1908 Lancaster Co.
Taxonomy: Four subspecies are recognized by Gill and Donsker (2017) and Clements et al (2017), although Pyle (1997) merged one of these, semplei, with cristata. The four are: bromia from central Alberta and northeast Nebraska to Newfoundland and south-central Virginia, cristata resident (Pyle 1997) from southern Illinois to southeast Texas east to southwest Virginia and Florida, semplei of south Florida, and cyanotephra, resident (Pyle 1997) from southeast Wyoming to New Mexico and east to Nebraska and south Texas.
Thus, there are two subspecies breeding in Nebraska, bromia in the northeastern corner and presumably the eastern edge of Nebraska, and the southwestern race cyanotephra occupying the remainder of the state "so far as known" (AOU 1957, Phillips 1986). As pointed out by Faulkner (2010) for Wyoming, however, the westward spread of this species in Nebraska (see Summer) renders the current western limit of bromia in Nebraska uncertain. Smith et al (2020) suggested that "Westward expansion in the Great Plains and front range of the Rocky Mtns. is probably the result of dispersal from eastern populations."
Resident: As stated above (see Taxonomy), both breeding subspecies in Nebraska are resident (Pyle 1997). There is, however, a strong migration in spring and fall, presumably bromia from northern parts of its range and probably also many northern Nebraska breeders. Smith et al (2020) indicated that probably fewer than 20% of Blue Jays, even in northern parts of the range, migrate. Banding data depicted in Thompson et al (2011) suggest movement of birds through Nebraska (although not necessarily Nebraska breeders); five of 12 recoveries in Kansas were of birds banded in Nebraska, and one banded in Kansas was recovered in Manitoba, Canada.
Spring: Because birds are present all year, migration dates are difficult to determine. Spring migrants tend to be inconspicuous, unlike in fall, but most move through in late Apr and the first half of May. A migrating flock of 50 was in Butler Co 21 Apr 2012. A "first-of-year" single arrived in Bassett, Rock Co 20 Apr 2008.
High counts: 372 in Sarpy Co 11 May 1996, 171 in Hall Co 11 May 2002, 70 at Cunningham Lake, Douglas Co 9 May 2022, and 42 at Ponca SP 15 May 2021, and, in the west, 19 at Lake Minatare, Scotts Bluff Co 22 May 2021, 18 at Stateline Island, Scotts Bluff 5 Apr 2020, 13 in Scotts Bluff Co 25 May 1996, and 13 there 29 May 2016.
Summer: This species breeds statewide but is least numerous in the Panhandle. It requires the presence of trees but apparently avoids coniferous woodland (Rosche 1982), and so occurs in cities and towns as well as open areas.
BBS data 2007-2013 indicate statewide summer distribution, with lower numbers in the west, and the Density Trend 1966-2013 shows numbers increasing >1.5% per year in the extreme west and southwest, but statewide BBS trend analysis shows a minor annual decline of – 1.10 (95% C.I.; -1.85, 0.36).
Blue Jay was spreading "rapidly" westward around 1900 (Bruner et al 1904), apparently in response to an increase in riparian woodland and maturing plantations associated with western farmsteads, ranches, and especially urban settings. Even then, however, it occurred over the "entire state," although it was "uncommon westward" (Bruner et al 1904). Tout (1947) considered it a "common summer resident" in Lincoln Co. The earliest specimen from the Panhandle is 7 Oct 1920 (UNSM 7628), taken in Monroe Canyon, Sioux Co, although it was first recorded in Colorado in Yuma Co in 1903 (Andrews and Righter 1992).
Breeding Phenology:
Nest building: 29 Mar-15 May
Eggs: 15 Apr- 20 Jul (Mollhoff 2022)
Nestlings: 30 May-9 Jun
Fledglings: 1 Jun-27 Jul
Fall: Fall migrants are conspicuous, often occurring in large flocks. Peak movement is in late Sep and early Oct and migrants are unreported after 17 Oct, although Kent and Dinsmore (1996) stated that fall migrants are reported in Iowa mid-Sep through late Oct. Some fall migrants probably originate in Nebraska (see Winter).
High counts: 200 at Wyuka Cemetery, Lancaster Co 11 Sep 2021, 198 at Wehrspann  Lake, Sarpy Co 5 Oct 2022, 150 at Branched Oak Lake, Lancaster Co 30 Sep 2021, 110 in Otoe Co 29 Sep 1995.
"Hundreds" flew over Fontenelle Forest, Sarpy Co 25 Sep 2004. In fall 2022, multiple counts of 50+ were in the period 7 Sep-5 Oct, indicating peak movement.
Winter: Most Nebraska Blue Jays are resident, but the species is sensitive to adverse winter weather and may move southward or merely "wander about" (Tout 1947) if necessary, even regularly in some parts of the state. At the beginning of the 20th century, most Blue Jays left the state in winter (Bruner et al 1904); Ludlow (1935) listed this species as a "common summer resident" in Webster Co, with no mention of records Dec-Mar, and Tout (1947) listed it as a "common summer resident" in Lincoln Co, occurring between 20 Apr and 27 Nov. In the northwest it is absent in some winters (Rosche 1982), and it tends to be absent in winter in parts of Holt Co where it breeds, reappearing in early May (Blake and Ducey 1991). Brogie and Mossman (1983) did not see Blue Jays until 30 Apr in the Niobrara Valley Preserve, and the first for the year appeared at James Ranch, Sioux Co, 11 May 1995.
Currently however, since the generally resident bromia has spread westward across the state, this pattern might be reduced in extent, although CBC data indicate that by late Dec, few Blue Jays remain in the north. High CBC counts include 555 at Lincoln, Lancaster Co 18 Dec 2022, 353 there 18 Dec 2010 and 350 there 14 Dec 2014. High single-observer counts are 81 in a Lancaster Co yard 13 Jan 2017 and 73 at a pond at Wyuka Cemetery, Lancaster Co 13 Feb 2019.
Images
Abbreviations
BBS: Breeding Bird Survey
CBC: Christmas Bird Count
UNSM: University of Nebraska State Museum
Literature Cited
Andrews, R., and R. Righter. 1992. Colorado birds. Denver Museum of Natural History, Denver, Colorado, USA.
American Ornithologists' Union [AOU]. 1957. The AOU Check-list of North American birds, 5th ed. Port City Press, Baltimore, Maryland, USA.
Blake, L., and J. E. Ducey. 1991. Birds of the eastern Sandhills in Holt County, Nebraska. NBR 59: 103-132.
Brogie, M.A., and M.J. Mossman. 1983. Spring and summer birds of the Niobrara Valley Preserve, Nebraska: An annotated checklist. NBR 51: 44-51.
Bruner, L., R.H. Wolcott, and M.H. Swenk. 1904. A preliminary review of the birds of Nebraska, with synopses. Klopp and Bartlett, Omaha, Nebraska, USA.
Clements, J. F., T. S. Schulenberg, M. J. Iliff, D. Roberson, T. A. Fredericks, B. L. Sullivan, and C. L. Wood. 2016. The eBird/Clements checklist of birds of the world: v2016, accessed 30 January 2018.
Faulkner, D.W. 2010. Birds of Wyoming. Roberts and Company, Greenwood Village, Colorado, USA.
Gill, F., and D. Donsker (Eds). 2017. IOC World Bird List (v 7.3), accessed 30 January 2018.
Kent, T.H., and J.J. Dinsmore. 1996. Birds in Iowa. Publshed by the authors, Iowa City and Ames, Iowa, USA.
Ludlow, C.S. 1935. A quarter-century of bird migration records at Red Cloud, Nebraska. NBR 3: 3-25.
Phillips, A.R. 1986. The known birds of North and Middle America. Part 1. Published by the author, Denver, Colorado, USA.
Mollhoff, W.J. 2022. Nest records of Nebraska birds. Nebraska Ornithologists' Union Occasional Paper Number 9.
Pyle, P. 1997. Identification Guide to North American Birds. Part I, Columbidae to Ploceidae. Slate Creek Press, Bolinas, California, USA
Rosche, R.C. 1982. Birds of northwestern Nebraska and southwestern South Dakota, an annotated checklist. Cottonwood Press, Crawford, Nebraska, USA.
Smith, K.G., K.A. Tarvin, and G.E. Woolfenden. 2020. Blue Jay (Cyanocitta cristata), version 1.0. In Birds of the World (A. F. Poole, Editor). Cornell Lab of Ornithology, Ithaca, NY, USA. https://doi.org/10.2173/bow.blujay.01.
Thompson, M.C., C.A. Ely, B. Gress, C. Otte, S.T. Patti, D. Seibel, and E.A. Young. 2011. Birds of Kansas. University Press of Kansas, Lawrence, Kansas, USA.
Tout, W. 1947. Lincoln County birds. Published by the author, North Platte, Nebraska, USA.
Recommended Citation
Silcock, W.R., and J.G. Jorgensen. 2023. Blue Jay (Cyanocitta cristata). In Birds of Nebraska — Online. www.BirdsofNebraska.org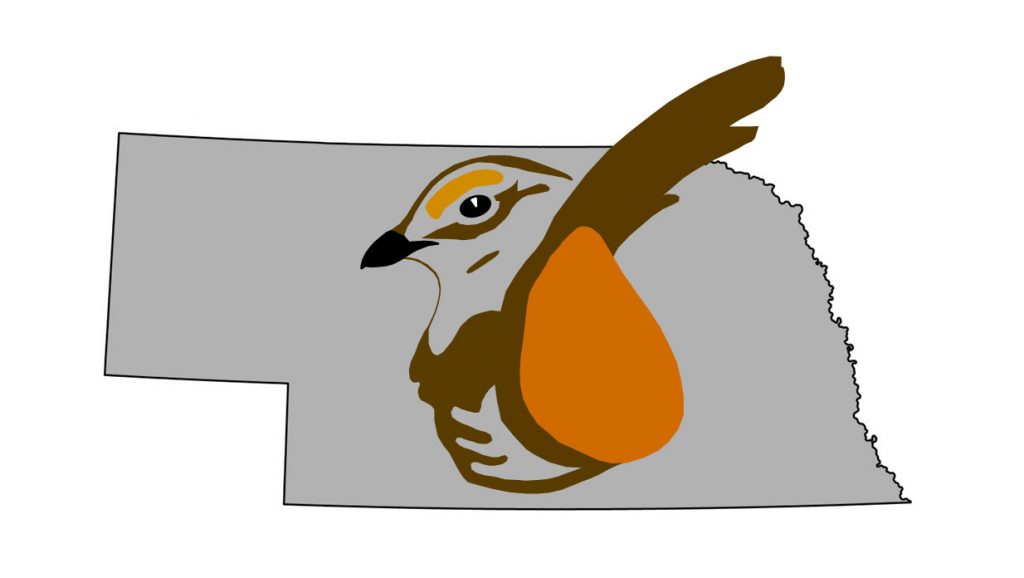 Birds of Nebraska – Online
Updated 12 Mar 2023