Dolichonyx oryzivorus
Status: Common regular spring and fall migrant statewide. Common regular breeder east and central, rare casual west.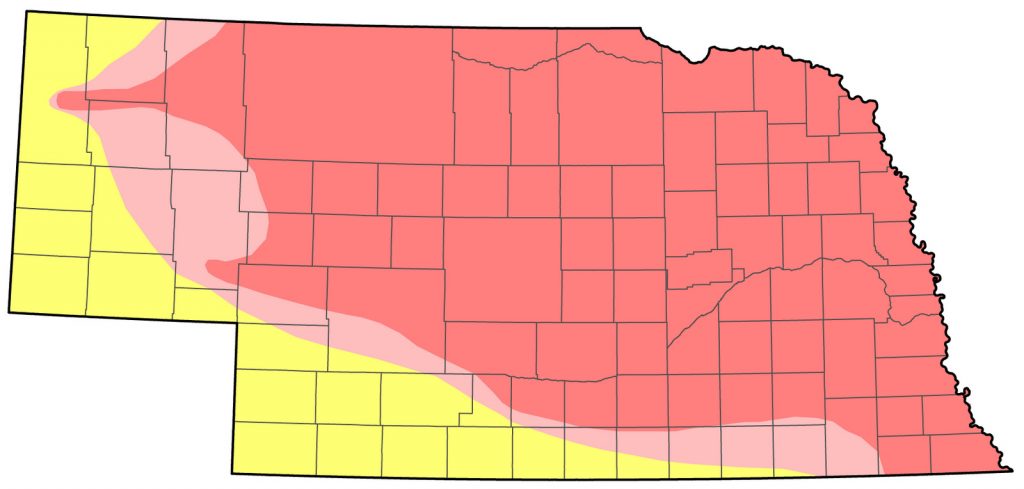 Documentation: Specimen: UNSM ZM6932, 29 Jul 1902 Carns, Keya Paha Co.
Taxonomy: No subspecies are recognized (Pyle 1997).
Spring: Apr 28, 29, May 1 <<<>>> summer
Earlier dates are 13 Apr 2012 Buffalo Co, 16 Apr 2015 Madison Co, 20 Apr 2005 a banded male recaptured in Hall Co, and 21 Apr 1957 Douglas-Sarpy Cos.
Migrants occur statewide but are most common in the central (Rapp et al 1958; Johnsgard 1980).
A male fitted with a geolocator yielded the following spring migration itinerary: six days in the Bahamas, on 14 May a flight northwest across the Gulf of Mexico to Alabama, on to Kansas two days later (16 May), and arriving at a Nebraska breeding site 20 May (Renfrew et al 2020).
High counts: 208 in Hall Co 10 May 2003, 125 in Sheridan Co 18 May 2009, and 100 at Rowe Sanctuary, Buffalo Co 24 May 1998.
Summer: Breeding habitat for this species is native moist or sub-irrigated meadows; it was once common in lowland, riparian prairie that existed along most major river systems and in moist lowlands throughout the Sandhills. Drainage of many of these meadows and conversion of much of this habitat to cropland, especially in eastern Nebraska, has reduced numbers and caused local extirpations since settlement by Europeans, although BBS trend analysis shows increasing overall numbers in Nebraska since 1966 (see below). Bobolinks also use hayfields, notably in northern and northeast Nebraska, including those planted to non-native legumes such as alfalfa (Renfrew et al 2020, Rosche 1994). However, mowing of hayfields prior to young fledging reduces reproductive success (Bollinger et al 1990); delaying haying until mid-Jul would have a significant beneficial effect; all but 15 of 150+ nests on a hayed study area in Hall Co had fledged young by 4 Jul (Dan Kim, pers. comm.).
BBS data (2007-2013) indicate that Bobolinks are most common in the north-central Sandhills and northeast. Mollhoff (2001, 2016) indicated that fewest breeding season reports were from the Panhandle and the southwest, although reports south of the Platte River Valley in the east increased between the two atlas periods (1984-1989 and 2006-2011). BBS trend analysis shows Bobolinks have increased annually by 1.82% (95% C.I.; 0.40, 3.03) statewide 1966-2015 (Sauer et al 2017), which may be partially explained by moderate range expansion south of the Platte River in eastern Nebraska.
In the Panhandle, Mollhoff (2001, 2016) had breeding season reports west to Morrill Co in the North Platte River Valley; recent reports from further west in the North Platte Valley are of a pair in irrigated grass in Scotts Bluff Co 14 Jul 2007, the observer's first sighting for the county (Kathy DeLara, pers. comm.), and another in Scotts Bluff Co 16 Jun 2012 was considered "a good bird out here" (Alice Kenitz, Helen Hughson, pers. comm.). Breeding may occur as far west as Agate, Sioux Co along the Niobrara River Valley in wet years (Rosche 1982), although there are no confirmed nesting reports. In 2020, one was near Agate, 29 Jun, and singles were in Dawes Co at Chadron Creek Ranch WMA 22 Jun and on Spotted Tail Road the same day. In 2021, there were six Panhandle reports, all of singles, suggestive of wandering pioneering males, with the exception of the four at Agate Fossil Beds NM, Sioux Co 30 Jun.
Reports increased between the two breeding bird atlas periods in Keith and Lincoln Cos (Mollhoff 2001, 2016), although there are few records south of Lincoln Co and west of Furnas and Gosper Cos. There is a summer report 3-25 Jun 1989 Dundy Co, and reports 8 Jun 2017 of four in Frontier Co, 19 Jun 1982 Hayes Co, 19 Jun 2018 Chase Co, 12 Jul 1987 in Hayes Co, and 15 Jul 2010 near Red Willow Reservoir, Frontier Co.
In the east, breeding is regular in scattered locations south to Lancaster and Sarpy (Williams 1982) Cos, with a few summer reports further south to Otoe Co; in 2007 the species was conspicuous in undisturbed native grasslands in the extreme southeast, and birds were on territory at Spring Creek Prairie, Lancaster Co by 28 Apr 2016. Good counts in the southeast were 15 in Johnson Co 8 Jul 2010 and 11 in Fillmore Co 17 Jun 2011. Mollhoff (2016) showed increased occurrence in the Rainwater Basin, where the species is now primarily restricted to prairies surrounding wetlands at WPAs and WMAs (Jorgensen 2012).
Breeding phenology:
Eggs: 21 May-18 Jul
Nestlings: 24-29 Jun
Fledglings: 7- 30 Jul
Fall: summer <<<>>> Sep 25, 27, 27 (Tout 1947)
Later dates are 6 Oct 2003 Douglas Co, 10 Oct 2015 (photo) Sarpy Co, and two males still in breeding plumage 22 Oct 2022 Otoe Co.
Most migration apparently occurs in late Jul and Aug, ending by mid-Sep; Rosche (1982) noted that large roosts occur in Sandhills marshes in Aug. Flocks form in late Jul; several flocks were noted in Phelps Co 29 Jul 1995 and 21 in "non-breeding" plumage were in Lancaster Co 29 Jul 2015. Up to 500 fed in a soybean field for about a week in 2002 in southwest Dixon Co, departing by 15 Sep. A flock of 80-100, mostly in buffy plumage, was at Ayr Lake, Adams Co 6 Sep 2008.
Reports are fewer than for spring, possibly as most males molt into drab winter plumage in Jul and Aug and are far less conspicuous, but also because migration is primarily nocturnal. A mixed-age flock of 32 in Lincoln Co 7 Jul 2022 including several birds in molt along with juveniles, a male in Dixon Co was "molting fast" 31 Jul, a male at Rowe Sanctuary, Buffalo Co was still in breeding plumage as late as 2 Aug 1997, and one in Sarpy Co was molting 21 Aug. Pyle (1997) stated that AHY molt out of alternate plumage may occur Jul-Oct and that molt may be suspended until reaching the winter range; two males in breeding plumage in Otoe Co 22 Oct 2022 (Clausen, Swanson; eBird.org) may have suspended their molt.
High counts: 500 in Dixon Co 7 Sep 2002, 110 along 527th Ave, Antelope Co 17 Aug 2021, 80-100 at Ayr Lake, Adams Co 6 Sep 2008, and 87 at Waco WPA, York Co 29 Aug 1999 (Jorgensen 2012).
Images
Abbreviations
BBS: Breeding Bird Survey
UNSM: University of Nebraska State Museum
WMA: Wildlife Management Area (State)
WPA: Waterfowl Production Area (Federal)
Literature Cited
Bollinger, E.K., P.B. Bollinger, and T.A. Gavin. 1990. Effects of hay-cropping on eastern populations of the Bobolink. Wildlife Society Bulletin 18: 142-150.
Johnsgard, P. A. 1980. A preliminary list of the birds of Nebraska and adjacent Great Plains states. Published by the author, University of Nebraska, Lincoln, USA.
Jorgensen, J.G. 2012. Birds of the Rainwater Basin, Nebraska. Nebraska Game and Parks Commission, Lincoln, Nebraska, USA.
Mollhoff, W.J. 2001. The Nebraska Breeding Bird Atlas 1984-1989. Nebraska Ornithologists' Union Occasional Papers No. 7. Nebraska Game and Parks Commission, Lincoln, Nebraska, USA.
Mollhoff, W.J. 2016. The Second Nebraska Breeding Bird Atlas. Bull. Univ. Nebraska State Museum Vol 29. University of Nebraska State Museum, Lincoln, Nebraska, USA.
Pyle, P. 1997. Identification Guide to North American Birds. Part I, Columbidae to Ploceidae. Slate Creek Press, Bolinas, California, USA.
Rapp, W.F. Jr., J.L.C. Rapp, H.E. Baumgarten, and R.A. Moser. 1958. Revised checklist of Nebraska birds. Occasional Papers 5, Nebraska Ornithologists' Union, Crete, Nebraska, USA.
Renfrew, R., A.M. Strong, N.G. Perlut, S.G. Martin, and T.A. Gavin. 2020. Bobolink (Dolichonyx oryzivorus), version 1.0. In Birds of the World (P. G. Rodewald, Editor). Cornell Lab of Ornithology, Ithaca, NY, USA. https://doi.org/10.2173/bow.boboli.01.
Rosche, R.C. 1982. Birds of northwestern Nebraska and southwestern South Dakota, an annotated checklist. Cottonwood Press, Crawford, Nebraska, USA.
Rosche, R.C. 1994. Birds of the Lake McConaughy area and the North Platte River valley, Nebraska. Published by the author, Chadron, Nebraska, USA.
Sauer, J.R., D.K. Niven, J.E. Hines, D.J. Ziolkowski, Jr, K.L. Pardieck, J.E. Fallon, and W.A. Link. 2017. The North American Breeding Bird Survey, Results and Analysis 1966 – 2015 (Nebraska). Version 2.07. USGS Patuxent Wildlife Research Center, Laurel, Maryland, USA.
Tout, W. 1947. Lincoln County birds. Published by the author, North Platte, Nebraska, USA.
Williams, F. 1982. Southern Great Plains Region. American Birds 36: 992-995.
Recommended Citation
Silcock, W.R., and J.G. Jorgensen. 2022. Bobolink (Dolichonyx oryzivorus). In Birds of Nebraska — Online. www.BirdsofNebraska.org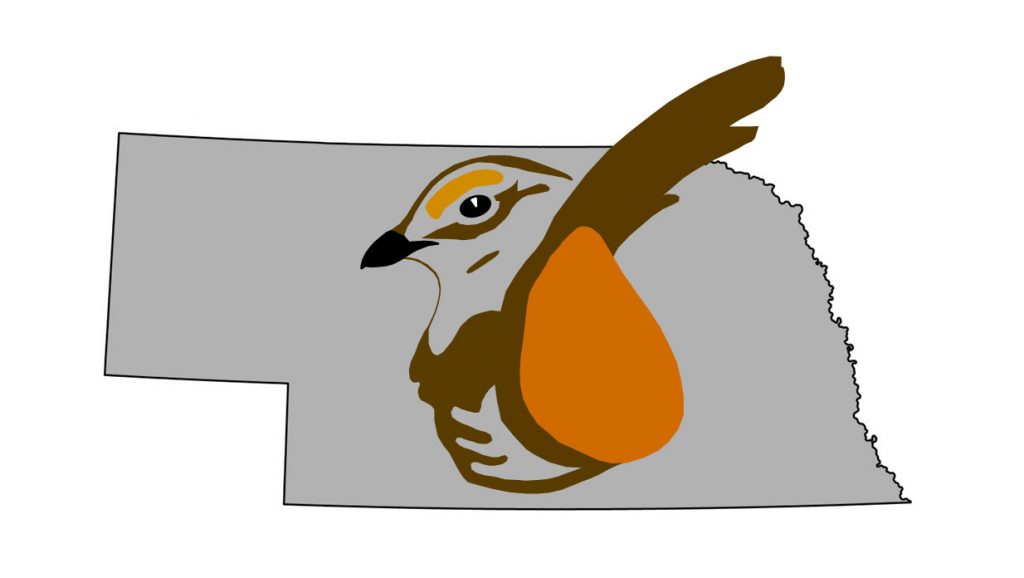 Birds of Nebraska – Online
Updated 30 Dec 2022