Fringilla montifringilla
Status: Rare casual winter visitor.
Documentation: Photograph: 14-19 Apr 1999 Scottsbluff, Scottsbluff Co.
Taxonomy: No subspecies are recognized.
Winter: There are three accepted records:
14 Dec 2014-31 Jan 2015 female Lincoln Co (Brogie 2016; Brogie 2015 cites incorrect initial date as 14 Feb).
8-16 Jan 2017 molting male Bellevue, Sarpy Co (Padelford and Padelford 2017, Brogie 2018)
14-19 Apr 1999 female Scottsbluff, Scotts Bluff Co yard (Dinsmore 2000, Jorgensen 2001, 2003).
The first record was of a female that appeared at the feeder of Dean and Phyllis Drawbaugh in Scottsbluff 14 Apr 1999 and remained until 19 Apr (Dinsmore 2000). A female attended a southeast Lincoln Co cedar canyon feeder 14 Dec 2014-31 Jan 2015; it was with a Dark-eyed Junco flock of about 50 and absent for periods when the weather was suitable for the flock to forage elsewhere (Silcock 2015). Another attended a Bellevue feeder 6-10 Jan 2017 (Padelford and Padelford 2017); it was a male molting into alternate plumage. Probably the same bird was photographed at another Bellevue yard about four miles from the Padelford residence 16 Jan (Loren and Babs Padelford, personal communication).
One was seen by several of the Rowe Sanctuary personnel at a feeder in Hall Co 8 Apr 2006; it was described as a female, but the report was not accepted by NOURC, despite being "very suggestive" (Brogie 2007).
Comments: There are numerous records of this species in North America, all in the period Oct-Apr, mostly from northern and western states and Canada (Mlodinow and O'Brien 1996, AOU 1998). The first Nebraska record was part of an irruption into British Columbia and the northwestern United States which involved about 17 records in the period 28 Oct 1998-24 Apr 1999.
Images
Abbreviations
NC: Nature Center
Literature Cited
American Ornithologists' Union [AOU]. 1998. The AOU Check-list of North American birds, 7th ed. Allen Press, Lawrence, Kansas, USA.
Brogie, M.A. 2007. 2006 (18th) Report of the NOU Record Committee. NBR 75: 86-94.
Brogie, M.A. 2018. 2017 (29th) Report of the NOU Records Committee. NBR 86: 131-142.
Dinsmore, S.J. 2000. First record of a Brambling for Nebraska. NBR 68: 8-9.
Jorgensen, J.G. 2001. 1999 (Eleventh) Report of the NOU Records Committee. NBR 69: 85-91.
Jorgensen, J.G. 2003. 2001 (13th) Report of the NOU Records Committee. NBR 71: 97-102.
Mlodinow, S.G., and M. O'Brien. 1996. America's 100 most wanted birds. Falcon Press, Helena, Montana, USA.
Padelford, L., and B. Padelford. 2017. Brambling in Bellevue, Sarpy Co. NBR 85: 32-33.
Silcock, W.R. 2015. Winter Field Report, December 2014 to February 2015. NBR 83: 3-21.
Recommended Citation
Silcock, W.R., and J.G. Jorgensen. 2019. Brambling (Fringilla montifringilla). In Birds of Nebraska — Online. www.BirdsofNebraska.org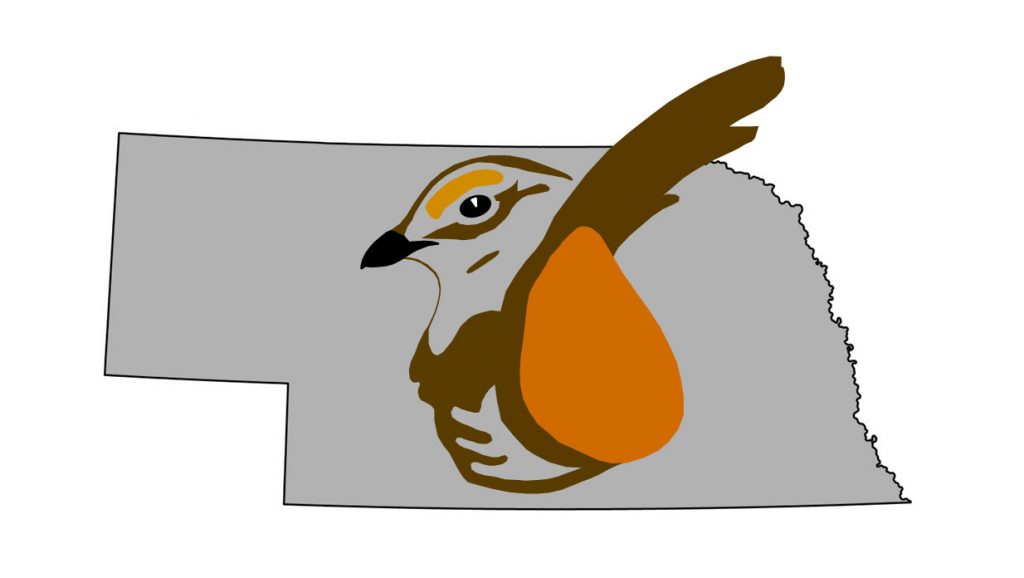 Birds of Nebraska – Online
Updated 1 May 2019