Spizella breweri breweri
Status: Uncommon regular spring and fall migrant west, rare casual central. Fairly common regular breeder western Panhandle.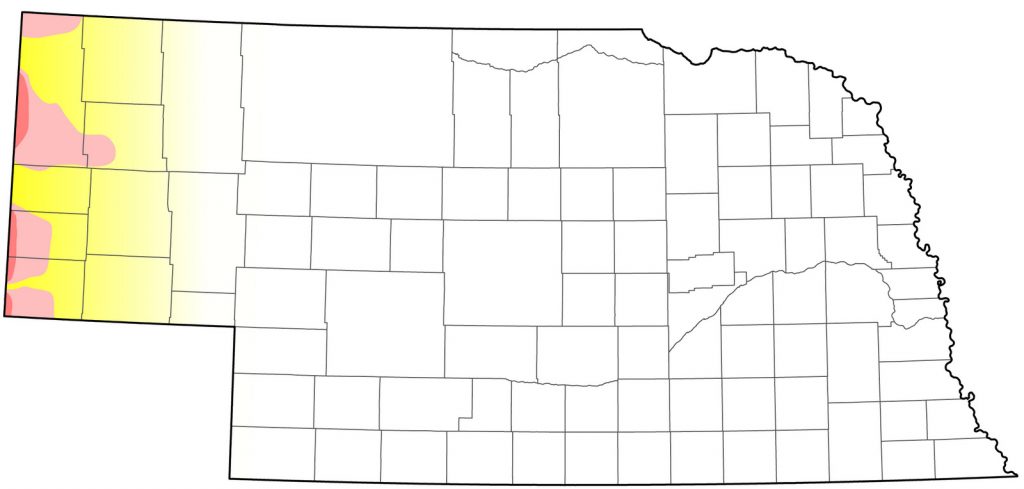 Documentation: Specimen: UNSM ZM7444, 12 Jul 1901 Indian Creek, Sioux Co.
Taxonomy: There are two subspecies recognized (Pyle 1997, Gill and Donsker 2017): taverneri, breeding from southeast Alaska and western Canada to northwestern US, and breweri, breeding from south-central Canada to west-central USA. Subspecies taverneri is recognized as a full species, Timberline Sparrow, by a number of current authors (Rotenberry et al 2020).
Nebraska birds are breweri.
Spring: Apr 25, 26, 28 <<<>>> summer
Arrival is in early May. Migrants occur primarily in the western Panhandle and occasionally eastward to Sheridan (Rosche 1982), Lincoln, Keith, and Dundy Cos; they are uncommon migrants in Yuma and Phillips Cos in Colorado (which are adjacent to Dundy and Chase Cos), and one was near Haigler, Dundy Co 21 May 2009.
            High counts: 70 in Banner and Kimball Cos 18 May 2008, and 24 in Banner Co 6 May                 2000.
Summer: The core breeding range in Nebraska is limited to high plains grasslands in the western Panhandle, usually where western sagebrush (Artemisia tridentata subsp.) and greasewood (Sarcobatus vermiculatus) occur (Rosche 1982). Breeding in western Box Butte Co occurs near Kilpatrick Lake (Rosche 1994), and several nesting pairs were in sand sage prairie 27 miles west of Alliance in Box Butte Co 29 Jun 2006 (Mollhoff 2006, 2016). Two singing males were found in southwest Kimball Co 16 Jun 1997 in atypical habitat, one in a young hedgerow in Conservation Reserve Program (CRP) bromegrass (Bromus sp.) and the other in roadside clumps of CRP bromegrass; two were using CRP grasslands in Kimball Co 18 Jun 2004. Nine were counted on Henry Road west of Harrison, Sioux Co 20 Jun 2020.
An older record of interest was described by Mollhoff (2022) in which 36 nests were discovered 1914-1916 by Gates and Swenk during a pollination study in hay fields at the University of Nebraska Experimental Station near Mitchell, Scotts Bluff Co.
In recent years there have been reports further east in the Panhandle and southwest. Singing males were present in a disjunct northward extension of sandy grassland about three miles south of Chappell, Deuel Co 12 Jun 1976 (Faanes et al 1979), and there is a summer report 11 Jul 1992 Cheyenne Co. An adult was carrying food in Dundy Co 21 Jul 2000. There is a breeding season report for Morrill Co 2006-2011 (Mollhoff 2016), and four were near Angora, Morrill Co 23 Jun 2021.  One at Scotts Bluff NM, Scotts Bluff Co 21 Jun 2021 was bit out of place.
Summer reports at likely breeding locations are 22 Jun 1973, 7 Aug 1992, and 17 Jul 1994 Dawes Co, and two were near Box Butte Res, Dawes Co 2 Jun 2008. There are Jun-early Aug specimens from Scotts Bluff Co 1913-16 (UNSM ZM7439, ZM7441, ZM7443, ZM7440), and Kimball Co in 1919 (UNSM ZM7442).
Mollhoff (2016) reported a small increase, from six to 10, in the number of BBA blocks the species was reported in between the first (1984-1989) and the second BBA projects (2006-2011), but overall observer effort also increased markedly between the first and second BBA projects. BBS trend analysis shows the species has declined annually by -14.64% (95% C.I.; -21.44, -7.14) 1966-2015 (Sauer et al 2017); this analysis has limitations, however, because of the small number of BBS routes on which the species is reported. Additional BBS data (Sauer et al 2017) and the Second Colorado BBA (CBAP 2016) do, however, suggest the species is declining at the eastern edge of its range in the Great Plains.
Breeding phenology:
Eggs: 8 Jun- 28 Jul (Mollhoff 2022)
Fledglings: 24 Jul-12 Aug
Fall: summer <<<>>> Sep 26, 26, 27
Later dates are 8 Oct 2019 (two locations) Lincoln Co, and 9 Oct 2019 Brady, Lincoln Co, and 25 Oct 2014 Scotts Bluff Co.
Departure is mostly in mid-Sep. Migrants are probably more common in fall than in spring, since their habitat tends to be lightly birded, and occur east to Sheridan, Keith, Lincoln, and Dundy Cos.
Reports in late Jul where breeding is not expected are of early migrants. Small flocks form as early as early to mid-July, perhaps late June, and disperse into sagebrush habitats (Steven Mlodinow, pers. comm.) and sometimes nearby non-sagebrush areas. Such reports are 20 Jul 2022 along Hiway 71 just north of Kimball, Kimball Co, 21 Jul 2012 Sowbelly Canyon, Sioux Co, one at Montz Point WMA, Scotts Bluff Co 30 Jul 2022, several at Wind Springs Ranch, southern Sioux Co 30 Jul 2001, and another there 9 Aug 2012 that may have been displaced by extreme drought conditions that year.
along Hiway 71 just north of Kimball, Kimball Co 20 Jul (Cynthia Grover) and one at Montz Point WMA, Scotts Bluff Co 30 Jul (Stephen Brenner, Olivia DaRugna).
The only documented reports east of the breeding range are specimens UNSM ZM7432, taken at Long Pine, Brown Co 20 Aug 1919, and HMM 28373, one at Rock Creek SRA, Dundy Co 29 Aug 2021, one photographed in Lancaster Co 26-27 Sep 2020 (Willison, Kruse, eBird.org), a female taken at North Platte, Lincoln Co 3 Oct 1954, and singles at three locations in Lincoln Co 8-9 Oct 2019. Additional easterly reports that are probably correct are of three in Sheridan Co 29 Aug 2014, three in Sheridan Co 23 Sep 2018, one at Smith Lake WMA, Sheridan Co 26 Sep 2007, reports cited by Rosche (1994) that it was an "uncommon migrant" Jul-Aug 1977 in Keith Co, two reports cited by Tout (1947) for Lincoln Co 6 Sep 1937 and 6 Oct 1926, and one at Sutherland Reservoir, Lincoln Co 19 Aug 2005.
High counts: 50 in Scotts Bluff and Banner Cos 3 Sep 2000, 45 in southwest Kimball Co 22 Aug 1999, and 42 there 29 Aug 1998.
Comments: Wayne Mollhoff provided information from notes made by L. M. Gates of a visit to Scotts Bluff Co in 1913 with Swenk in which five nests of Brewer's Sparrows (originally thought to be Clay-colored Sparrows) were observed at the University Experiment Station Farm. There are no recent breeding records from Scotts Bluff Co.
Images
Abbreviations
BBA: Breeding Bird Atlas
BBS: Breeding Bird Survey
CBAP: Colorado Bird Atlas Partnership
HMM: Hastings Municipal Museum
UNSM: University of Nebraska State Museum
Literature Cited
Colorado Bird Atlas Partnership [CBAP]. 2016. The Second Colorado Breeding Bird Atlas online database. Colorado Bird Atlas Partnership, Denver, Colorado, USA.
Faanes, C.A., B.A. Hanson, and H.A. Kantrud. 1979. Cassin's Sparrow- first record for Wyoming and recent range extensions. Western Birds 10: 163-164.
Gill, F., and D. Donsker (Eds). 2017. IOC World Bird List (v 7.3), accessed 30 January 2018.
Mollhoff, W.J. 2006. The 2006 Nebraska nest report. NBR 74: 142-147.
Mollhoff, W.J. 2016. The Second Nebraska Breeding Bird Atlas. Bull. Univ. Nebraska State Museum Vol 29. University of Nebraska State Museum, Lincoln, Nebraska, USA.
Mollhoff, W.J. 2022. Nest records of Nebraska birds. Nebraska Ornithologists' Union Occasional Paper Number 9.
Pyle, P. 1997. Identification Guide to North American Birds. Part I, Columbidae to Ploceidae. Slate Creek Press, Bolinas, California, USA.
Rosche, R.C. 1982. Birds of northwestern Nebraska and southwestern South Dakota, an annotated checklist. Cottonwood Press, Crawford, Nebraska, USA.
Rosche, R.C. 1994. Birds of the Lake McConaughy area and the North Platte River valley, Nebraska. Published by the author, Chadron, Nebraska, USA.
Rotenberry, J.T., M.A. Patten, and K.L. Preston. 2020. Brewer's Sparrow (Spizella breweri), version 1.0. In Birds of the World (A. F. Poole and F. B. Gill, Editors). Cornell Lab of Ornithology, Ithaca, NY, USA. https://doi.org/10.2173/bow.brespa.01.
Sauer, J.R., D.K. Niven, J.E. Hines, D.J. Ziolkowski, Jr, K.L. Pardieck, J.E. Fallon, and W.A. Link. 2017. The North American Breeding Bird Survey, Results and Analysis 1966 – 2015 (Nebraska). Version 2.07. USGS Patuxent Wildlife Research Center, Laurel, Maryland, USA.
Tout, W. 1947. Lincoln County birds. Published by the author, North Platte, Nebraska, USA.
Recommended Citation
Silcock, W.R., and J.G. Jorgensen. 2022. Brewer's Sparrow (Spizella breweri). In Birds of Nebraska — Online. www.BirdsofNebraska.org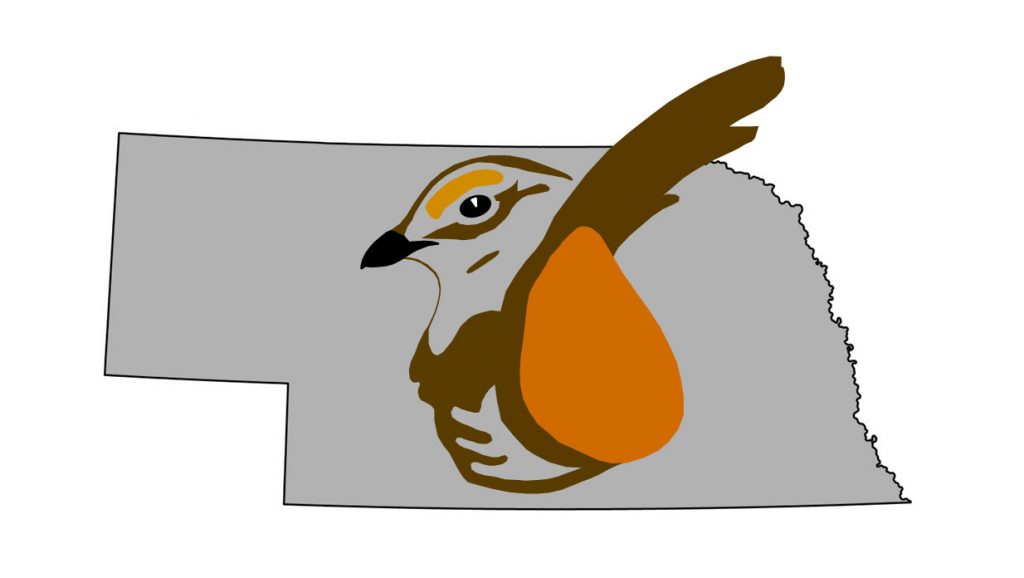 Birds of Nebraska – Online
Updated 28 Aug 2022