Molothrus ater
Status:  Abundant regular spring and fall migrant statewide. Common regular breeder statewide. Rare regular winter visitor southeast, rare casual elsewhere.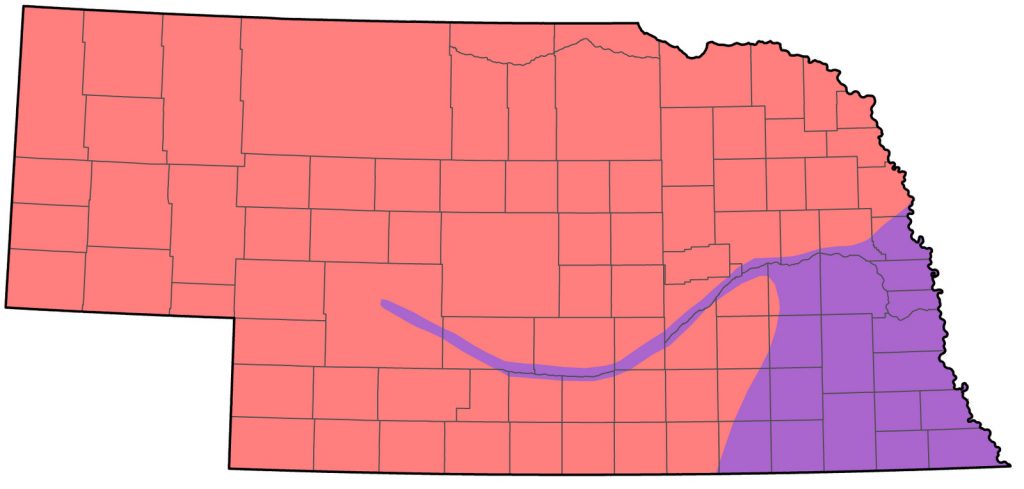 Documentation:  Specimen: UNSM ZM11867, 10 Oct 1889, Lincoln, Lancaster Co.
Taxonomy:  Three subspecies were recognized by AOU (1957), but more recent authors (Pyle 1997, Jaramillo and Burke 1999, Lowther 2020, Gill and Donsker 2017, Clements et al 2016) vary widely in their descriptions of the ranges of the subspecies. Of the three subspecies, obscurus is essentially southwestern in its distribution and not expected to occur in Nebraska.
The ranges outlined by AOU (1957) suggest that ater breeds in eastern Nebraska and artemisiae in the west, although the limits of the respective breeding ranges are unknown. Most Nebraska breeders are probably intergrades. Migrants over most of the state are likely to be artemisiae, as ater apparently occurs only in southeast Nebraska.
Spring:  Feb 13, 17, 17 <<<>>> summer (southeast), Mar 7, 7, 8 <<<>>> summer (northeast and central), Apr 5, 6, 8 <<<>>> summer (west)
Since so few birds winter in Nebraska, early dates above are first spring sightings, mostly from the southeast. Migration is detectable elsewhere in Mar; by Apr the entire state is occupied except the northwest, which is occupied in May. Early flocks are mostly males; a flock near Peru, Nemaha Co 29 Mar 2009 had 121 males and seven females.
In the northeast an early date was 4 Mar 2020. In the west, arrival is in Apr, with earlier dates 7 Mar 1968 Dawes Co, 8 Mar 1953 Scotts Bluff Co, 21 Mar 1984 Sioux Co, 23 Mar 1956 Scotts Bluff Co, 1 Apr 1954 Scotts Bluff Co, and 2 Apr 2019  Chadron SP, Dawes Co.
High counts:  5000 in Hall Co 13 Mar 2016, 750 in Clay Co 22 Mar 2009, 686 in Hall Co 11 May 2002, 600 in Pierce Co 10 May 1997, and 518 in Hall Co 10 May 2003. "Thousands" were in Nuckolls Co 20 Apr 2007.
Summer: Brown-headed Cowbird breeds statewide in moderate numbers, although BBS data suggest higher abundance in the east. BBS trend analysis shows an annual change in abundance of – 0.18 (95% C.I.: – 0.80, 0.45) statewide 1966-2015 (Sauer et al 2017), indicating numbers have remained relatively stable during the period.
This species is a host parasite (Lowther 2020) and probably associates with the same host species as in Kansas, where some 121 have been reported (Lowther 1988). Hosts are generally from the following groups (Bent 1968): flycatchers, vireos, warblers, and finches. Mollhoff (2016) presented data for the breeding bird atlas period 2006-2011 showing that 28 host species were reported for Nebraska, most commonly Western Meadowlark, Bobolink, Grasshopper Sparrow, and Dickcissel.
Breeding Brown-headed Cowbirds have adapted to a wide range of habitat types from grassland to woodland, including, in the northwest, forested canyons (Rosche 1982).  Although preferred habitat is edge and thickets (Johnsgard 1980), probably no forest in Nebraska is extensive enough that this species does not penetrate its interior; forest fragmentation has allowed this species access to previously unattainable interior forest species (Dobkin 1994).
Breeding phenology:
Copulation: 1 May-29 Jun
Eggs: 10 May-30 Jul
Nestlings: 23 May
Fledglings: 24 Jun-1 Sep
Fall:  summer <<<>>> Nov 8, 8, 8 (north, west) summer <<<>>> Jan 2, 4, 5 (south, east)
Flocking of young birds to roosts begins as early as 18 Jun (Brown et al 1996), and sizeable flocks appear Jul-Aug statewide, such as the 200 in Custer Co 18 Jul 2015. In the west, many adults disappear after the breeding season ends in Jul, while young birds linger into Sep; virtually all birds depart the west during Sep (Rosche 1994), and in the north by mid-Oct, with a few later reports 11 Nov 2018 Knox Co, 14 Nov 2018 Holt Co, 5 on 21 Nov 2019 Antelope Co, 30 Nov 1986 Boone Co, and 3 Dec 1976 Scotts Bluff Co (see Winter).
CBC data indicate that a few birds linger through Dec in the northeast and westward in the Platte River Valley. There are several CBC records at Lake McConaughy, Keith Co; on five counts in the period 27 Dec-2 Jan, best totals were 150 on 31 Dec 2011 and a surprising 400 on 29 Dec 2012. A flock of 75 was in Buffalo Co 29 Dec 2011. At northeastern count locations, Beaver Valley in Boone Co, Calamus-Loup mostly in Loup Co, Ponca SP in Dixon Co, and Norfolk in Cuming Co, best counts were 212 at Norfolk 17 Dec 2011 and 30 at Beaver Valley 1 Dec 2007. A flock of 100 was on the Ames, Dodge Co CBC 17 Dec 2019. Most of these west-central and northeastern CBCs report fewer than 10 cowbirds, if any, in a given year.
High counts:  12,000 at Funk WPA, Phelps Co 18 Oct 1996, "several thousand" between Odessa and Funk WPA 5 Sep 1999, 5000 in Lancaster Co 1 Sep 2006, 3000 in Lancaster Co 21 Oct 2005, and 2500 in Seward Co 4 Sep 2009.
Winter: Overwintering is rare.  Most winter (Nov-Feb) reports are of small numbers with wintering flocks of Red-winged Blackbirds and European Starlings around livestock lots and are limited to the southeast and occasionally westward in the Platte River Valley. Such reports are 28 on 10 Jan in Dawson Co, four on 12 Jan 2014 Dawson Co, five on 19 Jan 2012 Jeffrey Reservoir, Lincoln Co, 23 Jan 1960 Lincoln Co, seven on 30 Jan 2012 Rowe Sanctuary, Buffalo Co, and 4 Feb 1962 Lincoln Co. A good mid-winter count was the 80 in Cass Co 29 Jan 2017 flocking with Red-winged Blackbirds.
The only Nov-Feb records from the Panhandle are of 2-6 birds wintering at a feedlot east of Gering, Scotts Bluff Co 2001-2002, three on Henry Road and seven near Morrill, all on 5 Jan 2020 in Scotts Bluff Co, 7 Jan 2002 south of Gering, and six at Scotts Bluff NM, Scotts Bluff Co 13-14 Feb 2015.
There are these few Nov-Feb records from the north and northeast; 23 Jan 1981, 3 Feb 1985, 11 Feb 1983, all in Boone Co, and elsewhere 8 Jan 2005 Dixon Co, 9-13 Jan 1999 South Sioux City, Dakota Co, 28 Jan 2001 South Sioux City, 25 in Pierce Co 2 Feb 2020, two males in Wayne Co 11 Feb 2007, two in Cedar Co 10-15 Feb 2015, a female at a Wakefield, Dixon Co feeder through 18 Feb 2003, and 25 Feb 1984 Dakota Co.
Abbreviations
BBS: Breeding Bird Survey
CBC: Christmas Bird Count
NM: National Monument
UNSM: University of Nebraska State Museum
WMA: Wildlife Management Area (State)
WPA: Waterfowl Production Area (Federal)
Acknowledgement
Photograph (top) of a Brown-headed Cowbird at Papillion, Sarpy Co 7 May 2016 by Phil Swanson.
Literature Cited
American Ornithologists' Union [AOU]. 1957. The AOU Check-list of North American birds, 5th ed.  Port City Press, Baltimore, Maryland, USA.
Bent, A.C. 1968. Life histories of North American Cardinals, Grosbeaks, Buntings, Towhees, Finches, Sparrows, and allies. Bulletin of the United States National Museum 237.  Dover Publications Reprint 1968, New York, New York, USA.
Brown, C.R., M.B. Brown, P.A. Johnsgard, J. Kren, and W.C. Scharf. 1996. Birds of the Cedar Point Biological Station area, Keith and Garden Counties, Nebraska: Seasonal occurrence and breeding data. Transactions of the Nebraska Academy of Sciences 23: 91-108.
Clements, J. F., T. S. Schulenberg, M. J. Iliff, D. Roberson, T. A. Fredericks, B. L. Sullivan, and C. L. Wood. 2016. The eBird/Clements checklist of birds of the world: v2016, accessed 30 January 2018.
Dobkin, D.S. 1994. Conservation and management of neotropical migrant landbirds in the northern Rockies and Great Plains.  University of Idaho Press, Moscow, Idaho, USA.
Gill, F., and D. Donsker (Eds). 2017. IOC World Bird List (v 7.3).
Jaramillo, A., and P. Burke. 1999. New World Blackbirds- The Icterids. Princeton, Princeton University Press, Princeton, New Jersey, USA.
Johnsgard, P. A. 1980. A preliminary list of the birds of Nebraska and adjacent Great Plains states. Published by the author, University of Nebraska, Lincoln, USA.
Lowther, P.E. 1988. Kansas cowbird hosts, a catalogue update. Kansas Ornithological Society Bulletin 39: 36-37.
Lowther, P.E. 2020. Brown-headed Cowbird (Molothrus ater), version 1.0. In Birds of the World (A. F. Poole and F. B. Gill, Editors). Cornell Lab of Ornithology, Ithaca, NY, USA. https://doi.org/10.2173/bow.bnhcow.01.
Mollhoff, W.J. 2016. The Second Nebraska Breeding Bird Atlas. Bull. Univ. Nebraska State Museum Vol 29. University of Nebraska State Museum, Lincoln, Nebraska, USA.
Pyle, P. 1997. Identification Guide to North American Birds. Part I, Columbidae to Ploceidae. Slate Creek Press, Bolinas, California, USA.
Rosche, R.C. 1982. Birds of northwestern Nebraska and southwestern South Dakota, an annotated checklist. Cottonwood Press, Crawford, Nebraska, USA.
Rosche, R.C. 1994. Birds of the Lake McConaughy area and the North Platte River valley, Nebraska.  Published by the author, Chadron, Nebraska, USA.
Sauer, J.R., D.K. Niven, J.E. Hines, D.J. Ziolkowski, Jr, K.L. Pardieck, J.E. Fallon, and W.A. Link. 2017.  The North American Breeding Bird Survey, Results and Analysis 1966 – 2015 (Nebraska).  Version 2.07. USGS Patuxent Wildlife Research Center, Laurel, Maryland, USA.
Recommended Citation
Silcock, W.R., and J.G. Jorgensen.  2020.  Brown-headed Cowbird (Molothrus ater). In Birds of Nebraska — Online. www.BirdsofNebraska.org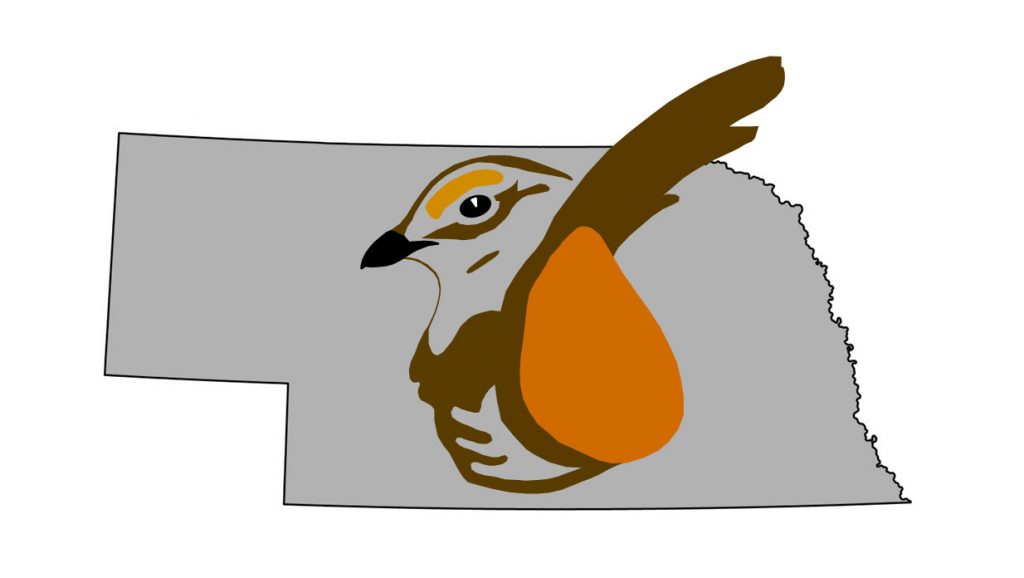 Birds of Nebraska – Online
Updated 1 Jul 2020