Selasphorus calliope
Status: Rare casual spring migrant west. Uncommon regular fall migrant west, rare casual central and east.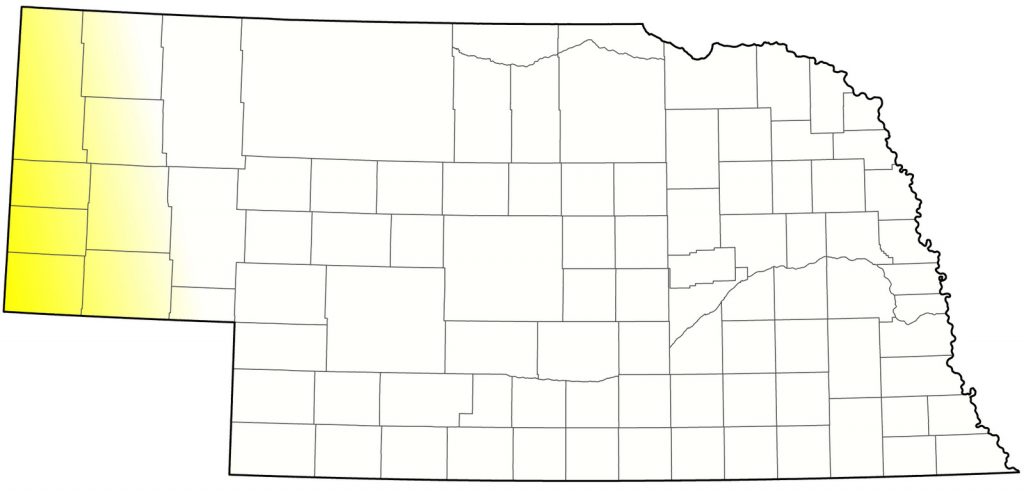 Documentation: Specimen: display mount at Wildcat Hills Nature Center, Scotts Bluff Co, 23 Jun 1994 Sioux Co (Gubanyi 1996; Silcock and Rosche 1994).
Taxonomy: No subspecies are recognized.
Calliope Hummingbird was formerly included in genus Stellula, which has been merged with Selasphorus (Chesser et al 2012).
Changes Since 2000: There has been a notable increase in numbers detected in fall, especially eastward, where the nine records are all since 2002, eight since 2012. It is not known whether the increase represents an actual rise in numbers or improved identification and detection by observers or a combination of both.
Spring: There are five records, all adequately documented, including one as far east as Knox Co:
8 Apr 1962, a female found dead 40 kilometers (25 miles) northwest of North Platte, Lincoln Co, that was identified by Emmet R. Blake at the Museum of Natural History (Shickley 1965), but now lost (Bray et al 1986)
18 May 2015, adult female photographed at Creighton, Knox Co (Silcock 2015)
21 May 2022 adult male Harrison, Sioux Co (Brogie, Pearson, eBird.org)
25 May 2015, apparent immature male photographed in southeast Dawes Co (Silcock 2015)
ca. 23 Jun 1994, male captured by a dog in central Sioux Co (specimen cited above).
Fall: Jul 17, 19, 20 <<<>>> Sep 1, 1, 3
There are earlier dates 1 Jul 2012 a male near Mitchell, Scotts Bluff Co, 6 Jul 2019 Scotts Bluff Co, 11 Jul 2020 Dawes Co, and 11-19 Jul 2020 Scotts Bluff Co.
Later dates are 12 Sep 2012 photographed Lincoln Co, 22 Sep 2007 Gering, Scotts Bluff Co, 23 Sep 2007 immature male Mitchell, 25 Sep 2013 Kearney, Buffalo Co, 26-30 Sep 2017 North Platte, Lincoln Co, 29 Sep 2006 1-2 females/immatures Mitchell, 1 Oct 2007 female/ immature Mitchell, and one in Gering, Scotts Bluff Co 30 Sep-4 Oct 2019.
East of the Panhandle there are 12 records, all since 2002; easternmost are two in 2013, when a female/immature was in Dodge Co 2 Sep and a single was at an Omaha feeder 2 Sep (Silcock 2013). In addition to the 1962 Lincoln Co record cited above, the others are: 25-26 Jul 2014 Lake McConaughy, Keith Co (Brogie 2015), 4 Aug 2012 Ogallala, Keith Co, 6 Aug 2018 Seward Co, 14-18 Aug 2022 same yard as 2018 record Seward Co, 21 Aug 2002 Creighton, Knox Co, 29 Aug-1 Sep 2013 Rowe Sanctuary, Buffalo Co (Brogie 2014), 31 Aug 2012 Lake McConaughy (Brogie 2013), one in Kearney, Buffalo Co 22 Sep 2013, and one in Lincoln Co 26-30 Sep 2017.
A window strike from Scotts Bluff Co 15 Aug 2020 was recovered by Marie Smith and prepared as a specimen by Thomas Labedz; it is now UNSM ZM19435.
High counts: 10 near Mitchell 1 Sep 2012, 5 at the Smith feeders, Scotts Bluff Co 27 Jul 2018, and 5 there 10 Aug 2021.
Unusually large numbers appeared in 2001, 2012, and 2022.
Images
Literature Cited
Bray, T.E., B.K. Padelford, and W.R. Silcock. 1986. The birds of Nebraska: A critically evaluated list. Published by the authors, Bellevue, Nebraska, USA.
Brogie, M.A. 2014. 2013 (25th) Report of the NOU Records Committee. NBR 82: 131-146.
Brogie, M.A. 2015. 2014 (26th) Report of the NOU Records Committee. NBR 83: 125-138.
Brogie, M.A. 2016. 2015 (27th) Report of the NOU Records Committee. NBR 84: 138-150.
Chesser, R.T., K.J. Burns, C. Cicero, J.L. Dunn, A.W. Kratter, I.J. Lovette, P.C. Rasmussen, J. V. Remsen, Jr., J.D. Rising, D.F. Stotz, and K. Winker. 2017. Fifty-eighth supplement to the American Ornithological Society's Check-list of North American Birds. Auk 134: 751-773.
Gubanyi, J.G. 1996. 1995 (Seventh) Report of the NOU Records Committee. NBR 64: 132-138.
Silcock, W.R. 2013. Fall Field Report, August-November 2013. NBR 81: 134-160.
Silcock, W.R. 2015. Spring field report, Mar-May 2015. NBR 83: 54-85.
Silcock, W.R., and R.C. Rosche. 1994. Fall Field Report, August-November 1994. NBR 62: 126-149.
Recommended Citation
Silcock, W.R., and J.G. Jorgensen. 2022. Calliope Hummingbird (Selasphorus calliope). In Birds of Nebraska — Online. www.BirdsofNebraska.org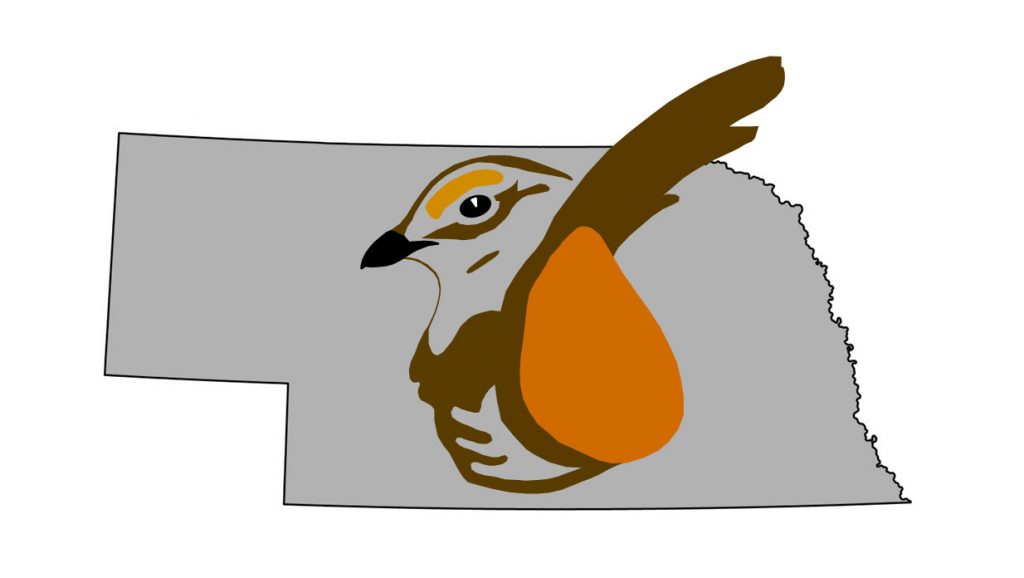 Birds of Nebraska – Online
Updated 16 Dec 2022