Cardellina canadensis
Status: Rare regular spring and fall migrant east, rare casual central and west.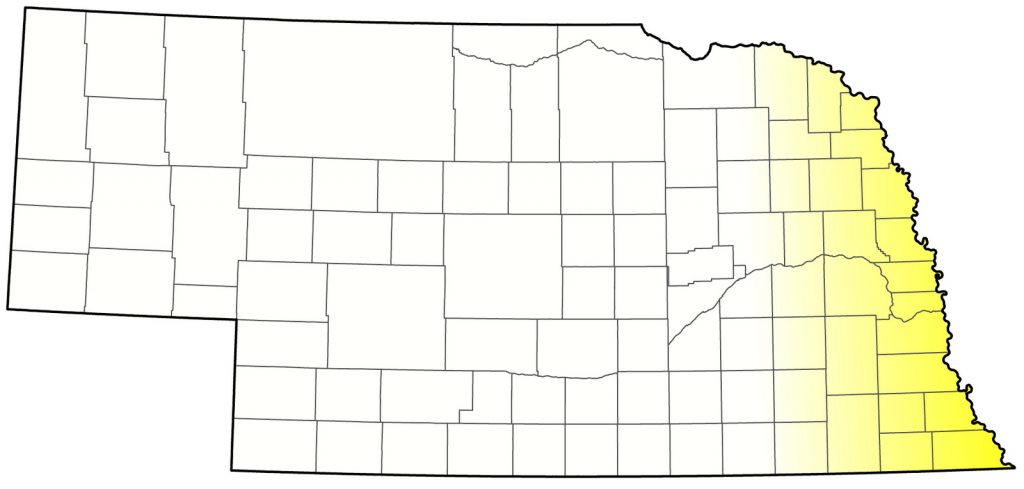 Documentation: Specimen: HMM 1793, 17 May 1916 Spring Ranch, Clay Co.
Taxonomy: No subspecies are recognized (Pyle 1997).
Spring: May 10, 10, 11 <<<>>> May 29, 29, 30
Earlier dates are 3 May 2012 Sarpy Co, 6 May 2014 Sarpy Co, 8 May 2014 Dodge Co, and 9 May 2003 Knox Co.
Migration is in the latter two thirds of May.
This species is less numerous in the midcontinent of the United States in spring than in fall. Curson et al (1994) stated that Canada Warblers tend to follow the Atlantic coast in spring but occur in higher numbers westward in fall. In Iowa, of 422 Canada Warblers banded, 302 were in fall (Dinsmore et al 1984). This species is one of the last spring migrants to arrive.
Away from the east there are few reports, including two from the Panhandle 4 May 2014 Scotts Bluff Co and 18 May 1919 UNSM ZM6913, and several from the central: May 1980 Thomas Co (Bray 1994), 19 May 1996 a male netted at Lake Ogallala, Keith Co (Brown et al 2012), and 28 May 1997 adult male netted Lake Ogallala (Brown et al 2012).
High counts: 3 at Walnut Grove Park, Omaha 24 May 2009, 3 at Fontenelle Forest, Sarpy Co 21 May 2018, 3 at Wyuka Cemetery, Lancaster Co 22 May 2020, and 3 at UNL East Campus 23 May 2020.
Best spring totals are 27 in 2020, 14 in 2023, and 13 in 2018.
Fall: Aug 17, 18, 18 <<<>>> Sep 25, 26, 27
An earlier date is 12 Aug 2014 Dixon Co.
A later date is 12 Oct 2019 Dakota Co (ebird.org).
Migration is from mid-Aug through late Sep.
An amazing showing was the 11 reports, involving a total of 14 birds, all in the east, 31 Aug-25 Sep 2016. This was eclipsed, however, by the 33 reports involving 35 birds in 2019, again all in the east 24 Aug-12 Oct.
There are few reports away from the east, including two Panhandle reports 19 Aug 2021 Oliver Reservoir, Kimball Co, and 22 Aug 1987 Sheridan Co (Williams 1988) and these from the central: 19 Aug 2000 Clay Co (Jorgensen 2012), 27 Aug 2006 Lake Ogallala (Brown et al 2012), 29 Aug 2021 Rock Creek SRA, Dundy Co, 3-4 Sep 1981 Boone Co (specimen WSC 679), 7 Sep 2002 NNF Bessey, Thomas Co (Brogie 2003), 10 Sep 2021 Buffalo Co, and 26 Sep 2010 Hitchcock Co.
High counts: 3 in Lincoln, Lancaster Co 27 Aug 2009, and 3 in Bellevue, Sarpy Co 13 Sep 2009.
Images
Abbreviations
HMM: Hastings Municipal Museum
NNF: Nebraska National Forest
WSC: Wayne State College
Literature Cited
Bray, T.E., B.K. Padelford, and W.R. Silcock. 1986. The birds of Nebraska: A critically evaluated list. Published by the authors, Bellevue, Nebraska, USA.
Brogie, M.A. 2003. 2002 (14th) Report of the NOU Records Committee. NBR 71: 136-142.
Brown, M.B., S.J. Dinsmore, and C.R. Brown. 2012. Birds of Southwestern Nebraska. Conservation and Survey Division, Institute of Agriculture and Natural Resources, University of Nebraska—Lincoln, Lincoln, Nebraska, USA.
Curson, J., D. Quinn, and D. Beadle. 1994. Warblers of the Americas. Houghton Mifflin Company, Boston, Massachusetts, USA.
Dinsmore, J.J., T.H. Kent, D. Koenig, P.C. Petersen, and D.M. Roosa. 1984. Iowa birds. Iowa State University, Ames, Iowa, USA.
Jorgensen, J.G. 2012. Birds of the Rainwater Basin, Nebraska. Nebraska Game and Parks Commission, Lincoln, Nebraska, USA.
Pyle, P. 1997. Identification Guide to North American Birds. Part I, Columbidae to Ploceidae. Slate Creek Press, Bolinas, California, USA.
Williams, F. 1988. Southern Great Plains Region. American Birds 42: 96-100.
Recommended Citation
Silcock, W.R., and J.G. Jorgensen. 2023. Canada Warbler (Cardellina canadensis). In Birds of Nebraska — Online. www.BirdsofNebraska.org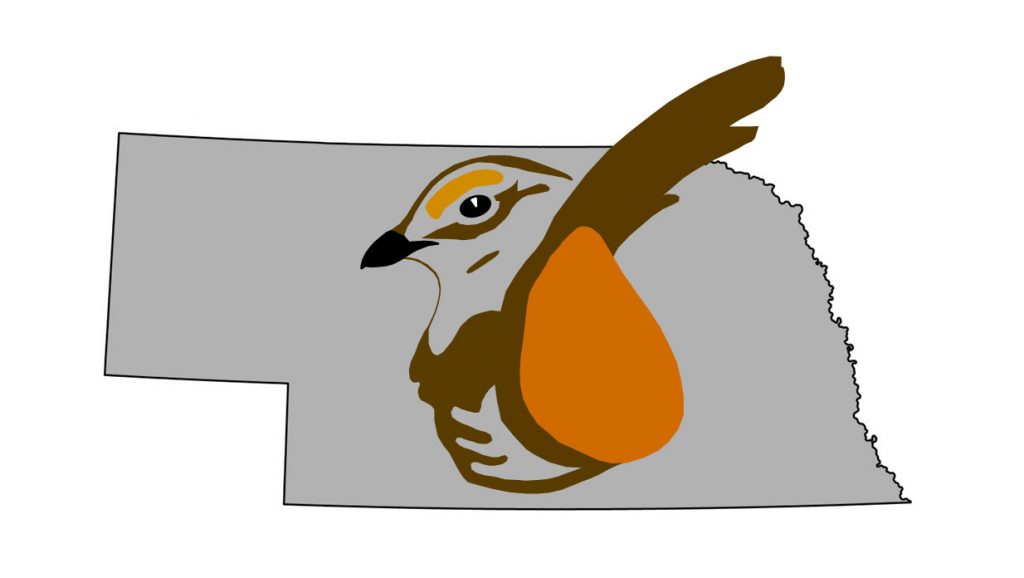 Birds of Nebraska – Online
Updated 28 Jun 2023