Catherpes mexicanus conspersus
Status: Rare casual winter visitor west and north. Accidental in spring.
Documentation: Photograph: 14 May-9 Jun 1992 Knox Co (Brogie 1992).
Taxonomy: As many as eight subspecies have been recognized (Pyle 1997, Gill and Donsker 2017), but some are weakly differentiated (Pyle 1997). Four subspecies have been listed for Mexico, and these further north: griseus of southwest Canada and northwest United States, pallidior of north-central and west-central United States, conspersus of southwest United States and northwest Mexico, and punctulatus of east-central California.
According to Phillips (1986), pallidior occurs in the Black Hills of South Dakota and Wyoming. Faulkner (2010), however, follows Jones and Dieni (2020) in combining the four northern subspecies listed by Pyle (1997) as conspersus.
Spring: There is one record:
17 May-9 Jun 1992 Lewis and Clark Lake, Knox Co (Brogie 1992, Gubanyi 1996, Morris 1992).
The single record is of a singing bird May-Jun; it is unknown whether this bird wintered at this location or at another location further south or east, initiated migration north or westward, and began singing, at which time it was discovered (Mark Brogie, personal communication).
Winter: There are six reports, four of which are documented. These reports range from 31 Aug through 20 Jan, following a pattern of altitudinal migration during winter. According to Jones and Dieni (2020), "Some individuals may withdraw in winter from high elevations and from eastern and northern portions of the range and may wander during winter". There are disjunct populations in the Black Hills of South Dakota (Tallman et al 2002) and northeast Wyoming and the Laramie Mountains of southeast Wyoming (Faulkner 2010). There are about eight records for Kansas 6 Sep-10 Jun (Thompson et al 2011), dates which correspond closely to those in Nebraska.
31 Aug 2014 Gotte Park, Kimball, Kimball Co (Brogie 2015)
6-7 Oct 2007 Cheyenne Co (Brogie 2009)
28 Oct-6 Dec 2016 Shoemaker Ranch, Cherry Co (Silcock 2016, 2017; Brogie 2017, photo, top, 20 Nov by Joel G. Jorgensen))
20 Jan 1974 Smiley Canyon, Sioux Co (Bray et al 1986, Williams 1974).
A report without details was published for one seen at King's Canyon, Dawes Co, 11 Apr 1972 (Gates 1974), and Bruner et al (1904) described, without details, a sighting 12 Aug 1903 in a canyon along the White River between Glen and Andrews in Sioux Co.
The report listed above for 31 Aug 2014 was about 30 miles from the location of a sighting in northeast Colorado 6 Apr 2015 by Steven Mlodinow at about the same time.
Images
Literature Cited
Bray, T.E., B.K. Padelford, and W.R. Silcock. 1986. The birds of Nebraska: A critically evaluated list. Published by the authors, Bellevue, Nebraska, USA.
Brogie, M.A. 1992. Sighting of a Canyon Wren in Knox County, Nebraska. NBR 60: 163-165.
Brogie, M.A. 2017. 2016 (28th) Report of the NOU Records Committee. NBR 85: 128-142.
Bruner, L., R.H. Wolcott, and M.H. Swenk. 1904. A preliminary review of the birds of Nebraska, with synopses. Klopp and Bartlett, Omaha, Nebraska, USA.
Faulkner, D.W. 2010. Birds of Wyoming. Roberts and Company, Greenwood Village, Colorado, USA.
Gates, D. 1974. Canyon Wren in Nebraska. NBR 42: 16.
Gill, F., and D. Donsker (Eds). 2017. IOC World Bird List (v 7.3), accessed 30 January 2018.
Gubanyi, J.G. 1996. 1992, 1993 (Fifth) Report of the NOU Records Committee. NBR 64: 30-35.
Jones, S.L. and J.S. Dieni. 2020. Canyon Wren (Catherpes mexicanus), version 1.0. In Birds of the World (A. F. Poole and F. B. Gill, Editors). Cornell Lab of Ornithology, Ithaca, NY, USA. https://doi.org/10.2173/bow.canwre.01.
Morris, R. 1992. Spring 1992 Occurrence Report. NBR 60: 79-149.
Phillips, A.R. 1986. The known birds of North and Middle America. Part 1. Published by the author, Denver, Colorado, USA.
Pyle, P. 1997. Identification Guide to North American Birds. Part I, Columbidae to Ploceidae. Slate Creek Press, Bolinas, California, USA.
Silcock, W.R. 2016. Fall Field Report, August-November 2016. NBR 84: 154-179.
Silcock, W.R. 2017. Winter Field Report, Dec. 2016- Feb. 2017. NBR 85: 2-31.
Tallman, D.A., Swanson, D.L., and J.S. Palmer. 2002. Birds of South Dakota. Midstates/Quality Quick Print, Aberdeen, South Dakota, USA.
Thompson, M.C., C.A. Ely, B. Gress, C. Otte, S.T. Patti, D. Seibel, and E.A. Young. 2011. Birds of Kansas. University Press of Kansas, Lawrence, Kansas, USA.
Williams, F. 1974. Southern Great Plains Region. American Birds 28: 656-660.
Recommended Citation
Silcock, W.R., and J.G. Jorgensen. 2021. Canyon Wren (Catherpes mexicanus). In Birds of Nebraska — Online. www.BirdsofNebraska.org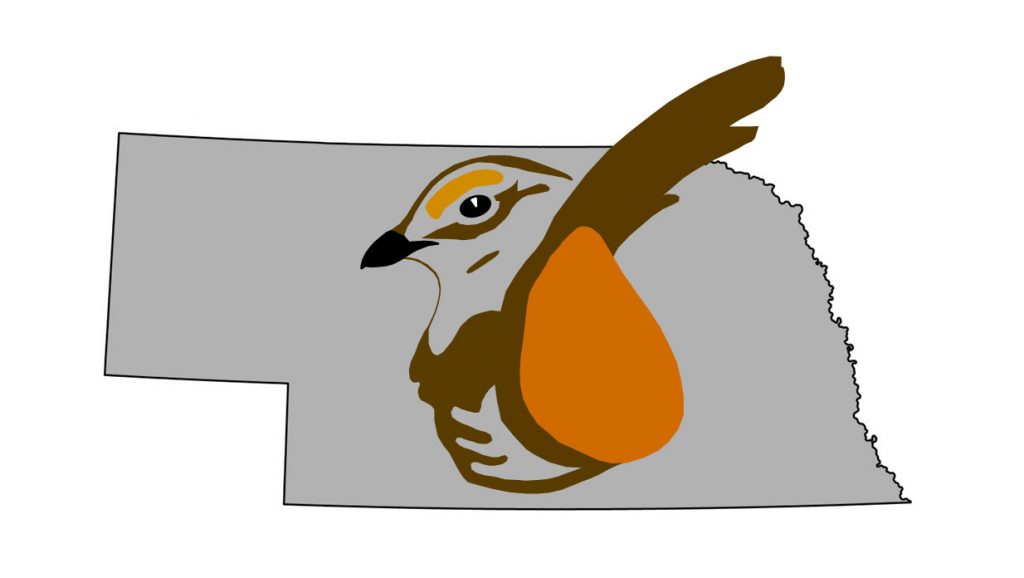 Birds of Nebraska – Online
Updated 3 Oct 2021