Hydroprogne caspia
Status:  Uncommon regular spring and fall migrant statewide. Rare regular summer visitor statewide.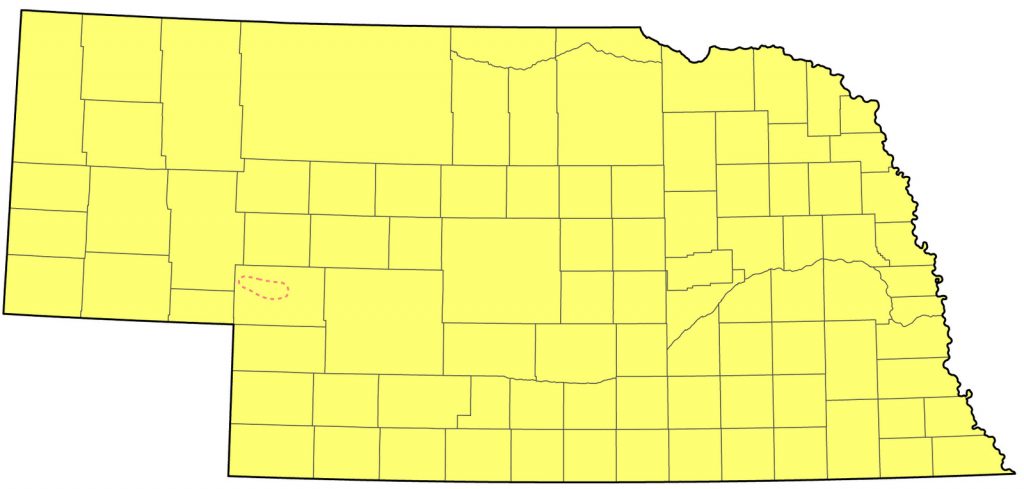 Documentation:  Specimen: UNSM ZM14209, 5 May 1893 Salt Lake, Lancaster Co (Hudson 1934).
Taxonomy:  No subspecies are recognized.
Spring:  Apr 16, 16, 16 <<<>>> Jun 9, 10, 11
There are earlier reports 23 Mar 1961, 31 Mar 1960 (Gates 1960, Swanson 1961), 31 Mar 1976, and 3 Apr 1993. Caspian Tern is primarily a May migrant, mostly at large lakes and reservoirs. In recent years reports from the Panhandle have increased, possibly as a result of regional population increases (Wires and Cuthbert 2000).
High counts: 28 at Branched Oak Lake, Lancaster Co 21 May 1997, 20 there 13 May 2012, 14 at two locations in Douglas Co 16 May 1996, 10 at Lake Enola, Madison Co 27 Apr 2019, and 10 at Lake Ogallala, Keith Co 28 May 2019.
Summer: Fewest reports are in the period 12 Jun-8 Jul, most of these from Lake McConaughy, where Caspian Terns are almost annual in mid-summer. High counts there at this time are 12 on 24 Jun 1996 (Brown et al 1996), and six on both 20 Jun 1989 (Rosche 1994) and 22 Jun 1996. There are 12 additional reports at Lake McConaughy 12 Jun-8 Jul.
Mid-summer reports away from Lake McConaughy are 13 Jun 1998 Mansfield Marsh, Dawes Co, one in Buffalo Co 16 Jun 2019, one in Dodge Co 17 Jun 2008, two in Antelope Co 19 Jun 2010, one at Holmes Lake, Lincoln, Lancaster Co 23 Jun 2003, Lincoln Co 26 Jun 1991, Plattsmouth, Cass Co 26 Jun 2009, two photographed in Dodge Co 29 Jun 2016, 3-4 at Branched Oak Lake 28 Jun 2020, four at Lake Alice, North Platte NWR, Scotts Bluff Co 30 Jun 1999, and one at Sutherland Reservoir, Lincoln Co 30 Jun 2019.
These mid-summer records are likely of immatures; most do not breed until their fourth summer (Cuthbert and Wires 2020). One-year-olds generally remain on the wintering range, but sub-adults have the greatest tendency to wander (L'Arrivee and Blokpoel 1988; Cuthbert and Wires 2020).
Fall:  Jul 9, 10, 10 <<<>>> Oct 9, 9, 10
Earlier dates are 3 Jul 2014 Cedar Co, three at Merritt Reservoir, Cherry Co 5 Jul 2018, and 2-4 at Harlan Co Reservoir, Harlan Co 6-9 Jul 2009. There is a later record 7 Nov 2003 of two near Red Willow SRA, Red Willow Co (Brogie 2004), and later reports are 4-14 Oct 1963 Douglas-Sarpy Cos, 6-13 Oct 1963 Lancaster Co, and 20 Oct 1986 Pierce Co.
Fall reports are distributed fairly evenly from the latter half of Jul through Sep, with only about six reports for Oct. The first report from the Panhandle occurred in Dawes Co 18 Jul 1990 (Grzybowski 1990), but since then there as many reports from the west as from the east.
High counts:  22 at LaPlatte Bottoms, Sarpy Co 8 Sep 2018,  17 at Branched Oak Lake 16 Sep 2013, and 14 there 6 Sep 2003.
Abbreviations
NWR: National Wildlife Refuge
SRA: State Recreation Area
UNSM: University of Nebraska State Museum
Acknowledgement
Photograph (top) of a juvenile (front) and adult Caspian Tern at Pawnee Lake, Lancaster Co 26 Sep 2017 by Steve Kruse.
Literature Cited
Brogie, M.A. 2004. 2003 (15th) Report of the NOU Records Committee. NBR 72: 59-65.
Brown, C.R., M.B. Brown, P.A. Johnsgard, J. Kren, and W.C. Scharf. 1996. Birds of the Cedar Point Biological Station area, Keith and Garden Counties, Nebraska: Seasonal occurrence and breeding data. Transactions of the Nebraska Academy of Sciences 23: 91-108.
Cuthbert, F.J. and L.R. Wires. 2020. Caspian Tern (Hydroprogne caspia), version 1.0. In Birds of the World (S. M. Billerman, Editor). Cornell Lab of Ornithology, Ithaca, NY, USA. https://doi.org/10.2173/bow.caster1.01.
Gates, D. 1960. Thirty-sixth Annual Cooperative Spring Migration and Occurrence Report. NBR 28: 58-73.
Grzybowski, J.A. 1990. Southern Great Plains Region. American Birds 44: 454-457.
Hudson, G.E. 1934. The first record specimen for Nebraska of the Caspian Tern. NBR 2: 37.
L'Arrivee, L., and H. Blokpoel. 1988. Seasonal Distribution and Site Fidelity in Great Lakes Caspian Terns. Waterbirds 11: 202-214.
Rosche, R.C. 1994. Birds of the Lake McConaughy area and the North Platte River valley, Nebraska.  Published by the author, Chadron, Nebraska, USA.
Swanson, C.H. 1961. Letters to the Editor. NBR 29: 40.
Wires, L.R., and F.J. Cuthbert. 2000. Trends in Caspian tern numbers and distribution in North America: a review. Waterbirds 23: 388–404.
Recommended Citation
Silcock, W.R., and J.G. Jorgensen. 2020. Caspian Tern (Hydroprogne caspia). In Birds of Nebraska — Online. www.BirdsofNebraska.org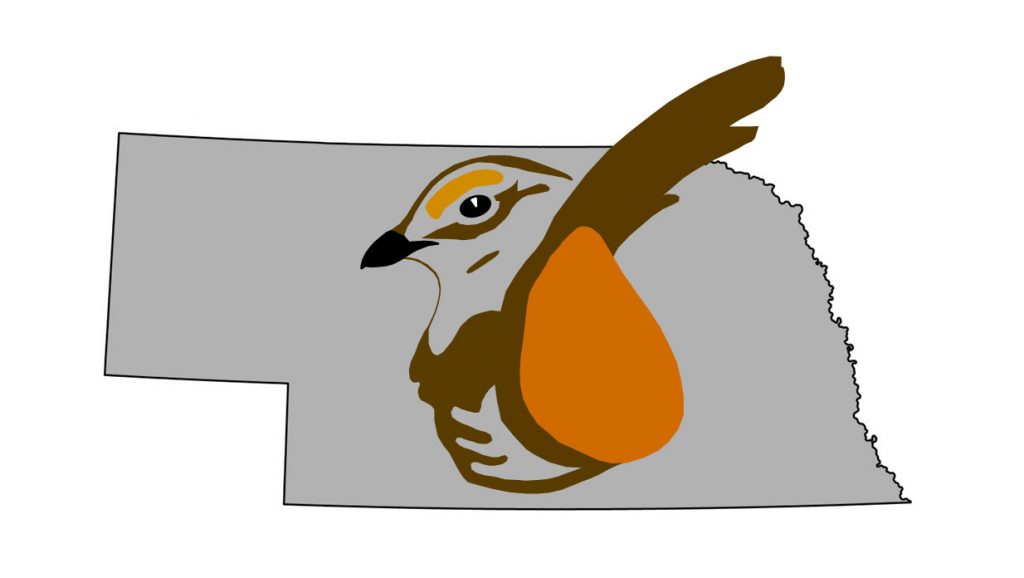 Birds of Nebraska – Online
Updated 9 Aug 2020