Haemorhous cassinii
Status:   Rare regular but erratic winter visitor Panhandle, rare casual west-central. Rare casual spring and fall migrant west and west-central. Accidental breeder northwest.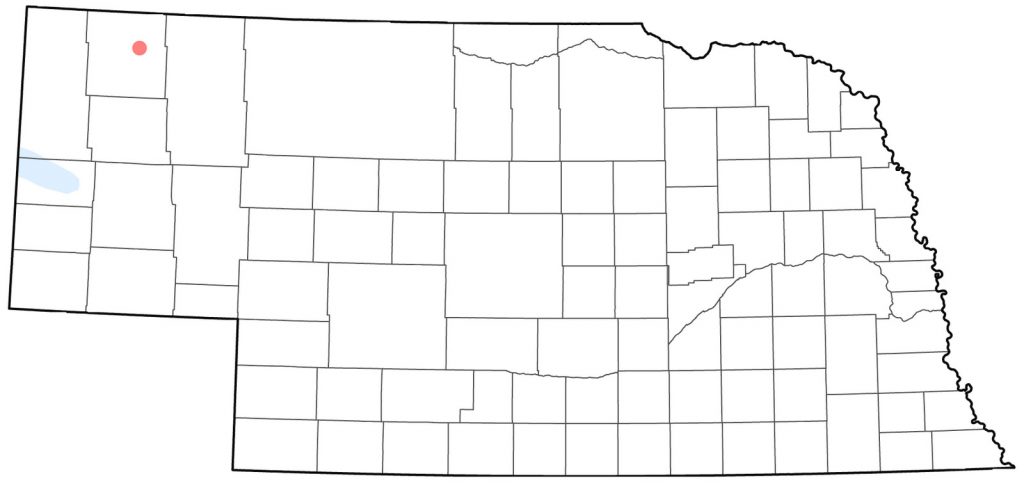 Documentation:  UNSM ZM10486, 7 Dec 1910 Crawford, Dawes Co (Mickel and Dawson 1920).
This specimen and UNSM ZM10487 are labelled Purple Finch, possibly inadvertently by the collector.
Taxonomy:  No subspecies are generally recognized (Gill and Donsker 2017), although Pyle (1997) recognized weakly differentiated vinifer, resident from southern British Columbia and western Idaho to northern California, and cassinii, resident from eastern Idaho and Montana south to southeast California and west Texas. The eastern Rocky Mountain subspecies cassinii is resident in the Black Hills of South Dakota (Tallman et al 2002) and the Laramie Mountains of eastern Wyoming (Faulkner 2010). Nebraska birds are presumed subspecies cassinii.
Spring: Both altitudinal and latitudinal migration in Wyoming begins in late Feb, but peaks in Apr and early May (Faulkner 2010). Nebraska spring records fit this schedule, although there are few reports. One was photographed near Lake McConaughy, Keith Co 1 Apr 2015, an adult male was at Chadron Creek WMA, Dawes Co 5 Apr 2016, 52 were seen 10 May 1979 at Crawford, Dawes Co, departing in May (Rosche 1982), and one of a group of 25 that wintered at Wildcat Hills NC, Scotts Bluff Co in winter 2014-2015 remained until 23 May. A male was at Wildcat Hills NC 4 May 2018. A singing male was at Chadron SP, Dawes Co 25 May 2017.
Summer:  Although Cassin's Finch breeds regularly in the Black Hills of South Dakota, with dates Jun-Jul (Tallman et al 2002), as well as in the Laramie Mountains of eastern Wyoming (Faulkner 2010), there is only one confirmed breeding record for Nebraska, perhaps because of a lack of its preferred breeding habitat of high elevation coniferous forests (Andrews and Righter 1992).  Rosche (1982) found a female feeding two juveniles in Chadron SP 25 Jul 1980; breeding probably occurred in Nebraska, as movement away from breeding areas in Wyoming and South Dakota is rare (see Fall). Mollhoff (2016) showed two reports from the first breeding bird atlas period 1989-1994, one of these classified as "Probable", on the Pine Ridge of Sioux Co, apparently in the Soldier Creek and Wood Reserve areas (Wayne Mollhoff, personal communication). In the 2006-2011 atlas (Mollhoff 2016), it was stated "the species was found [in a single block] in three separate years, and "despite repeated searching, no nest was found". This block is near Exit 1 on Interstate 80 in Kimball Co; observations included the following: a female carrying an object 28 Jun 2007, and five birds, including at least one pair, engaged in courtship activities 15 May 2008 (Wayne Mollhoff, personal communication).
The only other summer records are of a pair near limber pines near I-80 Exit 1 in southwest Kimball Co 21 Jun 2008 and a male at a Chadron, Dawes Co feeder 25 Jun 1987 (Williams 1987).
Fall:  Aug 28,30,30 <<<>>> winter
This species is generally resident in its South Dakota and Wyoming breeding areas, but at least some birds leave the breeding range in late summer and early fall, if only as altitudinal migrants (Faulkner 2010); adult males and all females consistently disappear from breeding areas in northern Utah in mid-Sep (Hahn 2020). Nebraska reports in late summer fit this pattern.
There are earlier reports: one was netted in Garden Co 24-25 Jul 1979, there are Sioux Co reports 1 Aug 1997, 5-6 Aug 1989 (Grzybowski 1990) and 15 Aug 1981, and two were in Carter Canyon, Scotts Bluff Co 6 Aug 2013. Rosche (1982) listed an early observation date of 28 Aug, one was in Scotts Bluff Co 30 Aug 1985, and singles were banded at Wildcat Hills NC 30 Aug and 5 Sep 2014.
Winter:  Wintering birds in Nebraska are most often reported in Scotts Bluff Co, suggesting arrival via the North Platte River Valley from the Laramie Mountains in eastern Wyoming. Tallman et al (2002) consider Cassin's Finch to be "accidental" away from the Black Hills with only two records.
In years when they occur, Cassin's Finches typically arrive in small numbers, increasing to as many as the 52 seen 10 May 1979 at Crawford and then disappearing in May (Rosche 1982). In 2015 good numbers were in Scotts Bluff Co, with first report 10 Jan and highest numbers 28 Feb. An influx occurred in 1996-97, when several appeared in early Oct and wintered in Scotts Bluff Co.
There are several Nebraska reports east of the Panhandle, generally in or close to the North Platte River Valley.  These are one on 22 Nov 1936 Lincoln Co trapped and examined "very carefully" (Tout 1947), one at an Ogallala, Keith Co feeder 17 Dec 1993 (Brown and Brown 2001), a flock of 14 at Ogallala 15 Dec 2002 (Silcock 2003), 19 Dec 2004 Lake McConaughy CBC, a group of six with House Finches near LeMoyne on the Lake McConaughy CBC 31 Dec 2016, and, at Lake McConaughy, one on 2 Jan 2006, two on 29 Dec 2007, and one photographed on 1 Apr 2015.
Abbreviations
CBC: Christmas Bird Count
NC: Nature Center
SP: State Park
UNSM: University of Nebraska State Museum
WMA: Wildlife Management Area (State)
Acknowledgement
Photograph (top) of a Cassin's Finch courtesy of NEBRASKALAND/Nebraska Game and Parks Commission.
Literature Cited
Andrews, R., and R. Righter. 1992. Colorado birds.  Denver Museum of Natural History, Denver, Colorado, USA.
Brown, C.R., and M.B. Brown. 2001. Birds of the Cedar Point Biological Station. Occasional Papers of the Cedar Point Biological Station, No. 1.
Faulkner, D.W. 2010. Birds of Wyoming. Roberts and Company, Greenwood Village, Colorado, USA.
Gill, F., and D. Donsker (Eds). 2017. IOC World Bird List (v 7.3), accessed 30 January 2018.
Grzybowski, J.A. 1989. Southern Great Plains Region. American Birds 43: 1334-1336.
Hahn, T.P. 2020. Cassin's Finch (Haemorhous cassinii), version 1.0. In Birds of the World (A. F. Poole and F. B. Gill, Editors). Cornell Lab of Ornithology, Ithaca, NY, USA. https://doi.org/10.2173/bow.casfin.01.
Mickel, C.E., and R.W. Dawson. 1920. Some interesting records of Nebraska birds for the year 1919.  Wilson Bulletin 32: 73-79.
Mollhoff, W.J. 2016. The Second Nebraska Breeding Bird Atlas. Bull. Univ. Nebraska State Museum Vol 29. University of Nebraska State Museum, Lincoln, Nebraska, USA.
Pyle, P. 1997. Identification Guide to North American Birds. Part I, Columbidae to Ploceidae. Slate Creek Press, Bolinas, California, USA.
Rosche, R.C. 1994. Birds of the Lake McConaughy area and the North Platte River valley, Nebraska.  Published by the author, Chadron, Nebraska, USA.
Silcock, W.R. 2003. Winter Field report, December 2002 to February 2003. NBR 71: 2-24.
Tallman, D.A., Swanson, D.L., and J.S. Palmer. 2002. Birds of South Dakota. Midstates/Quality Quick Print, Aberdeen, South Dakota, USA.
Tout, W. 1947. Lincoln County birds. Published by the author, North Platte, Nebraska, USA.
Williams, F. 1987. Southern Great Plains Region. American Birds 41: 1455-1458.
Recommended Citation
Silcock, W.R., and J.G. Jorgensen.  2020.  Cassin's Finch (Haemorhous cassinii), Version 1.0. In Birds of Nebraska — Online. www.BirdsofNebraska.org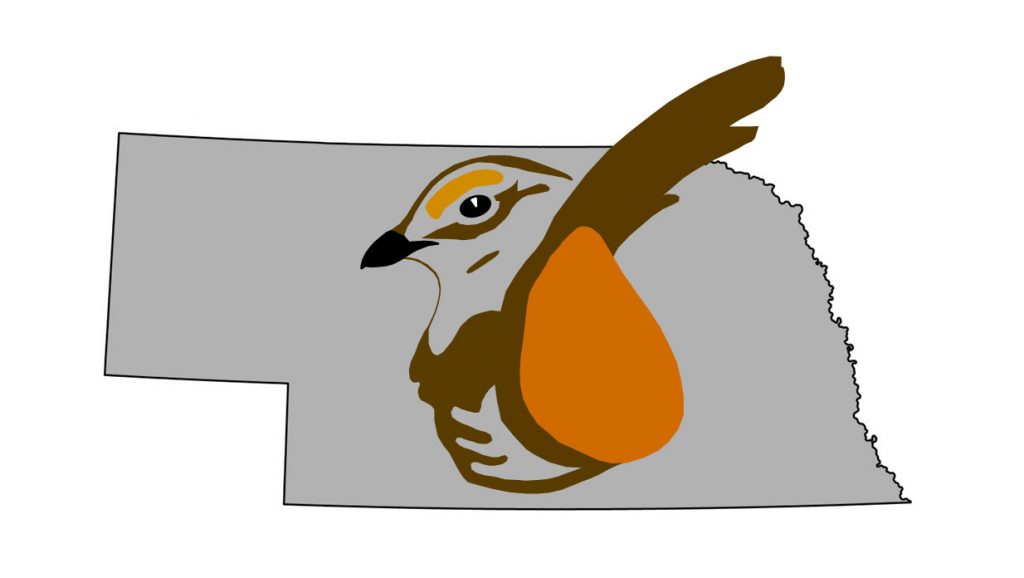 Birds of Nebraska – Online