Corvus cryptoleucus
Status: Extirpated; formerly breeder southwest and south-central.
Documentation: Specimen: UNSM ZM12283, 23 Jun 1951 "Nebraska" (no specific location given).
Taxonomy: No subspecies are currently recognized (Pyle 1997).
Records: The occurrence of this species in Nebraska is enigmatic. Reports during the twentieth century are from south-central and southwest Nebraska and have been cyclic, concentrated around 1927, the late 1940s, and the 1970s. There have been no documented reports since the 1970s.
Apparently Chihuahuan Ravens occurred north to eastern Colorado and western Nebraska when the bison herds were being slaughtered in the 1880s, then retreated to the current range in southeastern Colorado and southwest Kansas after the early 1950s (Henshaw 1875, Andrews and Righter 1992, Thompson et al 2011). Thompson et al (2011) cited surveys by Marvin Schwilling in 1951-1952 that found nesting birds as far north as Cheyenne and Rawlins Cos, adjacent to southwestern Nebraska. These dates coincide with the late 1940s reports in Nebraska.
Following its poorly documented Nebraska status in the 19th Century, there were no further Nebraska reports until 1927, when two were shot and left in a ditch around 15 Apr 1927 near Holstein, Adams Co; the "very large size" and "the fact that the bases of the feathers of the throat were white" was noted by the shooter (Swenk 1927, Tout 1942). A nest in the vicinity composed of cedar bark was considered to be a crow nest, however. The discarded birds were recovered three weeks later, examined by A.M. Brooking and M.H. Swenk, and were apparently preserved as skeletons in the Hastings Municipal Museum, although they can no longer be located (Bray et al 1986).
There followed four additional reports in the 1940s from the Adams-Kearney Cos area. One was seen near Brickton, Adams Co 9 May 1942, and was "approached to such a short distance that the fringe of white feathers surrounding its throat was distinctly seen by everyone" (Tout 1942). In 1944 two birds which had been reared in a cage were ascertained to have been taken (along with a third which died) from a nest between Axtell and Wilcox 11 Jun 1944 (Brooking 1944). This nest was also made of cedar bark but had considerable wire woven into it, a characteristic of Chihuahuan Raven nests (Bent 1946). On 13 Apr 1947 another nest was found near Axtell, Kearney Co; the young birds were taken as pets (Brown 1947). A fourth report, undocumented, is 13 Feb 1954 Adams Co. There are two undocumented reports at about the same time as the Adams-Kearney Cos reports, 6 Jun 1949 Lincoln Co and 1 Jan 1949 Keith Co.
There were four reports in the 1970s. A nest was reported from Dundy Co in 1971 (Cink 1977), but no details have been published. A call purportedly of this species was heard 15 May 1975 in Lancaster Co but could not be confirmed (Cortelyou 1975). A pair of adults considered to be Chihuahuan Ravens based on size, the "caw" call, and the wedge-shaped tails, were seen in Hall Co 24 Apr-28 May 1976 (Lemburg 1976, Coons 1976). Whether a nest with six young nearby was that of this species was questionable (Lemburg 1976). The last report, undocumented, is 17 Jun 1979 Keith Co (Williams 1979).
Despite several searches in the Dundy Co area, this species has not been reported from Nebraska since 1979. Similarly, in northwest Kansas, Scott Seltman (personal communication), who has birded the region extensively since 1979, has no records of this species.
The only recent report was a sighting near Sparks 29 Mar 1997; the bird was clearly a raven and thought to be this species based on its small size, non-massive bill, and range. The NOURC accepted this report only as "Raven sp." (Brogie 1998).
Images
Abbreviations
NOURC: Nebraska Ornithologists' Union Records Committee
UNSM: University of Nebraska State Museum
Acknowledgement
Photograph (top) of a Chihuahuan Raven specimen (UNSM ZM12283) collected in "Nebraska" 23 Jun 1951 by Joel G. Jorgensen. The specimen is housed and maintained at the University of Nebraska State Museum and was legally salvaged or collected. We thank Thomas Labedz for facilitating the photographing of this specimen for the Birds of Nebraska – Online.
Literature Cited
Andrews, R., and R. Righter. 1992. Colorado birds. Denver Museum of Natural History, Denver, Colorado, USA.
Bent, A.C. 1946. Life histories of North American Jays, Crows and Titmice. Bulletin of the United States National Museum 191. Two Parts. Dover Publications Reprint 1964, New York, New York, USA.
Bray, T.E., B.K. Padelford, and W.R. Silcock. 1986. The birds of Nebraska: A critically evaluated list. Published by the authors, Bellevue, Nebraska, USA.
Brogie, M.A. 1998. 1997 (Ninth) Report of the NOU Records Committee. NBR 66: 147-159.
Brooking, A.M. 1944. Nesting of the White-necked Raven in Kearney County. NBR 12: 40.
Brown, E. 1947. Nests of the White-necked Raven in Kearney County. NBR 15: 49.
Cink, C.L. 1977. White-necked Raven. NBR 45: 16.
Coons, V. 1976. White-necked Raven reported. NBR 44: 38
Cortelyou, R.G. 1975. 1975 (Fiftieth) Spring Migration and Occurrence Report. NBR 43: 46-66.
Henshaw, H.W. 1875. Report upon ornithological collections made in portions of Nevada, Utah, California, Colorado, New Mexico, and Arizona, during the years 1871, 1872, 1873, and 1874, in report upon geographical and geological explorations and surveys west of the one hundredth meridian. (First Lieut. George M. Wheeler, Corps of Engineers, in charge; 6 vols., GPO, Washington D.C.). Vol. 5 Zoology, Chap. 3, pp.133-507.
Lemburg, W.W. 1976. White-necked Raven reported. NBR 44: 38-39.
Pyle, P. 1997. Identification Guide to North American Birds. Part I, Columbidae to Ploceidae. Slate Creek Press, Bolinas, California, USA.
Swenk, M.H. 1927. Letters of Information 23: 4.
Thompson, M.C., C.A. Ely, B. Gress, C. Otte, S.T. Patti, D. Seibel, and E.A. Young. 2011. Birds of Kansas. University Press of Kansas, Lawrence, Kansas, USA.
Tout, W. 1942. Report of the Fortieth Annual Field Day of the Nebraska Ornithologists' Union. NBR 10: 25-30.
Williams, F. 1979. Southern Great Plains Region. American Birds 33: 876-877.
Recommended Citation
Silcock, W.R., and J.G. Jorgensen. 2022. Chihuahuan Rave (Corvus cryptoleucus). In Birds of Nebraska — Online. www.BirdsofNebraska.org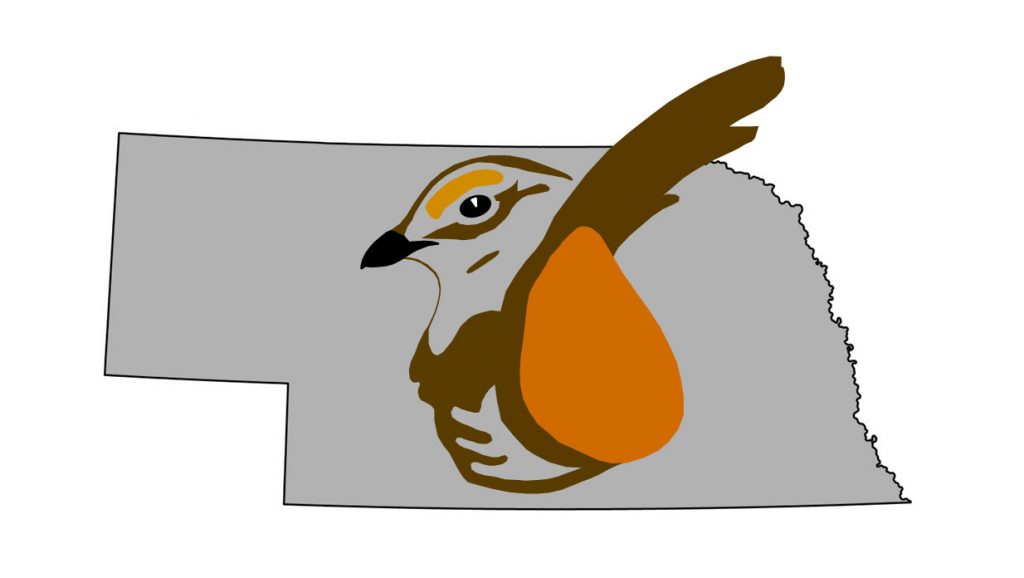 Birds of Nebraska – Online
Updated 11 Mar 2022