Spizella passerina passerina, S. p. arizonae, S. p. boreophila
Status: Abundant regular spring and fall migrant statewide. Common regular breeder statewide, uncommon extreme southwest and western Sandhills. Rare casual winter visitor southeast.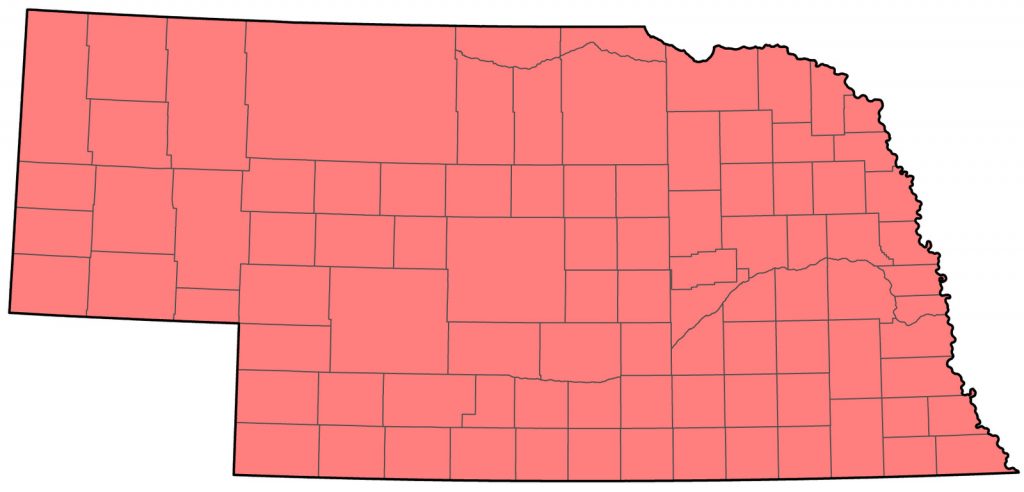 Documentation: Specimen: UNSM ZM7426, 27 Apr 1901 Lincoln, Lancaster Co.
Taxonomy: There are seven subspecies, four in Mexico and three in the USA (Pyle 1997): stridula, breeding in coastal British Columbia and California, arizonae (including boreophila), breeding and wintering from Alaska to Ontario and south to California and Texas, and passerina, breeding and wintering from Ontario to south Texas and east to Newfoundland and Florida.
Bent (1968) stated that passerina breeds south from northeast Minnesota to eastern Kansas; Missouri Valley birds in Nebraska are probably passerina; this is the race breeding in eastern Kansas (Johnston 1965). Swenk (1906) collected a breeding pair "decidedly of the western race" at Glen, Sioux Co, 6 Aug 1905. In Bruner's time (Bruner et al 1904), Chipping Sparrows bred at opposite ends of the state, presumably arizonae in the west on the Pine Ridge and passerina in the east.
Oberholser recognized darker populations of arizonae, breeding from Alaska and Manitoba south to Utah, northern Colorado, and central Nebraska as boreophila (Middleton 1998). If boreophila is recognized, it could account for Chipping Sparrows that have occupied central Nebraska in the last 100 years (Wright 2019). It is also likely that central Nebraska Chipping Sparrows might be intergrades of arizonae (boreophila) and passerina.
Floyd (2011) raised the possibility that Chipping Sparrows of subspecies arizonae breeding in Colorado undergo an eastward molt migration in Jul onto the plains, and that other subspecies, notably eastern passerina, do not perform a molt migration.
Spring: Mar 15, 15, 15 <<<>>> summer
Chipping Sparrows typically arrive in late Mar and peak numbers occur in early May. There are several earlier reports in Mar; such reports require documentation. However, one in Lancaster Co 1-5 Mar 2010 was photographed, as was another there 1-4 Mar 2019, and there were several early reports in 2012 after a mild winter, including 3 Mar at Fairmont, Fillmore Co and 7 Mar at Dakota City Cemetery, Dakota Co. Earliest dates in Webster Co were 6 Mar 1930, 11 Mar 1931, 12 Mar 1929, and 13 Mar 1927 (Ludlow 1935).
In areas of the southwest where breeding is uncommon, migrants depart by late May (Brown and Brown 2001).
High counts: 542 in Hall Co 13 May 2006, 508 in Sarpy Co 11 May 1996, 433 in Hall Co 11 May 2002, and 410 at Calamus Reservoir, Loup Co 7 May 2005.
A single flock of 250 was in Omaha 28 Apr and 300 were in a weed patch near Beatrice 4 May 2013.
Summer: Chipping Sparrow has adapted to the arrival of Europeans by nesting in planted trees, usually conifers, around human settlement, both rural and urban (Thompson and Ely 1992). Bent (1968) suggested that the "population of today is many times that of pre-Columbian North America." This change has resulted in expansion of its breeding range in Nebraska from essentially east of the 98th meridian and on the Pine Ridge at the turn of the century (Bruner et al 1904) into most other parts of Nebraska. Short (1961) pointed out that most of this spread had been in towns, and that the species was still scarce in the southwest (below). BBS trend analysis reflects the increase and shows the species has increased 5.42% annually in Nebraska 1966-2015 (Sauer et al 2017)
Mollhoff (2001, 2016) showed that between the first breeding bird atlas (1984-1989) and the second (2006-2011), large areas of the Sandhills and southwest that had no breeding season reports are now occupied. There are still counties in the western Sandhills such as Box Butte Co and in the southwest, notably Perkins and Hayes, where there were no breeding season reports 2006-2011 (Mollhoff 2016). Survey transects at Fort Niobrara NWR, Cherry Co in 1991 and 1992 recorded no Chipping Sparrows, but breeding is common there as of 2021 (Renee Tressler, pers. comm.). Until recently, nesting was unknown south of the Platte River Valley west of Kearney, Buffalo Co; it was considered a migrant in Keith Co as late as 2000 (Brown and Brown 2001). Breeding reports have increased however; confirmed breeding was reported in Harlan Co in 1999, and in Dundy Co 2006-2011 (Mollhoff 2016). Chipping Sparrows were found at only 20 of 453 stops in southeast Lincoln County breeding bird surveys in 2009 (T.J. Walker, personal communication); no evidence for breeding was noted. Survey data provided by Walker from 21 blocks for the years 2006-2010 show a total of only five singing males in Dundy, Chase, Perkins, Hitchcock, Hayes, and Frontier Cos. Reports in Jun 2014 and 2015 for Hitchcock, Frontier, and Gosper Cos suggest gradual occupation by breeding birds of the southwest, and in 2017, there were multiple reports from Furnas and Gosper Cos, but only one from Hayes Co, that on 27 Jun.
CHSP: Renee Ft Nio transects 1991, 1992- not breeding at that time
Breeding phenology:
Copulation: 29 Jul
Eggs: 3 May-19 Aug (Mollhoff 2022)
Nestlings: 30 May-20 Aug
Fledglings: 14 Jun-1 Sep
Fall: summer <<<>>> Nov 16, 17, 17
Migration ends statewide by early Nov; reports after mid-Nov should be documented. The latest specimen date is 30 Oct 1909 (UNSM ZM10463). There are about 15 later reports with details through Dec; typically, Chipping Sparrows that linger into winter are single immatures at feeders.
Migration begins in Aug, although it is difficult to determine early departure dates because of local breeders and migrants from elsewhere. A recent hypothesis suggests an early molt migration strategy for several passerine species which have populations in drier parts of the inter-mountain western United States (Donahue 2007). Indeed, Floyd (2011) documented eastward movement in Jul towards the plains in eastern Colorado and Kansas, and showed that these birds were essentially all adults; it is generally inferred that if adults move away from breeding areas in fall before juveniles, molt migration is taking place (Floyd 2011). Thus in areas of southwest Nebraska where there are few breeding Chipping Sparrows, Jul records of adults may be of molt migrants from the Rockies; however, since subspecies arizonae breeds in western Nebraska, the presence of breeding Chipping Sparrows in, for example, the Sandhills, would make their detection difficult if not impossible.
The abundance of this species during fall migration was indicated by the banding by Bird Conservancy of the Rockies personnel of 151 individuals 19 Aug-2 Oct 2013 at Wildcat Hills NC, Scotts Bluff Co; there were only 11 additional recaptures from previous years, one of which was first banded in 2008.
High counts: 700 near Burwell, Garfield Co 5 Oct 2002, 330 in Sheridan Co 24 Sep 1994, and 300 at East Ash Creek Canyon, Dawes Co 5 Sep 2015.
Winter: There are a several reports mid-Jan through Feb that suggest overwintering, all in recent winters. These are 29 Dec 1982-31 Jan 1983 Omaha, Douglas Co feeder (Williams 1983), 7 Jan and 20 Feb 2017 at a Bellevue, Sarpy Co feeder, 1-2 at Mahoney Park, Lincoln, Lancaster Co 2-14 Feb 2019, 27 Jan-1 Feb 2021 Milford, Seward Co, and 5 Jan and 13 Feb 2021 Omaha, Douglas Co (eBird.org photos). Additional early Jan dates are 3 Jan 2011 Adams Co, 5 Jan 2020 Lake McConaughy, Keith Co, 6-13 Jan 2008 Lincoln, Lancaster Co, and 11 Jan 2018 Omaha, Douglas Co.
Images
Abbreviations
BBS: Breeding Bird Survey
SRA: State Recreation Area
UNSM: University of Nebraska State Museum
Literature Cited
Andrews, R., and R. Righter. 1992. Colorado birds. Denver Museum of Natural History, Denver, Colorado, USA.
Bent, A.C. 1968. Life histories of North American Cardinals, Grosbeaks, Buntings, Towhees, Finches, Sparrows, and allies. Bulletin of the United States National Museum 237. Three Parts. Dover Publications Reprint 1968, New York, New York, USA.
Brown, C.R., and M.B. Brown. 2001. Birds of the Cedar Point Biological Station. Occasional Papers of the Cedar Point Biological Station, No. 1.
Bruner, L., R.H. Wolcott, and M.H. Swenk. 1904. A preliminary review of the birds of Nebraska, with synopses. Klopp and Bartlett, Omaha, Nebraska, USA.
Donahue, M. 2007. Migrants, Mono Lake, Monsoons, and Molt. Birding 39: 34-40.
Floyd, T. 2011. Mid-summer Dispersal, Nocturnal Movements, and Molt Migration of Chipping Sparrows in Colorado: Taxonomic Implications and Conservation Applications. Colorado Birds 45: 181-197.
Johnston, R.F. 1965. A directory to the birds of Kansas. Miscellaneous Publication No. 41. University of Kansas Museum of Natural History, Lawrence, Kansas, USA.
Ludlow, C.S. 1935. A quarter-century of bird migration records at Red Cloud, Nebraska. NBR 3: 3-25.
Middleton, A.L. 2020. Chipping Sparrow (Spizella passerina), version 1.0. In Birds of the World (A. F. Poole and F. B. Gill, Editors). Cornell Lab of Ornithology, Ithaca, NY, USA. https://doi.org/10.2173/bow.chispa.01.
Mollhoff, W.J. 2001. The Nebraska Breeding Bird Atlas 1984-1989. Nebraska Ornithologists' Union Occasional Papers No. 7. Nebraska Game and Parks Commission, Lincoln, Nebraska, USA.
Mollhoff, W.J. 2016. The Second Nebraska Breeding Bird Atlas. Bull. Univ. Nebraska State Museum Vol 29. University of Nebraska State Museum, Lincoln, Nebraska, USA.
Mollhoff, W.J. 2022. Nest records of Nebraska birds. Nebraska Ornithologists' Union Occasional Paper Number 9.
Pyle, P. 1997. Identification Guide to North American Birds. Part I, Columbidae to Ploceidae. Slate Creek Press, Bolinas, California, USA.
Sauer, J.R., D.K. Niven, J.E. Hines, D.J. Ziolkowski, Jr, K.L. Pardieck, J.E. Fallon, and W.A. Link. 2017. The North American Breeding Bird Survey, Results and Analysis 1966 – 2015 (Nebraska). Version 2.07. USGS Patuxent Wildlife Research Center, Laurel, Maryland, USA.
Short, L.L., Jr. 1961. Notes on bird distribution in the central Plains. NBR 29: 2-22.
Swenk, M.H. 1906. Some Nebraska bird notes. Auk 23: 108-109.
Thompson, M.C., C.A. Ely, B. Gress, C. Otte, S.T. Patti, D. Seibel, and E.A. Young. 2011. Birds of Kansas. University Press of Kansas, Lawrence, Kansas, USA.
Williams, F. 1983. Southern Great Plains Region. American Birds 37: 314-317.
Wright, R. 2019. Sparrows of North America. Peterson Reference Guide. Houghton Mifflin Harcourt, Boston and New York.
Recommended Citation
Silcock, W.R., and J.G. Jorgensen. 2022. Chipping Sparrow (Spizella passerina). In Birds of Nebraska — Online. www.BirdsofNebraska.org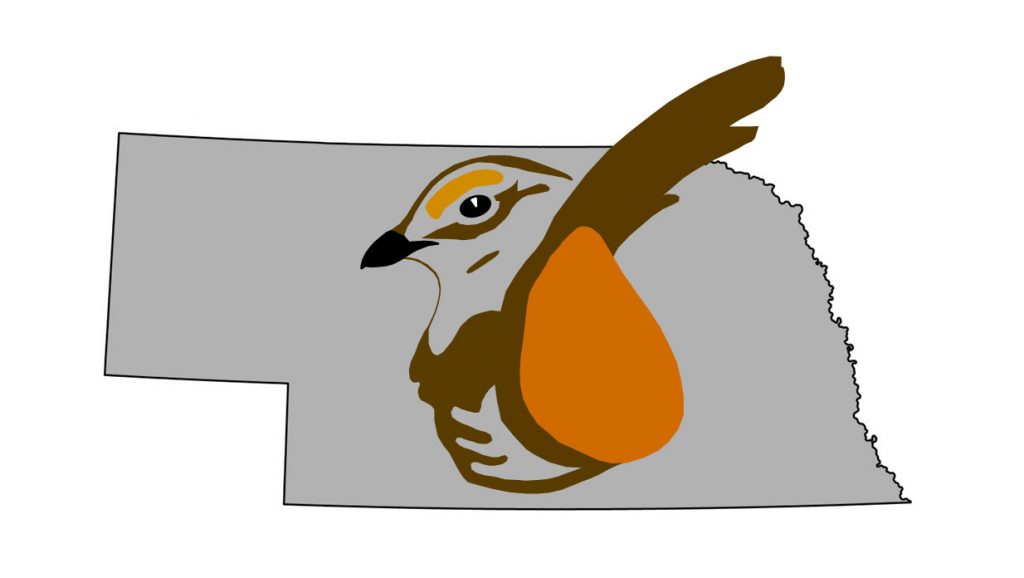 Birds of Nebraska – Online
Updated 5 Apr 2022