Antrostomus carolinensis
Status: Fairly common regular breeder southeast, locally rare regular elsewhere in east. Rare casual summer visitor central. Rare casual fall migrant east.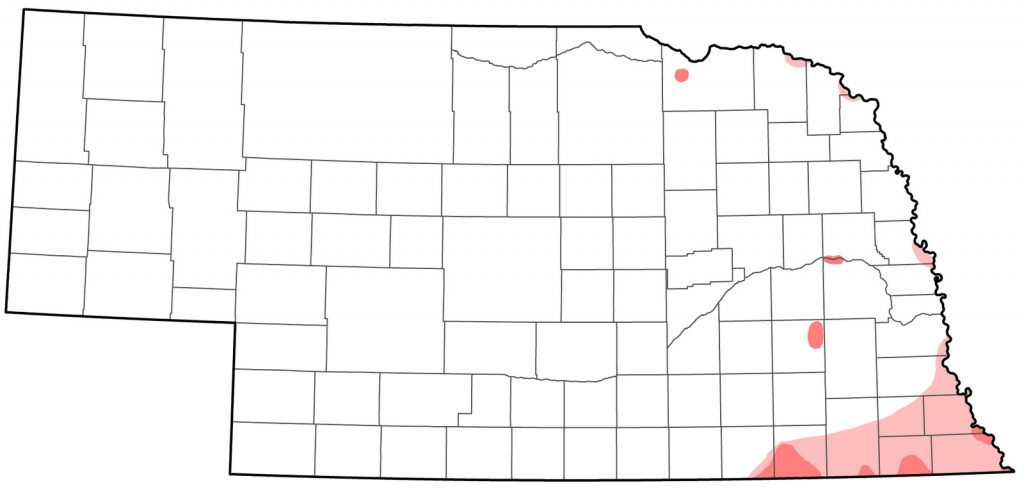 Documentation: Photograph: 4 Jun 1983 nest with egg and hatchling, Camp Merrill, Saunders Co (Lingle 1983).
Taxonomy: No subspecies are recognized.
This species and 10 others previously in Caprimulgus were moved to Antrostomus based on Han et al (2010).
Changes Since 2000: The number of reports of this species has continued to increase in its stronghold in the extreme southeast, especially in Jefferson Co. At least 40 were reported in spring 2019 as a result of NGPC nightjar surveys carried out by Stephen Brenner in southeastern Nebraska and the NOU's Spring Meeting being in the species' stronghold in the Little Blue River Valley in Jefferson Co. It is apparent that these numbers were due to surveys, but it is unclear whether range expansion is occurring also.
Spring:  Apr 27, 29, 30 <<<>>> summer
Arrival is in early May. There is an earlier date 20 Apr 1985 Stanton Co.
High counts: 9 along River Road, Jefferson Co 25 May 2018, 9 at Table Rock WMA, Pawnee Co 15 Jun 2020, and 6 at Indian Cave SP, Nemaha and Richardson Cos, 2 May 2003.
A total of 40+ were reported in southeastern Nebraska in spring 2019; later, 12 were counted at five stops at Table Rock WMA, Pawnee Co 7 Jun.
Summer: This species was first noted in Nebraska in 1963 in western Douglas Co, where it was heard by residents and eventually verified in 1966 (Sharpe 1967). Following this first record, another bird was heard for about a month near Peru mid-May to mid-Jun 1965 (Gates 1965). At about the same time 2-3 were heard in Indian Cave SP, Nemaha and Richardson Cos 24 May 1966 (Sharpe 1967) and at least eight were there 3 May 1969, when it was considered "clearly more common" than in 1966 (Tate 1969). There are numerous reports since from Indian Cave SP, including a tally of six there 30 Jun 2010, and the state's second documented nest, containing one chick, was photographed there 6 Jun 2012. The status of Chuck-will's-widow in the counties along the Kansas border has only recently been realized (Brenner and Jorgensen 2019, 2020); in Kansas, it summers west to Washington Co, to the south of Jefferson Co, Nebraska, and there are recent reports west to Jewell and Phillips Cos, Kansas, the latter south of Harlan Co, Nebraska.
It occurs along the Missouri River Valley with some regularity north to Dakota Co, where the earliest report was 13 Jun 1988, and it has been reported there each year since 1990 in the period 6 May-14 Jun. There is a single Dixon Co report, 14 May 1993, and singles were at Wiseman WMA, Cedar Co 16 Jun 2011 and 24 May 2013. Surprisingly, one was heard at Bohemia Prairie, Knox Co, 7 Jul 2008, the northernmost for the state at the time; at least one was there 10-28 Jul 2009, one each 15 May and 14 Jun 2010, and one 17 May 2012. Another site for Knox Co, even farther north, is along the south shore of Lewis and Clark Lake near Gavin's Point Dam, where one was heard 7 May 2012, at least one was seen and recorded 21-25 May and 8 Jun 2018, and singles were recorded 23-26 Jun 2020 and 28 Jun 2021.
It has been found as far west in the Platte River Valley as Camp Merrill in northwest Saunders Co, some 9 km (5-6 miles) west of Morse Bluff; the first documented nesting for the state occurred there 4 Jun 1983 (Mollhoff 2022). There have been reports in the area since 1978 (Lingle 1983); up to three birds each year were reported in the Morse Bluff area 1991-2003.
One was heard at Oak Glen WMA, Seward Co, 8-29 Jul 2006, and again there 16 and 18 Jul 2007; none were detected in 2008 and 2009, but 1-2 were there 17-26 May 2010, one on 15 Jun 2011, one on 12 May 2012, and one on 1 May and 1 Jun 2015. None were heard in 2016 nor reported in 2017. Other Seward Co reports are 2 Jun 1985 and 21 Jun 1987.
Recent numbers found in Jefferson Co suggest Chuck-will's-widows previously went undetected in this area or are moving north from Kansas rather than west from the Missouri River Valley. As many as 40+ were reported in spring 2019 in southeastern Nebraska, most in Jefferson Co (eBird.org; Brenner and Jorgensen 2019). Additional good totals for Jefferson Co were eight in the Little Blue River Valley near Fairbury 21 Jul 2011, 12 heard there 9 Jul 2012, nine on 15 Jun 2016, and at least 14 during 13-31 May 2019. Two were heard at Rock Glen WMA, Jefferson Co 7 May 2012, and one was at Rock Creek Station SHP, Jefferson Co 1 Jul 2017.
Elsewhere in the southeast, the total of 40+ reported in spring 2019 included three in Gage Co 13 May and nine in Pawnee Co 15 May (eBird.org). Other reports in and near these counties are 18 Jun 1985 Johnson Co, two calling two miles east of Barneston, Gage Co 30 May 2009, 18 Jun 1985 Gage Co, and singles heard in eastern Lancaster Co Jun 2002 and 2003 (Kevin Poague, personal communication). Mollhoff (2001) cited "probable" breeding records in Thayer Co and a "possible" breeding record in Webster Co in the period 1984-89, but none of these were repeated 20 years later (Mollhoff 2016). One was along the Little Blue River east of Hebron in Thayer Co 11 Jul 2013 and two were nearby at Meridian WMA 29 May 2013. The westernmost records in the Republican River Valley are of singles at Harlan Co Reservoir, Harlan Co 4 Jul 2017 and 11 Jun 2020.
For a few years, Chuck-will's-widows were found in the Fort Kearny area on the Buffalo-Kearney Cos line, where one bird was heard singing in summer 1997 (Silcock and Jorgensen 1997), 13 May-16 Jun 2000, 24 Jun 2001, and 8 May 2002. It had been reported in that area as early as 19-29 Jun 1983, when one was reported 14.5 km (9 miles) southeast of Kearney on the south bank of the Platte River (Kimball 1984).
There are two reports of vagrants, if correctly identified: one was in mixed conifers and hardwoods in Thomas Co 13 Jun 1983 (Dwyer 1988), a report considered hypothetical by Bray (1994), and another was "seen and heard" far to the northwest at Smith Lake SRA, Sheridan Co, 8 Jun 1995 (Steven Jones, pers. comm.). Oddly, it has bred in only a single South Dakota location since the 1980s, that in the center of the state (Tallman et al 2002).
Fall: Departure is probably in Sep based on data from nearby states, although the only Nebraska reports after Jun are 17 Jul 1992 Saunders Co, 19 Jul 1990 Douglas Co, 4 Aug 2001 Saunders Co, 7 Aug 2019 Cedar Co, 8 Aug 1983 Cass Co (Green 1984), 9 Aug 2003 Wolf Lake, Saunders Co, 15 Aug (Johnsgard 1980), 18 Aug 2000 Wolf Lake, and 24 Aug 2010 Bohemia Prairie, Knox Co (Mark Brogie, pers. comm.). The latest Kansas date is 16 Sep (Thompson et al 2011). Detection is difficult after singing ceases in early Jul.
Abbreviations
SHP: State Historical Park
SP: State Park
SRA: State Recreation Area
WMA: Wildlife Management Area (State)
Literature Cited
Bray, T.E. 1994. Habitat utilization by birds in a man-made forest in the Nebraska Sandhills. Master's thesis, University of Nebraska-Omaha, Omaha, Nebraska, USA.
Brenner, S.J., and J.G. Jorgensen. 2019. Distribution, abundance, and habitat associations of Chuck-will's-widow (Antrostomus carolinensis) and Eastern Whip-poor-will (Antrostomus vociferus) in eastern Nebraska. Nongame Bird Program of the Nebraska Game and Parks Commission, Lincoln, Nebraska, USA.
Brenner, S.J., and J.G. Jorgensen. 2020. Range limits and habitat associations of Eastern Whip-poor will (Antrostomus vociferous) and Chuck-wills-widow (Antrostomus carolinensis) across eastern Nebraska. Nongame Bird Program of the Nebraska Game and Parks Commission, Lincoln, Nebraska, USA.
Dwyer, M. 1988. Additional reports from Thomas County, spring 1988. NBR 56: 99.
Gates, D. 1965. Excerpts from letters. NBR 33: 67.
Green, R.C. 1984. Whip-poor-wills. NBR 52: 24.
Han, L-K., M.B. Robbins, and M.J. Braun. 2010. A Multi-gene Estimate of Phylogeny in the Nightjars and Nighthawks (Caprimulgidae). Molecular Phylogenetic Evolution 55: 443-453.
Johnsgard, P. A. 1980. A preliminary list of the birds of Nebraska and adjacent Great Plains states. Published by the author, University of Nebraska, Lincoln, USA.
Kimball, B. 1984. Chuck-will's-widow. NBR 52: 24.
Lingle, G.R. 1983. A new nesting species for Nebraska. NBR 51: 86-87.
Mollhoff, W.J. 2001. The Nebraska Breeding Bird Atlas 1984-1989. Nebraska Ornithologists' Union Occasional Papers No. 7. Nebraska Game and Parks Commission, Lincoln, Nebraska, USA.
Mollhoff, W.J. 2016. The Second Nebraska Breeding Bird Atlas. Bull. Univ. Nebraska State Museum Vol 29. University of Nebraska State Museum, Lincoln, Nebraska, USA.
Mollhoff, W.J. 2022. Nest records of Nebraska birds. Nebraska Ornithologists' Union Occasional Paper Number 9.
Sharpe, R.S, 1967. The 1966 nesting season. NBR 35: 29-38.
Silcock, W.R., and J.G. Jorgensen. 1997. Summer Field Report. June-July 1997. NBR 65: 102-115.
Tallman, D.A., Swanson, D.L., and J.S. Palmer. 2002. Birds of South Dakota. Midstates/Quality Quick Print, Aberdeen, South Dakota, USA.
Tate, J., Jr. 1969. Pileated Woodpecker and other birds at Indian Cave State Park. NBR 37: 57-60.
Thompson, M.C., C.A. Ely, B. Gress, C. Otte, S.T. Patti, D. Seibel, and E.A. Young. 2011. Birds of Kansas. University Press of Kansas, Lawrence, Kansas, USA.
Recommended Citation
Silcock, W.R., and J.G. Jorgensen. 2023. Chuck-will's-widow (Antrostomus carolinensis). In Birds of Nebraska — Online. www.BirdsofNebraska.org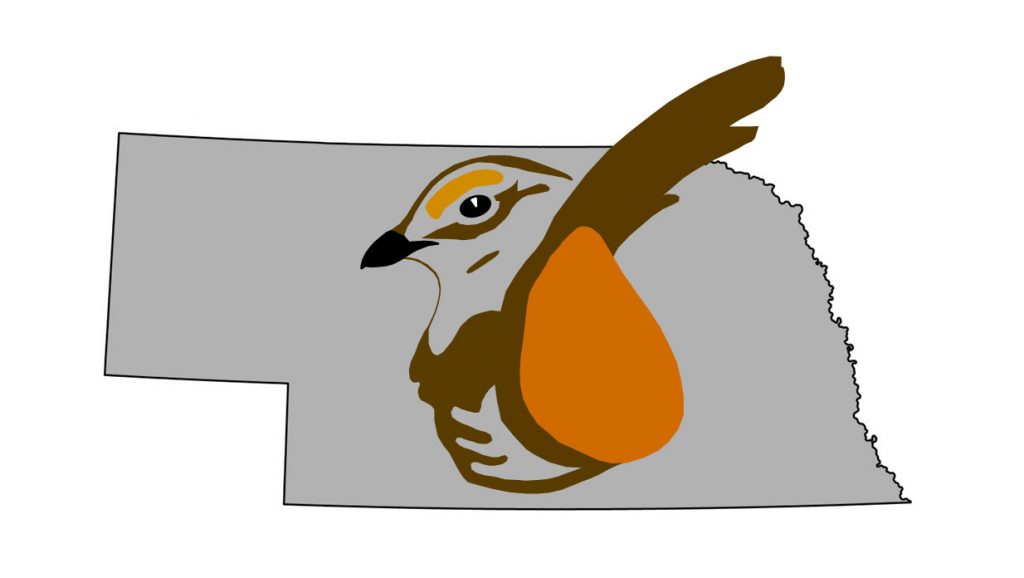 Birds of Nebraska – Online
Updated 6 Sep 2023