Alectoris chukar
Status: No accepted records.
Taxonomy: There are 14 subspecies in the native Eurasian range (Clements et al 2016).
Comments: Several attempts were made to establish this species in Nebraska with releases between 1938 and 1943 of about 6500 birds, but these were unsuccessful, possibly due to predation (Mathisen and Mathisen 1960, Halbert 1940). Ducey (1988) cited nesting reports from Logan, Madison, and Sheridan Cos in the 1940s. A nest hatched near Norfolk, Madison Co 31 May 1940 (Halbert 1940). A notable release was of 700 birds in southern Scotts Bluff Co in 1969 (Johnsgard 1997); there were consistent reports from Scotts Bluff Co from this time until 1977, as well as a more recent report 19 Mar 1984 which was apparently derived from private releases made in the Robideaux Pass area 1981-84 (Cortelyou 1984). Five were photographed along Wright's Gap Road in Banner Co 15 Feb 2014. A population apparently persisted for some time in the Sheridan Co sandhills (Johnsgard 1979), although none were seen after 1977 (Rosche 1982), and possibly on the Pine Ridge in the Fort Robinson area in the 1970s (Rosche 1982). One seen in southern Sioux Co 4 Apr 1998 was "probably part of a flock set free by a local rancher some years ago" (Helen Hughson, personal communication). A release in northern Rock Co "a few years ago" may have been the source of two seen four miles north of Bassett, Rock Co 9 Jun 2019 (Carolyn Hall, personal communication). One was photographed in Neligh, Antelope Co 15 Feb 2023 Gary Schlapfer, personal communication).
Reports from Lincoln Co 8 Apr 1974, 14 Apr 1977, and 18 May 1986 are probably locally released birds for hunting or dog training purposes, as are reports from Douglas and Sarpy Cos 1963-65, Ralston, Douglas Co Mar 2001, Lincoln, Lancaster Co 30 Apr and 9 Jun 2019 and 8 Oct 2022, Dodge Co 19 May 2000, Nebraska City, Otoe Co in Jun 2003 and also in Otoe Co 20 Mar 2023. A nest with eggs photographed near Grand Island, Hall Co 9 Jun 2010 was attributed to released birds (Foland; Mollhoff 2022).
There is a possibility that a population might establish from released birds in suitable habitat such as the Panhandle or arid parts of southwest Nebraska.
Acknowledgement
Photograph (top) of Chukars at Wright's Gap Road, Banner Co 19 Feb 2014 by Marie Smith.
Literature Cited
Clements, J. F., T. S. Schulenberg, M. J. Iliff, D. Roberson, T. A. Fredericks, B. L. Sullivan, and C. L. Wood. 2016. The eBird/Clements checklist of birds of the world: v2016, accessed 30 January 2018.
Cortelyou, R.G. 1984. 1984 (Fifty-ninth) Spring Occurrence Report. NBR 52: 51-67.
Ducey, J.E. 1988. Nebraska birds, breeding status and distribution. Simmons-Boardman Books, Omaha, Nebraska, USA.
Halbert, D. 1940. Notes on Nebraska-reared Chukar Partridges and Valley California Quail. NBR 8: 87-88.
Johnsgard, P.A. 1979. Birds of the Great Plains: breeding species and their distribution. University of Nebraska Press, Lincoln, Nebraska, USA.
Johnsgard, P.A. 1997. The birds of Nebraska and adjacent plains states. Occasional Papers No. 6, Nebraska Ornithologists' Union. Lincoln, Nebraska, USA.
Mathisen, J., and A. Mathisen. 1960. History and status of introduced game birds in Nebraska. NBR 28:19-22.
Rosche, R.C. 1982. Birds of northwestern Nebraska and southwestern South Dakota, an annotated checklist. Cottonwood Press, Crawford, Nebraska, USA.
Recommended Citation
Silcock, W.R., and J.G. Jorgensen. 2023. Chukar (Alectoris chukar). In Birds of Nebraska — Online. www.BirdsofNebraska.org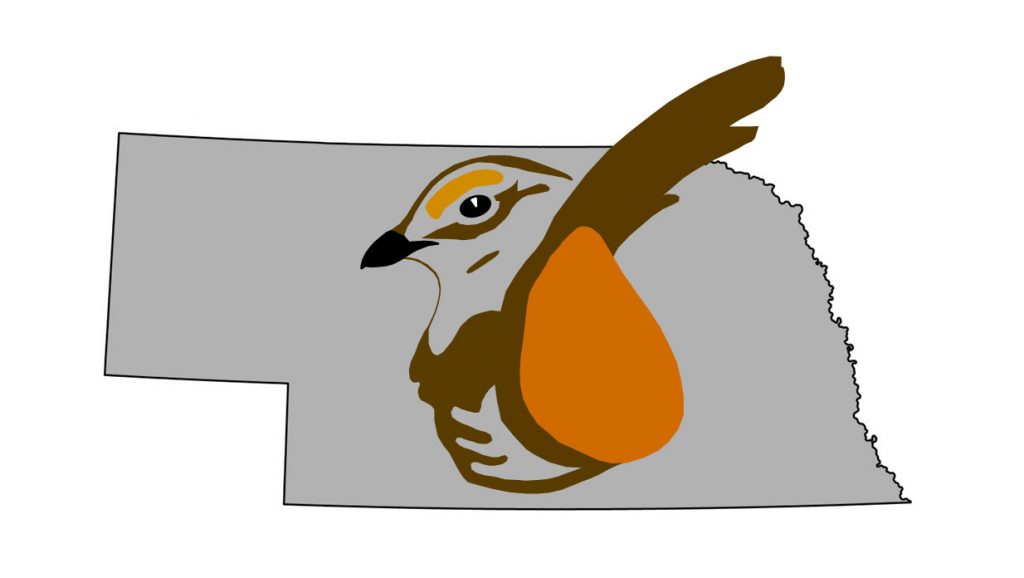 Birds of Nebraska – Online
Updated 7 Jun 2023