Petrochelidon pyrrhonota pyrrhonota
Status: Abundant regular spring and fall migrant and breeder statewide.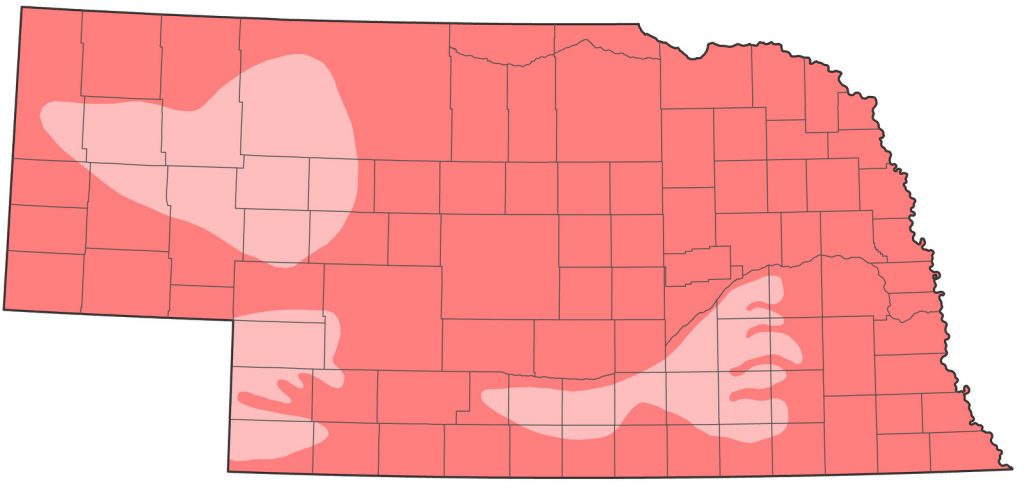 Documentation: Specimen: UNSM ZM10610, 10 May 1913 Lancaster Co.
Taxonomy: Four subspecies are recognized (Pyle 1997): pyrrhonota from Alaska to central California east to Newfoundland and Virginia, tachina from central California to northern New Mexico east to southern California and southwest Texas, swainsoni of southeast Arizona and southwest Texas, and ganieri from Oklahoma to southern Texas east to west-central Tennessee.
Nebraska birds are presumed pyrrhonota.
This species and Barn Swallow are known to hybridize; there are several records for North America, although few on the Great Plains, including six for northeastern Colorado and two for western Nebraska (eBird,org, accessed Jul 2023).
Spring: Apr 8, 9, 9 <<<>>> summer
An earlier date is 4 Apr 2020.
Arrival is in early to mid-Apr. Migration peaks around mid-May, according to High Counts (below).
High counts: 9000 at Lake Minatare, Scotts Bluff Co 22 May 2021, 5000 at Lake Ogallala, Keith Co 20 May 2016, 5000 there 12 May 2017, 3500 between Scottsbluff and Kearney 17 May 1996, and 3500 at Capitol Beach Lake, Lincoln, Lancaster Co 20 May 2017.
Summer: The BBS Summer Distribution Map for 2007-2013 (Sauer et al 2017) shows that this species is most numerous in the southwest and southern two-thirds of the Panhandle. Breeding colonies have become more numerous in the east in the past 100 to 150 years as these birds have expanded their range across the Great Plains and into eastern North America "coincident with the widespread construction of highway culverts, bridges, and buildings that provide abundant alternative nesting sites" (Brown et al 2013, Brown et al 2020). Natural cliff sites, the original nesting habitat used by Cliff Swallow in western US mountains (Brown et al 2020), are scarce in Nebraska away from the Panhandle, although an exception is a cliff site at the mouth of the Niobrara River which has been used for at least 150 years (Ducey 1988). In areas where natural (cliffs) or artificial (bridges) nesting sites are unavailable this species is rare or absent. For example, Jorgensen (2012) considered it only a migrant in the Rainwater Basin, citing only one historical nesting record. BBS trend analysis show a notable statewide annual increase of 6.50% (95% C.I.; 1.93, 10,24) 1966-2013.
Breeding Phenology:
Nest Building: 29 Apr-25 Jun
Eggs: 4 May-28 Jul
Nestlings: 9 Jun- 1 Aug
Dependent fledglings: 7 Jun-15 Jul
High counts: 1000 at the Pishelville Bridge on the Niobrara River, Knox Co 31 May 1994, 740 at Lake McConaughy, Keith Co on 19 May 1995, 702 near Broadwater, Morrill Co 15 Jun 1995, and 560 at the Oshkosh North Platte River bridge, Garden Co 4 Jun 2020.
Colonies of up to 6000 nests occur in the Keith Co area (Brown et al 2013).
Colonies may consist of thousands of pairs (Brown et al 2012).
Fall: summer <<<>>> Sep 30, 30, Oct 1
Later dates are 5 Oct 2020 Dakota Co, 6 Oct 2018 Burt Co, 7 Oct 2022 Gering WTP, Scotts Bluff Co, 13 Oct 2013 Washington Co, 21 Oct 2020 (6) Cedar Co, and 25 Oct 2022 Lakes North and Babcock, Platte Co.
Peak migration occurs in mid-Aug; most colonies are abandoned by mid-Aug, when large flocks become conspicuous on telephone wires and over cornfields, particularly near wetlands. In the Rainwater Basin, Jorgensen (2012) noted "By late July large flocks are often observed at or near wetlands. Flocks often number well into the thousands through August." This conclusion is supported by High Counts, below.
Departure is in early Oct.
High counts: 30,000 near Kenesaw, Adams Co 13 Aug 2000, 12,000 in the Funk WPA, Phelps Co area 1 Aug 1999, 5000 on Road 718, Jefferson Co 18 Jul 2022, and 3000+ in Kearney Co 21 Jul 2001.
Comments: Brown and Brown have banded an incredible 231,000 Cliff Swallows in the Keith Co area since 1982; recoveries include southern Brazil, El Salvador, Texas, Colorado, Idaho, Alberta, and Missouri (Brown and Brown 2001). One bird banded while migrating through Venezuela was recaptured in Keith Co (Mary B. Brown, personal communication).
A study by Brown and Brown (2013), based on a large number of measurements over time on Cliff Swallows in Keith Co, Nebraska suggested that wing-length in this population has become shorter over the last 30 years, likely an adaptation that allows the birds to better change direction and avoid being killed by vehicles.
Images
Abbreviations
BBS: Breeding Bird Survey
UNSM: University of Nebraska State Museum
WPA: Waterfowl Production Area (Federal)
Acknowledgements
Mary Bomberger Brown reviewed an earlier draft of this species account and provided numerous helpful comments that improved the content and composition.
Literature Cited
Brown, C.R., and M.B. Brown. 2001. Birds of the Cedar Point Biological Station. Occasional Papers of the Cedar Point Biological Station, No. 1.
Brown, C.R. and M.B. Brown. 2013. Where has all the road kill gone? Current Biology 23: R233-R234.
Brown, C. R., M. B. Brown, and E. A. Roche. 2013. Spatial and temporal unpredictability of colony size in cliff swallows across 30 years. Ecological Monographs 83: 511-530.
Brown, M.B., S.J. Dinsmore, and C.R. Bown. 2012. Birds of Southwestern Nebraska. Institute of Agriculture and Natural Resources, University of Nebraska, Lincoln.
Brown, C.R., M.B. Brown, P. Pyle, and M.A. Patten. 2020. Cliff Swallow (Petrochelidon pyrrhonota), version 1.0. In Birds of the World (P. G. Rodewald, Editor). Cornell Lab of Ornithology, Ithaca, NY, USA. https://doi.org/10.2173/bow.cliswa.01.
Brown, C.R., and C. Page. 2015. A Hybrid Cliff x Barn Swallow from Western Nebraska. NBR 83: 31-35.
Ducey, J.E. 1988. Nebraska birds, breeding status and distribution. Simmons-Boardman Books, Omaha, Nebraska, USA.
Jorgensen, J.G. 2012. Birds of the Rainwater Basin, Nebraska. Nebraska Game and Parks Commission, Lincoln, Nebraska, USA.
Pyle, P. 1997. Identification Guide to North American Birds. Part I, Columbidae to Ploceidae. Slate Creek Press, Bolinas, California, USA.
Sauer, J.R., D.K. Niven, J.E. Hines, D.J. Ziolkowski, Jr, K.L. Pardieck, J.E. Fallon, and W.A. Link. 2017. The North American Breeding Bird Survey, Results and Analysis 1966 – 2015 (Nebraska). Version 2.07. USGS Patuxent Wildlife Research Center, Laurel, Maryland, USA.
Recommended Citation
Silcock, W.R., and J.G. Jorgensen. 2023. Cliff Swallow (Petrochelidon pyrrhonota). In Birds of Nebraska — Online. www.BirdsofNebraska.org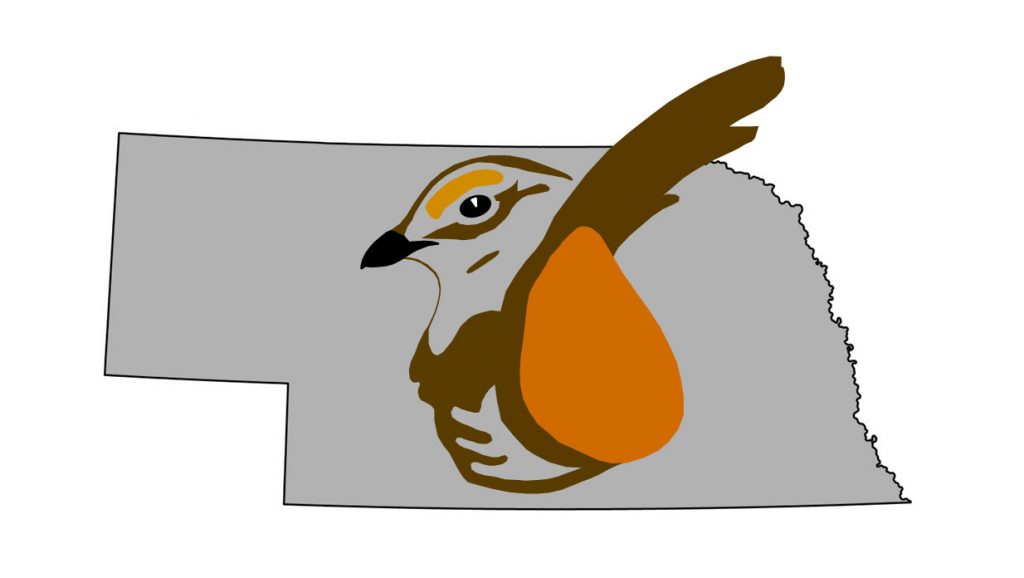 Birds of Nebraska – Online
Updated 19 Sep 2023