Columbina passerina
Status: Rare casual fall visitor statewide.
Documentation: Description: 18 Nov 1979 Washington Co (Padelford and Padelford 1980).
Taxonomy: Eighteen subspecies are recognized, 16 from the West Indies and Mexico south through Ecuador and Brazil, and two north of Mexico (Clements et al 2016, Bowman 2020): passerina occurs in the coastal southeast US (South Carolina to extreme southeast Texas) and pallescens in the arid southwest US east to south and central Texas and south to Guatemala and Belize.
Distribution maps in eBird (accessed Oct 2021) suggest that northward vagrancy, most often occurring Aug-Dec, is associated mostly with eastern passerina; Kansas birds were listed as passerina (Johnston 1965).  According to AOU (1957), some pallescens move southeastward to the Gulf Coast in winter.
Fall: There are six reports, only three documented. The Sioux Co record is rather early and far north in Nebraska; the earliest Kansas record is 19 Sep (Thompson et al 2011).
21 Jun 1996 Sioux Co (Grzybowski 1996)
18 Nov 1979 DeSoto NWR, Washington Co (cited above)
26 Nov 2004 Clay Co (Brogie 2005).
Additional reports are undocumented, but generally fit the pattern of the documented reports. Two birds were noted by an observer familiar with the species in Sarpy Co about 1969, but the observer was unwilling to report the birds (Cortelyou 1980). One was reported in Lincoln 13 and 15 Nov 1976 (Williams 1977, Cortelyou 1977). The NOURC did not accept a report based on unclear photos of one near Valentine, Cherry Co 16 May 1987 (Grenon 1990).
Comments: Common Ground Doves have a propensity to wander northward in late fall from the regular range in the southeastern United States, but reports westward onto the Great Plains are rare. There are five records for northwestern Missouri Oct-Feb (eBird.org, accessed Oct 2021), 17 Kansas records Sep-Jan (Thompson et al 2011), one in Oct for South Dakota (Tallman et al 2002) and one in Oct for Wyoming (Faulkner 2010). There are five records for Colorado Nov-Dec (CBRC).
Abbreviations
CBRC: Colorado Bird Records Committee
NOURC: Nebraska Ornithologists' Union Records Committee
NWR: National Wildlife Refuge
Literature Cited
American Ornithologists' Union [AOU]. 1957. The AOU Check-list of North American birds, 5th ed. Port City Press, Baltimore, Maryland, USA.
Bowman, R. 2020. Common Ground Dove (Columbina passerina), version 1.0. In Birds of the World (A. F. Poole and F. B. Gill, Editors). Cornell Lab of Ornithology, Ithaca, NY, USA. https://doi.org/10.2173/bow.cogdov.01.
Brogie, M.A. 2005. 2004 (16th) Report of the NOU Records Committee. NBR 73: 78-84.
Colorado Bird Records Committee (CBRC). 2018. Common Ground-Dove records. Colorado Bird Records Committee database, accessed 12 February 2018.
Clements, J. F., T. S. Schulenberg, M. J. Iliff, D. Roberson, T. A. Fredericks, B. L. Sullivan, and C. L. Wood. 2016. The eBird/Clements checklist of birds of the world: v2016, accessed 30 January 2018.
Cortelyou, R.G. 1977. 1976 (Nineteenth) Fall Occurrence Report. NBR 45: 18-30.
Cortelyou, R.G. 1980. A Ground Dove at DeSoto NWR (editor's comments). NBR 48: 22.
Faulkner, D.W. 2010. Birds of Wyoming. Roberts and Company, Greenwood Village, Colorado, USA.
Grenon, A.G. 1990. 1990 (Third) Report of the NOU Records Committee. NBR 58: 90-97.
Grzybowski, J.A. 1996. Southern Great Plains Region. Field Notes 50: 965-968.
Johnston, R.F. 1965. A directory to the birds of Kansas. Miscellaneous Publication No. 41. University of Kansas Museum of Natural History, Lawrence, Kansas, USA.
Padelford, L., and B. Padelford. 1980. A Ground Dove at DeSoto National Wildlife Refuge. NBR 48: 22.
Tallman, D.A., Swanson, D.L., and J.S. Palmer. 2002. Birds of South Dakota. Midstates/Quality Quick Print, Aberdeen, South Dakota, USA.
Thompson, M.C., C.A. Ely, B. Gress, C. Otte, S.T. Patti, D. Seibel, and E.A. Young. 2011. Birds of Kansas. University Press of Kansas, Lawrence, Kansas, USA.
Williams, F. 1977. Southern Great Plains Region. American Birds 31: 194-197.
Recommended Citation
Silcock, W.R., and J.G. Jorgensen. 2021. Common Ground Dove (Columbina passerina). In Birds of Nebraska — Online. www.BirdsofNebraska.org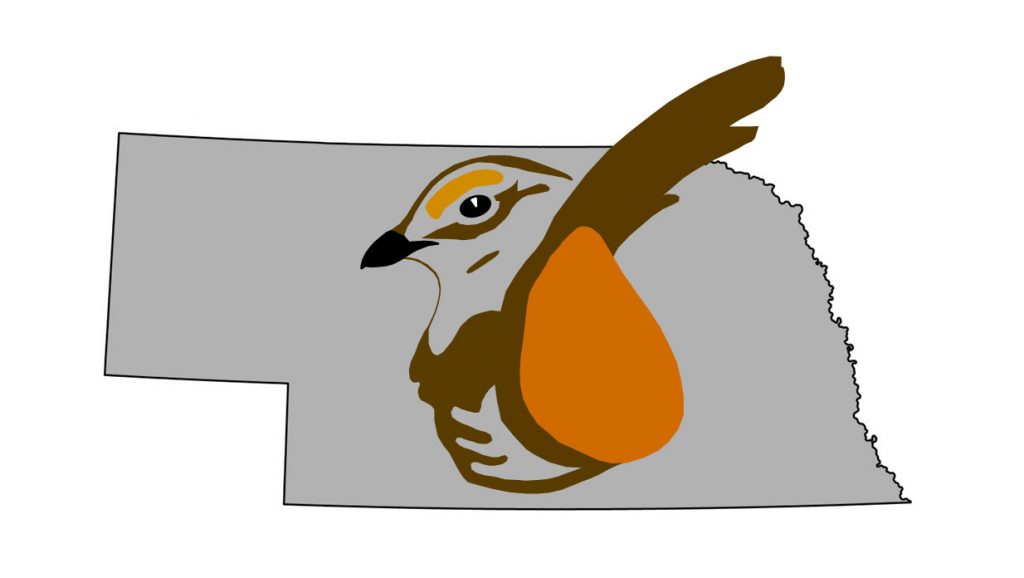 Birds of Nebraska – Online
Updated 1 Oct 2020