Toxostoma curvirostre curvirostre, T.c. palmeri
Status: Rare casual erratic resident.
Documentation: Specimen: UNSM ZM6646, 2 May 1936 North Platte, Lincoln Co (identified by H. C. Oberholser).
Taxonomy: Gill and Donsker (2017) recognize seven subspecies, but other authors (Pyle 1997, Tweit 2020) recognized two subspecies, corresponding to the two phenotypically recognizable groups (Rojas-Soto 2003, Rojas-Soto et al 2007). When seven subspecies are recognized, Western Group has four subspecies, one of which, palmeri, sometimes referred to as "Cholla Thrasher", occurs north of Mexico, from the southwestern USA to Mexico, and Eastern Group has three subspecies, nominate curvirostre occurring in Mexico and two subspecies north of Mexico: celsum of south-central USA and north-central Mexico, and oberholseri, of south Texas and northeast Mexico. Subspecies celsum is poorly differentiated and was merged with oberholseri by Phillips (1986).
As suggested above, taxonomy of this species has been unsettled. Rojas-Soto (2003) and Rojas-Soto et al (2007) showed in morphological studies that there are phenotypically identifiable western (palmeri) and eastern (curvirostre) groups; although mtDNA studies by Zink and Blackwell-Rago (2000) confirmed the presence of two genetic groups, the boundary between them differed somewhat from that suggested by phenotypic studies. A proposal to elevate the groups to species status was declined (NACC 2014).
Subspecies palmeri is less likely to occur in Nebraska and nearby states based on its summer range and apparent lesser propensity to disperse (Tweit 2020). It has been reported three times in Nebraska, including the specimen cited above, although two reports, Loup Co in 2016 and Crescent Lake NWR in 2017 are here considered equivocal.
Young birds of both subspecies wander widely, especially those of oberholseri (Tweit 2020). There are many records of vagrants to the north and east of the normal resident range (eBird.org, accessed April 2017). Further study is needed to provide an understanding of the role of dispersal in the life cycle of Curve-billed Thrashers and to resolve questions about migration (Tweit 2020).
The Eastern Group (oberholseri, celsum) has a lighter breast, resulting in more contrast with spots; pale to white wing-bars; and white tail corners ≥7.5 mm long, contrasting with dark outer rectrices. The Western Group (palmeri) has a grayer breast, so spots show less contrast; pale buffy or grayish inconspicuous wing-bars, if any; and tail spots ≤6.5 mm long (Tweit 2020).
Resident: Assigning occurrence status to this species in Nebraska is difficult. Given, however, that it is resident in its normal range, and that vagrancy by young birds is quite common, we believe that these birds attempt to set up territories but eventually fail after varying residence periods. The longest-lasting bird of the 10 Nebraska records lived on the Frimann Ranch in southeast Sioux Co for almost six years (see below).
There are 14 reports, 10 acceptably documented:
mid-Jan through 4 Apr 1969 McCook, Red Willow Co (Shickley 1969)
19 Feb-17 Apr 2016 Burwell, Loup Co (Silcock 2016a, Brogie 2017; Mark Brogie photo eBird.org)
19 Apr-3 May 1936 North Platte up to five (palmeri; specimen cited above, Weakly 1936)
22 Apr 2007 near Madrid, Perkins Co (Brogie 2008)
14 May 2017 Crescent Lake NWR, Garden Co (Dunning, eBird.org; Brogie 2018)
2 Jul 1996 near Gering, Scotts Bluff Co (Brogie 1997)
8-10 Jul 2006 Valentine NWR, Cherry Co (Brogie 2007)
7 Oct 2016 Chadron SP, Dawes Co (oberholseri; Silcock 2016b, Brogie 2017)
20 Oct 2002-1 May 2008 Sioux Co (oberholseri; Brogie 2004)
18 Nov 1962 25 miles north of Mitchell in Sioux Co (oberholseri, Tom Labedz, personal communication; UNSM ZM13001; Viehmeyer 1971).
The bird at the Frimann Ranch 2002-2008 was aged as a second-year male (Ruth Green, personal communication), and had molted into fresh plumage by Aug 2003. It had demonstrated breeding propensities as it attempted to feed freshly fledged American Robins 24 Aug 2003 and Common Grackle and American Robin nestlings in 2004 and 2005 (Lonnie Frimann, personal communication). It disappeared around 1 May 2008, just before a severe blizzard, possibly the victim of a Sharp-shinned Hawk that was frequenting the ranch at the time; "happy to the end, the bird had been busy singing and building a nest" (Lonnie Frimann, personal communication).
Undocumented reports follow. Breeding was reported in the Lawrence Fork area of Morrill Co Jun 1965 which could not be confirmed by later searches of the area (Viehmeyer 1971). A dead individual was reportedly recovered and then disposed of when the 4H Camp building at NNF Bessey, Thomas Co was opened in Mar 1970. It was assumed that this bird had been trapped in the building when it was closed for the winter in Oct and died. Those present identified the bird as a Curve-billed Thrasher, but no details were published (Cortelyou 1970). A report of one at Scotts Bluff NM, Scotts Bluff Co 16 Jul 2013 was not accepted by NOURC (Brogie 2014).
Comments: An interesting development related to the long-staying (2002-2008) bird at the Frimann Ranch was the presence within a brood of otherwise normal Brown Thrashers there of one with a gray head and back (Joseph Gubanyi, personal communication; Mollhoff 2022). There is a previous record of a possible hybrid between Curve-billed and Brown Thrashers (Phillips 1986).
There is a nesting record less than 10 miles south of Kimball Co in Weld Co, Colorado; a nest with eggs was photographed 16 May 2017 (Mlodinow, Rutherford, eBird.org).
Images
Abbreviations
NACC: North American Classification Committee (AOU/AOS)
NNF: Nebraska National Forest
NM: National Monument
NOURC: Nebraska Ornithologists' Union Records Committee
NWR: National Wildlife Refuge
SP: State Park
UNSM: University of Nebraska State Museum
Literature Cited
Brogie, M.A. 1997. 1996 (Eighth) Report of the NOU Records Committee. NBR 65: 115-126.
Brogie, M.A. 2004. 2003 (15th) Report of the NOU Records Committee. NBR 72: 59-65.
Brogie, M.A. 2007. 2006 (18th) Report of the NOU Records Committee. NBR 75: 86-94.
Brogie, M.A. 2008. 2007 (19th) Report of the NOU Records Committee. NBR 76: 111-119.
Brogie, M.A. 2014. 2013 (25th) Report of the NOU Records Committee. NBR 82: 131-146.
Brogie, M.A. 2017. 2016 (28th) Report of the NOU Records Committee. NBR 85: 128-142.
Brogie, M.A. 2018. 2017 (29th) Report of the NOU Records Committee. NBR 86: 131-142.
Cortelyou, R.G. 1970. Curve-billed Thrasher? NBR 38: 92.
Gill, F., and D. Donsker (Eds). 2017. IOC World Bird List (v 7.3), accessed 30 January 2018.
Mollhoff, W.J. 2022. Nest records of Nebraska birds. Nebraska Ornithologists' Union Occasional Paper Number 9.
North American Classification Committee [NACC]. 2014. AOU Classification Committee – North and Middle America Proposal Set 2014-C, accessed 16 Jun 2018.
Phillips, A.R. 1986. The known birds of North and Middle America. Part 1. Published by the author, Denver, Colorado, USA.
Pyle, P. 1997. Identification Guide to North American Birds. Part I, Columbidae to Ploceidae. Slate Creek Press, Bolinas, California, USA.
Rojas-Soto, O. 2003. Geographic variation of the Curve-billed Thrasher (Toxostoma curvirostre) complex. Auk 120: 311–322.
Rojas-Soto, O., A. Espinosa, and R.M. Zink. 2007. Phylogeography and patterns of differentiation in the Curve-billed Thrasher. Condor 109: 456-463.
Shickley, G.M. 1969. Curve-billed Thrashers. NBR 37: 47-48.
Silcock, W.R. 2016a. Spring Field Report, Mar 2016 to May 2016. NBR 84: 58- 85.
Silcock, W.R. 2016b. Fall Field Report, August-November 2016. NBR 84: 154-179.
Tweit, R.C. 2020. Curve-billed Thrasher (Toxostoma curvirostre), version 1.0. In Birds of the World (A. F. Poole and F. B. Gill, Editors). Cornell Lab of Ornithology, Ithaca, NY, USA. https://doi.org/10.2173/bow.cubthr.01.
Viehmeyer, G. 1971. The Dalton, Harrisburg, Kimball triangle. NBR 39: 72-74.
Weakly, H.E. 1936. The Palmer Curve-billed Thrasher at North Platte, Lincoln County. NBR 4: 54.
Zink, R.M., and R.C. Blackwell-Rago. 2000. Species limits and recent population history in the Curve-billed Thrasher. Condor 102: 881–886.
Recommended Citation
Silcock, W.R., and J.G. Jorgensen. 2022. Curve-billed Thrasher (Toxostoma curvirostre). In Birds of Nebraska — Online. www.BirdsofNebraska.org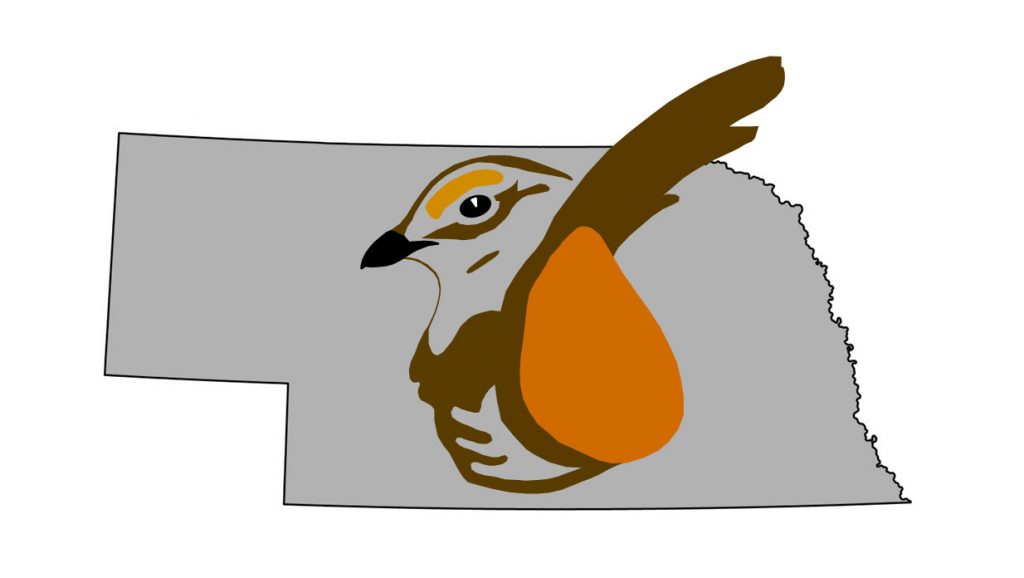 Birds of Nebraska – Online
Updated 13 Mar 2022