Dryobates pubescens medianus, D. p. leucurus
Status: Common regular resident east and central, fairly common west.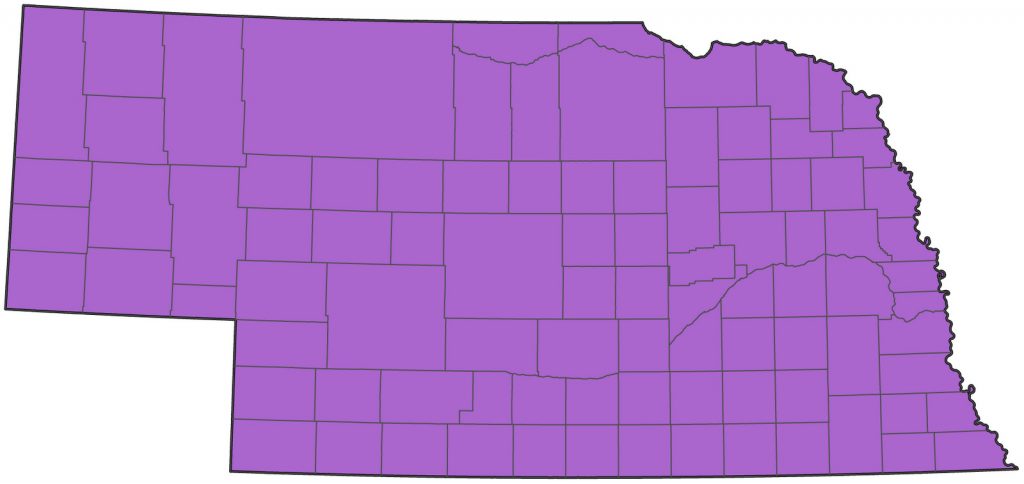 Documentation: Specimen: UNSM ZM12374, 25 Nov 1893 Lancaster Co.
Taxonomy: There have been several recent changes in generic assignment of woodpeckers. Dryobates includes species previously assigned to Dendrocopos and Picoides (Fuchs et al 2015, Gill and Donsker 2017, Chesser et al 2018); these species are Nuttall's, Ladder-backed, Downy, Crimson-crested, and Lesser Spotted Woodpeckers. The latter two are Eurasian in distribution.
There are seven subspecies recognized (Pyle 1997, Gill and Donsker 2017), fumidus, gairdnerii, and turati of the Coastal Pacific, glacialis and leucurus of the Interior West, and medianus and pubescens in the Eastern US.
In Nebraska, two subspecies occur; eastern medianus breeding over most of the state, and the Rocky Mountain subspecies leucurus possibly breeding (Haecker et al 1945) in the extreme northwest. A leucurus was studied at Fort Robinson SP, Dawes Co 18 May 2018; it was with an apparent medianus. Two leucurus were photographed at Exit 1 on Interstate 80, Kimball Co 20 Nov 2019 (Mlodinow, eBird.org). Subspecies medianus has spread westward in Nebraska during the 20th century in river valleys, resulting in contact of the two subspecies; Ford collected an intermediate specimen (KU 34088) five miles north of Harrison, Sioux Co on 18 Jul 1957 (Ford 1959). Currently, leucurus may only be a winter disperser in low numbers to northwestern Nebraska; it only occurs rarely in winter on the eastern plains of Colorado (Andrews and Righter 1992) and at Barr Lake, Colorado, Oct to mid-May, where the local breeding birds are "the eastern subspecies" (medianus; Andrews et al 2002). An "intermediate" was at Sowbelly Canyon, Sioux Co 26 May 2021.
Medianus and leucurus are identifiable in the field; leucurus has little or no white spotting on the greater wing-coverts ("shoulders") and less black in its outer rectrices (Jackson and Ouellet 2020).
This species and Hairy Woodpecker are known to hybridize on rare occasions (https://www.westernfieldornithologists.org/archive/V46/46(1)-p002-p007.pdf); the only Nebraska record is of one at Riverside Park, Scotts Bluff Co 6 Apr 2020 (TL), later photographed 21 Apr (SMl, eBird.org). See Hybrids – Birds of Nebraska – Online (outdoornebraska.gov).
Intriguing was the appearance in three consecutive winters of a Downy Woodpecker with a yellow (rather than red) nape in a Scotts Bluff Co yard Feb and fall of 2010, Mar 2011, and 24-25 Nov 2012 (Ann Duey, personal communication; photo). It had minimal white markings on its shoulders, suggesting Rocky Mountain provenance. According to Jackson and Ouellet (2020), "males occasionally grow a yellowish (not red) nape- or forehead-patch".
Resident: BBS data indicate highest numbers in the east, with numbers very low in the west. Bruner et al (1904) considered this species very common in the eastern third of Nebraska around 1900, but rare and local in the western half of the state. Ducey (1988) shows no breeding records in the central prior to 1920.
Breeding Phenology:
Eggs: 4 May- 15 Jun (Mollhoff 2022)
Nestlings: 23 May-2 Jul
Fledglings 12-20 Jun
High Counts: 25 at Fontenelle Forest, Sarpy Co 2 Apr 2010, 21 at Glenn Cunningham Lake, Douglas Co 8 Jan 2022, 21 in a Sarpy Co yard 29 Oct 2022, and 20 at Fontenelle Forest 16 Mar and 4 Apr 2021.
Winter distribution resembles that in summer, according to CBC data. Bent (1939) and Browning (1995) noted that there is little or no evidence for movement of Downy Woodpeckers. Some wandering and possible influx of leucurus may occur in the west however (see Taxonomy); Rosche (1982) considered Downy Woodpecker more common in the northwest in winter than in summer.
Highest CBC counts include 191 at Omaha in 1977-78 and 175 there in 1981-82. Highest CBC counts in the west are 29 at Crawford in 1977-78 and 20 at Scottsbluff in 1976-77.
Abbreviations
BBS: Breeding Bird Survey
CBC: Christmas Bird Count
UNSM: University of Nebraska State Museum
Literature Cited
Andrews, R., and R. Righter. 1992. Colorado birds. Denver Museum of Natural History, Denver, Colorado, USA.
Bent, A.C. 1939. Life histories of North American woodpeckers. Bulletin of the United States National Museum 174. Dover Publications Reprint 1964, New York, New York, USA.
Browning, M.R. 1995. Do Downy Woodpeckers migrate? Journal of Field Ornithology 66: 12-24.
Chesser, R.T., K.J. Burns, C. Cicero, J.L. Dunn, A.W. Kratter, I.J. Lovette, P.C. Rasmussen, J. V. Remsen, Jr., D.F. Stotz, B.M. Winger, and K. Winker. 2018. Fifty-ninth Supplement to the American Ornithological Society's Check-list of North American Birds. Auk 135: 798-813.
Ducey, J.E. 1988. Nebraska birds, breeding status and distribution. Simmons-Boardman Books, Omaha, Nebraska, USA.
Ford, N.L. 1959. Notes on summer birds of western Nebraska. NBR 27: 6-12.
Fuchs, J., and J-M. Pons. 2015. A new classification of the Pied Woodpeckers assemblage (Dendropicini, Picidae) based on a comprehensive multi-locus phylogeny. Molecular Phylogenetics and Evolution 88: 28-37. https://doi.org/10.1016/j.ympev.2015.03.016.
Gill, F., and D. Donsker (Eds). 2017. IOC World Bird List (v 7.3), accessed 30 January 2018.
Haecker, F.W., R.A. Moser, and J.B. Swenk. 1945. Checklist of the birds of Nebraska. NBR 13: 1-40.
Jackson, J.A. and H.R. Ouellet. 2020. Downy Woodpecker (Dryobates pubescens), version 1.0. In Birds of the World (P. G. Rodewald, Editor). Cornell Lab of Ornithology, Ithaca, NY, USA. https://doi.org/10.2173/bow.dowwoo.01.
Mollhoff, W.J. 2022. Nest records of Nebraska birds. Nebraska Ornithologists' Union Occasional Paper Number 9.
Pyle, P. 1997. Identification Guide to North American Birds. Part I, Columbidae to Ploceidae. Slate Creek Press, Bolinas, California, USA.
Rosche, R.C. 1982. Birds of northwestern Nebraska and southwestern South Dakota, an annotated checklist. Cottonwood Press, Crawford, Nebraska, USA.
Recommended Citation
Silcock, W.R., and J.G. Jorgensen. 2022. Downy Woodpecker (Dryobates pubescens). In Birds of Nebraska — Online. www.BirdsofNebraska.org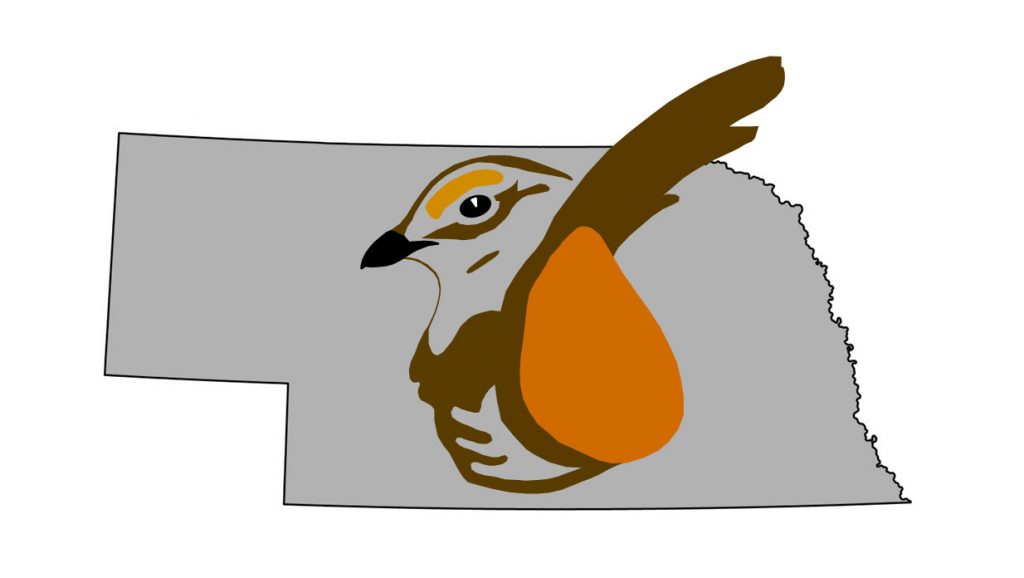 Birds of Nebraska – Online
Updated 23 Dec 2022