Megascops asio maxwelliae
Status: Common regular resident east and central, uncommon west.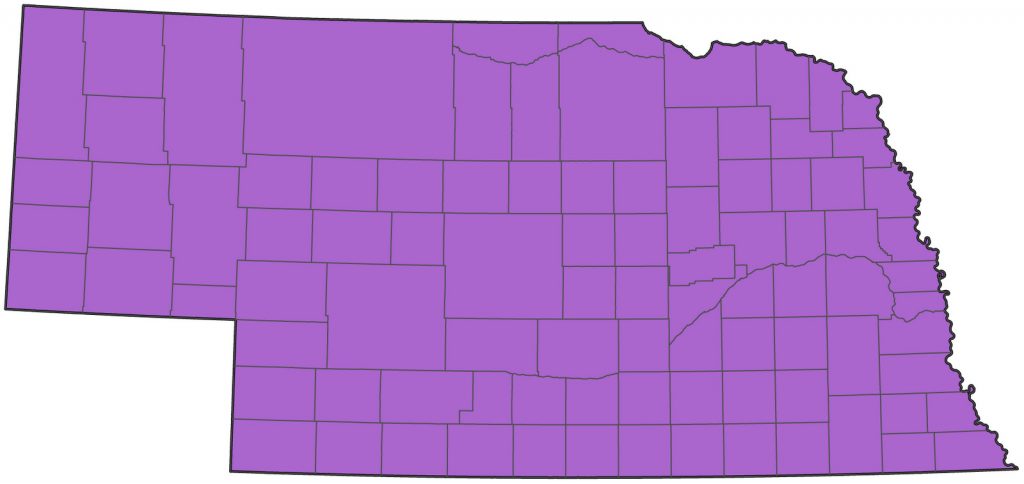 Documentation: Specimen, UNSM 12746, Beatrice, 22 Mar 1894.
Taxonomy: The use of Megascops instead of Otus for New World species of Otus (except for O. flammeolus, Flammulated Owl, now placed in genus Psiloscops) was discussed by Banks et al (2003).
The taxonomy of North American screech-owls has undergone considerable revision during the past 100 years or so, yielding as many as 14 subspecies; recently these were split and assigned to two species, Eastern Screech-Owl, M. asio, and Western Screech-Owl, M. kennicottii (AOU 1983). There are six subspecies assigned to M. asio: maxwelliae of the Great Plains in south-central Canada and north-central USA, naevius of southeast Canada and northeast USA south to North Carolina, asio from Oklahoma to South Carolina and Georgia, hasbroucki from central Oklahoma to Texas, floridanus from Louisiana to Florida, and mccallii from south Texas to northeast Mexico.
Nebraska birds are maxwelliae, although intergradation with asio probably occurs in extreme southeast Nebraska (Gehlback 1995).
Three morphologically-distinct color morphs, gray, red, and brown, are represented. These morphs are genetically-determined and independent of age, gender, or season, but may be distributed to some extent geographically; Pittaway (2014) noted that only 7% of maxwelliae specimens were red morphs and 6% brown, and that red morphs are scarcer towards the north and west. Indeed, Rosche (1982) recorded no red morph birds in northwest Nebraska, and elsewhere in the state red morph birds are rarely reported. One was at Fred Thomas WMA, Brown Co Apr 1911, and recent reports are of one in Knox Co 25 Oct 2006, a road-killed bird in Cass Co 18 Mar 2007, and one of the parents of three fledged juveniles at Pepperwood Park, Douglas Co 13-17 Jun 2021 was a red morph.
Since the split of screech-owls into two species, speculation has arisen as to the possible occurrence in Nebraska of Western Screech-Owl. There is, however, a fairly wide gap between the ranges of Eastern and Western Screech-Owls; the closest records to Nebraska of Western Screech-Owl are in extreme southwest Kansas along the Cimarron River (Thompson et al 2011). It has been suggested that long-distance dispersal in screech-owls leads to occurrence of the two species in close proximity and in mixed pairs in western Texas (Marshall 1967, AOU 1983). Such dispersal may account for the presence of both species on occasion in the Colorado Springs, Colorado area in winter (Marshall 1967) and may lead to the occurrence of Western Screech-Owl in western Nebraska.
Mollhoff (1985) found that screech-owls at Rock Creek Lake SRA, Dundy Co responded to calls of both Eastern and Western Screech-Owls but only gave the Eastern Screech-Owl song type. A bird which responded aggressively to an Eastern Screech-Owl tape along the Arikaree River in extreme southwest Dundy Co in early Jun 1989 was closely examined and determined to be an Eastern Screech-Owl.
Resident: Screech-Owls occur statewide, but in the west are restricted to riparian corridors or woodlots on ranches. It is common in the Platte Valley at least as far west as Hall Co (Lingle 1994), occurs in numbers in the Niobrara River Valley westward at least to the Niobrara Valley Preserve, Keya Paha and Brown Cos (Mossman and Brogie 1983), and occurs throughout the Republican Valley (Johnsgard 1979, Andrews and Righter 1992). It is probably least numerous in the Sandhills due to scarcity of habitat; Rosche (1982) cited no summer records from Sheridan Co, but it was reported in suitable habitat at Anderson Bridge in central Cherry Co. in summer 1982 (NBR 51: 62-63).
Accurate estimates of numbers are difficult to make as this owl is strictly nocturnal. BBS protocol rarely detects this species, and it is apparent that there may be "more Screech-owls around than most people realize" (Cortelyou 1972).
Breeding Phenology: 
Eggs: 22 Mar-13 Jun (Mollhoff 2022)
Nestlings: 15-24 May
Fledglings: 20 May-20 Jul
A female in a monitored nest box in Sheridan Co laid eggs on 9 May 2013, five weeks later than in 2012 (Wayne Mollhoff, personal communication); dates of laying appear to be dependent on ambient temperature (Ritchison et al 2020).
CBC counts indicate that numbers are highest in the east, diminishing steadily westward. The highest CBC counts are at Lincoln, Lancaster Co: 40 on 23 Dec 1979, 33 on 17 Dec 1978, and 32 on 18 Dec 1975 and 19 Dec 2015. As many as seven were counted at Crawford, Dawes Co 27 Dec 1977. A BBS-like survey using tapes found 20 birds on 35 stops in the DeSoto NWR, Washington Co area 11 Jan 2002 (Jerry Toll, personal communication).
It has been suggested by some authors that because there appear to be more sightings in winter there may be visitors at that time from the north and west (Rapp et al 1958, Ludlow 1935), but this is yet to be verified.
Comments: Wayne Mollhoff (personal communication) suggested that screech-owls may have been affected by West Nile Virus; he stated (2016) "And as to numbers, they took a big hit, along with many other species, when West Nile Virus hit us about 15 years ago. Their losses were much greater than the Great Horned Owls, which were more often found sick simply because they are so much more noticeable". Analysis of data for the Seward-Branched Oak Lake CBC, Lancaster Co 1993-2020 suggested a decline in numbers, possibly related to West Nile Virus (Gubanyi 2020).
One collected in Cherry Co May 1923 is specimen KU74493 at the University of Kansas.
Images
Abbreviations
BBS: Breeding Bird Survey
CBC: Christmas Bird Count
SRA: State Recreation Area
UNSM: University of Nebraska State Museum
Literature Cited
Andrews, R., and R. Righter. 1992. Colorado birds. Denver Museum of Natural History, Denver, Colorado, USA.
American Ornithologists' Union [AOU]. 1983. The AOU Check-list of North American birds, 6th ed. Allen Press, Lawrence, Kansas, USA.
Banks, R.C., C. Cicero, J.L. Dunn, A.W. Kratter, P.C. Rasmussen, J.V. Remsen, Jr., J.A. Rising, and D.F.
Gubanyi, J. 2020. History of the Seward-Branched Oak Lake Christmas Bird Count, 1993-2020. NBR 87: 162-172.
Stotz. 2003. Forty-fourth supplement to the American Ornithologists' Union check-list of North American birds. Auk 120: 923-931.
Cortelyou, R.G. 1972. 1971 Christmas Count. NBR 40: 15-21.
Johnsgard, P.A. 1979. Birds of the Great Plains: breeding species and their distribution. University of Nebraska Press, Lincoln, Nebraska, USA.
Lingle, G.R. 1994. Birding Crane River: Nebraska's Platte. Harrier Publishing, Grand Island, Nebraska, USA.
Ludlow, C.S. 1935. A quarter-century of bird migration records at Red Cloud, Nebraska. NBR 3: 3-25.
Marshall, J.T., Jr. 1967. Parallel variation in North and Middle American screech owls. Western Foundation of Vertebrate Zoology. Monograph 1: 1-72.
Mollhoff, W.J. 1985. Dundy County. NBR 53: 79.
Mollhoff, W.J. 2022. Nest records of Nebraska birds. Nebraska Ornithologists' Union Occasional Paper Number 9.
Mossman, M.J., and M.A. Brogie. 1983. Breeding status of selected bird species on the Niobrara Valley Preserve, Nebraska. NBR 51: 52-62.
Pittaway, R. 2014. Morphs of the Eastern Screech-Owl. Ontario Birds. Revision of 1995 article in Ontario Birds 13: 66-71.
Rapp, W.F. Jr., J.L.C. Rapp, H.E. Baumgarten, and R.A. Moser. 1958. Revised checklist of Nebraska birds. Occasional Papers 5, Nebraska Ornithologists' Union, Crete, Nebraska, USA.
Ritchison, G., F.R. Gehlbach, P. Pyle, and M.A. Patten. 2020. Eastern Screech-Owl (Megascops asio), version 1.0. In Birds of the World (P. G. Rodewald, Editor). Cornell Lab of Ornithology, Ithaca, NY, USA. https://doi.org/10.2173/bow.easowl1.01.
Rosche, R.C. 1982. Birds of northwestern Nebraska and southwestern South Dakota, an annotated checklist. Cottonwood Press, Crawford, Nebraska, USA.
Thompson, M.C., C.A. Ely, B. Gress, C. Otte, S.T. Patti, D. Seibel, and E.A. Young. 2011. Birds of Kansas. University Press of Kansas, Lawrence, Kansas, USA.
Recommended Citation
Silcock, W.R., and J.G. Jorgensen. 2022. Eastern Screech-Owl (Megascops asio). In Birds of Nebraska — Online. www.BirdsofNebraska.org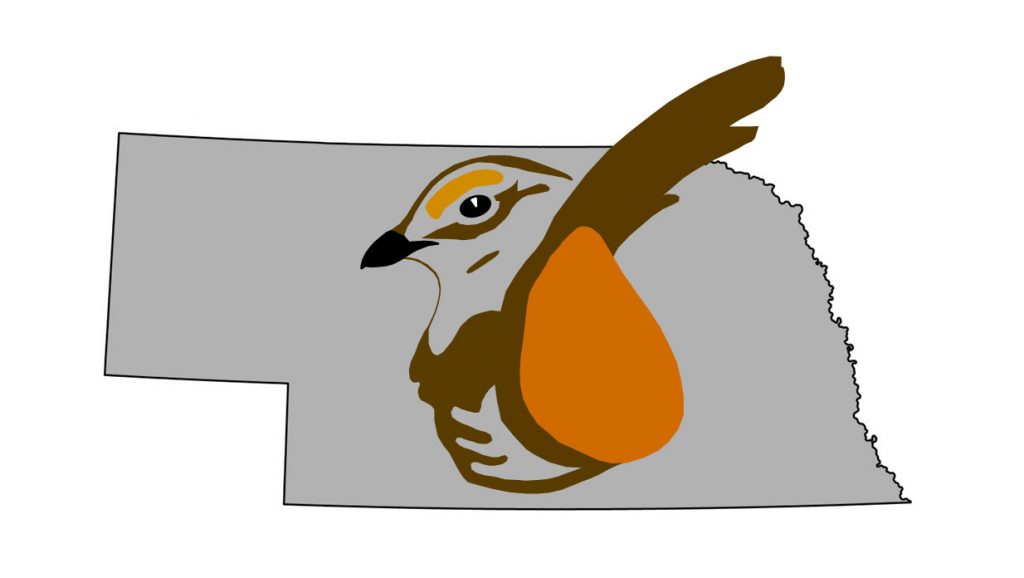 Birds of Nebraska – Online
Updated 9 Mar 2022