Antrostomus vociferus
Status:  Common regular breeder and spring and fall migrant east, rare central.
Documentation:  Specimen: HMM 2733, 2 May 1896 Giltner, Hamilton Co.
Taxonomy:  No subspecies are recognized (Pyle 1997).  This species and 10 others previously in Caprimulgus were moved to Antrostomus based on Han et al (2010).
Spring:  Apr 13, 15, 18 <<<>>> summer
Arrival is in late Apr. The early date above was of one that hit a window 13 Apr 2018, recovered, and was released after photographs were taken (Elaine Bachel, personal communication).
Arrival is in late Apr. The only reports from the western half of the state, none well-documented, are of one in Perkins Co 6 May 1970 identified by size and wing length relative to the tail (Cortelyou 1970), one in Dawson Co 28 Apr 1935, the only local record (Kinch 1964), and one in McPherson Co 17 Jun 1972 (Cortelyou 1972). One was westerly near Gibbon, Buffalo Co 22 May 2001, and Whip-poor-will was considered a rare migrant in Hamilton Co in 1962 (Swanson 1962). A bird reported as this species with "pretty definite white on the sides of its tail" was flushed at Sacramento-Wilcox WMA, Phelps Co 20 Apr 2020 by an observer familiar with Common Poorwill (Bob Meduna, pers. comm.); this is a westerly location for this species and the possibility of Common Poorwill, although easterly at the location but probably more likely, could not be eliminated from the description. This species is a casual migrant in eastern Colorado in May and Sep (Andrews and Righter 1992).
High counts:  17 at Oak Glen WMA, Seward Co 26 May 2010, 14 at Indian Cave SP, Nemaha and Richardson Cos 12 May 2001, 14 at Oak Glen WMA 11 May 2017, and 14 there 30 May 2018.
Summer: Like Chuck-will's-widow, documented nesting records are few, perhaps six in all. Most recent are of a nest with two eggs at Ponca SP, Dixon Co 16 May 2009 (Mollhoff 2016) and a nest with an egg and a chick photographed at Indian Cave SP, Richardson Co 3 Jul 2014.
Breeding or territorial birds occur in oak-hickory forest in the southeast, along the lower Platte River Valley, and along the lower Niobrara River Valley (Brenner and Jorgensen 2019). The species is often absent in woodland habitat that is intensively grazed (Youngworth 1958), and in dense, closed-canopy forest, preferring relatively open woodland habitats (Cink et al 2020).
In the Niobrara River Valley, it occurs west to extreme eastern Cherry Co, where singing males were heard 3 and 14 Jun 1982 (Brogie and Mossman 1983); there were multiple reports from Smith Falls SP, Cherry Co 19 May-19 Jun 2015-2017. Westernmost report is of one calling at Berry Bridge Campground, Cherry Co, 26 May 2017, and in 2020 calling birds were at three locations along the river between Berry Falls and Smith Falls 21 Jun (Gordon Warrick, Jim Ducey, pers. comm.). One was heard along Highway 12 in extreme western Keya Paha Co 7 May 2002, two were in eastern Keya Paha Co 12 Jun 2014, and 1-4 were counted at each of eight stops along Ponca Creek on Highway 12 in Boyd Co 28 Jun 2012. A 2019 survey found good numbers in the three-county Middle Niobrara Valley Biologically Unique Landscape, with best count per survey route the nine in Keya Paha Co  (Brenner and Jorgensen 2019).
Although nesting is undocumented at NNF Bessey, Thomas Co, there have been recent reports during the nesting season suggestive of nesting; these are 28 Jun 2011, 27 Jun 2013, and 3 Jul 2015. Bruner et al (1904) listed this species as occurring rarely in Thomas Co, but without dates; these may have been migrants.
It occurs regularly in the Platte River Valley only west to the Morse Bluff area of northern Saunders Co, where 14 were counted 17-21 May 1995 (Silcock 1995); it was unrecorded in Hall Co by Lingle (1994), although Mollhoff (2001) showed a "possible" breeding record in Hall Co in the period 1984-89.
On the Big Blue River, it occurs during the nesting season north to Seward Co, where it was first reported at Oak Glen WMA 25 Jun 1995; a good tally of 16 was made there 15 Jul 2006. On the Big Nemaha River, it occurs west to Pawnee Co (Bennett 1974, Johnsgard 1980), and there are a few reports from the Little Blue River Valley in Jefferson Co, where two were near Fairbury 21 Jul 2011 and one at Rock Glen WMA 8 May 2012.
Breeding Phenology:
Eggs: 15 May-3 Jul
Nestlings: 3 Jul
High counts:  40+ at Thomas Creek WMA, Keya Paha Co 26 Jun 2016, 30 at Indian Cave SP 30 Jun 2010, and 14 in Sarpy Co 23 Jun 1996.
Fall:  summer <<<>>> Sep 20, 23, 24
Migration occurs in late Aug and Sep.  "Scores" were heard at Platte River SP, Cass Co 3 Sep 1983 where none were heard 8 Aug; these birds were considered migrants (Green 1984). one was recorded at Ponca SP, Dixon Co 16 Sep 2018 (https://ebird.org/checklist/S48558506). Roger Sharpe (personal communication) reported a period of regular fall singing (albeit weak and non-repetitive) in early to mid-Sep in eastern Nebraska and western Iowa; sporadic songs may be heard year-round (Cink et al 2020).
Whip-poor-wills may occur on occasion west of the summer range during fall migration; three were heard in Polk Co 2 Sep 2012, singles were seen at Wilderness Park, Lincoln, Lancaster Co 23 and 24 Sep 2000, and westernmost was one calling in Lincoln Co 8 Sep 2014. This species is a casual migrant in eastern Colorado in May and Sep (Andrews and Righter 1992).
Abbreviations
HMM: Hastings Municipal Museum
NNF: Nebraska National Forest
SP: State Park
WMA: Wildlife Management Area (State)
UNSM: University of Nebraska State Museum
Acknowledgement
Photograph (top) of an Eastern Whip-poor-will in Omaha, Douglas Co, 22 Apr 1983 by Phil Swanson.  The bird struck a window and was temporarily stunned.
Literature Cited
Andrews, R., and R. Righter. 1992. Colorado birds.  Denver Museum of Natural History, Denver, Colorado, USA.
Bennett, E.V. 1974. 1973 Nebraska nesting survey. NBR 42: 3-10.
Brenner, S.J., and J.G. Jorgensen. 2019. Distribution, abundance, and habitat associations of Chuck-will'swidow (Antrostomus carolinensis) and Eastern Whip-poor-will (Antrostomus vociferus) in eastern Nebraska. Nongame Bird Program of the Nebraska Game and Parks Commission, Lincoln,
Nebraska, USA.
Brogie, M.A., and M.J. Mossman. 1983. Spring and summer birds of the Niobrara Valley Preserve, Nebraska: An annotated checklist. NBR 51: 44-51.
Bruner, L., R.H. Wolcott, and M.H. Swenk. 1904. A preliminary review of the birds of Nebraska, with synopses. Klopp and Bartlett, Omaha, Nebraska, USA.
Cink, C.L., P. Pyle, and M.A. Patten. 2020. Eastern Whip-poor-will (Antrostomus vociferus), version 1.0. In Birds of the World (P. G. Rodewald, Editor). Cornell Lab of Ornithology, Ithaca, NY, USA. https://doi.org/10.2173/bow.whip-p1.01.
Cortelyou, R.G. 1970. 1970 (Forty-fifth) Spring Migration and Occurrence Report. NBR 38: 74-87.
Cortelyou, R.G. 1972. 1972 (Forty-seventh) Spring Migration and Occurrence Report. NBR 40: 72-86.
Green, R.C. 1984. Whip-poor-wills. NBR 52: 24.
Han, L-K., M.B. Robbins, and M.J. Braun. 2010. A Multi-gene Estimate of Phylogeny in the Nightjars and Nighthawks (Caprimulgidae).  Molecular Phylogenetic Evolution 55: 443-453.
Johnsgard, P. A. 1980. A preliminary list of the birds of Nebraska and adjacent Great Plains states. Published by the author, University of Nebraska, Lincoln, USA.
Kinch, C. 1964. Some Dawson County records. NBR 32: 37-40.
Lingle, G.R. 1994. Birding Crane River: Nebraska's Platte. Harrier Publishing, Grand Island, Nebraska, USA.
Mollhoff, W.J. 2001. The Nebraska Breeding Bird Atlas 1984-1989. Nebraska Ornithologists' Union Occasional Papers No. 7. Nebraska Game and Parks Commission, Lincoln, Nebraska, USA.
Mollhoff, W.J. 2016. The Second Nebraska Breeding Bird Atlas. Bull. Univ. Nebraska State Museum Vol 29. University of Nebraska State Museum, Lincoln, Nebraska, USA.
Pyle, P. 1997. Identification Guide to North American Birds. Part I, Columbidae to Ploceidae. Slate Creek Press, Bolinas, California, USA.
Silcock, W.R. 1995. Spring Field Report, March-May 1995. NBR 63: 34-60.
Swanson, K.S. 1962. Birding areas near Aurora. NBR 30: 18-20.
Youngworth, W. 1958. Dakota County spring notes. NBR 26: 68.
Recommended Citation
Silcock, W.R., and J.G. Jorgensen.  2020.  Eastern Whip-poor-will (Antrostomus vociferus). In Birds of Nebraska — Online. www.BirdsofNebraska.org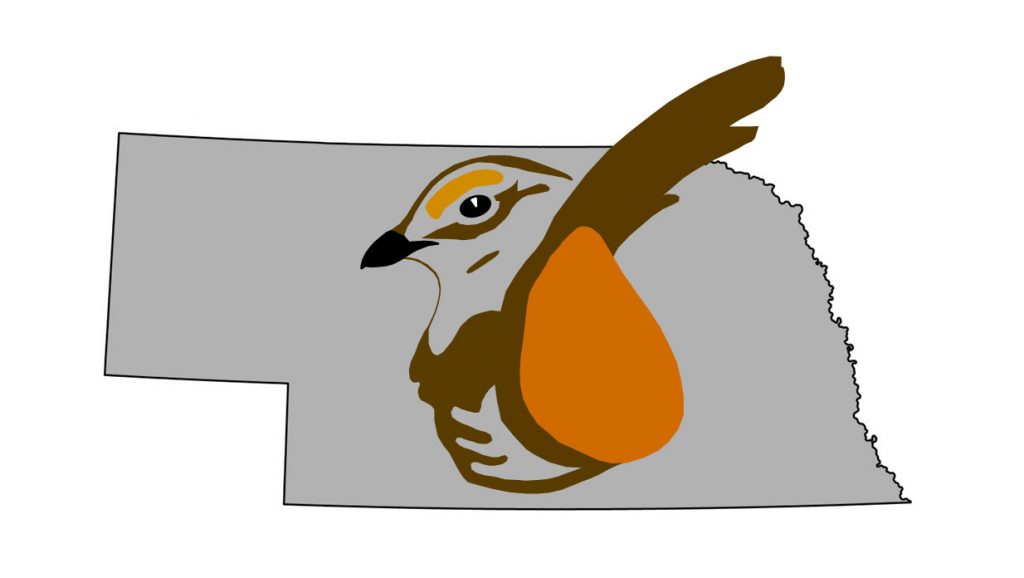 Birds of Nebraska – Online
Updated 8 Sep 2020